The STFU drive-train damper was developed by Australian downhill racing legend Chris Kovarik in conjunction with long time friend and mechanical engineer Jaan Hurditch.
Words: Hayden Wright
Photos: Gerard Lagana
The product has one goal, to dampen the chain slap that is inherently present with derailleur style drivetrains. This is done through using a dual compound rubber and plastic module which limits the effective area at which the chain can move outside of the typical chain line from lowest to highest gear. To me, a quiet bike is a happy bike, so I was excited to put these to use on my Giant Reign and my fiancée Ash's Norco Sight.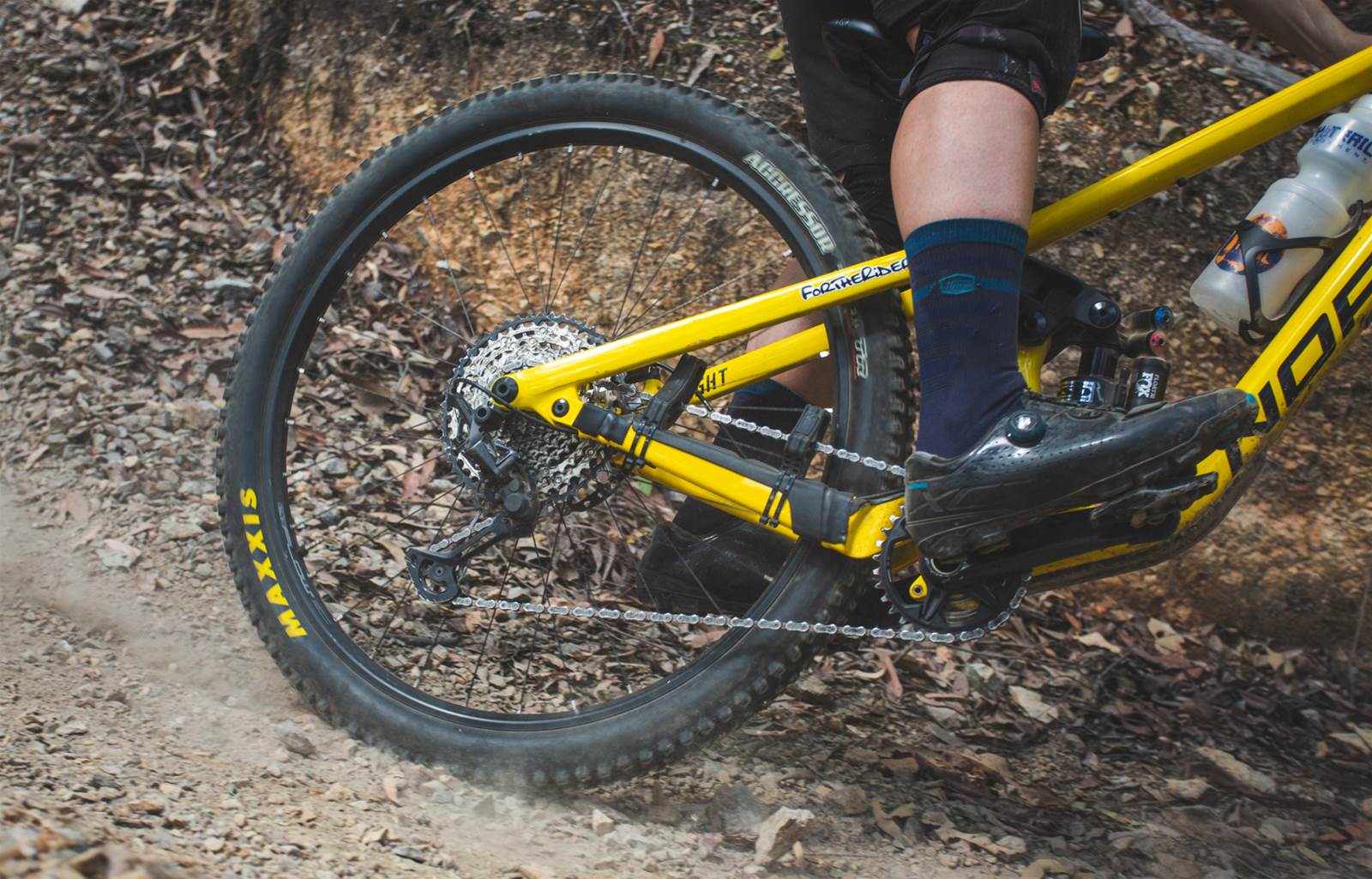 The STFU has been developed in Whistler, Canada and is available in a range of configurations to suit most bikes with a 1x drivetrain. They cost $49.95 and are available throught KWT Imports.
Out of the box
The STFU comes in simple, recyclable packaging which is always nice to see. Installation instructions are provided on the product web page, which are concise and easy to follow. With all the correct tools on hand it took me around 15 minutes to install the damper system per bike. While the install is a little fiddly, and more technical than simply bolting a new part on – it's not rocket science. I would expect anyone reading this would have no issues completing it. Installation on the Norco Sight was simple and straightforward, with no clearance issues in any gear. My Giant Reign on the other hand was much more tedious. No matter what I did I could not get it to run drag free in either the top or lower gears, and I also had to remove my drive side crank boot to allow clearance to the front STFU to the inside of my crank arm. Frustrating – yes, but I was still excited to get out on the trail and see what difference could be heard – or not heard.
On the bike
On the first climb from the carpark up to the trail head, it was difficult for me to ignore the rubbing of the chain against the rear module which I battled with during install. It was very light but still noticeable and in all honestly a little irritating. Nonetheless, the STFU is designed primarily to quiet your drivetrain while descending, and I was excited to drop in and see how it performed. 
Upon descending down the first trail, I instantly noticed less chain noise coming from both my Reign and Ash's Sight closely behind. The typical chorus of a comically long 12 speed chain slapping against the chain stay was muted, and while not gone entirely it was much less noticeable than without the STFU. Ash and I continued to pedal up and down the hill a few times, enjoying the lack of chain slap noise from our drivetrains. This continued until I pushed through a particularly deep bermed turn and suddenly heard a loud whirr from my rear spokes, like when a 6-year-old shoves a playing card in their BMX to make it sound like a dirt bike. Upon looking down, I noticed the rear module had been sucked into my spokes and in turn ripped in half. I was a little perturbed, and after rolling down the hill, snipping the retaining zip-ties and removing the destroyed rear unit we continued with our ride. I have a few friends who have also installed the STFU on their Giant Reign's with similar results – so it seems to be a compatibility issue with that model rather than with the STFU itself. 
Through the next month of riding, neither of us had any further issues with the STFUs on our bikes. It is worth mentioning that even with running just the front module on my Reign, there is a decrease in chain slap but as expected not nearly as much as when running the complete system front and rear. It is fair to say that the STFU works as claimed for compatible bikes and will remain in place on our Reign and Sight for the foreseeable future.
Hits
Dampens chain slap

Extends chain life

Available in multiple configurations 

Easy to install

Affordable

 
Misses
Not compatible with all bikes

No compatibility lists

Not great aesthetically 

 
Australian Mountain Bike