Do you need specific eMTB products for your drivetrain?
Words and photos: Will Shaw
---
There's no doubt wax-based lubricants are all the rage in the cycling industry right now. Squirt are one of the big players in the drip on wax lube market, and Mike Blewitt dived into their regular lube in his monster chain lube test. From a personal standpoint, I'm a big fan of Squirt's regular lube, and it's my lube of choice for my own fleet. It's a product that's growing in popularity in the Australian market due to its quiet and clean running nature (as is Smoove, arguably its biggest competitor). 
The lube I have on test here is Squirt's eBike specific 'chain wax'. This product is essentially the same as Squirt's regular chain lube, however the eBike product is fortified with 'specialized high-pressure friction modifiers.' This addition is said to better handle the higher torque applied by eBikes, as well as lasting longer in wet conditions.
Squirt's eBike Chain Wax s slightly different to their regular lube.
The application instructions for Squirt's eBike chain wax are the same as for their regular chain lube. Basically, a brand-new chain is preferable to begin with, however any chain will need to be completely degreased prior to applying the lube. I followed Squirt's instructions using a brand-new chain and their Biodegradable Bike Cleaner. The process involved soaking the new chain in Squirt's Biodegradable Bike Cleaner for 30 minutes, and then rinsing all of the cleaner out of the chain and letting it dry completely.
Squirt's Biodegradeable Bike Cleaner can be used to degrease new chains.
Once the chain is dry, Squirt suggest a liberal application before letting the lube dry completely. A second application is then recommended for first time use. Once again, I followed the instructions, and the next day it was time to hit the trails. Having high expectations from the regular Squirt lube, my first impressions were that the eBike version ran much the same. In dry conditions I didn't really notice the difference in terms of running performance, time between re-applying, or chain cleanliness.
---
Looking for a new chain lube? Check out more of our recent chain lube reviews below:
TESTED: Ride Mechanic Bike Syrup
TESTED: AbsoluteBlack GraphenLube
TESTED: Silca's Super Secret Chain Lube
TESTED: Pedalit bike care range
---
In wet conditions, the eBike chain wax definitely lasts longer than Squirt's regular lube. The chain appears dirtier post ride, but if you've prepared the chain properly from the get-go then the dirty looking chain is easily returned to a clean state with a blast from the hose, wipe dry with a clean rag, and re-application of lube. Note that once you've applied the initial coating of Squirt, don't use any degreasing products on the chain.
The Bike Cleaner I used to degrease the chain can be used on any part of the bike. I can confirm it does a great job and doesn't contaminate brake pads. It doesn't make your bike as sparkly clean as something like a heavy-duty truck wash, but I daresay it's much nicer to your bearings, and also the environment as it's biodegradable.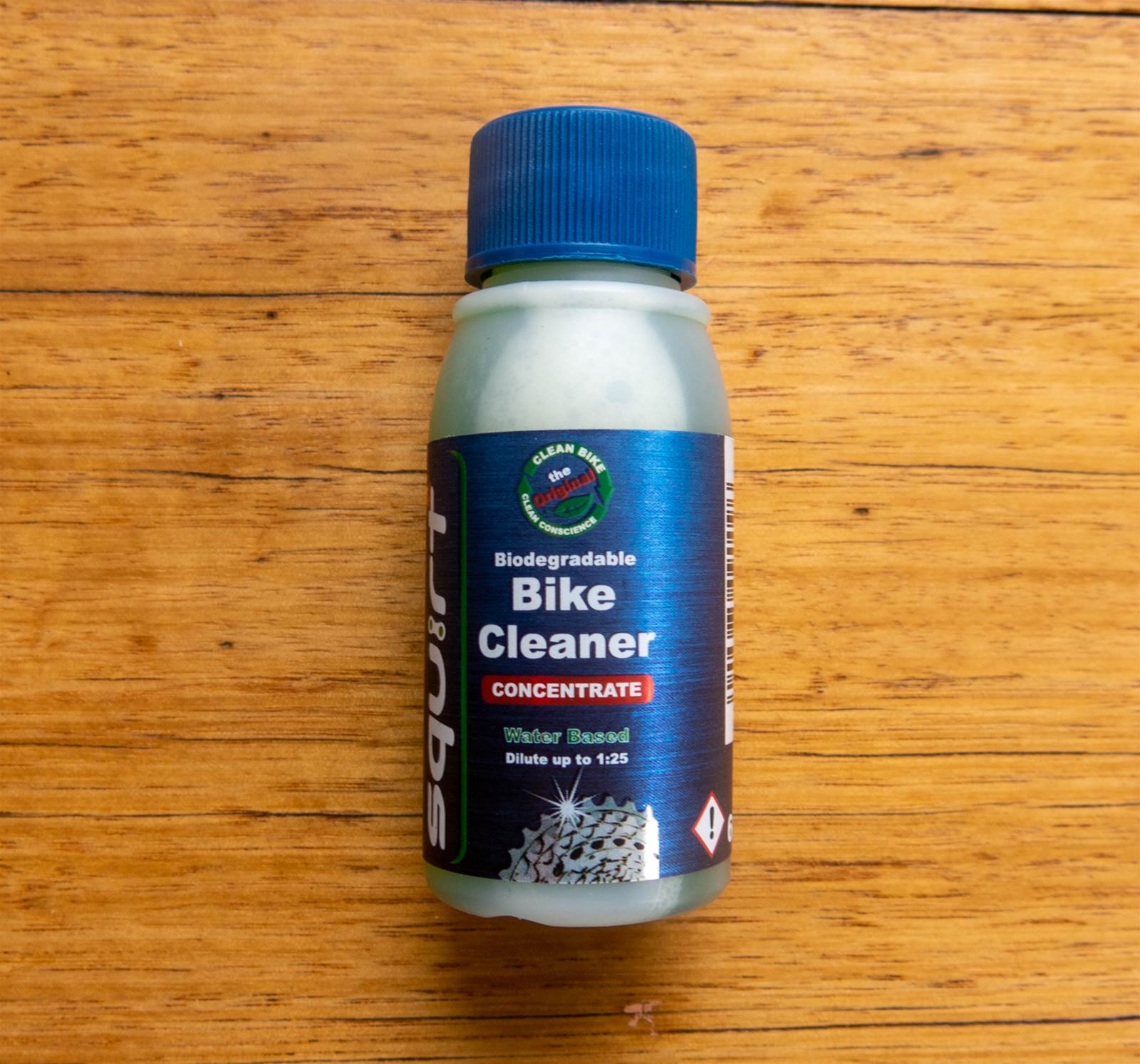 Squirt's Bike Cleaner comes in a concentrated version also.
Whilst Squirt's regular lube is already a fantastic product, if you're regularly riding any bike in wet conditions, I wouldn't hesitate to recommend their eBike Chain Wax. Whilst I can't comment the eBike Chain Wax increasing the longevity of drivetrain parts, it's another potential benefit that eBike owners will definitely appreciate. Squirt's biodegradable bike wash is another no-nonsense product from Squirt, and the fact that you can use it on the whole bike as well as to degrease chains gets it the thumbs up from me.
Hits:
Long lasting

Easy chain preparation using Squirt's bike wash
Better wet weather performance than regular Squirt lube.
Misses:
Runs a bit dirtier than regular Squirt lube at times
RRP:
eBike Chain Wax: 15ml, 120ml, 500ml at $1.95, $19.95, and $74.95.
Biodegradable Bike Cleaner 750ml, $19.95 or concentrate 60ml - $4.95, 1L - $24.95. Also 750ml ready to use plus 60ml concentrate pack $21.95
From: bikebox.com.au
Australian Mountain Bike