The Specialized Ground Control and Fast Trak suit cross-country to fast trail riding.
Specialized are on of the biggest brands in the bike world, and unlike almost every other major brand, they have their own tyre range as well. The Specialized line up of tyres had an overhaul in 2021, with updated compounds, casings and tread patterns across many popular models. Two of these are the evergreen Ground Control and Fast Trak tread patterns.Words and photos: Mike Blewitt

I've had two pairs of these tyres in use since late spring in 29x2.35" sizing, with the T7 combination used the GRID casing, and the T5 models using the lighter Control casing, along with the faster rolling rubber. Theses updated models are designed to work with wider rims, and I used 29mm wide rims for testing.
The Ground Control tread pattern is quite open, with what Specialized call their Block-in-Block tread, meaning there are lower height tread knobs inlaid into the knobs, for more support and more edges in softer conditions. The Fast Trak tread pattern is known to be a fast rolling but adaptable tread. The edge knobs are little more open, and the Block-in-Block design aids support and the rolling speed with the closer centre tread.
Ground Control and Fast Trak: Grid 2Bliss Ready T7
This was the first set I mounted up with the Ground Control weighing 870g and the Fast Trak 810g in the 2.35" sizing. The 2Bliss Ready bead means the bead is butyl wrapped which helps it lock in place. The Grid casing is a 60 threads per inch (tpi) casing with extra reinforcement on the sidewalls that aids stability. The T7 compound is the second softest compound that Specialized are offering, which should enhance the chemical grip (compared to how the tread digs in) on your terrain.
The tyres inflated easily with a track pump, measuring at a hair under 60mm. The edge knobs sit perfectly on the tyres, although the Ground Control's tread is markedly more pronounced than the Fast Trak, which is to be expected.
While my first rides had hero dirt, my local trails have mostly dried to their usual loose over hardpack. That said, with more water in streams, I did find the T7 compound felt good carry wet dirt onto rocks and logs. There was noticeably more drag on these tyres when riding to and from the trails, even compared to tyres of a similar weight. On the dirt, it was less noticeable.
The T7 Grid models never left me without traction on the climbs, and I had a bunch of fun finding where their sweet spot was. While I started with a modest 19.5/21.5psi front and back, in the end I was down to 16.5/19.5psi! The 60tpi Grid casing has plenty of support, and while these pressures are what work for me on my bike and my trails, it's still a little less than I thought I would be running. And that was being conservative in the rear.
At these pressures, the T7 Grid setup had a pleasingly damped feeling on flatter trails, with enough support to load the bike up, and with enough protection to let it run in faster sections. The Ground Control has plenty of edges, but on loose over hard pack it could still push wide if I didn't pay attention to getting my entry speed and line just right. I think this would also make a great front and rear combination for a light trail bike, even with something a little meatier upfront.
While I thought I'd want the Fast Trak to offer some even close centre tread, it rolled nicely and was more predictable than expected when cornering. I only used this is a rear tyre (with the Ground Control up front) and I really liked the rounded profile for a very consistent transition when cornering. It hooked up when needed and had no surprises. Running these front and rear would be a good setup for good rolling speed and protection.
Ground Control and Fast Trak: Control 2Bliss Ready T5
With the same tread pattern, these 60tpi tyres having the same 2Bliss Ready bead but without the extra protection of the Grid casing, and with a faster rolling T5 compound. It's worth bearing in mind that 60tpi casings are quite strong anyway, and pretty airtight, and the Control casing does have sidewall protection to assist with pinch flat resistance. So this is far from the fragile option, but the lower weight and lower rolling resistance does put them more firmly in the cross-country camp.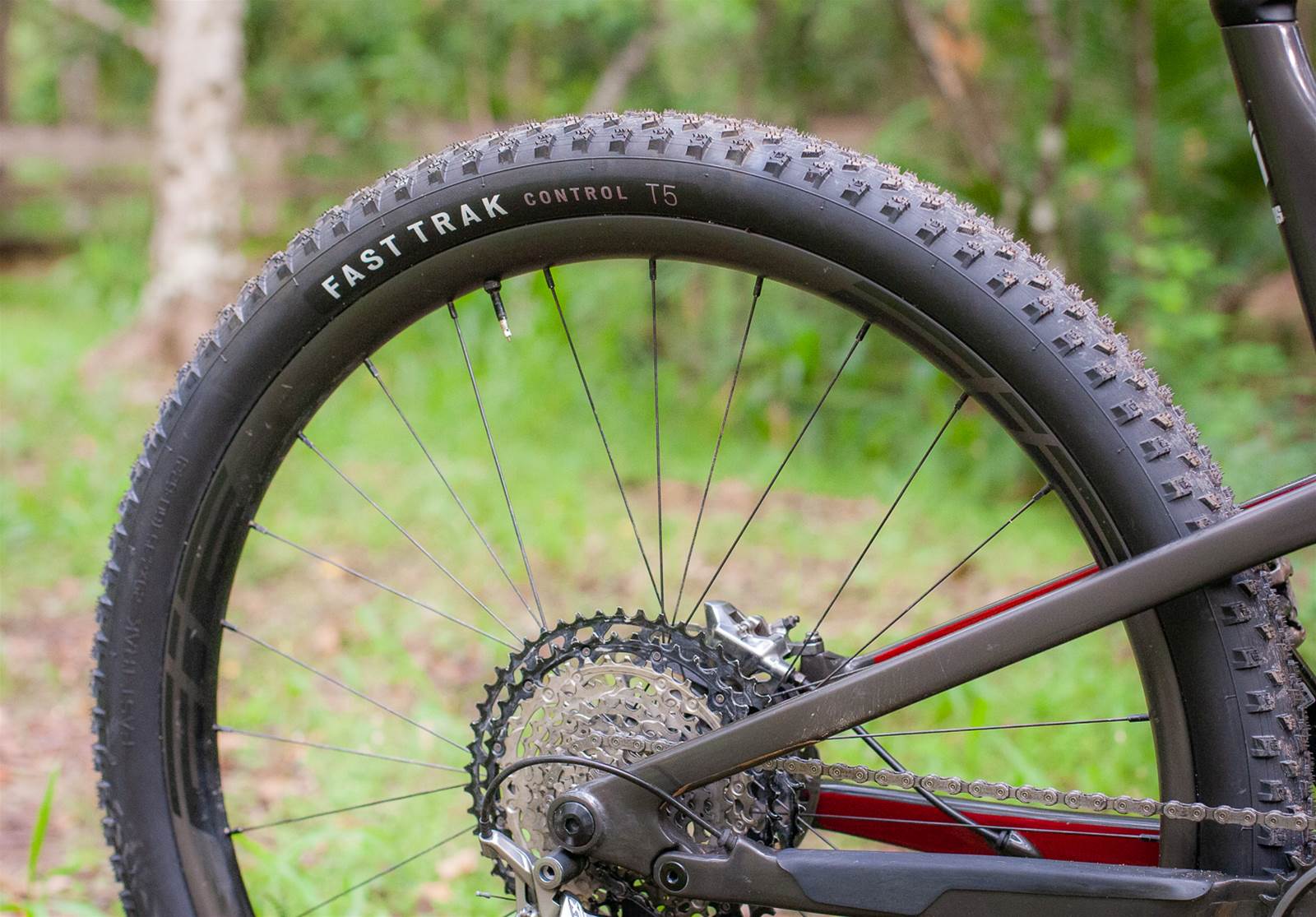 They weighed 773g for the Ground Control, and 686g for the Fast Trak, which is about 100g lighter per end.
In the hand, the tyres were notably more supple when fitting them, but I could still get them to inflate with a track pump, as the 2Bliss ready bead sat in place in the rim well. For pressures, I set them at 19.5/21.5psi before riding.
With the T5 tyres on, conditions were mostly dry, but I still rode predominantly on loose over hardpack (looking at you, SE QLD). The combination of lower weight and slightly reduced rolling resistance added up, with rides to the trails feeling more spritely and my bike feeling a little more agile on the trails. Agile could also be taken as slidey and easy to move around, but for a tyre billed as an XC tread, that comes with the territory as far as I'm concerned. You sign up for a bit of shimmy, it's how you deal with it to go fast that makes the difference.
And on that front, I foiund the tread performance the same as the T7 Grid models, with the Ground Control pushing through the looser corners, but otherwise the combination was as predictable as it was versatile.
The main difference was the casing, rubber and set up. I didn't have flats on either tyre, and kept the original pressures to ward off any sidewall squirm. This is partly why the tyres would drift a little more in the looser corners, but I'd say the compound as a small role there. A few wetter areas were far from sketchy, but the overall trail feel was more lively than on the T7 Grid tyres.
My take
The Ground Control and Fast Trak combination is quite versatile as a front and rear combination, with a more aggressive front tread partnering with a faster rolling tread on the back. Both suit front and read combinations, erring towards light trail and cross-country/marathon respectively. I have preferred to have a more aggressive front tyre and faster rolling rear since I first matched a Ground Control to a Tioga Psycho K in 1998. As such, the combination as tested was akin to running a Maxxis Ardent Race and Ikon, or a Rekon and Rekon Race, or Rekon Race and Aspen, Or Pirelli Scorpion Mixed and Hard – there are plenty of other combinations out there. But the casing and compound options do put Specialized in their own game compared to those options, and I think having that choice is great.
I'd reaching for the Grid T7 models if my riding was fast trail focused, and I didn't want to drag too much tyre around but wanted great support and traction. If I was looking to cover more ground, and have a little more durability on mixed surfaces, especially in events, I'd be fitting up the Control T5 units. Kudos to Specialized for continuing to innovate with their tyres, and for keeping the costs reasonable as well.

RRP: Grid T7 - $80, Control T5 - $70
From: specialized.com/au/en
Hits:
Versatile treads

Compound and casing options

Well-priced

Good ride feedback
Misses:
Ground Control can push more than expected

Can we get a T6?
Australian Mountain Bike