Founded in the 1980s, Rola are a Melbourne based roof rack and storage company who have just released their first foray into vertical bike racks.
Words: Hayden Wright
Photos: Gerard Lagana

Head to any trail head and you are bound to see multiple different vertical bike racks hanging off the back of local's cars. These highly functional racks give you the ability to carry you and your friends' rides without needing a dual cab ute or shuttle pad. I can still remember the first time I saw a vertical rack in Whistler. My mind was blown, what an ingenious idea! Seemingly the trend has caught on down under and now there are a variety of options on the market including the new Rola VBR3 ($1235.09) and VBR5 ($1342.50).
Founded in the 1980s, Rola are a Melbourne based roof rack and storage company who have just released their first foray into vertical bike racks. Touting a very competitive price point and a direct-to-consumer sales model, the Rola seems like a great option for budget conscious consumers who want a highly functional rack without some of the expensive add-ons which are common with the comptetion. Rola shipped me their 5 bike VBR5, which I was excited to put to the test. 
Out of the box
One of Rola's defining features is that they sell direct to the consumer with the products being shipped to your door ready for assembly. Don't be fooled, this is no set of Ikea shelves and does take some basic tools and a bit of time to put together – but it's not rocket science. The VBR5 required Allen keys and a set of sockets (maximum size 19mm) to put together, with most of the fixings being bolts with Nyloc nuts. All the major components come individually wrapped in single use plastic which was dissapointing to see. Given the steady turn that our indistry is making to move towards the use of cardboard entirely in its packaging it would be good to see Rola do the same. Build time to bolt the rack together came in at around 60 minutes, which was an easy step-by-step process which takes place on the back of your vehicle of choice. The base and hitch tube have some adjustment included through the implementation of multiple mounting holes and fixed tilt angles ensuring that you can get the right fit for your car regardless of bumper size or if you have a rear mounted spare wheel. Also included with the VBR5 is a number plate mount, which is a must have as the loaded rack will obscure the visibility of your number plate in its standard location. After tightening up the included anti-rattle plate and giving the VBR5 the customary 'shake test' I was ready and confident to load up and hit the road.
On the car
There is no denying that driving around with a full VBR (vertical bike rack) on the rear of your car takes a little getting used to although once I became accustomed to having a rear-view mirror full of down tube, I forgot the rack was there. The anti-rattle plate did its job nicely, and I didn't notice any sway or movement from the rack which I considered to be of concern. For a little extra piece of mind, Rola have included some tie back points which allow you to strap the VBR5 back to your roof racks. This is probably a good idea for a little extra piece of mind if you're going on a long trip with rough roads. 
Loading
Unloading and loading bikes was a straightforward affair, with the Rola VBR's wheel cradles doing a good job at guiding the front wheel into place. The single bike capacity is 27kg, with a fully loaded capacity of 135kg meaning you can load up with 5 e-bikes with the knowledge the rack is within its limits. Personally, I test fitted the rack with everything from my XL Forbidden Dreadnought test bike to an XS Canyon road bike with no issues proving you can hang just about anything with two wheels on the VBR5 within reason. Rola do state that the minimum wheel size is 20", and the maximum tyre width is 3.7". So you can load up your mate's Plus bikes but your mate who insists that fat bikes are still cool is going to have to figure out their own transport.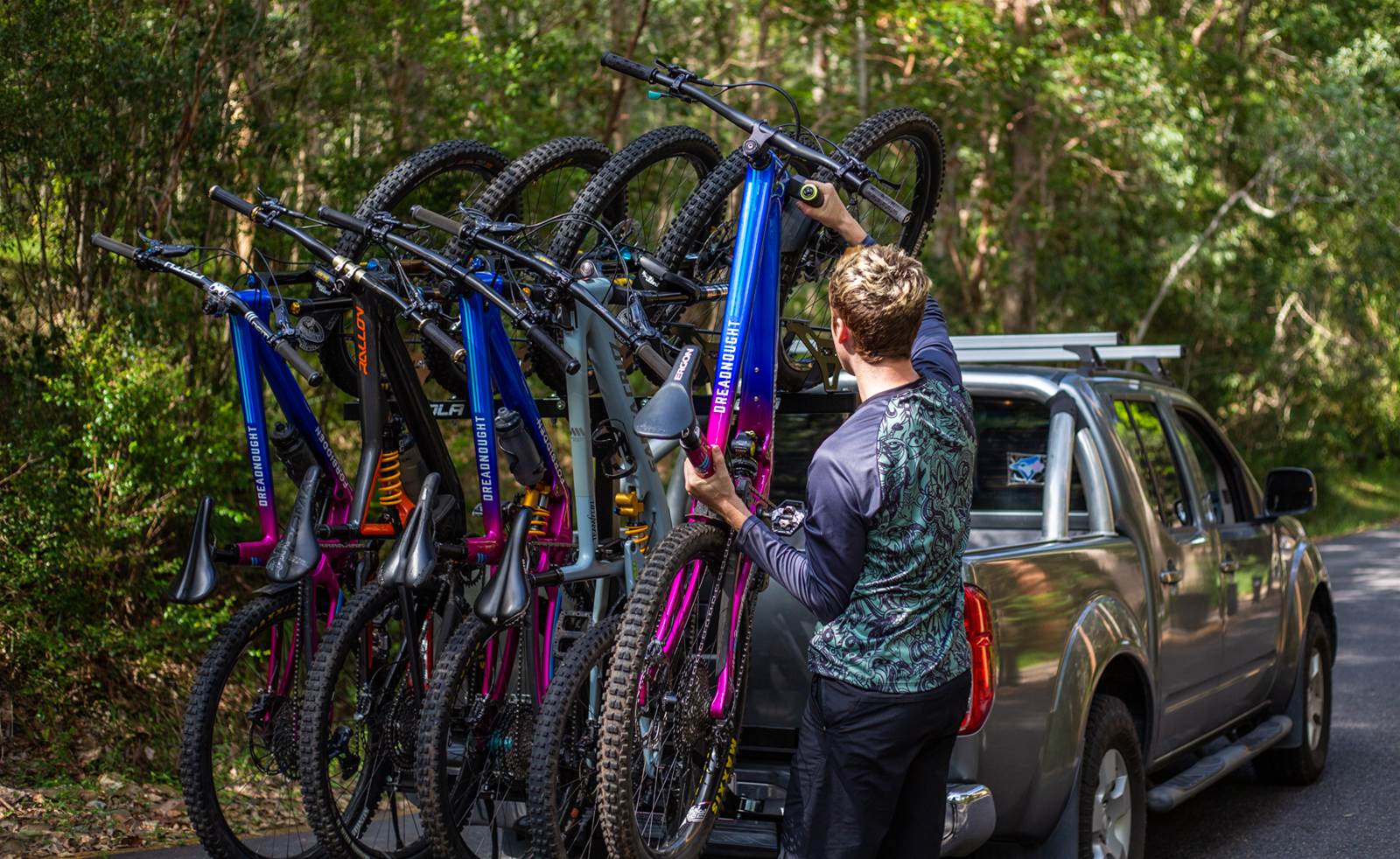 Like other vertical racks I have used, there is some clashing of bars and top tubes when loading the rack to its full capacity – but this is nothing a little trial and error can't sort out. Shorter riders may have a tough time getting their front wheel up to the cradles with it being 1500mm above the hitch point. 
Tie-down system
I am not a fan of the elastic strapping systems on other racks and was pleased to see that Rola have gone with one thick motocross style tie-down with a carabiner latch for the rear wheel of each bike. This tie-down allows you to strap the rear wheel to the rack, giving a firm fit with a lot of tension on the fixing without any elasticity.
While you do need to reach to both sides of the rear wheel to latch and tighten the strap which is a little cumbersome, I feel it is an improvement in both functionality and design over what I've seen on comparitave racks. There is no top strap, but my testing gave me confidence that the strength and security of the lower strap combined with the deep cradles rendered one unecessary. 
Accessibility and storage 
Access to the rear of your vehicle can be gained by removing the pull pin and tilting the VBR, which has an allowance for 10° forward and 40° rearward movement. This makes it easy to load up the car or grab something out of the boot assuming the rack isn't loaded. Unfortunately, there are no in-house options for swinging arms or easy loaders meaning you will probably want to take this rack off the car when you aren't using it.
When it comes to both removing and storing the VBR - call a friend. It is big, heavy (38kg), cumbersome to move around and takes up quite a bit of storage space. This isn't a negative towards the Rola specifically but moreso on this genre of bike rack, but in my mind still worth mentioning. 
Verdict
The Rola VBR5 is impressive for what is their first foray into the market of vertical bike racks. The competitive price, secure strapping mechanism and consumer direct sales model make it a great addition to the Australian market.
RRP: $1342.50
From: rola.com.au
Hits
Elastic free strapping mechanism 
Nyloc nuts for peace of mind
Misses
No Swing arm or easy load accessories 
Heavy to unload and store 
Australian Mountain Bike