Taking a look at the Patagonia Black Hole 25L everyday pack!
Words: Mike Blewitt                                                                              Photos: Colin Levitch
 
I'm a sucker for a new backpack, and Patagonia have made plenty of bags that I have wanted to add to my collection. Their new Black Hole range using recycled materials really caught my eye. With my current go-to backpack wearing through at the bottom, plus having paid a high price for a Macbook repair after water ingress, I was keen to find a backpack that was hard-wearing and water-resistant. Being made from recycled materials was the cherry on top – and something we should all be increasingly aware of when making purchases.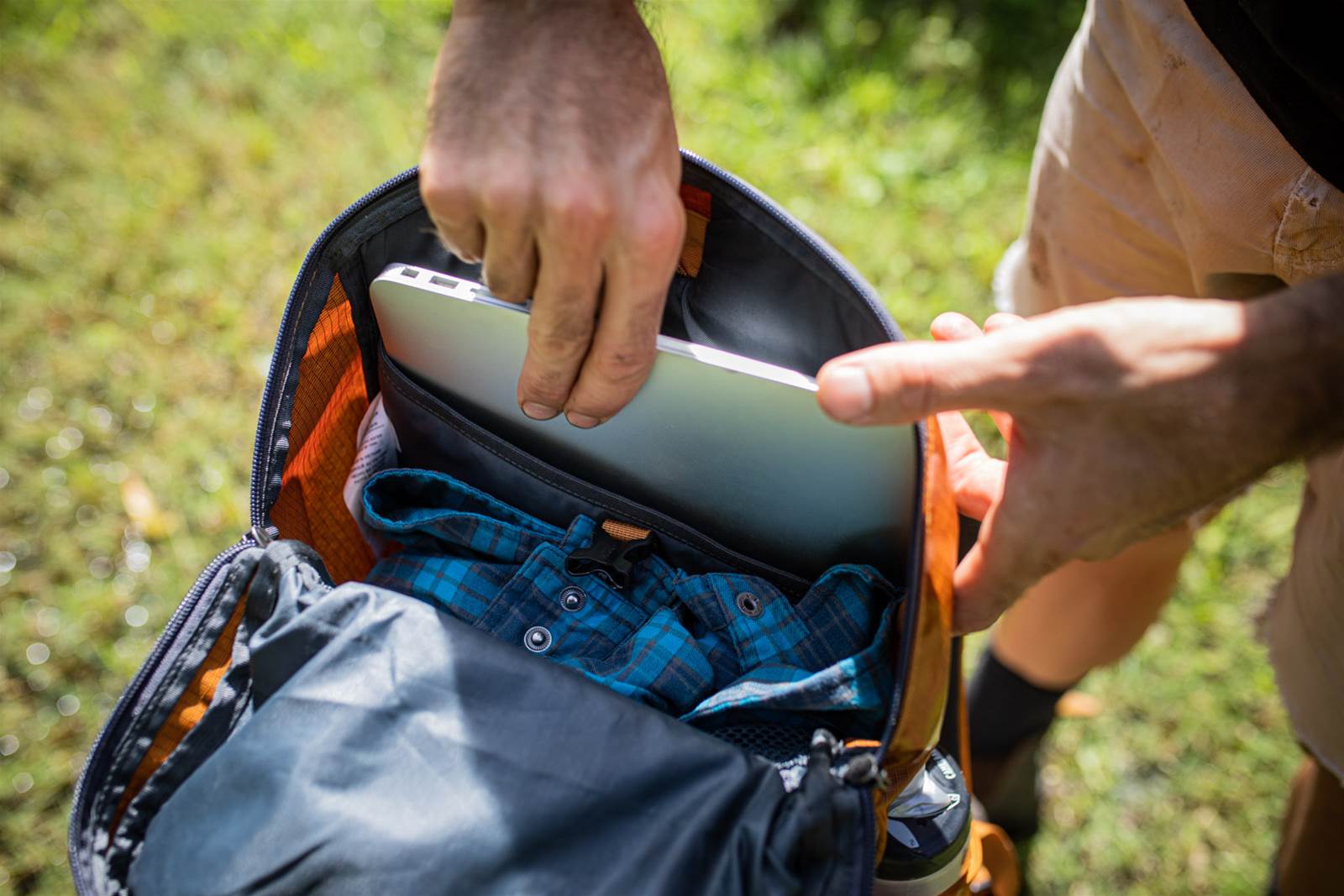 Now let me be clear, this is not a full-size pack for taking on the trail. It lacks a harness system beyond shoulder straps and a sternum strap to stabilise a 25L load when mountain biking. What it is is a versatile outdoor-oriented backpack that can suit travel, commuting, day-to-day usage and day hikes and beyond. The base is reinforced, there's room to clip on some extras, but otherwise it's just got a neat, slim design that doesn't sit out too far from your back for the pack size.
The design of the bag is top opening, a little different to a clam shell style bag which is also popular day packs. The latter means you can lay it down and open it up to access just about anything in the bag. But the top opening style is far more secure when opening the bag in the great outdoors or when on the move. To help with gear organisation there is a good sized pocket on the top flap of the bag, a smaller zippered mesh pocket inside the bag with a key clip, plus a lap top sleeve and a tablet sleeve in the bag as well. You could put a hydration bladder in the laptop sleeve instead as there is a port for a tube and places to hold it on either shoulder strap. There's a long zippered pocket on the front and two deep bottle pockets on the side, plus a daisy chain and a haul handle on the front.
 
Using the Patagonia Black Hole
 
As noted, this isn't a bag for hitting the trail. I used this as an everyday bag. For packing things to take to the trail, to carrying my laptop and camera and notebook for work days, and of course for travel as well.
I really like how light the bag is at 650g, without being a floppy sack when it's not at full capacity. It deals with a heavy load reasonably well, but not for hours on end. There is a sense that a lot of popular outdoor brands have moved away from their core purpose when designing equipment, and I think the Black Hole does fall into that space a little. The lack of waist strap means I'd be less likely to pack this up for an all-day hike, despite the construction and materials and other features suiting the task. But for the majority of people who call on a backpack every day, that might mean little. I've cut waist straps off in the past or at least tied them out of the way for my everyday backpack.
 
There was just enough organisation room in the Patagonia Black Hole to stop you needing to peer into the black hole of the main pocket for small items. Without trying to seem to vain, this is also a good looking bag. Enough so that someone came up to me at an airport to compliment me on my choice of backpack. A bit odd, but it happened.
All that aside, I was really happy with using the Patagonia Black Hole. Given my job often involves carrying a number of items that are best kept dry in environments that may well get wet, the water-resistant build was useful. The light weight helps with using it so frequently and carry on luggage allowances, and the overall design of the bag was very easy to get along with. Add in that it's made from completely recycled inner, outer and webbing and I think this is a great choice if you're a backpack aficionado.
 
RRP: $179.95
From: patagonia.com.au
 
Hits:
-      Low weight, great design
-      Water-resistant and hard-wearing
-      Made from 100% recycled materials
-      No waist strap
Misses:
-      No waist strap
Australian Mountain Bike