What makes a good hydration pack for mountain biking? We test the Osprey Siskin 12 to see if it can handle the trails!
Words: Mike Blewitt                                                                          Photos: Tim Bardsley-Smith
 
The advent of hydration bumbags, frames with storage compartments, and bib shorts with hidden pockets has meant that riders don't always need to reach for a hydration backpack. But, bring in full-suspension or eMTB frames that can fit no bottles or just 500mL, and our hot and dry climate, and sometimes the ability to haul about 2.5L of fluid and some extra gear is exactly what you need for a day on the trails.
About 9 years ago I reviewed an Osprey Raptor 10. It swallowed lots of gear, carried plenty of fluid, and had a really stable harness thanks to the firm back panel. It was also pretty long, although there were two back lengths. Here in 2019, Osprey have completely revamped their hydration bags, with new reservoirs, fits and sizes.
 
The Siskin is a 12L bag that has a 2.5L reservoir. 12L sounds like a whole lot, but I think it's just about perfect for anyone who wants a bag that works for a weekend ride or a big day in the hills. The reservoir completely opens up at the top for cleaning or throwing ice in (or keeping cans cool in cold, icey water) and the hose has a magnetic attachment to attach onto the sternum strap.
The bag itself has a really airy back system, it's less rigid than the previous bag I had but that's fine, it still is really supportive. There are waist bands each with a small zippered pocket, and easy to use clips. The main pocket on the bag can open like a clamshell for finding things, and there are two internal zippered mesh pockets for sorting your spares, and two long flaps inside the main pocket for keeping a mini pump or something similar at the side. With an extra pocket up high on the outside, the stow flap and a helmet carrier the bag is dialled for sorting and storing gear.
 
On the trail
 
If you don't like wearing a backpack when riding, the Osprey Siskin is unlikely to change you mind. If I know I'm going to need more water or gear I'm happy to wear a backpack, and the Osprey Siskin sits really well for the size. For comparison it sits better and carries more than a Camelbak M.U.L.E.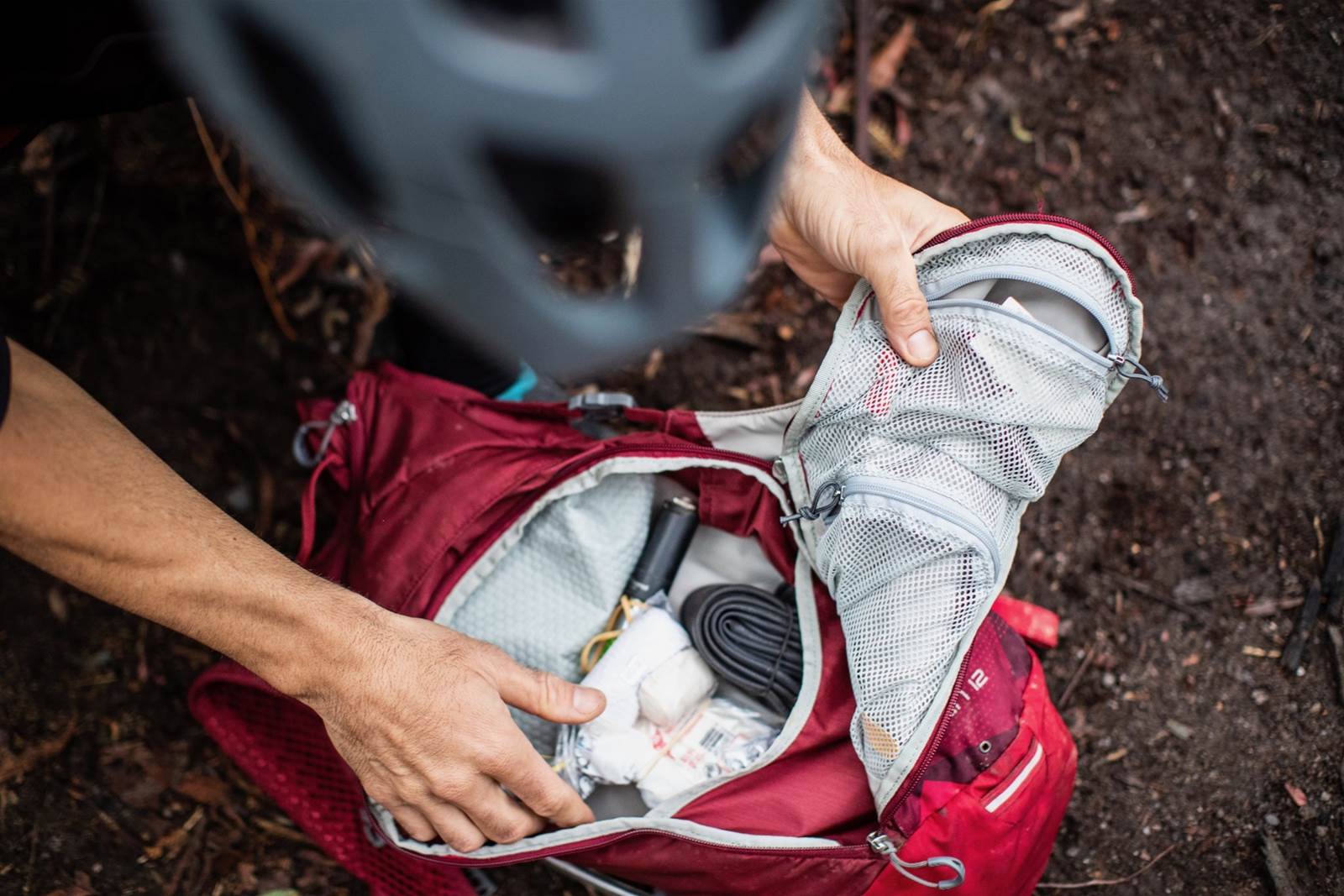 The harness is flexible enough that it fits snugly without tightening up the straps so much. The shoulder straps have a rolled edge on the inside which means even when loaded up they don't dig in. It's a small touch but a well-considered one. The two small hip pockets were useful for small items you need to get to frequently. I ended up putting a multitool in one and although I'd like to say that's not a good idea incase you crash on it – it was really handy. The stash panel and compression straps helped you carry more gear or cinch the bag down if it was nearly empty.
 
Hydration systems can rely on their valve as to whether they're worth it or not, and the bite valve was drip free the whole test, and lockable which is a nice feature when you're travelling to the trail head. I did find the magnetic attachment a pain though. While the concept is nice, and when standing around it was easy to engage the tube and have it stay there, on the trail it was different. I ended up just tucking it under the sternum strap to keep it in place.

Apart from that, I have few gripes with this bag. I did find it annoying that I needed to take the bag off to get to my phone. I don't ride with mine in my pocket as screens are expensive. It did make me think that what we want easy access to has changed over the past few years where we now rely on our smartphones for just about everything, be it navigation, fitness apps, photos, music, or checking Strava. Some running style bags do let you keep your phone on a shoulder strap pocket, and I think that's a cool feature. But really the bag was near faultless if I ignore the magnetic attachment not being strong enough. I'd highly recommend this bag, or the women's specific Salida 8 ($139.95) if that was more suitable.
 
RRP: $159.95
From: Osprey Australia
 
Hits:
–     Stable and comfortable
–     Easy to fill and clean reservoir
–     Fits well if loaded or near empty
 
Misses:
- The magnetic hose attachment doesn't really work
Australian Mountain Bike