A killer value trail bike with an unmatched fun factor, meet the Norco Fluid FS 1!
Words: Sebastian Jayne                                                                                  Photos: Matt Rousu
Norco make mountain bikes. For mountains that have rocks, roots, mud, dust and squiggly lines of singletrack. Some trails are tranquil and take you places; other trails are raw pieces of mess that smash bikes and bodies if riders don't come prepared. Some trails are a mix of the two with flow sections leading to steep chutes of roots with drops that plunge riders down into a jump then a berm. There are so many options in mountain biking for each rider to get their own individual fix that there needs to be an equally large selection of bikes, the right tool for the job as it were. Or does there? That's where the 'trail' category of bikes comes in.
Most companies have the trail category that aims to do it all. Bikes that can climb comfortably while still having the exuberance to smash down the other side, whether the rider wants to take on a flow trail or a double black diamond descent. Enter Norco's new Fluid FS 1. It's a trail bike that Norco designed to have 'confidence inspiring handling' and be 'playful with and unmatched fun factor' and to be there for you on any trail you decide to explore. And better yet, it does so with killer value.

 
Initial Impression
 
At first thought I considered the Fluid to be the sibling that wants to jump off the roof while you want to jump off the balcony. It's that little bit rowdier than its family and I did wonder just how rowdy it would want to get while out on the trail. These first thoughts came from the spec sheet that shows the Fluid has characteristics that are a tad different than what you would usually expect from a 'trail' bike.

In the model tested, the first thing that jumped out was the 2.6" tyres draped over 29" wheels that showed Norco expects this bike to run into some bigger pieces of trail art than your usual trail bike. While wide is the new trend, making the jump up to 2.6" on a 29" wheels, other trail bikes sit around 2.3 – 2.5", shows Norco's intent and you do feel the size of the tyre when you hold it in your hand. The Fluid ships with a WTB rim with a 29mm internal width, which does hold the 2.6" well and shows Norco went from the ground up when thinking of the Fluid and not simply adding bigger tyres to a normal bike.
 
Tyres are one area that the Fluid sat just off the trend and the same goes with the geometry. Each geometry metric from head angle to chainstay length and around to wheelbase are all that little bit different to its competition, which Norco hopes will keep the Fluid balanced while extending its capabilities. Norco have opted for a 66.5 degree head angle, which is slightly slacker than the trail models of other brands and continues the trend for the Fluid to be that little bit rowdier.
The wheelbase is a touch longer than others, as is the reach, both of which help keep things stable. Conversely, the seat angle is steeper to place the rider further towards the front of the Fluid and aids in a balanced feel especially when climbing. Offsetting the longer front end, created by the slack head angle and extended reach, is the nice and short chainstays at 429mm, which is good for a 29er.
A great option that the Fluid line features is the drop to 27.5" wheels in the smaller sizes (XS, S) while larger sizes get the 29er treatment (L, XL), and medium can choose between the two to tailor to the rider. Both wheel size versions of the Fluid FS-1 come with 130mm travel up front with the RockShox Revelation RC fork in Boost and 120mm rear with RockShox Deluxe R shock. One nice offering from Norco is a setup PDF guide on the website for the Fluid that lays out tire pressure options and suspension setup guides for each model. This, alongside some suspension tips for different terrain, makes setup easy without having to go to each suspension company's website for a setup guide when you want to make changes. It's the little things sometimes.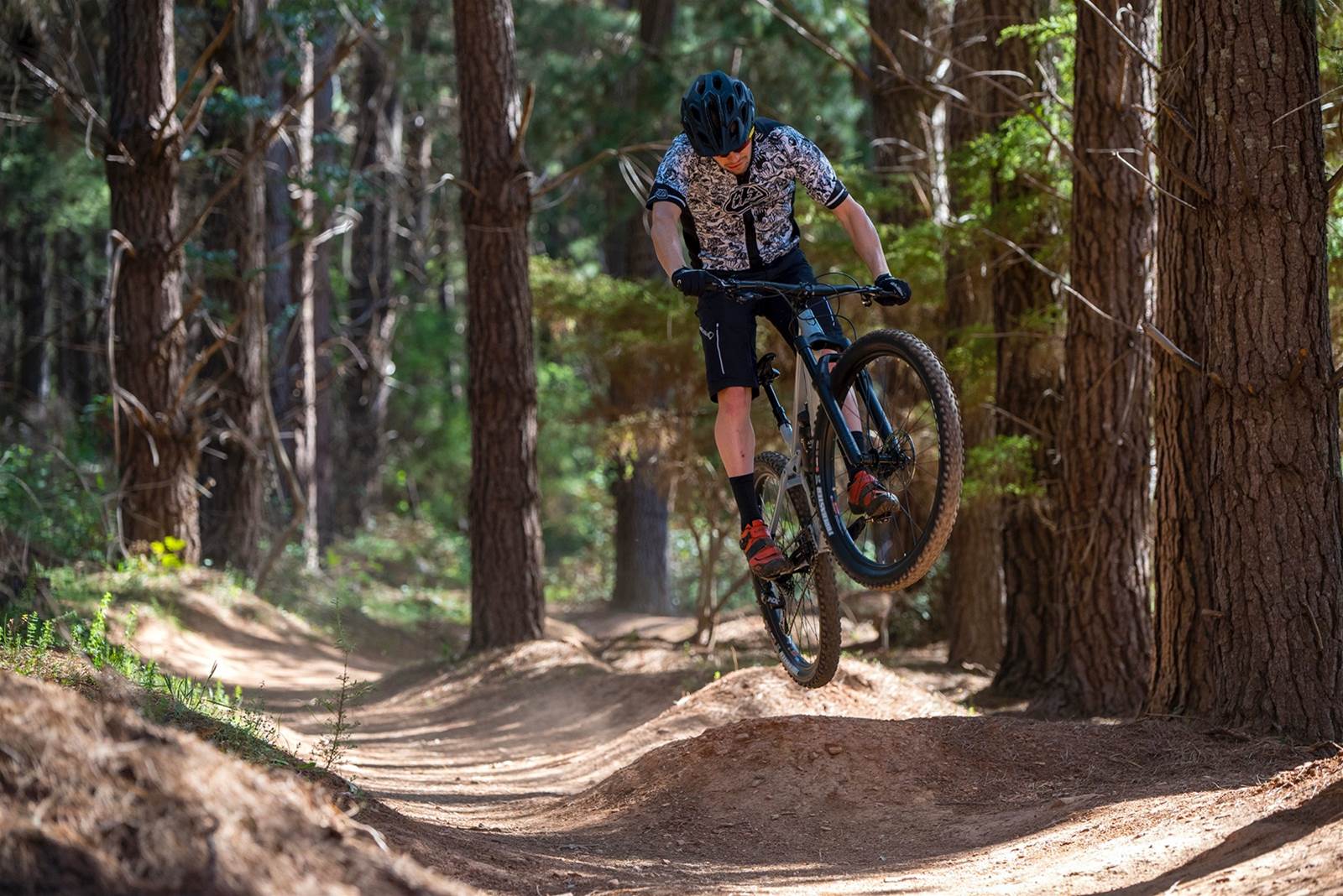 The aluminium frame of the Fluid is smooth and with internal cable routing creates a clean look. What appears to be a grey colourway comes out as blue in certain light which is cool. The model tested is the top FS-1 model, while there is a FS-2 and FS-3 at lower price points and a women's specific colour line. Overall, the Fluid looks strong and capable standing still though looks are only half the story. Placing a bike off-trend can expose it if not done correctly. Different is fine, as long as all the differences speak the same language while out on the trail.
Australian Mountain Bike