Find out how a budget 1X groupset upgrade performs out on the trails!
Words: Mike Blewitt                                                                     Photos: Tim Bardsley-Smith
 
In a time when 12-speed group sets are becoming the norm on mountain bikes from an intermediate level upwards, a 9-speed group set seems to stand out like a sore thumb. But Microshift are adamant that their 1x9 Advent group set proves that less can be more.
 
Comprising of a clutched derailleur, a shifter and a 11-42 cassette, Advent isn't quite a whole group set – it is quite a way off actually. But the parts are highly compatible. The cassette needs a HyperGlide (HG) freehub body, the shifter is a normal bar clamp style (and therefore has no options for a Match Maker or iSpec mount) and the rear derailleur is a standard fitting with just one cage length.
Microshift don't make their own chain for Advent, but any SRAM, Shimano, KMC or other 9-speed chain will work. I actually set this up with a slightly used Shimano 11-speed chain with no dramas at all. Similarly, Advent needs a 1x specific chain ring, and I used a 10/11 speed compatible Praxis ring and had no dropped chains. By working with the HG freehub body and just about any 1x ring, The Advent group presents the perfect option for upgrading older bikes to a dedicated 1x system for a fair price. But the reality is it works great on modern higher end bikes as well.
 
A closer look
 
The three parts are not designed to go into battle with top tier group sets. Instead, they are aimed at riders who might prefer to invest somewhere else in their ride. If you can save about $500 or more on the drivetrain, you can end up with some much nicer suspension or wheels, or even just keep on top of chain and tyre wear for a year.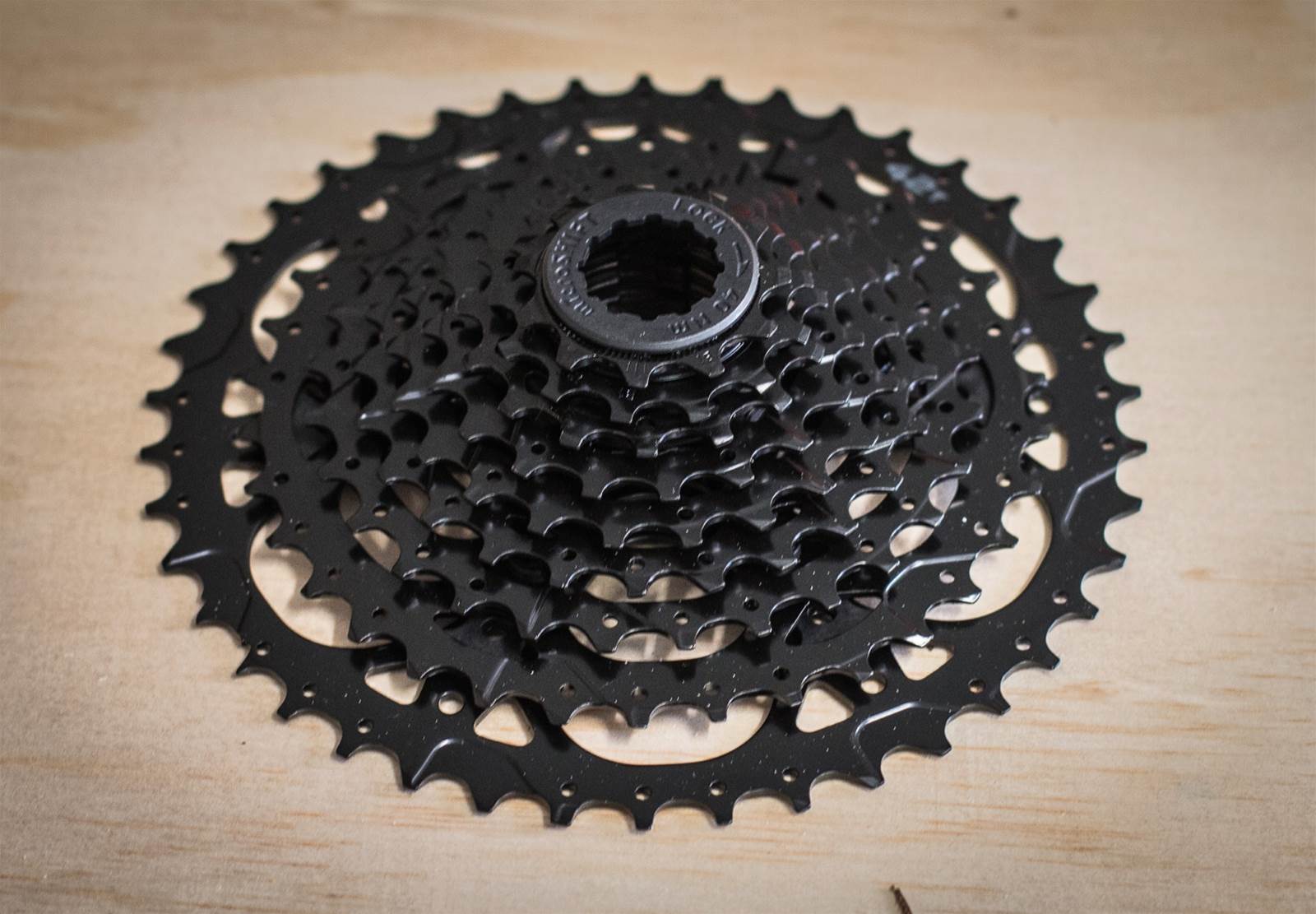 As such, it's not like the parts are coming in at light weights. The rear mech sits at 384g on my scales, while the shifter (with cable) is a light 131g and the cassette is 529g, which will put any weight weenie off right away. But that's ok, racers and weight freaks aren't who Microshift made Advent for. There is a cassette option with an alloy 42t sprocket which is said to save about 79g.
Setup was easy, and the (BYO) outer even runs into the rear derailleur on a nice line so there isn't a long loop. I had to adjust the B-tension and limits, and wind up some cable tension via the barrel adjuster on the shifter, but that's about it. 
The 11-42 cassette does look quite small compared to a Shimano 51t or SRAM 50t dinner plate. But if we go back a few years it's about what was normal for a low gear.
Australian Mountain Bike