The Magicshine Monteer 800 has global recognition for pumping out a lot of lumens – 8000 to be precise. But there's more to this light than just a huge output.
Words and photos: Mike Blewitt
We've actually tested this light before, but the V2 is all about functionality with a new wireless remote. Given the light  has the toggle switch atop the 5 LED head unit, being able to attach the wireless remote to your bars to toggle with your thumb is a big deal for ease of use.

The battery pack can be attached to your bike with the included straps, and the cord is long enough to even put it on your seat tube, to keep the weight low. Mostly though I think you'll run it in a backpack and use the light on your head, which I find is the most useful for mountain biking. Given  the battery can also discharge to power other devices, it may prove popular with riders tackling FKT (fastest known time) records on ultradistance routes. Bear in mind it comes with an out front bar mount to suit a variety of bar diameters, but you can get a head mount as well.
The Monteer 8000 has two rows of super bright LEDs, and you can use the two on the bottom, the three on the top, or both rows in Eco, Low, Mid, High or Flash settings. Yes, it's a lot of modes. This gives you as little as 400 lumens all the way to the big 8000, with a number of stops inbetween. The 8000 lumens will burn for 1:30, and while it's a big, wide, skin burning flood light, most people will end up using lower settings.
On the trail
Whether you use this on the bars or on your helmet, pairing it with the remote makes sense. It's just a case of having the battery unplugged, pressing both buttons on the remote until its light flashes, and then plug in the battery. You're paired. Out of interest, it keeps working until about 4m away. So it could be useful for adjusting lighting when camping or working on your bike at night.
I found the 2600 lumen option with the three top LEDs burning was great for most trail riding, and with 5:30 burn time it gave plenty of options. It was easy enough to toggle between modes anyway, and the light in front of you is an easy guide as to whether you're at the setting you want. The remote button uses the top square button to go through the 3 modes with a double press (how many LEDs are being used), press and hold to turn it on or off or to just press it go to full noise. The lower button (circle) can also be used as a press and hold for on and off, and toggles the brightness in a mode. You can also double press it to go flashing for commuting.
The beam on this light throws high, wide, low and long. Magicshine claims it throws over 300m when it's going! I couldn't easily verify that, but at the high settings it felt nearly irresponsible it was so bright. Given the wide beam pattern, it does work really well as a light on your bars alone, but I think mounting it on a helmet is also a good option, if you don't mind the weight of the head unit (a bit over 150g). If you absolutely have to see everything – you'll like this light. And if you need options for very, very long burn times and modes, then you will also like this light. With another battery it would be a great option for those who like solo 24 hour races.
Verdict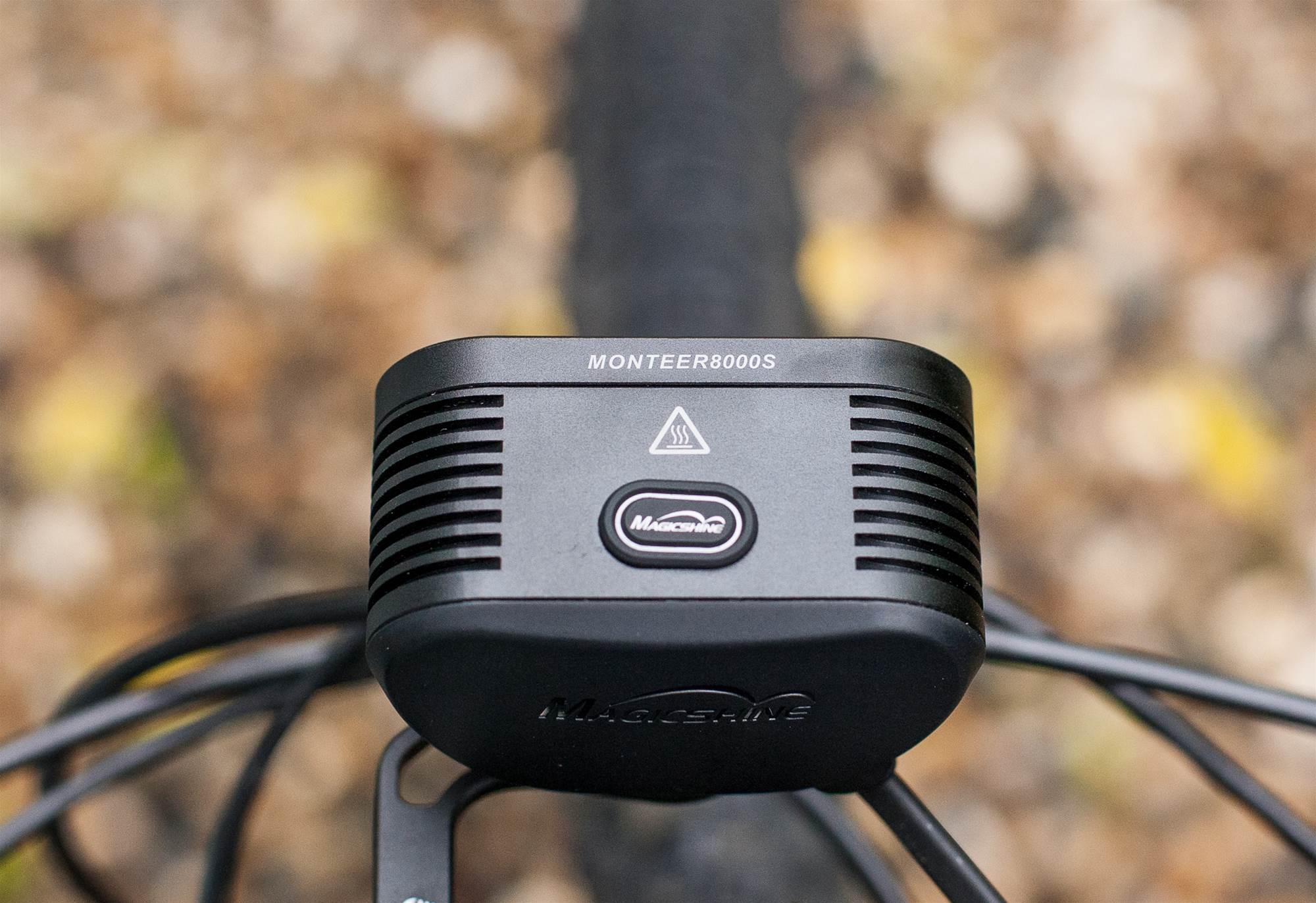 While I liked being able to have so much light on hand all at once, all up this really is quite a specialist light. It's no small investment, and suits people who need to find time to ride when the sun isn't up. Whether that's due to work or family commitments, extreme training volume, or just a preference for quieter trails – it doesn't matter. The fact remains if you ride in the dark a lot, this will be a great light to invest in, with a lot of options, solid construction and a very useful wireless remote.
RRP: $649.95
From: magicshine.com.au
Hits:
So much light!

Also, so many other light options

The wireless remote is really useful

Very wide beam pattern
Misses:
Cables mean cable management
Australian Mountain Bike