Not all direct sale carbon rims are created equal - here's a long term test of a pair we've been on since early summer.
In late 2017 we were testing the DT Swiss XMC 1200 wheels - a stunning set of carbon wheels that DT claim are good for XC, trail or even all-mountain riding. And after using them across a variety of terrain on my Norco Sight Carbon - I'm inclined to agree. 
But with little change left from $3000, the XMC 1200 wheels are a premium set of hoops. The penny pincher inside of me wondered - could I build something similar for less?
The key stats I looked at were internal width, weight, spoke count and hubs. Those being 29-30mm, about 400g per rim or a 1600g wheel set, 28 spokes and DT Swiss hubs. I also wanted something asymmetric as I think the extra offset really helps for building a more balanced wheel, reducing dish on the drive side of the rear wheel especially.
What I found was the EIE A29C29D25 AM model. With a claimed 400g weight, a 29mm internal width, and the ability to have 28 spoke holes (or more, or less), it looked like the right choice. They could build the rims onto DT Swiss 350 Boost hubs with centrelock, and it looked like it was going to all be possible. The finished wheels arrived a little over a week later, and the total cost was less than $AUD1300. Alternatively I could have ordered rims alone and had something built locally - like we have just done with a set of Oxive carbon rims and Hope hubs.
Setting them up
These were probably the 12th set of carbon mountain bike wheels I had built up - but only the second coming built from China. In the past I have had boutique Kappius carbon rims built by Joe at Summit Cycles, a set of ENVEs by Joe and two sets of Nextie rims as well. I've had a pair of Valors built by someone who works for Stan, a set of carbon wheels from Greg at TWE, and most recently a set from Jay Taylor at Taylor's Cycles. The only wheels I've had built from a Chinese manufacturer has been a set from Light Bicycle, and this set of EIE Carbon rims. Yes a few sets of carbon wheels come into my garage as a test and return set with my role as Editor - but the majority are wheels I've researched the details on and purchased for my own use.
Out of the box, spoke tension felt even but not high - and the wheels spun true. Putting them into the frame the dish looked spot on.
Taping was straight forward with the right width Stans Yellow Tape, as was getting some Maxxis Minions to seat tubeless. My only concern at this point was the detensioning of spokes. There was a noticeable amount of pinging as the tyres inflated, and more once the wheels were fitted and ridden for a driveway check.
This suggests the wheels were not stressed and retensioned in the building phase. The spoke tension still felt fine on the bike, so the first ride followed.
Taking the trail bike to Castle Hill near Ipswich was the first shakedown. Compared to the stock wheels on my Norco, they shed about 700g from the weight of my bike. This is so much weight from one component (albeit a major one) and if you're even thinking of pointing and shouting 'weight weenie' just imagine if your wheels lost close to a kilogram. It really, really makes a difference.
A DT Swiss star ratchet hub can be upgraded from the stock 18t to 36t or 54t. This one is stock.
The freehub was also a little better engaging which I feel helps with chain security, and ride feedback. On the new (at the time) pumptrack and small jump and rhythm lines at Castle Hill everything felt spot on.
Riding up the main drag for some runs, again, the lower weight of the wheels made swapping lines easy. The 29mm internal wifth was the exact match for the WTB i29 rims that came off, so the big change was the hubs and overall weight.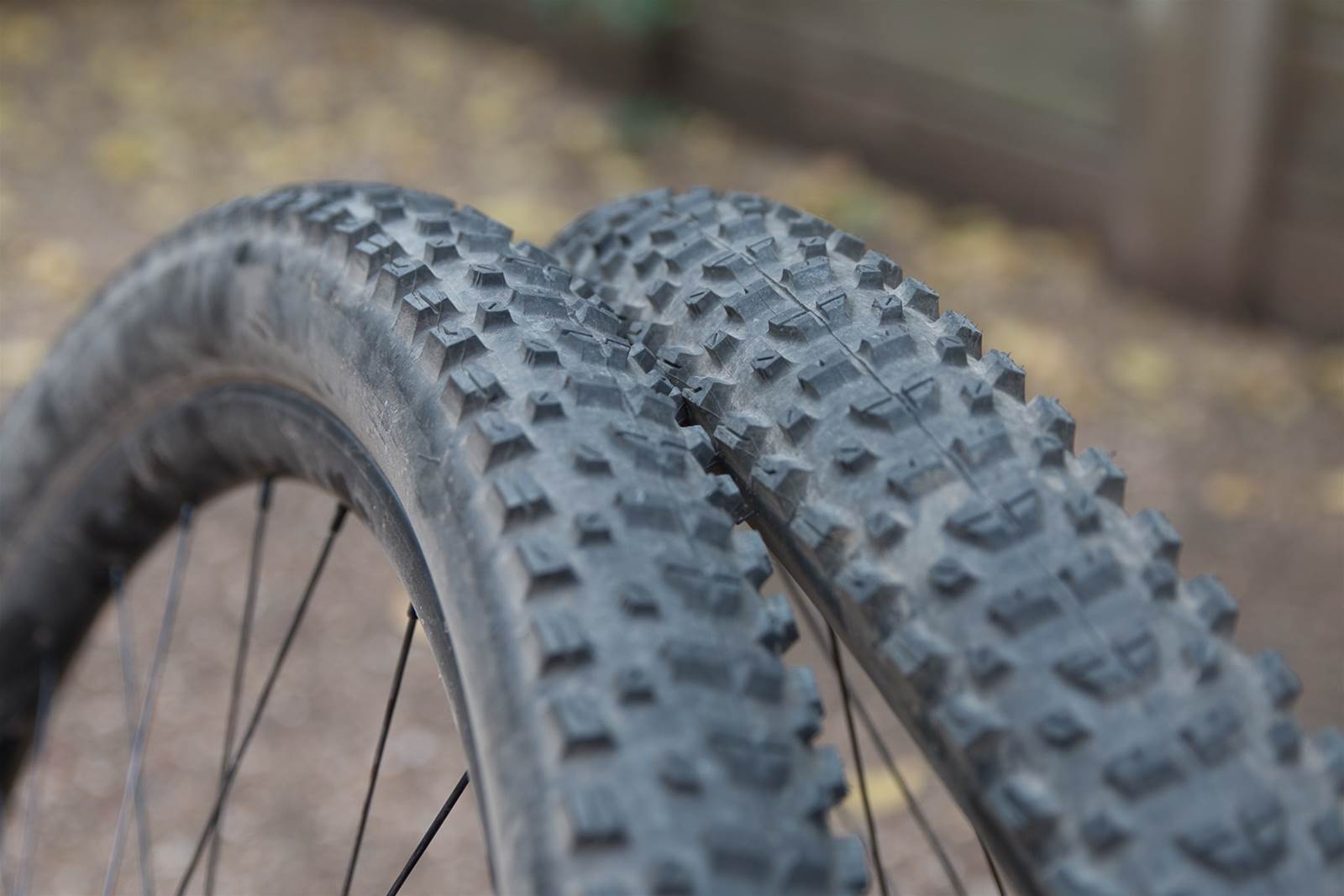 These 2.6" tyres inflate really well - it's the set of Maxxis Rekon tested in Issue #169.
On about the 3rd run, I heard a crack.
At the bottom, I saw the rear rim had a crack. With 22psi in the tyre and riding pretty mellow, I'd cracked a rim without even burping the tyre or taking a drop.
To say I was surprised would be an understatement. EIE Carbon were on the case pretty quickly, I stripped the tyre and rim tape off to send the serial number back, and so they could inspect others from the same run. After a bit of to and fro, a new rim was posted.
This is great, but this was about 2 weeks before Chirstmas. I'm no wheel builder, so chances are I'd be without my wheel until the New Year. Such is the dilemma with going direct and not via your local shop with a big brand product.
Here and now on the EIE Carbon wheels
By the new year I had the wheels back and in my trail bike again. I've since ridden them with 2.3" Minions and 2.6" Maxxis Rekons, which potentially inflate better thanks to the 29mm internal width. A normal 2.3" leaves side knobs a tiny bit inboard of the sidewall, so you're better fitting tyres designed for a wider rim - like the Maxxis tyres designated 'WT'.
The wheels have ridden just as I would have expected. They're light, and offer a very stable base for the volume of tyres on there. The DT Swiss hubs roll well, and I'm pretty sure that rim crack was a manufacturing fault - as they have been ridden a lot more, and a lot harder since then.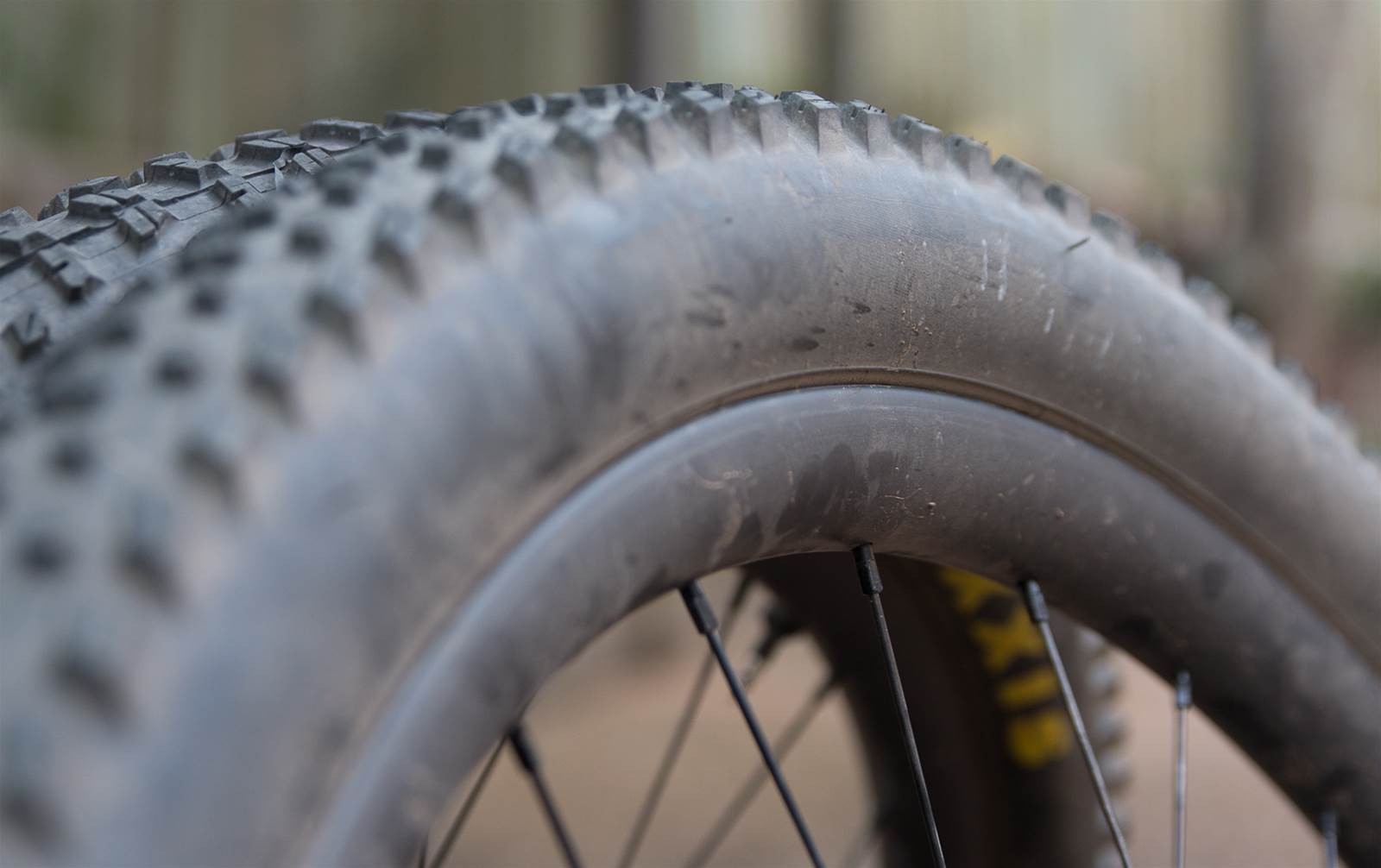 The finish is nice and consistent.
Still, this AM model is on the lighter side - which is what I would have expected having chosen the lighter rim option. As I'm hoping to get a new XC bike in the next 6 months, I figure this Boost wheel set will do double duty for a wide and light wheel set on that. But for now, it's a great fast trail wheel that suits a wide trail tyre for lots of float on dry trails.
The spoke tension has been ok, although I do have concerns about some of the spoke holes, as the nipples don't exit as cleanly as they should which I suspect might lead to premature breaking at the end of the threads, where the spoke isn't exiting the nipple as cleanly as possible. Additionally, I also think I should have rathered ordered rims for a local build, and then maybe invested in high end spokes instead of the DT Swiss Comps, and had Prolock nipples used. It costs more per wheel (about $1.50 per spoke) but the wheels hold their tension far better - and you get a stronger wheel.
The spoke bed is offset 2.6mm. This helps reduce dish for the disc on the front, and drivetrain on the back.
Given the price, I think the wheels have been good. Had that first rim not broken I probably would have had a different view. But as it is it did leave me a little concerned about long term durability after the first ride. 6 more months of riding hasn't given any need to be concerned, but I think if you are after immediate back up with any problems (bearing in mind a severe and avoidable impact is only a problem for you, not a wheel manufacturer) then stick with one of the bigger players. And if you're concerned about riding home on a damaged rim, stick to alloy. If I were to order another set I would go for the DH model, but as I said, since that first break I've had zero issues with the wheels, across a mix of terrain here in south east Queensland, and even lending the bike to someone who was happy to be hitting jumps and bigger lines than I would have.
If you're after a well-priced carbon wheel set, and rims for most styles of riding - get in touch with EIE carbon to see what they can build up. If you have a trusted wheel builder nearby - order rims and have your local builder build them to suit you, if they're keen to get you on something different.
Australian Mountain Bike