Do you tango, Django? Chris Herron puts Devinci's latest trail bike through it's paces.
I know some AMB readers will be studying this review to check out how the new Devinci trail bike fared during its test – although many others may well be asking: "What the hell is a Devinci?" That's not such a stupid question as Devinci Cycles are a relatively unknown brand Down Under. For a company that started back in 1987 in eastern Canada, it's taken the best part of 25 years to reach our shores. Devinci has offerings from sleek road disc bikes to gravel hungry cyclocross bikes, but it's the vast range of mountain bikes that we are interested in.
On test is Devinci's light and fast Django 27.5 trail bike which sits pretty much smack bang in the middle of the line-up, ranging from fat bikes and plus hardtails to World Cup winning downhill machines. Utilising the proprietary and patented Dave Weagle Split Pivot with a super progressive rear end, Devinci claim that the Django has super fast acceleration with precision handling and a lively feel. With modern geometry, mid-travel suspension and 27.5" wheels, it feels like Devinci were really targeting riders looking for an aggressive XC bike with slightly longer travel and slacker geometry to start tackling the more technical trails - and have a blast whilst doing so. Out on the trails, the Django would be at home rubbing shoulders with the likes of the Santa Cruz 5010, Norco Sight and even the Yeti SB5c.
INITIAL IMPRESSIONS
Although available in both carbon and aluminium framesets, I was given the 2017 carbon variety with carbon mainframe and seatstays, and alloy chainstays and upper link. A proven mix of materials in the right locations, giving the frame a very solid and stiff feel at a reasonable weight. It's available in two colourways - gloss black and the matte blue turquoise–red tested here. I personally really like this colourway, and love the matte finish. It just pops in the sunlight and never looked dull, even after a few dirty rides and bike washes.
Following the latest trend in frame design of the internal routed cable, Devinci have opted for the same system, but with some neat little cable covers to allow a larger opening when routing the cable, and then plug it all up with a neat and tidy guide that screws into the frame. And if loose cables rattling inside your frame isn't your thing, the Django comes with a modest length of foam tubing to run the internal cables through to dampen the rattling and silence the ride. Nice touch!
Devinci Australia offer the Django as a frameset option, or complete build with one of their awesome build kits. However, I was given a frameset and decided to match it with some other products I was reviewing, as well as some other parts laying around. Overall the result was close to one of the stock builds offered by Devinci, albeit with a couple of parts very new to the country. The Cane Creek Helm fork run at 140mm (recommended travel is 130mm) and TRP G-Spec Quadiem brakes rounded off the set-up nicely and gave the bike a unique feel from the stock builds.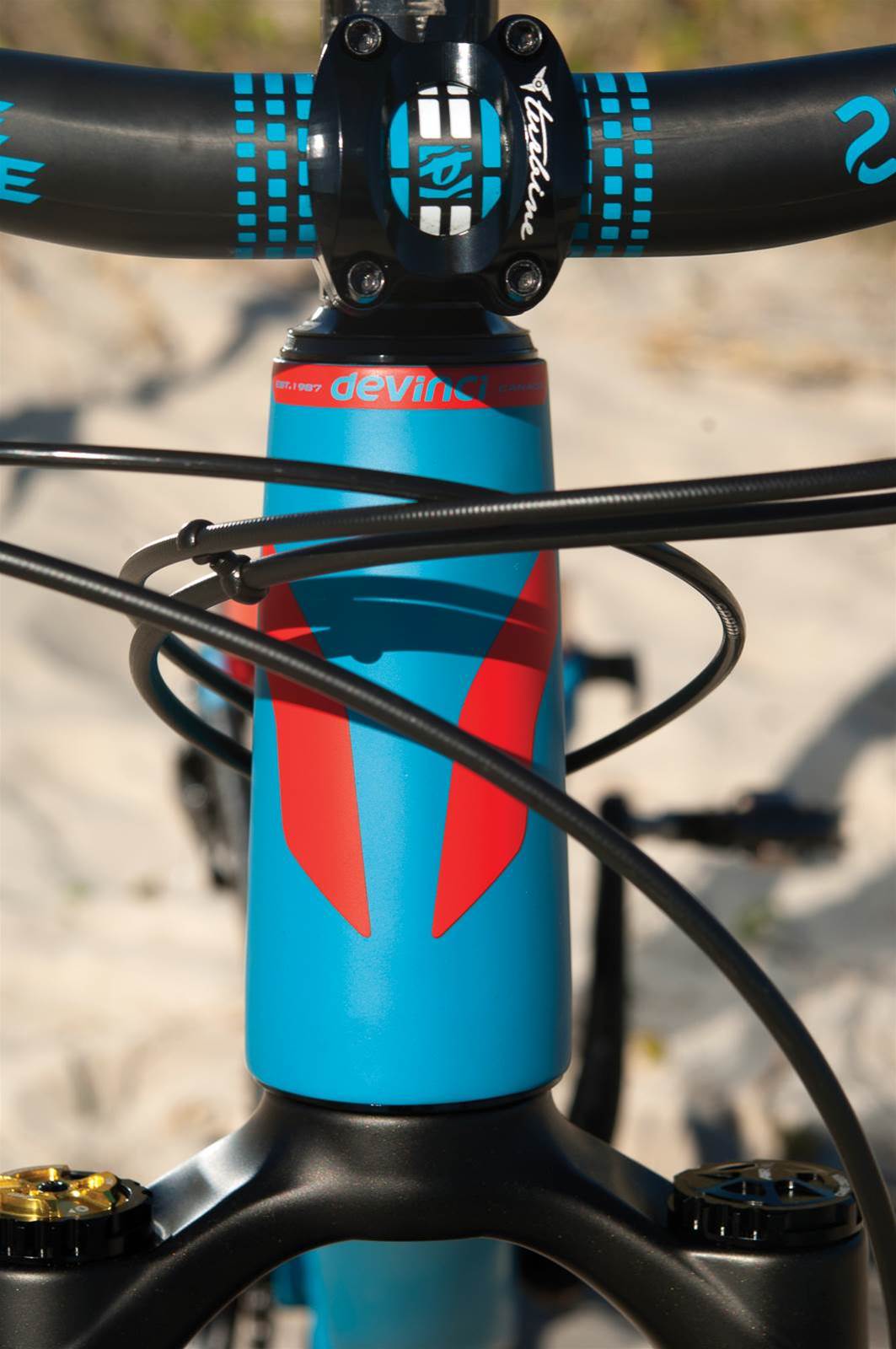 OUT ON THE TRAIL
After a quick build, car park test to check if everything was tight and straight, it was onto the dream crusher for the final weigh in. Confirmed 13.25kgs! So it's not a bike for weight weenies by any stretch, but nor is it a boat anchor. And with a lifetime frame warranty you are sure to be covered, even when pushing it to the limit and possibly beyond.
Being a touch over 6'2", I asked for an XL as this has the closest top tube length to my everyday ride. Coupled with a 50-70mm stem, the reach was bang on for technical gravity trails and the following climb back to the top. I never felt stretched out, nor did I feel like I was hanging over the front of the bike. It just felt great.
Heading out for a warm up of the more sedate trails at Kentlyn, it was apparent from the get-go that the Django was going to be a super fun bike to ride. With relatively short chainstays by current standards of 425mm, the front end was very easy to pick up when seated and climbing up rocky shelf trails. It was also simple to manual and 'pop' off roots and rocks to clear small gaps in the trail.
Manoeuvring the tight and twisty singletrack sections was a breeze with the slack (but not-too-slack) 67.5-degree head angle. This also aided in keeping the front end down whilst climbing some of the steeper trails back to the top.
I never really felt like the bike was too long that I couldn't muscle up and around obstacles, nor too short that I felt cramped and too close to the bars. It's great when a bike feels like your own after only a few shorts laps of your local trails.
When done with the so-called XC style trails, it was on to the fun stuff where I could really let it hang out and get it sideways. With an abundance of natural, flowy, rocky descents to session, I really pushed the mid travel bike to its limits, hitting some larger jumps and step-downs on the way to the bottom. I know it can be said about many mid travel trail bikes that they feel like they have more travel than they actually do, but the Django did just that. Launching some of the bigger drops and landing a little long and flat, I didn't notice any harshness or bottoming out of the shock. It just felt smooth!
It must be noted that when setting up the RockShox Monarch RT3, I installed four red 'calamari' volume spacers in the shock. This definitely helped with removing that linear feel of the suspension and gave an abundance of progression.
For those uninitiated with the Split-Pivot system, it's essentially a single pivot with the upper link driving the shock - whilst out back is an eccentric pivot around the rear axle. Think Trek's ABP system, but with a different name…and I'll just leave it there.
What it actually means on the trail is consistent suspension activation without the effect of hard braking. When hitting fast and rough sections of the trail and grabbing a handful of rear brake, the suspension still has the ability to move, hence keeping the rear wheel planted for tons of grip. This is definitely noticeable on the Django.
When the trail heads back up and you stomp on the pedals, there is a great amount of anti-squat as the 27.5 wheels accelerate like a cross-country machine. With a quick swap out of the flip-able chips at the seatstay/rocker link junction, you can set the bike into the low position for a slacker and lower, more fun ride - or the high position for a steeper and much more efficient climber. Though not touted as a XC race bike, it certainly could hold its own when racing the local clubby on a Saturday, as long as your legs hold up!
It's fair to say that the Django 27.5 is a very capable and fun bike to ride on almost all styles of trails, but I still felt that a 29er could offer a little more for me. I know I'm a bit biased when it comes to 29ers, but there were times when I felt that the smaller wheels did hinder my speed in a few sections where the 29" brother would possibly have excelled. But it's horses for courses as you need to pick what suits your riding style.
OUR TAKE
After two great days of ripping up my local trails on the Django, I had no mechanicals, and even more important, no issues with the frame itself. The suspension pivots all stayed as they should… tight. And even with a few rock strikes and the odd off-trail excursion, the matte finish showed no signs of wear. I would definitely say a fresh painted frame would have fared a lot worse with clear coat chips and scratches. After a couple of good hard years, the Django's finish would likely present better than a painted frame for sure.
Getting down to brass tacks on what's important when looking for a trail bike, a couple of key factors should be considered. Obviously price is high on the radar when looking for a complete package and bikes that come in boxes may seem very affordable - but you lose the ability to 'custom' spec your dream machine. However, don't discount the frame only option offered by Devinci in Australia as when paired with a solid build kit offered by Rowney Sports, you could be turning up at the trails on a fully custom bike at a very affordable price that you would have otherwise overlooked. Whilst $3790 may not be in everyone's budget for a frame that could be somewhat labelled as boutique, it's a far cry from the $5K price ticket of the likes of the Yeti SB5c, Santa Cruz 5010, Ibis Mojo 3 and Intense Spider.
Overall I had a lot of fun riding the Devinci Django 27.5 and found it to be a worthy trail bike for the rider looking for a dependable machine with quick handling and climbing - but also with gravity inspired capabilities. If instead you're looking at hitting way more of the down than up, then the Devinci Troy or Spartan would potentially be more to your liking.
Words and Photos: Chris Herron
| | |
| --- | --- |
| ESSENTIALS |   |
| BRAND | Devinci |
| MODEL | Django Carbon 27.5 |
| RRP | $3790 (frame) or $8790 (as tested) |
| WEIGHT | 13.25kg (as tested) |
| FROM | rowneysports.com |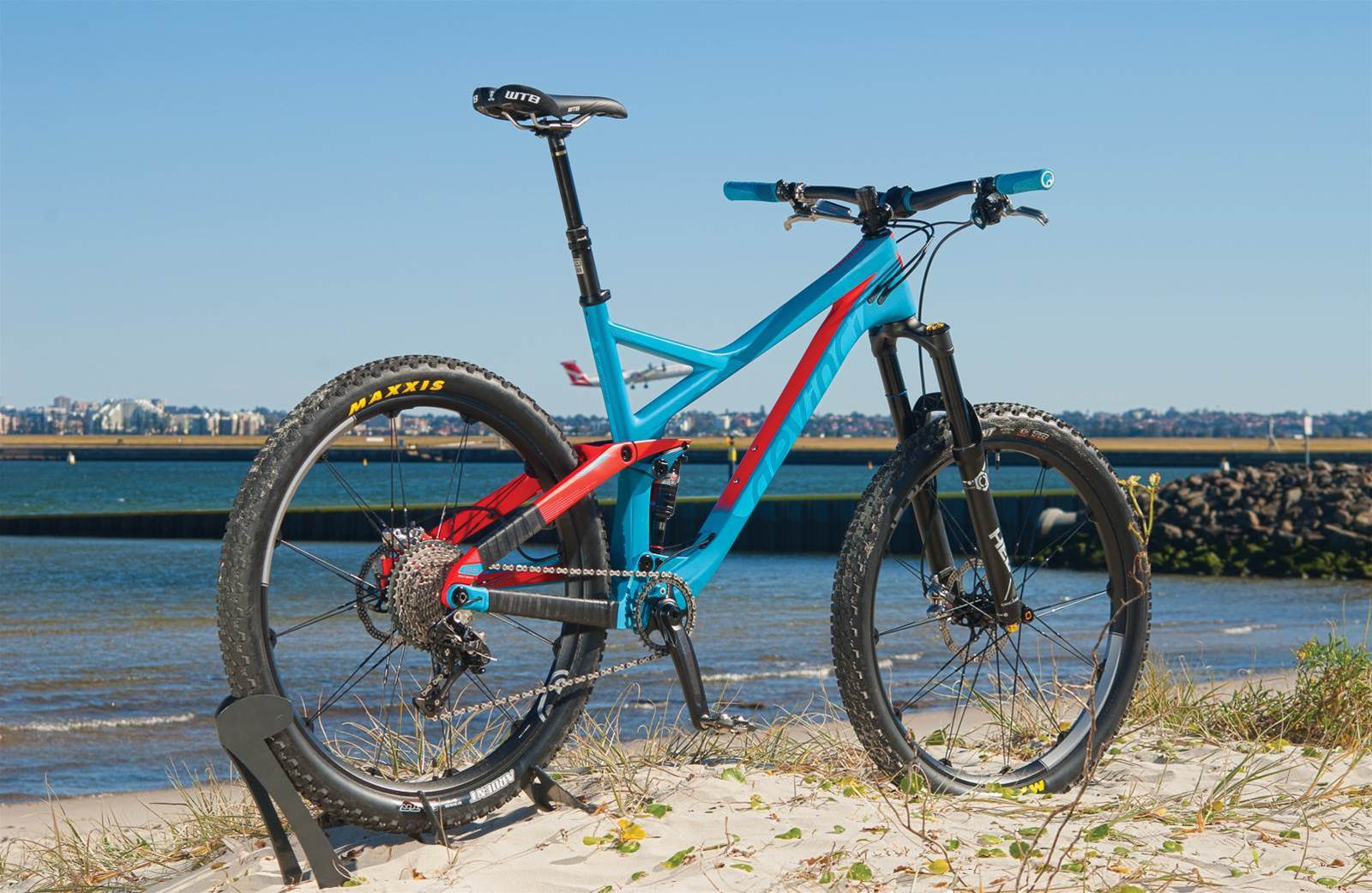 Australian Mountain Bike