Josh has achieved outstanding results in both XC-E and EWS-E in the past 12 months, showing that he can tune both his Trance E and Reign E to ensure maximum performance no matter the discipline or terrain.
Words: Hayden Wright
Photos: Andy Rogers
Josh Carlson is not just a current legend of Australian mountain biking, but he's also a three time eMTB Australian National Champion. The former Enduro World Series (EWS) podium finisher has changed his focus to being an eMTB specific athlete as a part of the Giant Factory Off Road Team. Josh has achieved outstanding results in both XC-E and EWS-E in the past 12 months, showing that he can tune both his Trance E and Reign E to ensure maximum performance no matter the discipline or terrain. So we can't think of who better to quiz about the specifics of setting up an eMTB. 
It all begins with spring rate
This is a constant for all mountain bikes, the first place to start with suspension is your spring rate. Be it an air spring or coil spring, having the correct spring weight is essential. With an eMTB, you have more weight on the bike and it can land harder, so you will likely have higher spring weights. 
'My specific E bike setups compared to my regular bike setups begin with increasing the spring rate.' says Carlson. 'I still base a lot of my suspension settings on sag, which I will modify pending the terrain I will be riding. If it's a smoother XC race with a lot of climbing, I'll change my rear sag to 25 or 26% whereas I'm usually running around 27-28% sag in my rear shocks.'
Sag is easy to measure on an air shock using the o-ring to measure the movement, but you may need from a friend with a tape measyre to help measuring sag on a coil shock. To get the spring rate correct, you may need to invest in a new spring – something that's easy for a factory rider like Carlson.
'On my Fox DHX2 coil shocks I've jumped up a few spring rates to compensate for the added bike weight. I usually run a 475 spring on my Reign 29" compared to a 550 spring on my Reign E,' Carlson explains. 
If you have an air shock on your eMTB, it is smart to invest in a digital shock pump, so you can accurately measure what pressure you are running. Take notes, so you can track improvements or changes with different pressures. Increasing volume spacers in an air fork or shock may be required the more aggresively you ride. This will help the suspension ramp up more through the stroke, something that may be required when riding rowdier terrain and landing bigger drops. Adding volume spacers will likely need a change to spring rate, or lower air pressure – so take notes!
Getting the damping right
A suspension fork or shock without damping is like a pogo stick, it will rebound with the same force it is compressed with – albeit with some inherent stiction. Top end suspension forks and rear shocks allow you to tune the compression and rebound damping independantly, and sometimes for high and low speed as well. This helps you bike be plush on chatter, but prevents it from diving on the big hits. With an eMTB and the greater weight, getting the damping fine-tuned is paramount to getting the most out of your bike. But a lot is down to rider preference, as Carlson explains.
'My compression clickers are usually in the same zones for both my E bikes and regular bikes. Given the additional weight of an E bike, I open my rebound by 1 or 2 clicks. This helps the suspension to rebound a little faster from compressions which helps achieve a similar feel to my regular bike.'
While slower rebound can help your bike feel more planted – it can also leave the suspension getting bogged down in repeated hits.
'The characteristics are the same but adjusting for the additional 7-10kg weight of the bike helps maintain the balance in the front and rear shocks on both my Reign E and Trance E.'
Computer says...
As a factory team rider, Carlson gets to play with some cool toys. And that includes electronic damping adjustments. The new Fox E-Live Valve monitors the terrain 1000 times per second and adjusts your suspension to suit. Carlson has been testing the system a lot recently.
'It is a phenomenal product with an insane amount of adjustment and precision, harnessing sensors and computation to intelligently change compression settings on the fly. I have found that I have been able to run a little more sag in my suspension as I can use this system's ability to firm up the front and rear of my Trance E Advanced when required. It's a process I'm still investigating, but one that has already been very exciting and beneficial to my riding.' 
There are five modes in Live Valve, and it even has pitch detection to understand if you're on the flat, climbing or descending. There are even rider profiles to choose via the app. E-Live Valve can also be fully-integrated into the Bosch Performance Line CX system with the Kiox head unit, and runs off the Bosch battery.
'Each 'mode' of Live Valve has different levels of activation and different characteristics of staying open for longer or activating quicker after big hits or rough sections,' Carlson explains. 'There are a lot of settings to dig through and it's an ongoing process to learn them all and gain an understanding of the best options heading into racing. I'm excited see what we can come up with prior to the first round of the EWS-E in Scotland.'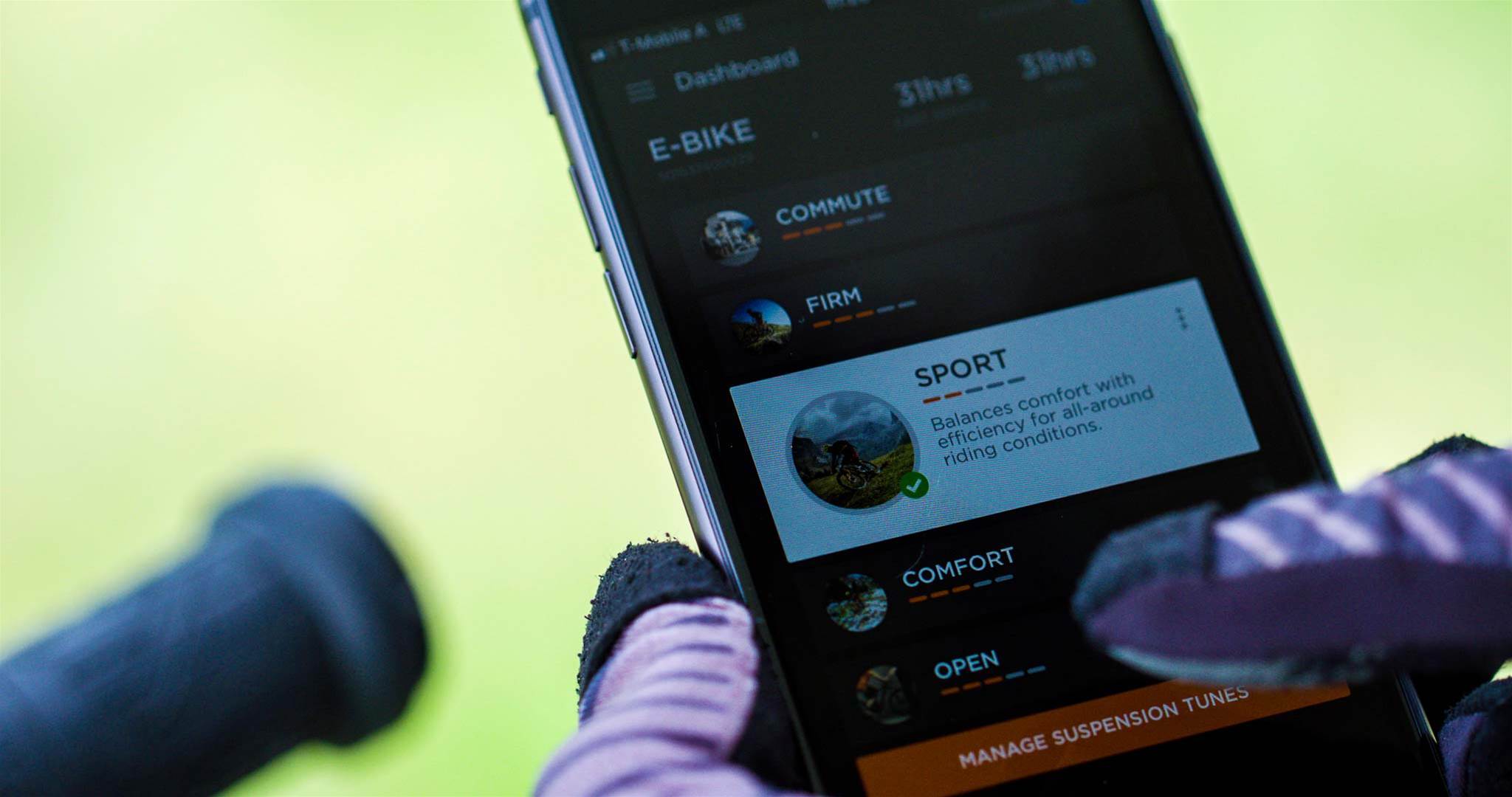 'The climb setting is great for me particularly in the "power" stages of the EWS-E. It locks out the rear shock completely and keeps my fork open which is key for the mega steep and tech uphill stages. It allows me to deliver all the power to the ground whilst keeping my fork soft and open to absorb any deflections, which might force me to lose traction or forward momentum.'
While most of us won't be running out to buy a Fox E-Live Valve upgrade, the experience Josh Carlson is having with it is a timely reminder that suspension is rarely set-and-forget if you're looking to get everything out of your eMTB and yourself. It's worth taking the time to get the settings right!
Can you adjust your geometry?
Some bikes, eMTB or otherwise, have the option for a geometry adjustment. While the lower and slacker options might be what you reach for, Carlson said he will often change between stages, to get the handling just right. Your position on your bike will have an impact on your suspension.
'We also have a flip chip to adjust the geometry on both my Reign E and Trance E. This comes in handy with my bike setup, particularly leading into and during race days. It is not uncommon for me to flip that chip in between stages that suit the different characteristics of the high and low positions of the bikes. My suspension settings don't really change too much, outside of a couple of clicks worth of LSC in the rear. My reasoning for changing the flip chips mid event is to utilise the performance advantages of having a slightly slacker or steeper head angle combined with the higher or lower bottom bracket.'
Read our 6 Unexpected Benefits of E-MTBS! 
Want more information on suspension? Read Why Suspension Needs Servicing 
Australian Mountain Bike