Take a look at the bike Jeff Kerkove used in the 1700km unsupported Silk Road Mountain Race!
What sort of bike do you use for a multi-day bikepacking trip, and what do you pack? We say, take the bike that works for you and pack what you need to get through. The bikes on the Silk Road Mountain Race were as diverse as the people, but we contacted Jeff Kerkove from Colorado, USA, to see the finer details on his Canyon Exceed CF SLX carbon hardtail and pack list. You'll notice a couple of changes like a double chainring and a sturdier, longer travel fork on his bike, and some pretty specific lightweight and warm clothing.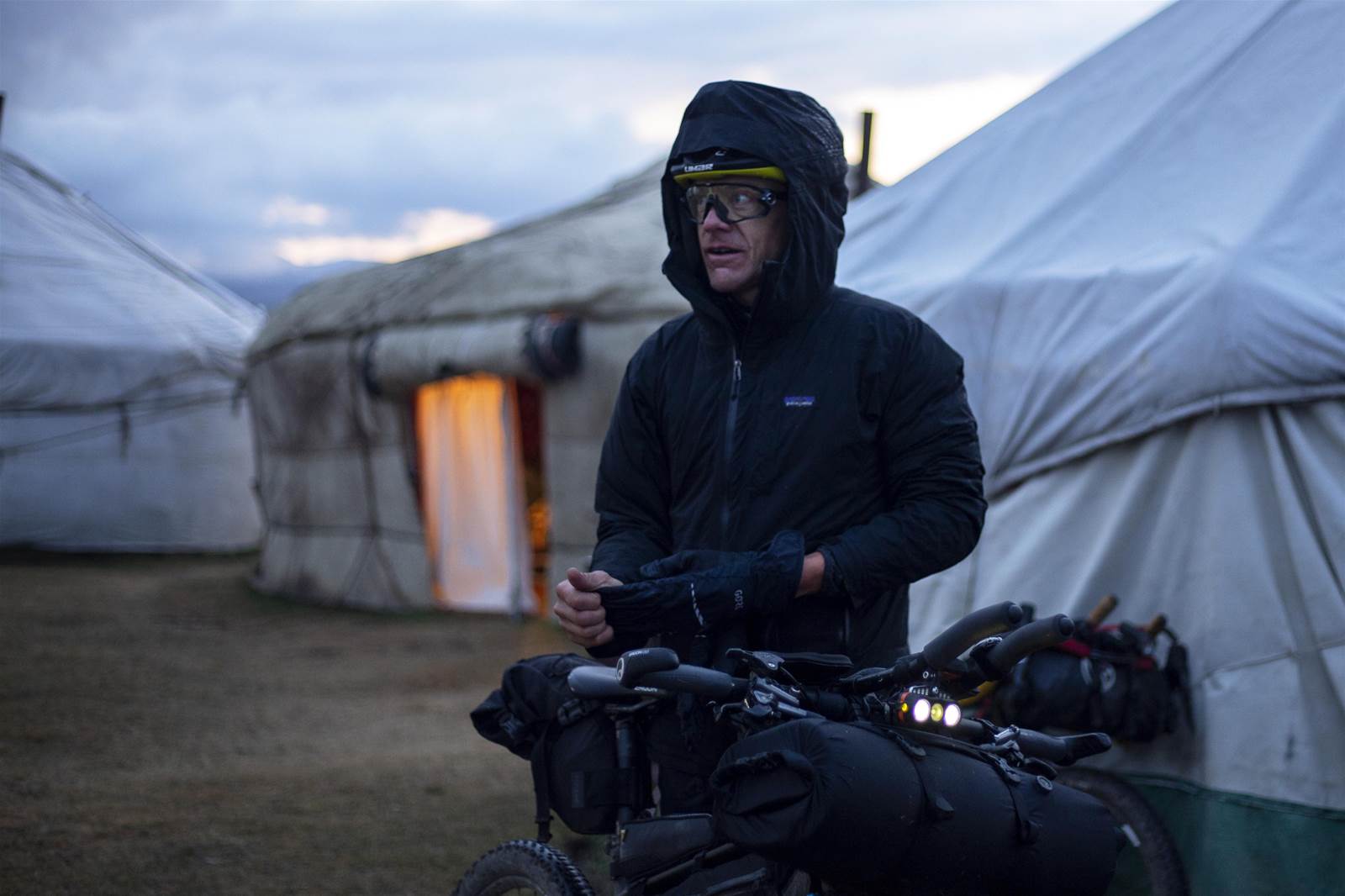 Credit: Rugile Kaladyte
This is a complete gear list of what Jeff pedalled and pushed to 5th place at the Silk Road Mountain Race in a time of 8 days, 16 hours and 32 minutes.

1. Canyon Exceed (size L) with Shimano XTR 2×12, Fox 34 SC 120mm fork with remote lock-out, Ergon SM Men Team saddle (size M/L), Ergon GS3-Small grips, Profile Design V2+ aero bars custom cut to length, K-Lite Bikepacker Ultra dynamo light, SPOT Tracker Gen3, Garmin eTrex 30 GPS.

2. Topeak BackLoader (size 10L) filled with Patagonia Stretch Rainshadow jacket, Gore Active Trail Pants, Primal Thermal Arm and Leg warmers,Mountain Hardwear Ghost Whisperer Hooded down jacket, MontBell Tec Down pants, Gore C5 Gore-Tex Gloves, Buff x2, Gore C3 Overshoe, Gore C5 Windstopper Thermo overshoe, Primal QX5 bib shorts x2, Outdoor Research PL 100 gloves, Gore R7 Windstopper lightweight hooded jacket.

3. Topeak FastFuel Tri Bag filled with Sawyer Squeeze Water Filter and CNOC Vecto 2L water filter bag

4. Custom made frame bag by Eagle, Colorado resident Robert Tadlock filled with 4x Tubolito 29er tubes, Tubolito Flix-Kit, Park Tool Tyre Boots, 2oz bottle of Stan's sealant, Spare parts kit, Medical/self-care kit, Topeak Mini 20 Pro multi-tool, Topeak Mountain TT G pump, Peregine Koa 22 Dry backpack, MSR DromLite 4L bag, Spare AA and AAA Lithium batteries, Zip-Ties, ID, SRMR checkpoint card and cash, Topeak 7800 PowerPack, Water Purification tablets in case filter failed in the field.

5. Topeak TopLoader filled with food.

6. Revelate Design Mountain Feedbag x2 filled with food/drink, sunscreen, chapstick, small LED pen light, Chamois Butt'r, resupply cue sheet, Finish Line Wet Ceramic chain lube.
7.2020 Topeak FrontLoader filled with inexpensive lightweight foam sleeping pad cut to 3/4 my body length, Big Agnes Pluton UL 40ºF sleeping bag, Big Agnes AXL Air Pillow, Outdoor Research Aurora Bivy.

8.Custom built DT Swiss XR391 wheel set with front wheel laced to an Shutter Precision 8X Boost Dynamo Hub, Maxxis Aspen 2.25 EXO tyres, Stan's sealant.

"Overall everything on this list worked perfectly," said Kerkove post event. "Knowing what I know now about the SRMR environment, I would change some things. I would bring warmer gloves or mitts for when the temps dropped to the freezing mark and below. I would also consider raising the temperature rating of my sleeping bag to between 20F to 30F. The 40F bag worked…but it didn't allow for a comfortable nights sleep when sleeping in temps well below freezing. I would also ease up on my gearing. The Shimano 2x12 gear ratios were a bit stout for the endless steep climbing. If coming back to the SRMR I would run Shimano XTR 1x12 with 30T front ring and 10–51 cassette."
Australian Mountain Bike