Rider, racer, travel junkie and nutritionist. Get to know Karen Hill.
For those who have been around the mountain bike scene for a while, Karen Hill may be a name you know. In 2016 Karen exploded onto the Australian scene, taking multiple solid top-five finishes in national series events, and even travelling to Cairns to race in the World Cup.
After such a stellar breakthrough year, Karen took some time off the bike to finish her PhD in Nutrition and post-exercise protein supplementation, and is now at the start of a big-time comeback. We chatted to the Venus Bay-based rider about what she has been up to for the past couple of years, who her main support team is and what her goals are for 2018 and beyond.
Though she states her thesis is as yet her biggest achievement off the bike, the pressure to fit it all in took its toll and Karen needed to regroup before coming back to the mountain bike scene.
She says the pressure of her PhD, training, running her own business and fitting the rest of her life in meant she "put off coming back to racing for a while… you always have that expectation of what you have done in the past; once you lose that and race for the fun of racing then you have the best time. At some local Victorian races I surprised myself with consistency of my lap times!".
"I am slowly building back, I started with a new coach last week and I am pretty much back on a program now. I will start a 12 month build for nationals next year, I'm pretty excited to get a bit more cross-country racing under my belt. As I start a new chapter in my racing book, my main approach is to have fun, challenge myself, and keep things in perspective. I love riding and racing my bike and that is my main aim".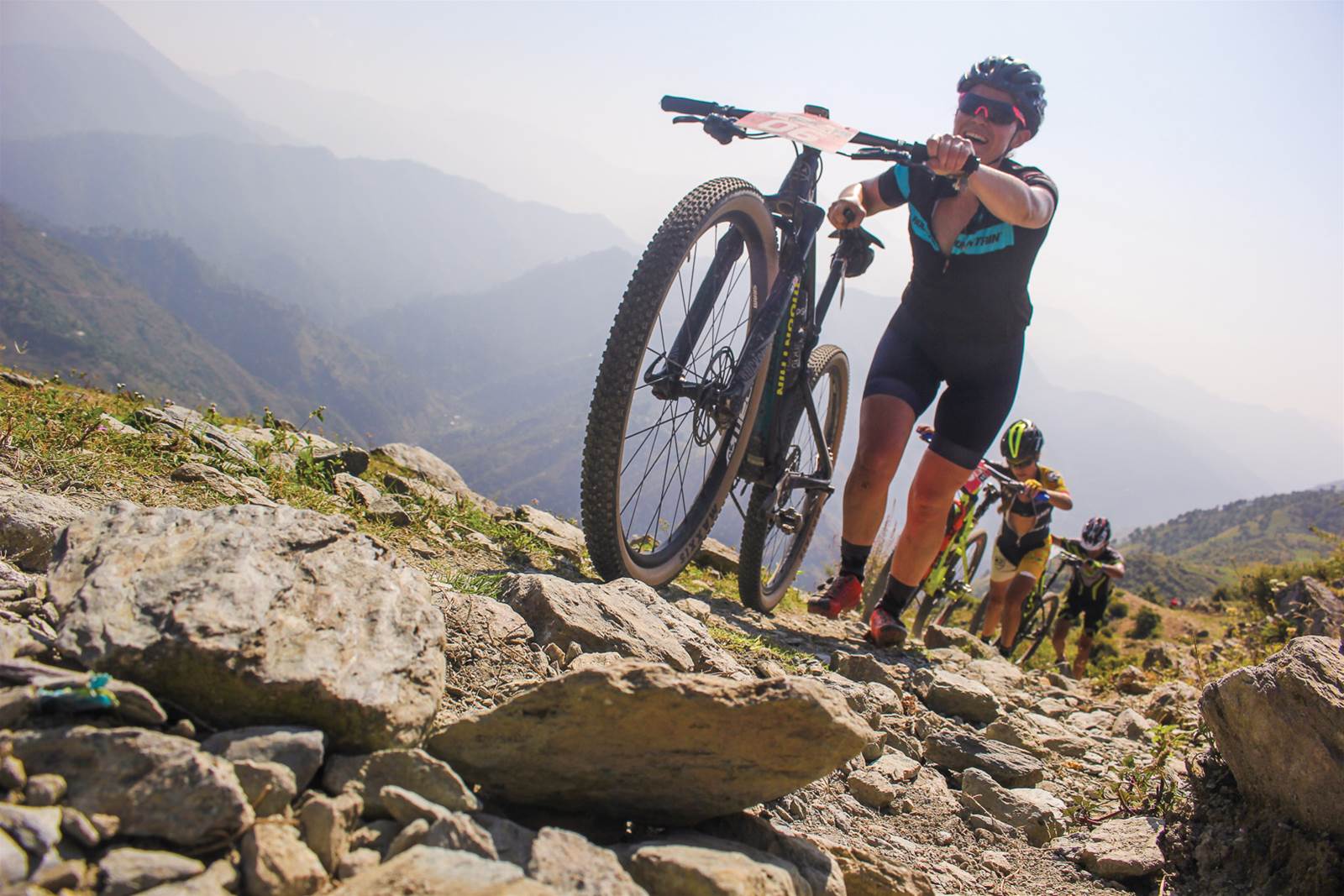 ---
Karen's Top Travel Tips
1 /     Makes sure your passport is up to date
2 /    Take snacks and water for the plane
3 /     Be flexible/adaptable. Plans change,delays happen, bags are left behind. 
---
But Karen hasn't been off the bike completely, in the past year Karen has had an epic adventure at the MTB Himalaya race–a 9 day stage race in the Himalayas–and with a short five-week lead time she went in with low expectations.
"It was just an amazing experience. I was expecting it to be super hard, I didn't have a good lead into it, and I was like 'can we do this?'. But it was just such a great way to see parts of the country you wouldn't otherwise see when travelling. Through laneways, past houses; parts of the world you wouldn't experience….then we got to the campsite [at the end of the stage] and it was all set up."
"I met a bunch of people, we stayed together; went hiking and overnight camping up in the mountains. We went on these 8-hour hikes, we just went out and took our sleeping bags and camped under the stars… there were so many funny little stories. It's a really amazing experience. If you ever have a chance, go and do it. Just have no expectations of things, like schedules and food."
---
Karen's Favourite Five
•     Riding Food: Em's Power Cookies
•     Comfort Food: Ice Cream
•    Trail or Place to Ride: Red Hill locally, or Wellington, New Zealand
•    Place to Unwind: Near the ocean
•    Advice for new riders: Have fun and don't be afraid to challenge yourself
---
One of Karen's major sponsors, Reho Travel, has assisted getting her around the country to the National Series and Champs races previously, and assisted her to get to MTB Himalayas. As a result of this adventure, Karen rekindled her passion for the bike, which is leading her into some more marathon racing (such as Easter in the Alice and Marathon Championships, Townsville) prior to her focus on the National Cross-Country Series next summer.
"Reho has helped with everything, they got me over to India. Karsten [Horne, CEO of Reho] has booked and unbooked so many races for me! They covered all of my flights. I wouldn't have been able to do half the amount of racing I have done if Reho hadn't been helping me. I was able to complete my first full Aussie race season while at uni and travel to so many amazing destinations; New Zealand, India, East Timor and this list continues to grow!"
We are excited to see another incredibly strong female back in the start grid of some national level events coming up!
---
Words: Anna Beck       Illustration: Naomi Williams
Australian Mountain Bike