Launched back in 2012, Open Cycle is a small, high-end bike company whose tagline is "working hard to stay small".
Launched back in 2012, Open Cycle is a small, high-end bike company whose tagline is "working hard to stay small". If you've not heard of the name before, you'll surely have heard of the two riders behind it. Open is the brainchild of two industry veterans; Andy Kessler (BMC's former CEO), and Gerard Vroomen (co-founder of Cervelo). Both individuals have had terrific success with their previous endeavours, carving themselves enviable reputations within the bicycle industry. Despite their big-brand successes though, they decided that the time was right to create a much smaller bike company that was purely focussed on producing the bikes they wanted to ride, and to serve the kind of riders out there who would appreciate those same bikes. Make no mistake, this isn't a company trying to appease the mass market. Instead, Open makes use of state-of-the-art materials and construction techniques to produce bikes that are unashamedly high performance with class-leading frame weights. They invest no money into sponsorships, and up until now, they've invested next to nothing in marketing, instead letting their reputations and the product to speak for itself.
The first frame that Open released (they don't offer complete bikes) was the 1.0 hardtail, which they debuted back in 2012. Equipped with a sub-900 gram carbon frame and built for 29" wheels, the 1.0 was targeted towards the XC racing purist. Four years later, and Open are ready to unveil their successor to the 1.0; the intriguing One+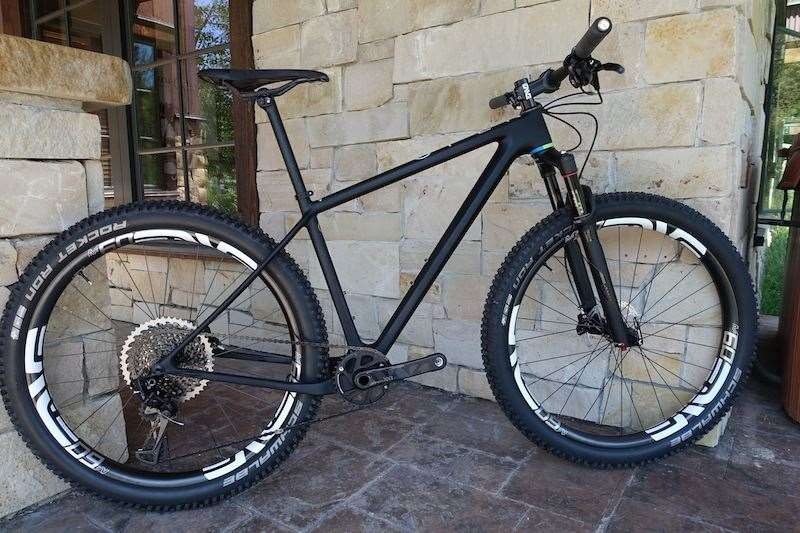 Since Open launched the 1.0, there have been significant changes in the mountain bike market, with new wheel and hub standards having come into play. In general, hubs are getting wider and tyres are getting fatter. While rim manufacturers have mostly settled on 27.5" and 29" diameters for most mountain bikes, rim widths have also been getting bigger too. Another change over the years has been the trend towards technical XC riding, as technological advancements make trail bikes lighter, and race bikes more capable. Consequently, riders are looking for more versatility from their two-wheeled go-fast mobiles.
Bearing this in mind, Open saw the opportunity to build the One+ with the ability to run different wheelsizes and fork setups to adapt the ride quality to different riders needs. As such, you can run the One+ with 100-120mm of fork travel, and you can fit either regular 29" wheels and tyres, or 27.5" plus wheels. Open isn't the first company to offer wheelsize adaptability, but as far as we know, they're the first company to do it with a purpose-built, superlight carbon hardtail.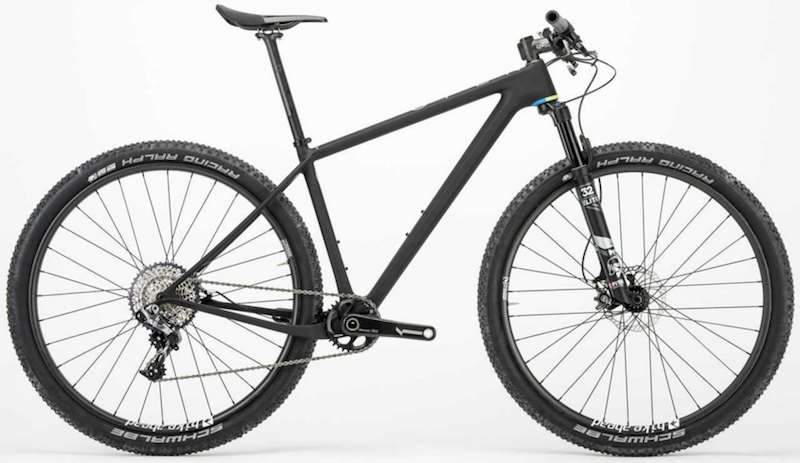 "The lightness, efficient power transfer and agile handling you expect from OPEN, plus real-world tire clearance up to 29x2.4" (27.5x2.4" in size S for better fit and handling). Those attributes make it the perfect cross-country machine … unless you install 27.5x3.0" (26x3.0" in size S) monster tires to have an absolute blast on the worst possible terrain. That's right, this super-light cross-country machine is also a go-anywhere Plus tire platform. Just like on the OPEN U.P., we match the bigger tires up with a smaller rim diameter so that the overall wheel size is comparable to the more narrow XC tires. This means the handling will be perfect in either case. A true win-win, even if you never race." - Open Cycle
Frame specifications
Frame: OPEN ONE+

Frame sizes: S, M, L

Frame weight: 890g (size M includes RD hanger)

BB std: BB92 PressFit

Tire fit for frame: 29x2.4" and 27.5x3.0" for size M & L 27.5x2.4" and 26x3.0" for size S

Headset std: Integrated Tapered IS42/28.6 | IS52/40

Seatpost Ø: 27.2mm

Rear axle std: Boost 148x12mm thru axle

Rear brake std: Post mount for 160mm disc

Cable routing: Internal via exchangeable

MultiStops for 1x10/11/12, 2x10/11, Di2

Incl. in box: Frame, headset, seattube collar, spare rear derailleur hanger

Frameset Price (excl. sales tax) $3,200 USD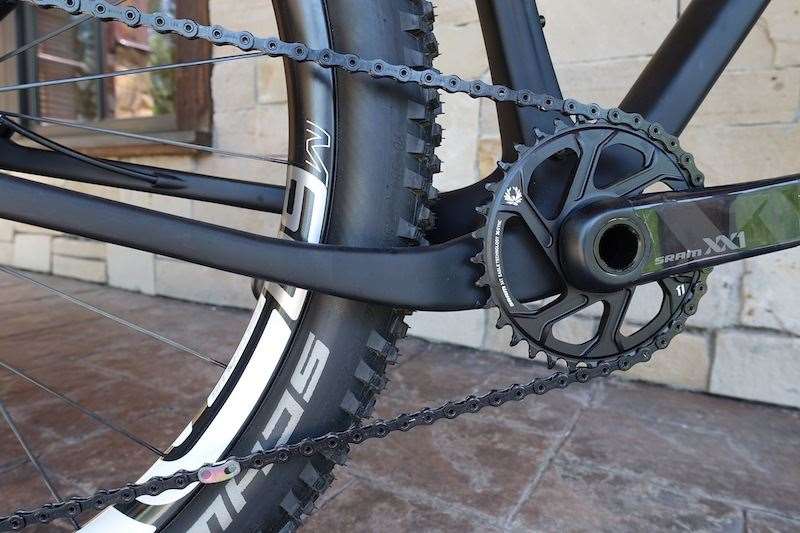 Like the 1.0, the new One+ retains the distinctive asymmetric chainstays. This design sees the drive-side dropping down low to help maximise tyre and chainring clearance, giving the One+ a unique appearance in a market that is typically difficult to stand out in. The bottom bracket uses the BB92 standard, with a 92mm wide shell that is entirely constructed from carbon fibre. The BB92 will fit standard cranksets with a 24mm spindle (including Shimano and SRAM GXP cranks), though cranks with a 30mm spindle such as the RaceFace Next and the THM Cavicula can also be fitted, providing you run the correct bottom bracket from those companies.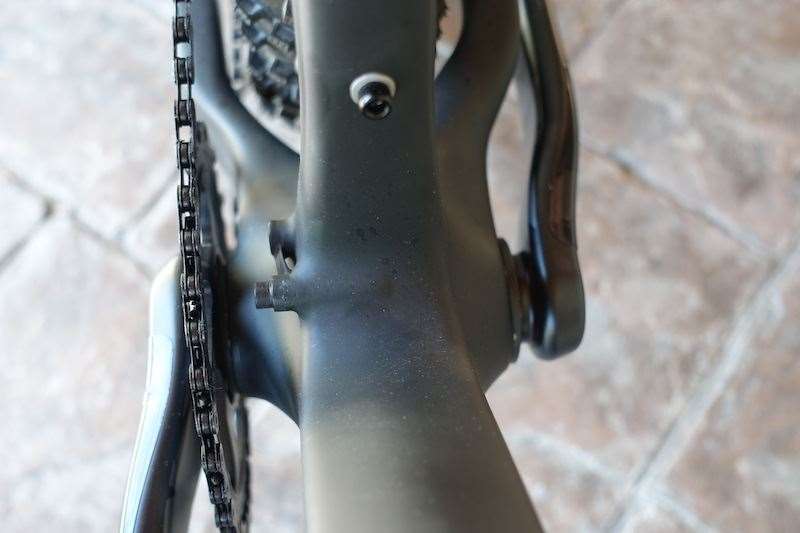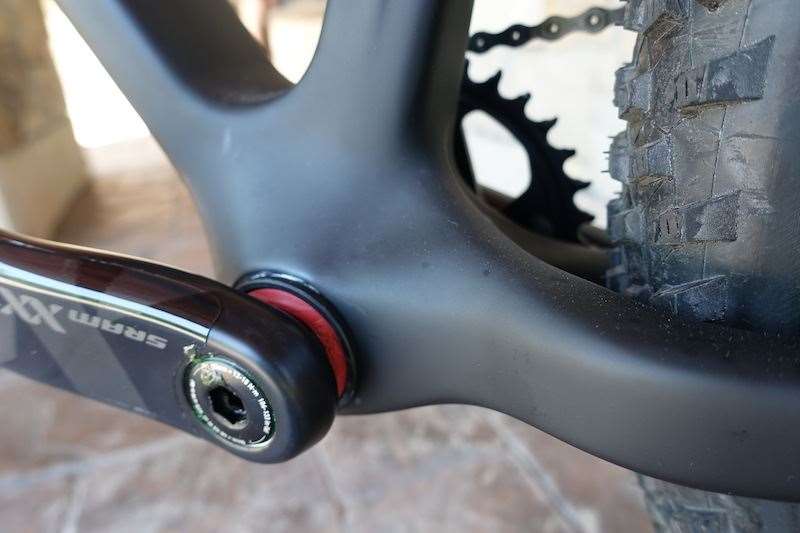 From this angle, you can see how burly the frame is through the bottom bracket and chainstay profile. Open build their bikes with an emphasis on power transfer and efficiency, so the One+ receives larger chainstay cross-sections to help deliver more watts to the rear wheel. The result is a very direct feel under power, and snappy handling.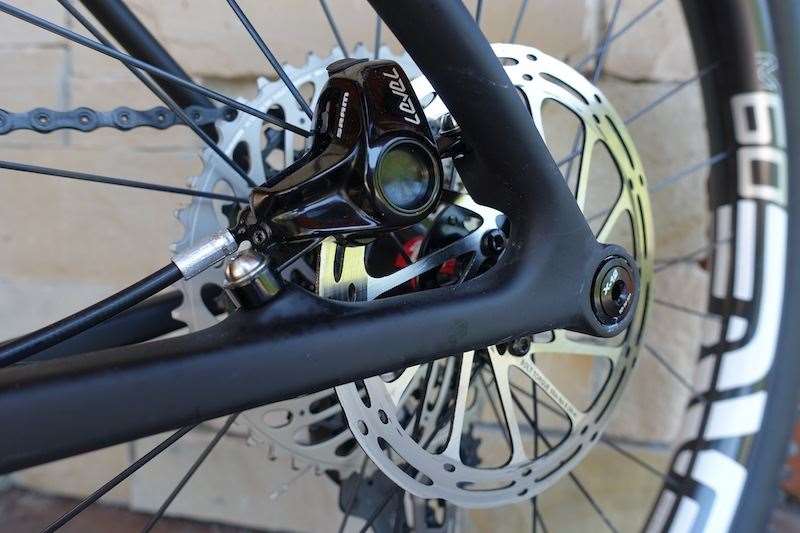 Rear dropouts are in line with current trends, going to the Boost 148x12mm standard. Open have selected a clean Syntace X12 alloy thru-axle to lock down the rear wheel, which eschews any lever or ratchet in favour of a lighter and cleaner hex-operated setup. And whereas other companies have utilised the Boost standard to run shorter and shorter chainstay lengths, interestingly, Open haven't gone down this route. Instead, the main reasons that Open state for going with Boost is to improve rear wheel stiffness (thanks to the wider hub flanges and increased spoke triangulation) and to increase tyre clearance (you can fit up to 3.0" wide tyres with 27.5+ wheels, and up to 2.4" wide tyres with 29er wheels). The other reason they state is that more of their favoured wheel brands are using Boost hub spacing, so they simply need to offer compatibility with those wheel options.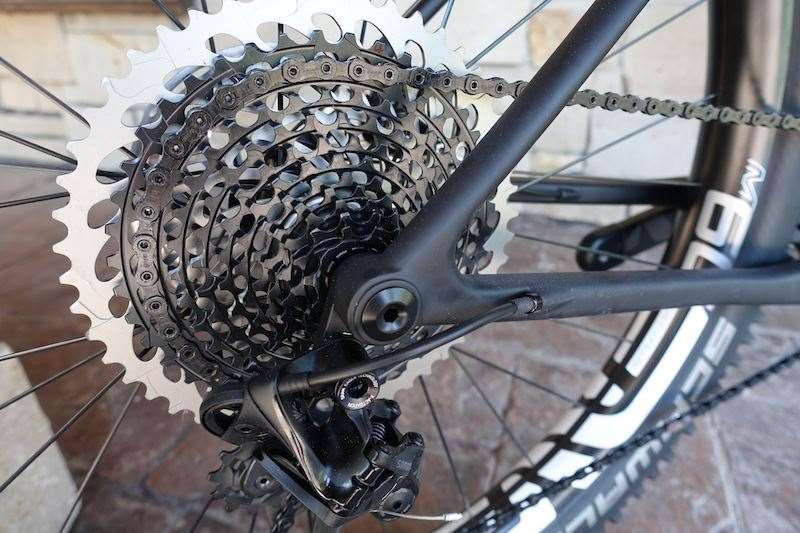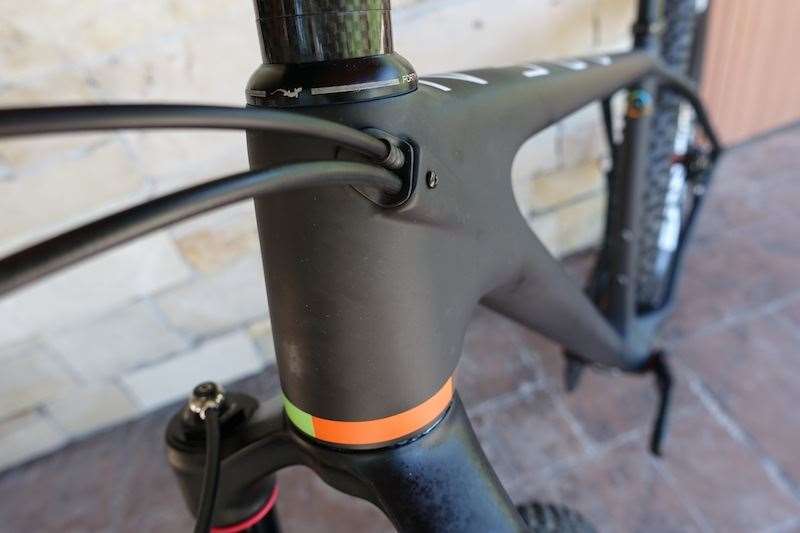 With a simple double-diamond frame, the One+ enjoys super clean internal cable routing that is ready for a multitude of setup options. With the use of different cable port chips you can set it up for mechanical or electronic shifting, and for those who want a double up front, you can fit a lower direct mont front derailleur.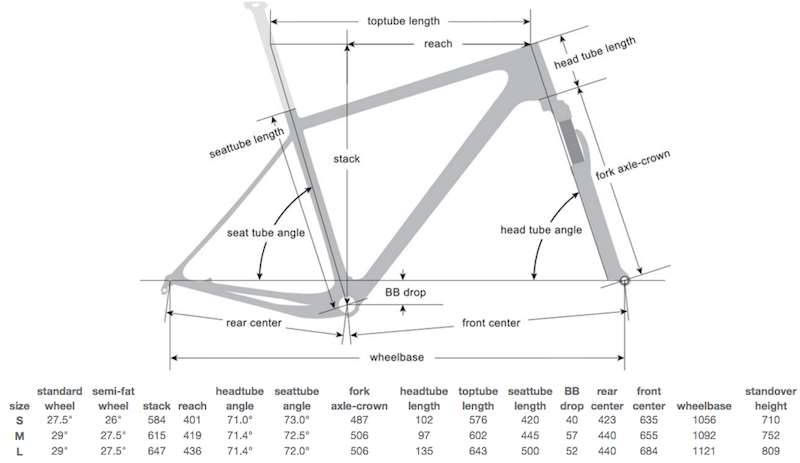 There will be three different frame sizes for the Open One+, including a Small size that shifts its wheel size down. By that it means you can either set it up with regular 27.5 wheels and up to a 2.4" wide tyre, or with 26+ wheels and up to a 3.0" tyre. Open decided on this approach in order to maintain the proper cockpit setup on the smaller frame size.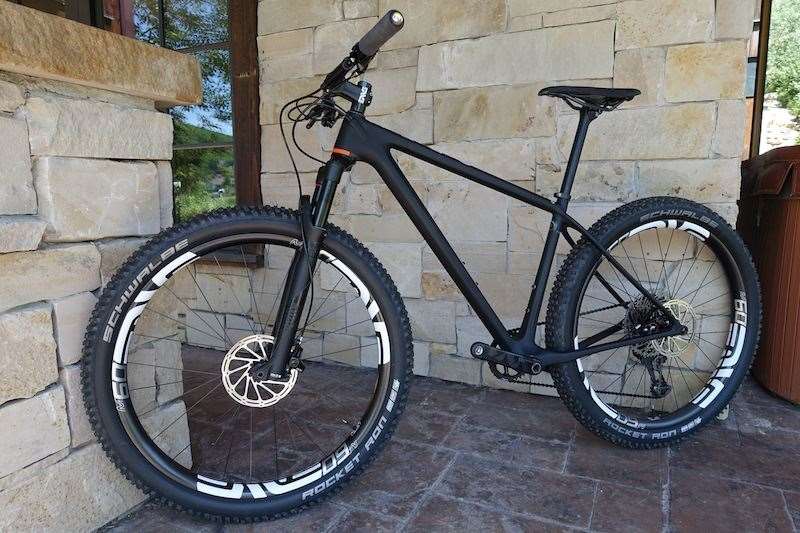 Despite the new frame featuring improved strength and stiffness in nearly every way, Open have been able to keep the weight the same at just 890 grams for a Medium sized frame. Pretty impressive when you consider this bike can fit up to 3.0" wide tyres! As for the frame itself, it's a full carbon affair, which is made by an exclusive asian manufacturer. Open don't list any specific whizz-bang names for their carbon, and I'll let them tell you why;
"It's not about high- or low-modulus, it's about the right carbon in the right spot. And because the bike industry loves techie-sounding abbreviations, we'll humour them and call it TRCinTRS™. Fact: stiffer carbon is more brittle. Strategically placed ultra-high-modulus carbon is a good idea. Making the whole headtube out of it when you have big impact loads is not! The best lay-up is not 100% of one modulus; it's a blend. We use the highest modulus (stiffest) carbon of any bike manufacturer where we can, and tougher grades of carbon where we must. That's how our frames are both light and durable." - Open Cycle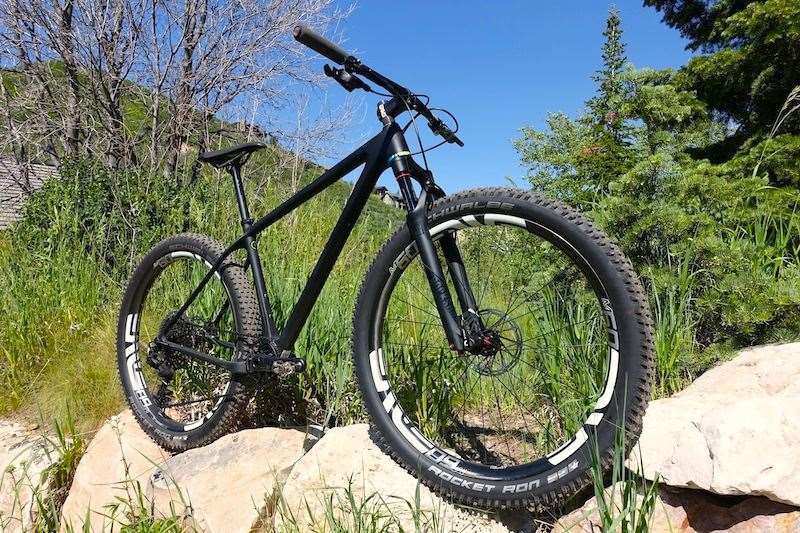 During the week of PressCamp, I had the opportunity to take an Open One+ out for a test ride. While I would love to spend more time aboard this intriguing machine, I do have some insights after ripping around some of the Park City singletrack. Firstly, I have never ridden anything like it before. At under 10kg with 2.8" wide Schwalbe plus tyres, the One+ belies normal expectations. Despite the fat tyres, it is incredibly light and incredibly responsive. The carbon ENVE rims help (you'll hear more about these soon), but the snappy handling must be accredited to the sub-900gm frame and the well-balanced geometry. Most journalists at PressCamp queried Gerrard from Open about the steep 71.4-degree head angle and long(ish) 440mm chainstay length, given that most other brands are going slacker in the head tube and shorter in the back end. Despite current trends, Open have stuck to their guns with the One+ to create a very sharp handling bike that remains pure to XC racing and riding. They're not interested in building a bike with sluggish steering, and it shows on the trail. The One+ is nimble and enthusiastic to ride. It eggs you on, demanding that you keep pushing the pedals at any opportune moment on the trail. Thanks to the big tyres though, it doesn't nervous like most race bikes of this weight do. It's surprisingly composed, and I never had the front end tuck under during tight switchback corners. I also never lost front-end traction, which gave me masses of confidence when reaching looser and rockier sections that would typically baulk such a lightweight XC bike.
From my limited time aboard the Open One+ hardtail, my intrigue has thoroughly been spiked on what I thought would simply be a lightweight and typically nervous-handling race bike. It is lightweight, but nervous it is most definitely not. I would love to try the One+ with a 29" wheel setup, and I'd also like to play around with a 120mm fork to see how it would ride. There certainly are a lot of options with this high-end machine. That said, it shows a lot of promise in the standard 27.5+ configuration, and so much so that I would almost consider that setup for both casual trail riding and marathon racing. With the added comfort and traction from the 2.8" tyres, the One+ makes a compelling argument for choosing its superlight hardtail frame over a heavier full suspension bike.
For more information on Open bikes, head to opencycle.com. Otherwise you can get in touch with the Australian distributor for Open, eightyonespices.com.au to find out pricing and availability on the Open range.
Australian Mountain Bike