One of the alpine icons, Falls Creek!
Words: Anna Beck                                                             Photos: Dominic Hook, Colin Levitch
 
Falls Creek has jumped onboard the mountain biking boom, and since the addition of mountain bike trails several years ago Falls Creek has gone from strength to strength. The ski-field-come-summer mountain bike wonderland now boasts 40km of dedicated mountain bike trails, with the management team planning to build even more: including a UCI-rated dedicated Downhill Track!
 
A windy 30km drive above nearby Mt Beauty, Victoria, the drive is worth the effort to experience the Falls Creek trails, as their fast and furious machine-built park style is one that is not as common in Australia as it is in locations that feature big snow seasons, and big elevation.
Falls Creek features trails for everyone: from first-time mountain bikers to seasoned gravity warriors. While all the trails could be ridden on an XC bike by an intermediate rider, to get the most bang for your buck a trail bike in the 130-150mm range will allow you to maintain your speed through the rough stuff, and reduce fatigue on the longer runs.
 
The Summit trailhead (at 1780m, breathe deep!) is where the shuttles drop you off, and from this point there are multiple adventures to choose from. For a newer rider, the 'Green Line' is a great place to start; a 5km loop comprised of green runs linked together for maximum use of the terrain.
Start by heading down the Summit road, then drop into the fast and flowy 'Eagle Rock'. Enjoy the big berms and free speed of the trail before a short gravel climb takes you to 'Turbine'. Hero dirt and alpine granite abound before you turn into 'Lakeview' and the surface becomes a little looser, while you head up to 'Short Circuit' and the undulating 'Induction' trail takes you straight back to the main Falls' parking lot.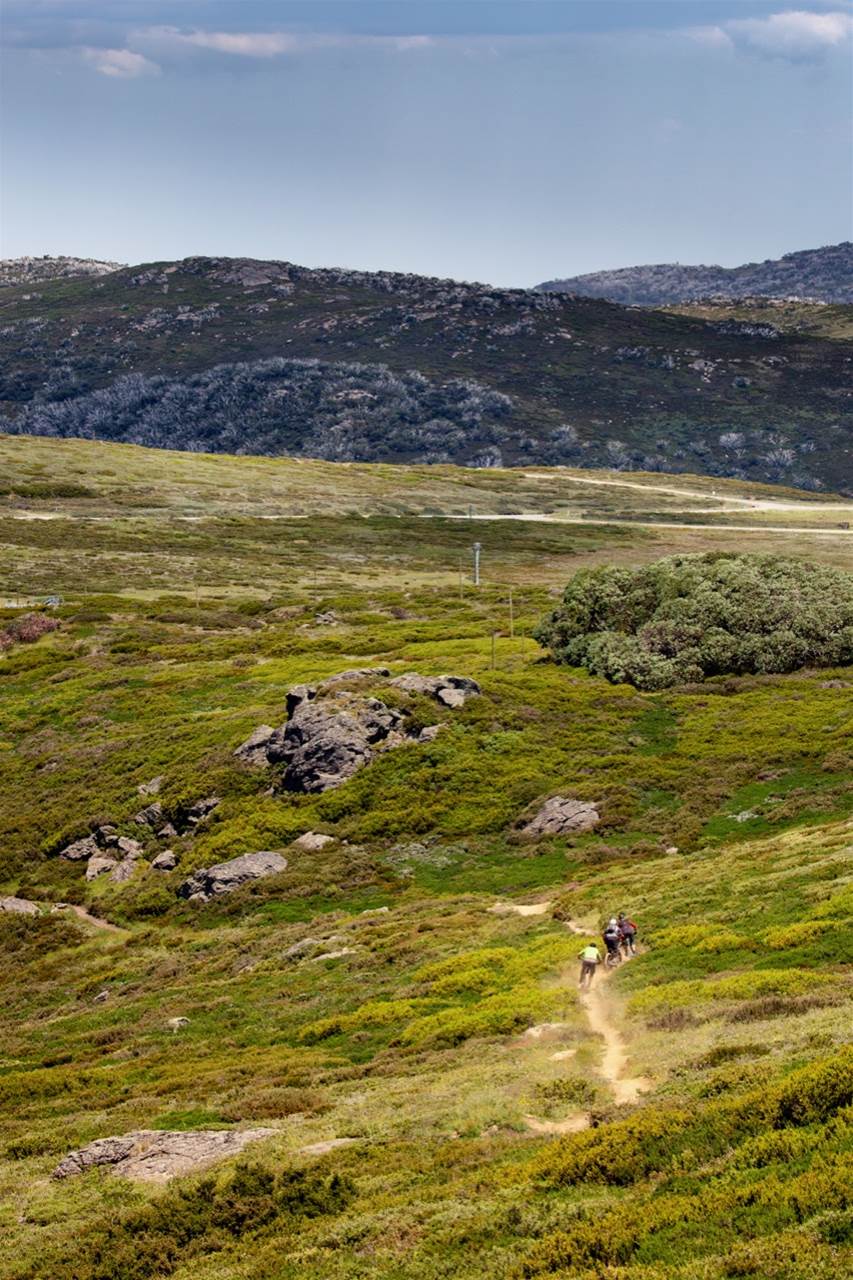 For the ultimate all-mountain experience, there is 10km of (mainly) descending to be had if you link up the trails 'Frying Pan Spur', 'High Voltage', 'Wishing Well' and 'Flowtown', the top part of these trails are rated black, however are easily achievable by intermediate level riders, followed by blue tracks and the 6km 'Flowtown' to make your face hurt from smiling, and legs hurt from pumping. To really get the most out of this loop, stop and have a look around at the view from 'Frying Pan', and take a snap at the 360-degree panorama of the Trig Point, between 'Frying Pan' and 'High Voltage' trails.
Though these are the two main long runs to link up, there are many other great options including the black runs of 'Thunderbolt' and the freshly opened 'Big Fella'. Both of these trails begin at the Summit and feature prolonged sections of rock gardens, so keeping loose it the key, and 'Big Fella' features some jump progressions at the bottom of the track.
Australian Mountain Bike