Castle Hill is a compact riding area in the heart of Ipswich that's ready to ride in all weather conditions.
Words: Will Shaw
Photos: Gerard Lagana
---
Castle Hill is an iconic Ipswich and south-east Queensland mountain biking venue. The trails at Castle Hill date back over twenty years. The area itself, Blackstone Hill, is a significant area in Ipswich's mining history and architecture. At the top of the hill there are still remains of a mansion called 'Brynhyfryd' (known as 'The Castle'), which was built in the late 1880s.
Castle Hill is now owned and operated by Ipswich City Council, who're getting behind mountain biking in a big way. The trails are regularly maintained, and the council have added amenities like toilets and drinking water that make a full day at the trails that much easier.
Castle Hill is a great riding location minutes from the heart of Ipswich.
Castle Hill has 19km of trail on offer, all packed within a pretty compact network. The main fire road climb is a great grade to tap your way to the top of the 70 metres of elevation. Whilst this might not sound like much, there's no less than 9 solid descent options from the top of the hill, and you can link them in a loop with the network's climbing trails if lapping a fire road isn't your thing. If you're a fan of efficiency when it comes to climbing versus descending, it doesn't get much better than Castle Hill!
In terms of the trails themselves, World Cup is a great starting point for intermediate riders. World Cup is a classic blue descent with a bit of everything, including high-speed straights, berms, jumps, and rock gardens. If you're after something a bit more technical, Phils is an old school technical descent that rewards clever line choice, and some Euro style cornering skills won't go astray either!
Local pinner Noah Davidson tows us down World Cup.
Aside from being a fantastic network in its own right, Castle Hill's claim to fame in SEQ is its weatherproof nature. This is due to the rocky soil and slope of the hill, which drains water as soon as it falls. Whilst most Brisbane riding (and Hidden Vale Adventure Park down the road) is a washout in wet weather, Castle Hill remains an option in even the most severe downpours. Local mountain biker Noah Davidson claims to have ridden the trails during genuine flooding in Ipswich, which is a testament either to his story telling or how well the trails run in the wet.
If you've come to Castle Hill with the family, the layout of the trails is great for kids. Only a short ride from the carpark is a small skills area, with some tabletop jumps and a tidy dirt pump track. Directly adjoining this is the Blackleg Gully loop, a green loop with some fun turns and undulations.
The Blackleg Gully loop is great for families.
If you've got a dirt jumper or BMX, they're well worth bringing along to session the skills area jumps and pump track. If you're a trials rider, Castle Hill has a trials area that has honed the skills of Trials World Champion Janine Jungfels. As a local to the area, Janine also had input on
If you're staying in Ipswich, there's plenty more riding in the local area. In North Ipswich the Hillview Drive Circuit is a 6km loop that was built by Trailscapes. To the south there's the riding areas of White Rock and Spring Mountain, and around 40 minutes away is the expansive Hidden Vale Adventure Park with its 117km of world class singletrack.
GETTING THERE:
Castle Hill is around 30 minutes' drive from Brisbane's CBD, 40 minutes' drive from Brisbane International Airport, and 5 minutes' drive from Ipswich's CBD.  
Castle Hill is in a great location.
TECHNICAL NATURE:
Castle Hill has something for everyone, with family friendly green loops right through to true double black features that you'll want a full face helmet and protection for. Whether you bring a hardtail, 120mm trail bike, or full on enduro rig, there's trails that'll suit your machine. A 150mm trail bike would probably be the sweetspot for enjoying all of the trails on offer.
YOU'LL NEED:
All the usual stuff you'd take trail riding with you, although there are great amenities at the trailhead (water, toilets, shelter, pump) that'll keep you going all day. Riding into Ipswich for something to eat is also easily done with Castle Hill's proximity to town. Sunscreen is a good idea as the main climb is a fire road where you're fully exposed to the sun.  
DISTANCES:
There's 19km of trail on offer at Castle Hill, but the beauty of the network is how compact it is. The central fire road climb allows you to ride multiple descents from the same starting point, so you could ride all day lapping your favourite descents!  
Noah enjoying the pump track in the centrally located skills area.
LOCAL KNOWLEDGE:
If you're an intermediate or above rider, I'd recommend warming up on 'World Cup'. Despite the intimidating name, this flowy blue trail offers a good mix of what Castle Hill has to offer with high-speed straights, turns, rock gardens, and jumps. If you're into steeper, jankier trails than Phils will have you trialling different lines over a number of runs.
At the bottom of the hill the skills park has a pump track and some jumps, which cater to all levels of rider. All of the trails are well signposted and on Trailforks.
BEST TIME OF YEAR:
You can ride Castle Hill all year round and in all weather conditions. It's one of the few places in SEQ you can ride after heavy rain, If you're planning a trip to Ipswich, it truly is a 365 days per year destination – just avoid the midday sun in summer.
We rode after an night of rain and the trails were in great condition.
WHILE IN THE AREA:
There's a tonne of riding in both the Brisbane and Ipswich regions. Hidden Vale Adventure Park is the biggest privately owned bike park in Australia with 117km of singletrack on offer, and it's only 40 minutes down the road from Castle Hill. Closer to Castle Hill is the Hillview Drive Circuit in North Ipswich, and the White Rock and Spring Mountain riding areas to the south.
In terms of non-riding options, Ipswich is one of the oldest towns in Australia, so there's plenty of history and culture to explore when you're off the bike.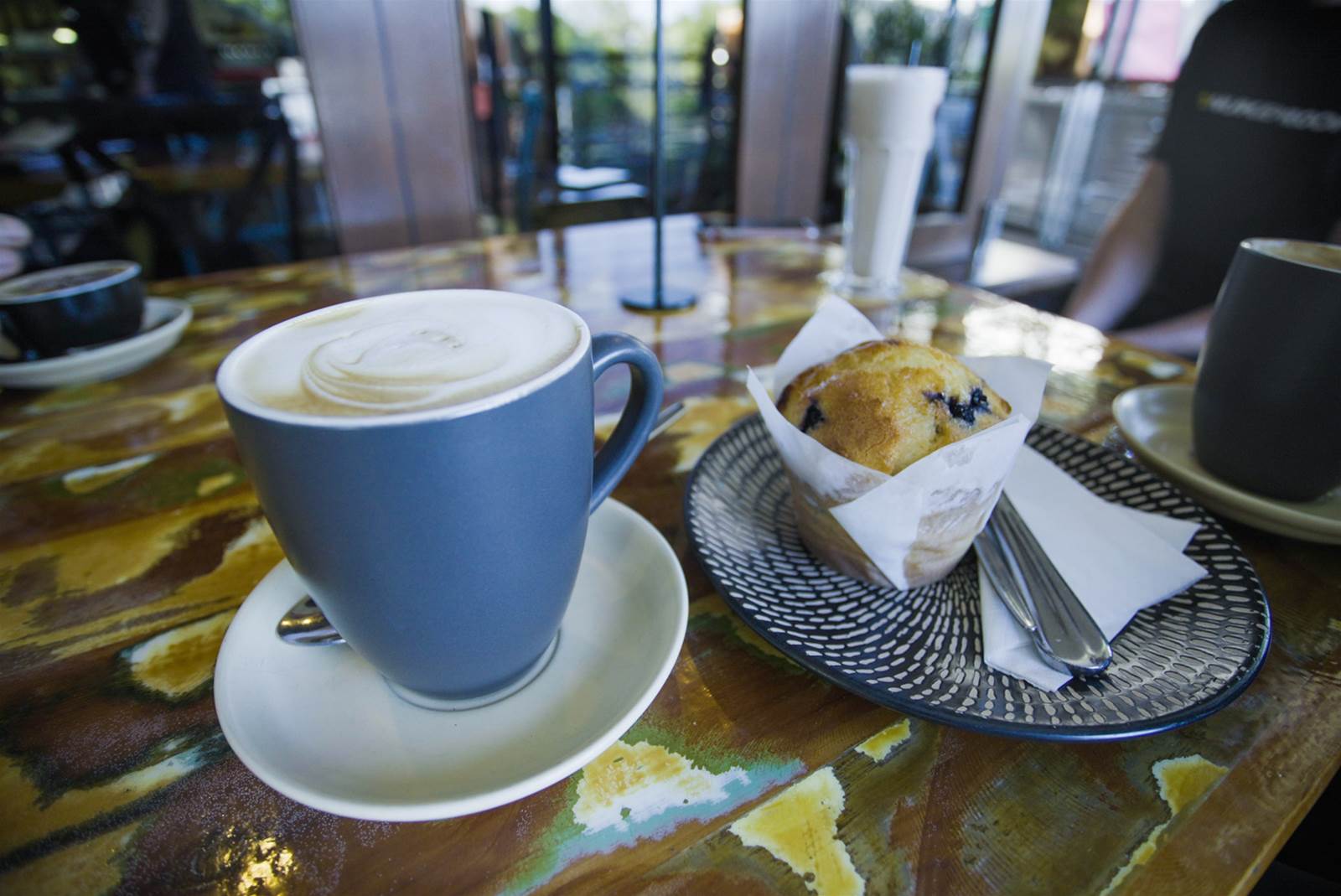 Castle Hill is a short ride or drive from some fantastic cafes.
LOCAL BIKE SHOPS:
There's plenty of great local bike shops in Ipswich. There's Switch Bike Co as well as Trek, and 99 Bikes stores.
REGULAR EVENTS:
Castle Hill has been a racing destination for XC, Enduro, and DH for over 15 years. There's local level racing held regularly, and Rocky Trail Entertainment hosts XC and Enduro races at Castle Hill also.
After more Places that Rock articles? Click here. 
Australian Mountain Bike