Meet the man behind the big red bus and delve into the everyday adventures of Jamie Nicoll.
We are sitting in Jamie Nicoll's house, in a paddock in Rotorua. I use the term 'house' loosely, since his ruby-red 1960 Bedford J4 school bus and abode are one and the same.
In some ways Jamie's school bus is analogous to the man himself. That's not to say he is old or struggles to keep up with newer, shinier models on the motorway or racetrack, but rather that they're both relics of a bygone era and have undergone multiple reinventions and transformations to get where they are now.
Anyone who has followed the EWS for the past few years will have a bit of an idea about the guy: he rides bikes, fast. However Jamie had another commonly-told backstory prior to his emergence on the EWS scene; of a traumatic accident in Chile that left him with 35 per cent full-thickness burns and a protracted time in hospital, including several weeks in a coma.
The story that follows is nothing but inspirational, an against-the-odds tale that defies expectation. But Jamie probably wouldn't want to be described as a hero, or as an invincible demigod of the biking world. In fact, if anything, the main thing that struck me about Jamie was his deep real-ness; something that's often difficult to gauge and feel when interviewing professional athletes who are used to toeing the line of sponsorship obligations and touting the standard race-report monologue. Jamie's new role is not that of a professional EWS rider, but as a professional adventurer and brand ambassador for Santa Cruz. We caught up with Jamie to see where he's from, where's he's at now, and where he's going.
Who is Jamie Nicoll?
It's an easy question to ask when doing an interview - perhaps too easy - but asking someone to give a few words to define themselves can really create a feel and agenda for a feature piece. I ask Jamie and he just laughs a little, obviously made awkward by my superficial-turned-deep line of questioning.
Jamie pauses in the driver's seat of his bus, which when spun rearward caresses the dining table inside the Bedford. He seems all too aware of the complexities of the human condition, and wary of the pitfalls of labels. "I guess it's just my nature to get out and explore things, and I guess that has led into exploring racing as well as always being in the outdoors. That's a hard question to ask really, it's got nothing to do with being a rider, or anything I have done or achieved in my
life, because that's not who you are, is it?  But I am someone that pushes myself in whatever I do. I like exploring, I don't take no for an answer… and that's probably still not who I am".
It quickly became apparent that Jamie didn't have a list of adjectives by which to describe himself, that by asking such a question would be trying to simplify his existence for the ease of others. Jamie doesn't take the easy route; after all, there's no glory or satisfaction in the completion of something that just anyone could do.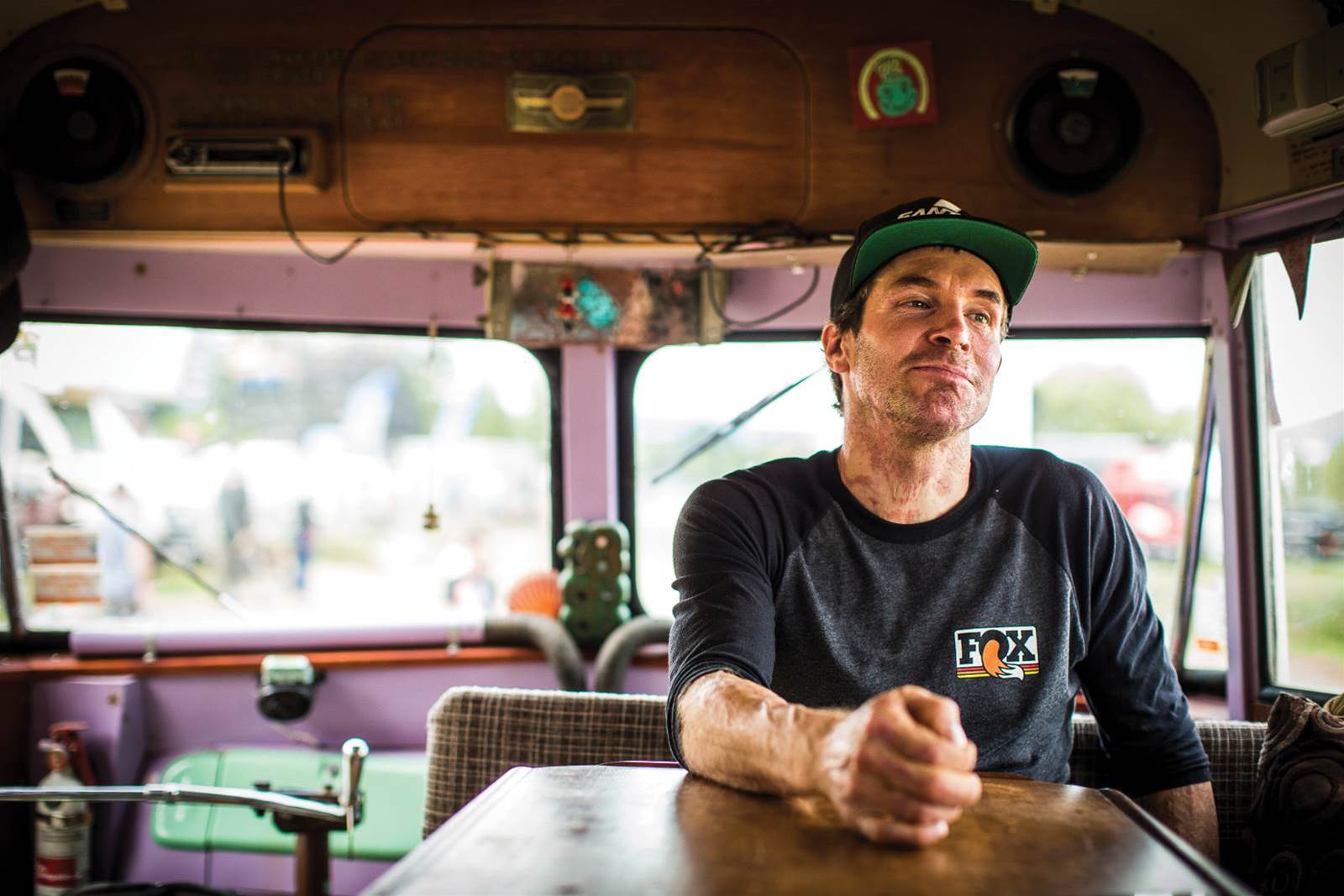 Mountain biking: a changing sport
So, if Jamie is unable to define himself, the least we can do is tell a bit of his tale and let Jamie's words and experiences paint their own picture.
Jamie Nicoll cut his teeth, like many young mountain bikers do, racing cross-country in the '90s. Showing great promise, he raced alongside standout New Zealand names like Kashi Leuchs. Nicoll represented his country in the 1995 World Championships in Germany. He then qualified for Cairns World Championships in 1996, but didn't make the start line. "I guess being a teenager and being impatient with life, I guess I could see at that age - I was 16 or 17 - I could see this whole thing of being a pro rider, and even the way the pro riders dressed I was like, 'I never want to look like that'. It all looked too clear and contrived and spelt out. I don't know, I could just see where my future was going".
Always an adventurer and someone who takes the route less travelled, Jamie adds: "I was just like, 'I want to do too many things in life'. It was too controlled. I guess maybe in a way it didn't fit me, that whole cross-country thing. I used to complain even back then about the adventure being taken out of cross country. When we started, we used to do these big laps, the Karapoti Classic (as an example) where you do one single lap in the race. But by the end of that nationals we ended up doing five laps and as a kid I was like, 'That's bulls**t, that's not adventure, and why do you need to do that?' It's purely developing it just for the spectators.
From there, Jamie took a reprieve from racing, working numerous jobs - always based in the outdoors - including a period working for the Department of Conservation on the west coast of New Zealand.
Jamie explains the period in his life between bikes further. "In 2009-10 I started taking these contracts with Dodzy and Jeff (James Dodds and Jeff Carter, of NZ Trail Solutions)… and I kind of rediscovered what had happened to mountain biking in these years, and the basic mountain bike had become this little trail bike which is better than my Foes Weasel I used to race downhill on, you know. I started a contract in Mexico and came away from that buying a new bike because I had gone away with an old cross-country hardtail. I got a trail bike: a Santa Cruz. I was quite inspired by that and we had some time in Canada, three months, after that contract.
"I did the Enduro at Whistler in 2010, which was a mass start single-stage down to the bottom, and I was second behind Justin Leov and I was happy about that. I would still put myself as an amateur  at that time - I hadn't really thought anything about pro riding or worlds or anything yet. And then it was two weeks after that when I flew back to Chile that I had the accident."
Re-emergence: from the ashes
The next part of the story has been told again and again, and despite Jamie's burns appearing well healed, to ignore his accident would be doing him a disservice. The experience is all part of the reemergence of Jamie in the mountain biking scene, and assisted in developing a focus that has led him to dominating in races such as The Mountain of Hell, France; and podium finishes in Crankworx and EWS rounds.
While working on a trail in the Patagonian backcountry, Jamie was high above a ravine secured by a safety rope when he noticed his jackhammer was leaking fluid. Upon investigation, the jackhammer exploded, resulting in 35 per cent full-thickness (or third degree) burns to his body. With knowledge of the 20 per cent rule - that any patient that sustains more than 20 per cent partial thickness or a mere 5 per cent full-thickness burns to total body surface area is categorised as a critical patient - it is phenomenal that he survived. "The medics said I had a one in ten chance of surviving," he explains.
In a first world country such as Australia, such an injury would mandate immediate helicopter, critical care paramedic and medical officer despatch. Being in the middle of nowhere, Jamie's only option was to lower himself to a creek to submerge himself in, before eventually meeting medics to be transported to hospital.
After two months in a Chilean hospital, including two weeks in a coma, Jamie awoke with renewed vision of what he wanted for his life; he had a vision of himself on top of a mountain wearing blue and winning a bike race.
As soon as he could hold the bars with his slowly-healing hands - after being transported back to New Zealand for outpatient care - Jamie began to pedal to his appointments. From there, in 2012, he took part in some local Super D events; the early incarnations of what has now become Gravity Enduro racing.
"It was the ultimate endurance event having those burns - and the fitter you were before having an injury like that, the faster you recover. I came out of that and it was a longer journey energy-wise than you realise because it's such a complex injury that you're dealing with. And even when I started racing on the world circuit I would look back the next year and think, 'Wow I was so dead last year'. I was still recovering. It was stupid in one sense, like I should have been resting, but it's what I needed in a mental sense as well… something to focus on and, back to the question at the start, it's not creating who you are but it's a bit of an identity. I didn't look that great for quite some time after my accident, but putting my full face on and my gloves and my long sleeve gravity shirt - you look like everyone else. You're the same as the others, even though you definitely don't look the same (under the kit)."
Sven Martin, renowned Nelson-based photographer and ex-pro racer, had a hand in crafting Jamie's path. "I was starting to feel a little bit better and stronger, so I thought I may do a MegaAvalanche while I'm over there, and Sven's like, 'Oh yeah for sure you should do the Mega, come two weeks before and you can do this event, and two weeks after there's this race… and even if you come a bit earlier you can do this one and this one…and there's Whistler of course!' And it was a whole new world and I was like, 'Why not?'."
When the first EWS was announced for 2013, Jamie competed as a privateer with just a bike from New Zealand's Santa Cruz importer; a Nomad. He often roughed it in tents without mechanical support, just relishing the challenge and adventure that enduro tacing offered.
"I missed Puntala, but did all the others (EWS rounds) and end up eighth overall for the year, and I was really proud of that. It's by far my proudest season because it's totally out of me and driven by me. There was no sponsorship, there was no training program; I was just pushing myself. I was just there because I wanted to do it and do it the best I could. I really had that fire to push, and I think that was really key. After I finished eighth I was somehow… something as a brand, in a sense."
Jamie was quickly picked up by the Polygon UR Enduro Team for a two-year contract after that season. "It was good, you got full 'everything'. But at the same time it's a package and you're sponsored and it's all pre-organised, but it has a soullessness… or a lack of connection. You don't know if anyone cares whether you did anything, because you don't even know who the person is that signs this deal with the UR team."
Jamie says of his two years contracted as a professional with Polygon: "I was definitely suffering in some way with those different stresses, maybe being away and then, things not being the way you had been driving them yourself in the past. Different. So I did that two year contract then I wanted to reassess and find something- that passion - or something that I had lost a little bit of and so that was again picking up those relationships, but also stepping back a little bit."
An ongoing adventure
Jamie's two-year contract with Polygon UR was up in 2016. "I guess that was the thing: I never set out to make it a career as a professional, it was just a by-product of doing it the best I could, and so then I went back to Santa Cruz". He has always felt a strong connection to the brand. "Even when I was on Polygon they said, 'If you're ever down Santa Cruz way come in - we don't care if you're riding for some other team. Come and hang out and go for rides with us'. So I have always felt a strong connection with that. I felt like I never really lost that brand connection with Santa Cruz, so it was easy to pick up again at the end of the contract."
And now? "I'm not contracted to race; last year I didn't race EWS. I have done some of the multi-day adventure races, as I've branded them - Trans Provence, Trans BC, Trans Cascadia. I hit up all those and some smaller events here and in Europe while I was away.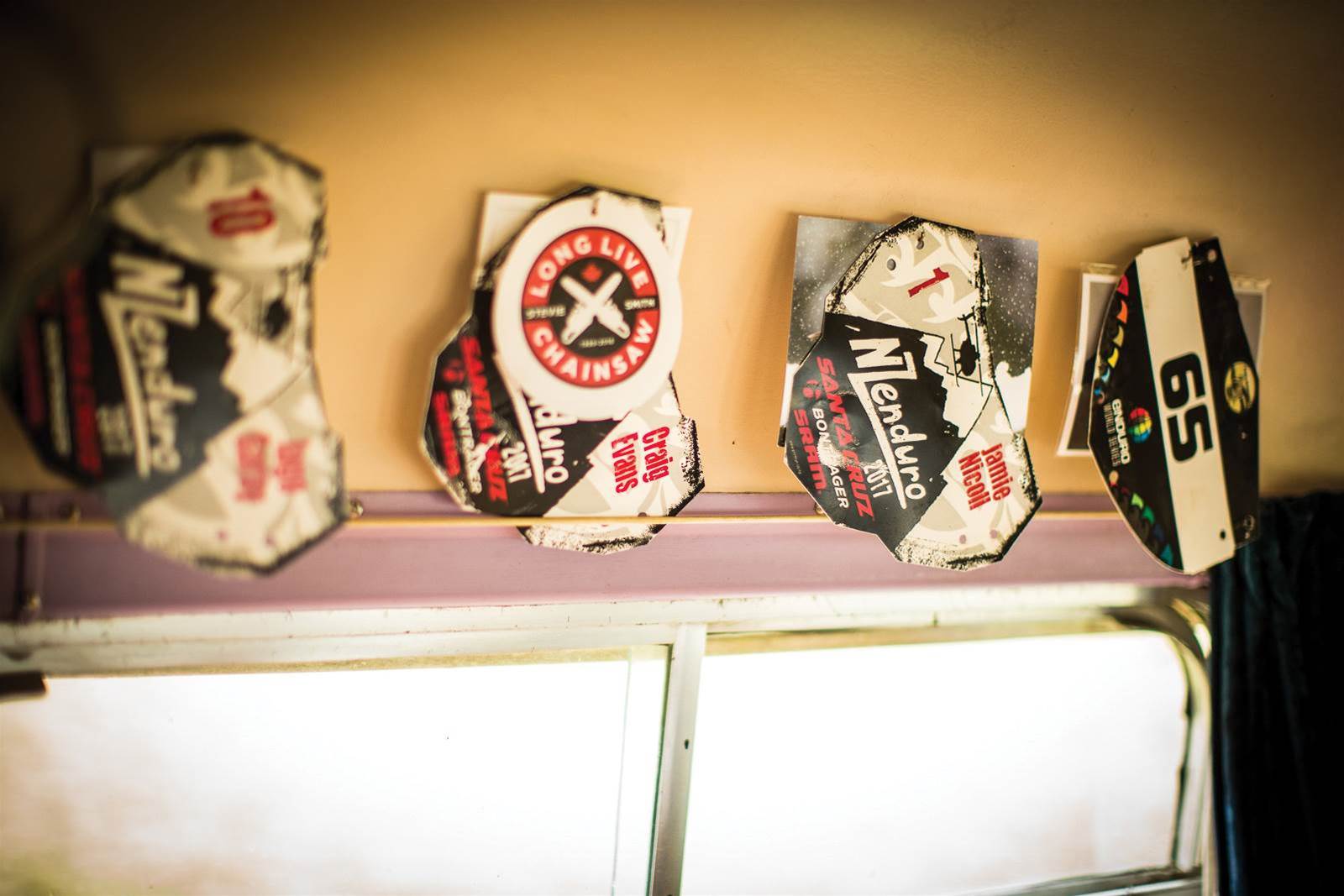 "I guess we were trying to push some new ideas in terms of what we can do promotion-wise for the sport and brand, what people might be even more interested in. And me being inspired to get more of these adventures and stuff happening.
"We travelled to Crankworx (Rotorua) and along the way we visited three bike shops and did ride-outs with the kids and adults and whoever wanted to join in, and many of the kids were so, so, so stoked to be out there shredding with Josh (Bryceland) or Cedric (Gracia), lots of smiles around.
"It's really, really great. It's such good crew, too. You know, I was thinking before it, 'Is this going to be off the hook, am I even going to have a bus or a home left by the end of it?'. Everyone is different, but there was absolutely no clashing and we all had a really good time, and everyone had some super wild moments. I don't know if you call them professionally wild guys, but they also had solid respect for things and so it was just great times."
In terms of 2017's adventures, Jamie was off on another European adventure, leaving New Zealand in May, and also hints at upcoming adventures in places as far ranging as Alaska. For racing, he is only booked into the Trans Provence.
Jamie states they call his current arm of Santa Cruz the 'Special Ops'. "It's the joke because it doesn't really have a name, but we're sort of just doing these unusual and interesting jobs. Where that goes, I guess it's still coming out. But it gives a lot of excitement to my work and keeps me busy.
"That's been really cool working with Santa Cruz this year and coming up with ideas, different ways of showing bikes to people. I guess for the majority it's not about racing, it's not, you know, who's going fastest. People like to know about what you can do and what can be achieved and where you can go and the things you can do with your bike. A very, very small percentage of trail bike riders can name riders in the top five of the EWS."
Nicoll's mindset and approach are key to the innovation, adventure and remoulding of traditional brand and marketing ideas that help deliver results for Santa Cruz. His wanton need to push the limits, bend the rules and seek a life more authentic has delivered him a multitude of life experience; much of it passing by on two wheels.
By the end of the interview I had a much better idea of who Jamie Nicoll is; no list of adjectives would suffice. A deep thinker, philosophical, questioning and endlessly seeking adventure, Nicoll's story is an example of what can be achieved when driven from within.
Words: Anna Beck Photos: Tim Bardsley-Smith
Australian Mountain Bike