Fox Creek was one of Australia's best known riding destinations until the devastating 2019 bushfires led to its closure. After lots of hard work, Fox Creek is rising from the ashes.
Words: Will Shaw
Photos: Andy Rogers
---
It was December 2019 when bushfires savaged Cudlee Creek Forest Reserve and the Fox Creek trail network within it, leading to its devastating closure. With Covid dominating the headlines in 2020, it was only in 2021 when the potential of trails reopening began to filter through from landowner ForestrySA. Thanks to a concerted effort from ForestrySA and their supporters, Fox Creek Bike Park has been supported by a grant from the Government of South Australia and the Australian Government of 2.5 million dollars.
Now, the focus is on to build-back-better and formally establish Fox Creek Bike Park, which is in Adelaide's Mount Lofty Ranges and about 50 minutes from Adelaide's airport and CBD. A cost benefit analysis firmly supported the benefits of a multi-use Bike Park, revealing that for every $1 spent on the redevelopment, over $4 to the local economy is returned.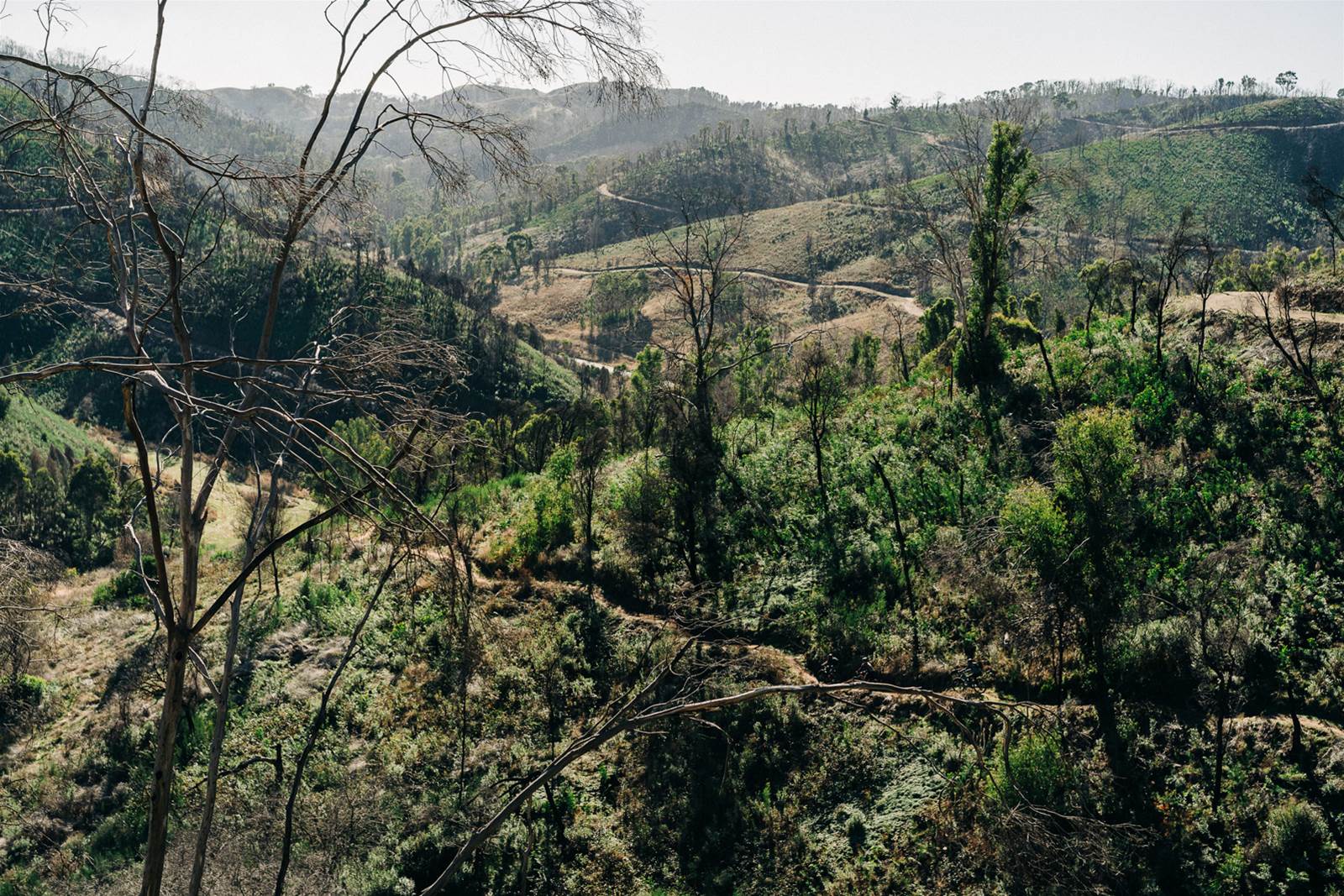 The regrowth has well and truly begun!
Numbers aside, there's a real sense of excitement around the return of Fox Creek. The Park has been an iconic Adelaide trail destination since the early 1990s. The International Mountain Biking Association (IMBA) trail standards were applied to formally managed trails as early as 2001, at a time when legitimate mountain bike trails were as rare as hens' teeth.
Rocky Trail Destination has been engaged by ForestrySA to lead redevelopment of Fox Creek. I spoke with Rocky Trail Destination's Joe Mullan on the past, present, and future of Fox Creek Bike Park.
'Fox has deep history as an Australian trail destination that has led the way in establishing advocacy, trail standards, and IMBA Australia in the mid 2000s. I was lucky to be part of a small few that hosted IMBA's Joey Klein at the first IMBA workshop in Australia at Fox Creek back in 2005. Many of the attendees went on to establish trail building companies that now operate nationally,' says Joe.
After the fires there was no clear timeframe for Fox Creek to reopen, as the fires' unprecedented ferocity, Covid19, emergency harvesting and a wet winter added to the challenge. For those reasons ForestrySA needed to evaluate the whole site for safety before allowing any public, riders or otherwise back into Fox Creek.
There was plenty of work to do on the land before trails could be reinstated.
According to Joe, the rebuilt Fox Creek will surpass its former self, and become a legitimate bike park capable of holding international level events.
'At Fox we have a mountain bike park led by a community driven to build back better and a really prime piece of land that can facilitate great riding for all levels. We will have all the amenities, services, and an events/trail hub that will support the growth of user visitation numbers and the experiences they want from a modern, gold standard mountain bike park.'
What's unique is that Fox Creek Bike Park will remain a public facility, but with many of the features and amenities that are often associated with a private bike park. The redevelopment of the park revolves around building for the wider community of riders, but also for businesses who can benefit from the riders who visit a top-notch bike park. And that's a key part of what the future holds for Fox.
The Fox Creek Bike Park logo.
Foxing for the future:
Whilst on-site toilets probably aren't a big step for many existing trail networks, at Fox Creek Bike Park, they are starting from zero. The 'hero' in their sights includes major infrastructure plans for 'Future Fox'. There'll be a trail hub serving coffee, snacks, and frothy beer, which will be a great way to recharge or relax while remaining at the park. The new facilities will also include a bike wash, showers, viewing platform, high speed eBike charging stations, BBQs, picnic shelters, event staging areas, and a 'Recreational Economy Zone' for local small businesses and pop ups. 
ForestrySA see themselves as an enabler for building resilience in the local community, through providing a focal point for visitation and consuming services locally. They're in the heart of the Adelaide Hills wine region and surrounded by local produce providers. The growth of both boutique and family friendly accommodation in the area has also taken off as the park comes back, and more and more development applications to council are referencing mountain biking and bike specific facilities as part of their design and build.
The local community are excited for mountain bikers to return.
Future Fox will also cater to the rapidly growing sport of adaptive mountain biking, as Joe explained.
'As part of planning for Future Fox, we've studied adaptive mountain bike trails as well as what's required to support those users at Fox Creek. A little more focus on parking, setup areas, and shallow gradient ramps to amenities are all important to get it right. We should always be designing public precincts to contemporary best practice.' 
Mountain biking will be the primary use for the area, however two of South Australia's most popular hikes, the Heysen and the Mawson trails also pass through the trail network. The work that's gone into trail alignment and directional trails means both groups will co-habitate peacefully and add increased visitation to the local community.
Past, present and future:
Before the fires, there was 48km of professionally built mountain biking trails at Fox Creek. By the time the new infrastructure build is complete in February 2022, Joe hopes they'll have around 60km of trails on offer and another 12km by mid 2022. Things are looking good at this stage for both the infrastructure upgrades and the trail network redevelopment. The reopening of trails is a staged approach, with 24km worth of trails since April 11th, and more opening each coming month. Visitation is averaging about 500 people per day since reopening.
The trails are opening in stages.
For the Fox Creek trails redevelopment, ForestrySA is taking a balanced approach when it comes to new trails. Rather than contracting a single trail builder, multiple trail building companies are being engaged to ensure the bike park has different trail experiences and showcases the core talents of the various companies. 
'We're going to use a variety of trail builders to bring a diversity of riding experiences across the park. We have great soil, great contours, great waypoints, and in most places, great canopy. We want to get the best out of all the trail building companies, small and large, local and interstate. With such a wide spectrum of work to be done, we can spread the load and accelerate some rebuild timelines. We need everything from making trails safe, to trail re-alignments, to brand new trails that will give companies the opportunity to show off their unique flair.'
Joe adds that getting the ongoing maintenance approach right is a big focus for him in the redevelopment of Fox. They've looked at leading examples nationally, in North America, and over the ditch in New Zealand. With so many similarities between the sites, the successful Rotorua Trails Trust model is inspiration to keep the trails in prime condition and provide jobs within the local region.
Keeping the trails in great condition is a big priority.
'There's going to be the opportunity to sustain local trail builders, which is sticking with our 'build back better' goals to grow local capability. We've looked at models from across Australia and New Zealand for what is sustainable trail care and volunteer management. All too often trail care comes down to a small number of passionate but overworked people. We want the very best out of trail builders, and to  reward and recognise volunteer inputs. Of the models we've looked at, a combination of Rotorua's approach and the SORCA model from BC Canada is the right framework for what we're hoping to achieve. Our program is called Collaborative Trail Care (CTC), and we're establishing a not-for-profit organisation that will support new green industries, develop local trail builders, train (and qualify) volunteers in best practice trail care, and create jobs and tools for a trail maintenance crew.'
That shuttle life:
With around 270 metres of elevation on offer and dedicated black diamond DH tracks there have always been shuttles at Fox. There was one commercial shuttle provider prior to the fires, but the rebuild will add more shuttle options. For the first time, Fox Creek will have an access arrangement for internal shuttles using existing ForestrySA roads, which will provide a faster shuttle turnaround and create potential for new gravity trails in other parts of the forest.
Internal shuttles are on the menu for the first time at Fox Creek!
Fox Creek Bike Park is built on ForestrySA land, and Joe says their support and understanding of the benefits to the community has been critical to getting Fox back up and running. One of the future conditions is also inspired by the highly successful Rotorua model, and represents a huge step forward for Australian trail networks within forestry plantations.
'The work done by ForestrySA has been massive. There's been risk assessments galore and constantly changing conditions because of all the variable factors in a bushfire-effected area. Balancing trails and harvesting is hard, but ForestrySA has committed adapting practises, retraining staff, and embracing cutting edge techniques that will be sensitive to the 'trailstock'. This includes planting methods that work around trail alignments, both physical and GPS virtual models for those planned. This is also inspired by the Rotorua development model. It may mean they'll plant less trees overall, which means less money from timber, but they're recognising the value the trails bring to the land and the wider community, as well as allowing for more creative trail development.'
Community connections at Fox Creek:
Alongside the formal stakeholders of Fox Creek Bike Park, there's two prominent volunteer groups which have been making Fox Creek a better place for riders since the mid 1990s. The Human Projectiles began riding at Fox in 1993 as an alternative to playing darts, and they've been riding and maintaining the trails ever since. The Human Projectiles played a big part in securing numerous grants throughout the years, all of which have gone into the trail network.
The Foxy Creakers are the all-female volunteer group that call Fox home.  Alongside regular group rides and trips away, the Foxy Creakers also do a great deal of trail maintenance and sign installation. Joe says the work of both groups must be recognised.
'Fox Creek has been a labour of love for more than two decades, with a trail network has in many ways has grown organically. Much of the hard work that's gone into making trails happen has come from dedicated ForestrySA staff being open to working with the Human Projectiles and the Foxy Creakers. They've put in blood, sweat, and tears working on the trails and elevating their own abilities. They're passionate local vollies and they've built a bloody good trail network, which has provided a great skeleton for various trail companies to build an amazing bike park with. The other thing they've done is not just built trail, but they've maintained them, and for that they deserve great credit.'
When it comes to non-riding options, Fox Creek is a great option for groups, couples, and families. There's already local wine, beer, and produce in the area. There's also a wildlife park, although Joe says that Fox doesn't do a bad job as one too. There's regular sightings of big Kangaroos, Emus, Koalas, Blue Tongues, and Echidnas.  
'There's a family of four Emus that walk in formation on some of the green trails. That can make for an interesting traffic jam on occasion.' 
There's been regular engagement meetings with small businesses and community surrounding the area, to help understand the opportunities a major bike park will bring and guidance of how to embrace those opportunities. Already many local businesses are investing and expanding. One of aspects that Joe is excited about is the diversification options for the local community.
'Being in a superb wine region that already attracts tourists from across the globe means many small businesses won't be putting all their eggs in one basket when it comes to the growth of the Bike Park. They can pivot, diversify, expand, and contract as they need, as long as they get the business fundamentals right. In saying that, we do see bike riders as an excellent focus base to prioritise, especially when you look at the recent research on their spend, service/experience preferences, and of course growing numbers no matter what the segment, demographic, or gender.'
Fox is no stranger to large national scale events, most recently in 2018, Fox Creek held Australia's National Enduro Championships. According to Joe, another Future Fox aim is to have even higher-level events enjoy the venue.
Expect big events to return to Fox Creek.
'Fox may have been the best riding area in area for the last few decades, but it lacked facilities, even basics such as toilets, power and available water, so it could never be a true event venue. But we are fixing that, those foundational items are part of how the bushfire funds are being used and with top-spec new build facilities and a great trail network, Fox will be an event-ready venue in 2022 that exceeds the standard required to attract and deliver international events. Fox has had state and national championships in the past, but what we're going to deliver in terms of infrastructure will handle bigger events such as Oceanias, Enduro World Series (EWS), and maybe even some interesting mass start format events people are familiar with from overseas.' 
Outside of these major large-scale events, Adelaide's four and a half (yes you read that correctly) different off road cycling clubs are also dead keen to get back to Fox for racing and events. They all run different events in different disciplines, and they've all got trails at Fox Creek that they love and can't wait to get back to.
A local's view:
Andy Rogers is the photographer for this article and has lived in Adelaide for five years. According to Andy, Fox Creek was widely recognised as Adelaide's premier mountain biking facility prior to the fires.
'My partner and I moved over from Melbourne in 2017. Until the fires we had Fox Creek as a great riding option, and it stood out to us as the premier riding destination in the city. As it's only a 50-minute drive from the city a day trip is easy, and it's a hub for racing so we went there regularly,' says Andy.
Andy says that while the fire had a massive impact on the Adelaide riding community, the redevelopment has got people excited and there's been positive feedback on the already opened trails.
Andy is excited about Fox Creek's return!
'To have the trails taken away so abruptly was a shock. There's been a silver lining to it though in that we've been able to explore the plethora of other riding spots in Adelaide. From a Fox Creek perspective, the trails are getting a massive refresh and I'm sure there'll be more interest than ever with the number of new riders on the trails. My partner rode some of the new trails the other day, and she said the improvements were noticeable. Before the fire it was hard for the trail builders to keep up the maintenance with the volume of riders on the trails, and so well-designed trails will be great for Fox Creek's longevity.' 
With so many driven stakeholders involved in this project, it's hard to imagine Fox Creek Bike Park will be anything other than a huge success.
'Fox is a beautiful area to ride in that's surrounded by all the things people want, wineries, local produce, scenery, experiences with nature, and great accommodation options. It's where Troy Brosnan, Connor Fearon, Shelly Flood, Steve Marsh, Will Rischbieth and others learnt a lot of their craft. Because it's 50 minutes from an international airport and the beach it's relatively easy to get to compared to the other handful of quality trail destinations in Australia. In terms of the trails, we've got it all. We've got the Troy Brosnan level stuff, we've got the family stuff, and we've got everything in between.'
Enough said, we'll be visiting when a few more trails are up and running. Watch this space!
Follow Fox!
After more destination articles? Click here.  
Australian Mountain Bike