Heading into the wilderness to connect with nature and take stock of our mental health. Learn more about the Flybiking program for men's health here!
Words and photos: Colin Levitch
 
"How long have we been riding for?" Matt asked
 
"About 10km," I said
 
"I don't remember the hut being so far out, I've only walked to it before, and it definitely wasn't this far, let's pull out the map," Matt said. "Yep, we missed the turn way back."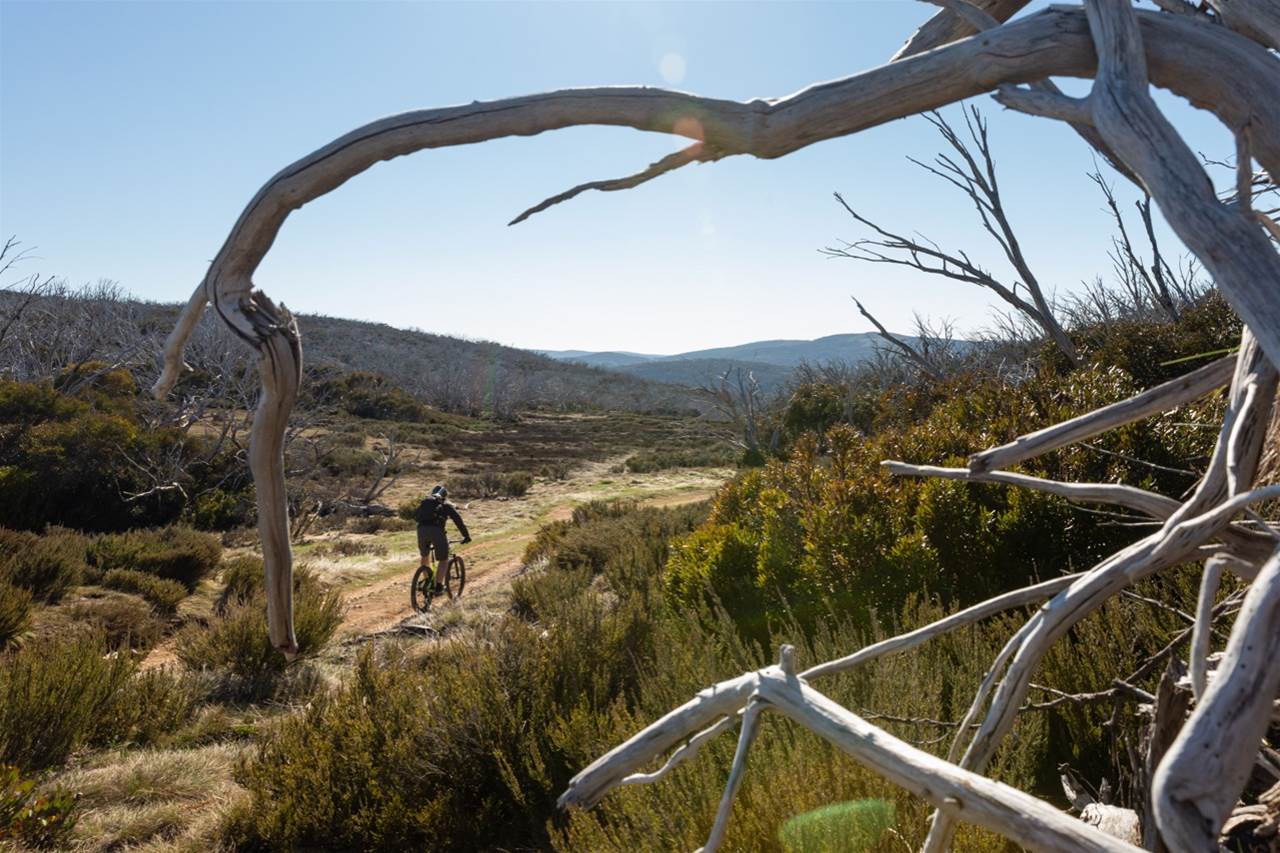 In search of trout, fishing guide and The Fly Program Founder Matt Tripet and I saddled up our eMTBs and pedalled out into the Mount Jagungal wilderness. We planned to ride down past Round Mountain Hut to fly fish the Tumut River; the trouble was we'd miss our turn by about 9km.
Fly biking as I call it is simple, instead of walking or driving out to a remote stream, you ride. With the advent of eMTBs, it's never been easier to cover a lot of ground fast, and with minimal impact, as demonstrated by our 18km detour.
 
I've spent quite a lot of time in the Snowy Mountains, poking around the Main Range backcountry on my skis looking for pow turns, but this was the first time I had ventured well outside of the skiable terrain.
Matt collected me from Jindabyne at 6am, and we headed towards the Mount Jagungal Wilderness on the Snowy Mountains Highway, stopping along the way to see the Giant Trout in Adaminaby, and passing by Australia's highest village, Cabramurra. The drive dips and dives through sub-alpine forests and alpine tundra, parading you past historic huts and abandoned mining equipment from the previous century.
 
By the time we reached the trailhead, the sun was just beginning to reveal its power, and we pedalled along, taking in the scenery.
Today was the first time this year Matt had ridden his Trek Powerfly, a dual suspension eMTB.
 
"I've walked out here with fishing clients, and it definitely wasn't this far. It only took a few hours; we are getting into full-day hike territory here. "
As Matt unfolded the paper map, it only took a moment to realise we had gone on quite a walkabout. We pointed our bikes back in the direction, and just as we did, the breeze carried the sounds of wild dogs yipping and howling with glee. We weren't able to spot them on the saddle above us, but Matt thought it might be two or three packs communicating from their dens.
Australian Mountain Bike