The new Lazer Jackal helmet is a trail helmet that scores the top safety rating.
Lazer's march forward with new helmet designs for mountain bikers isn't showing any signs of slowing down. After the Lazer Coyote and Lazer Impala already impressed here at AMB, thanks to their good fit, size options and ventilation - Lazer have just released the Jackal. In Australia it's available in every option as long as it's black with MIPS, and they sell for $299, and they'll be in your local Lazer helmet dealer this month.
The Jackal takes up the protection and features of their trail range to another level beyond the Coyote and Impala that we have tested previously. Lazer state that they wanted to make a helmet that maximised comfort, enjoyment and freedom. 
There's a lot to enjoy about having a helmet that fits and has been rated really highly for safety, and with three sizes on offer, a height adjustable micro-adjust dial retention system and Lazer's very nice helmet straps, getting the Jackal to fit shouldn't be an issue.
It's a small detail, but these straps don't hold sweat like the ones on the Coyote do.
The buckle itself is magnetised, and you're far less likely to pinch any skin in it. That said, you'll likely need to get used to the different action to close and open it. Half a dozen times taking it on and off should do it.
Like a lot of modern trail helmets, the coverage extends a little further at the rear than an XC lid, and the thickness of the foam is bumped up a little on the back. This extra protection is useful for a lot of the kinds of crashes that can happen off road, like looping out and falling backwards, or to the side, or the classic OTB into headbutting a tree. 
On the back of the helmet there also a really neat textured rubber area that will hold a goggle strap firmly in place for those open-faced helmet enduro runs.
With a MIPS liner to help dissipate shear forces, the Jackal scores a 5-star safety rating from Virginia Tech - which is a best in class rating. Whether you're convinced that MIPS helps or not is neither here nor there, as the single model Jackal comes with MIPS here in Australia.
The slip liner does have drawbacks for some, with some riders syaing it can catch hair, or feel uncomfortable against bald heads. There is a generous amount of Xstatic padding on top, plus at the brow. This stuff tends to wick sweat away fast, stink less, and generally be less gross to put on again on hot or wet rides.
The Jackal's visor is nice and solid, with three set positions. Even from a couple of uses it seems a lot sturdier than the visor on the Impala. My Impala visor tends to flip up at high speeds, or drop down when I land drops really badly (while I don't go big very often, landing badly is pretty common). The top position leaves plenty of room for your goggles if that's how you roll.
The venting on the Jackal tends towards big, open vents - perfect for gulping some air on the descents, but more crucially, they're nice and open to act like chimneys at low speeds when climbing. The centre vent atop the Jackal is also where your optional acccessory mount fits. It comes in the box, and with some short velcro straps it fits snuggly atop the helmet.
All in these are some great updates compared to the Impala, which was otherwise the top trail helmet in the Lazer range. While both helmets get a 5-star safety rating from Virginia Tech in the MIPS option, the Jackal certainly feels more substantial - and for a given size it's a bit more weighty as well. That's no bad thing, I'm happy to carry around another 50g of foam on my head for a helmet that feels safer.
With a bunch of rain falling since I opened the box with this new lid in it, trail time has been minimal. So stay tuned for a review to see how the Lazer Jackal handles the Australian heat, and the general use and abuse that a trail helmet cops over a couple of months.
Drop in to your Lazer dealer to try one on if you think the Jackal has what you're after.
RRP: $299
From: Shimano Australia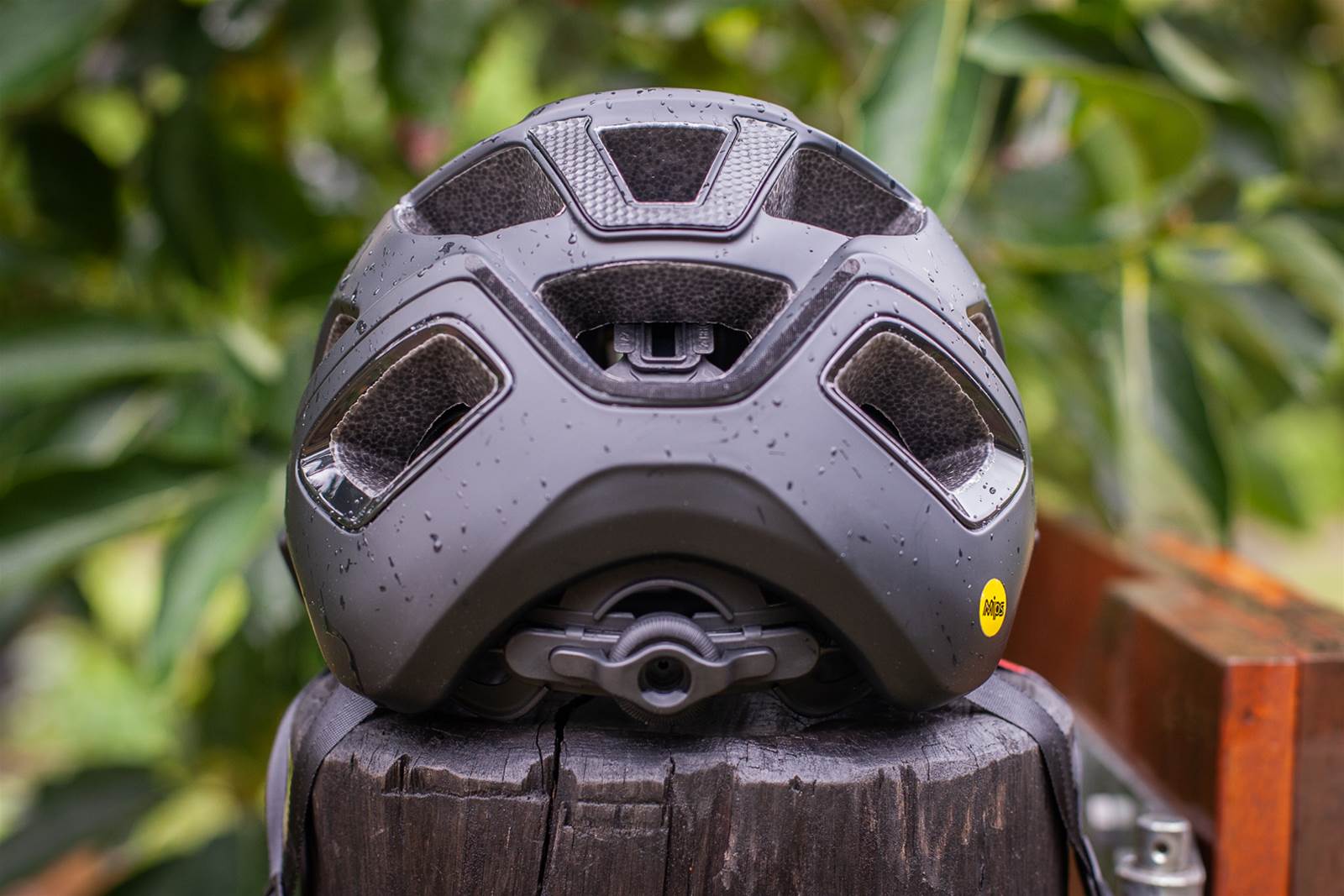 Australian Mountain Bike