We've just had Merida's new cross-country rocket ship arrive for testing - here's a closer look at the Merida Ninety Six RC XT.
Fresh in for testing is the 2021 Merida Ninety Six RC XT. If you have been looking for a new bike, you'll know that stock is pretty thin on the ground. So thanks to Merida Australia for making this snazzy red rocket available!
Merida have completely overhauled the Ninety-Six, making the Ninety-Six RC which is a 100mm front and rear full-suspension bike, and the Ninety-Six, which has 120mm travel fork, more aggressive tyres, a stronger front brake and a longer dropper post. 
Don't miss our first look at the new 2021 Merida Ninety Six range - covering the models, parts specifications, geometry, frame features and pricing.
Merida have listened to the demands of riders like Jose Hermida and Gunn Rita Dahle-Flesja, who are both still very active with Merida. Riders were asking for two water bottle cages in the main triangle. Merida also studied what cross-country and marathon racing is all about now, and that's why you'll see such a dramatic change in the geometry of the Ninety-Six. With XCO courses being built with very demanding terrain, with super steep sections and committing lines, geometry needs to allow for stability on the descents, with agility in technical terrain and great climbing prowess.
Gunn Rita racing to a bronze medal at the 2018 XCM World Championships - albeit on the Big.Nine hardtail.
The Merida Ninety Six RC XT model we have on hand is the 100mm RC variety, with a full carbon frame (although not the top spec carbon of the 9000 model) with a Shimano Deore XT 12-speed group set, Fox Performance suspension, Maxxis tyres, and a alloy finishing kit that includes Merida branded rims, bars, stem and a 100mm dropper post. This bike sells for $6399.
Your Merida Ninety Six will come built and ready to go from your Merida dealer, but I built this one up for our tester. This didn't need a whole lot of work, save for fitting the lockout cables to the RockShox TwistLoc, attaching the dropper cable to the Shimano iSpec EV dropper remote, and getting the wheels set up tubeless.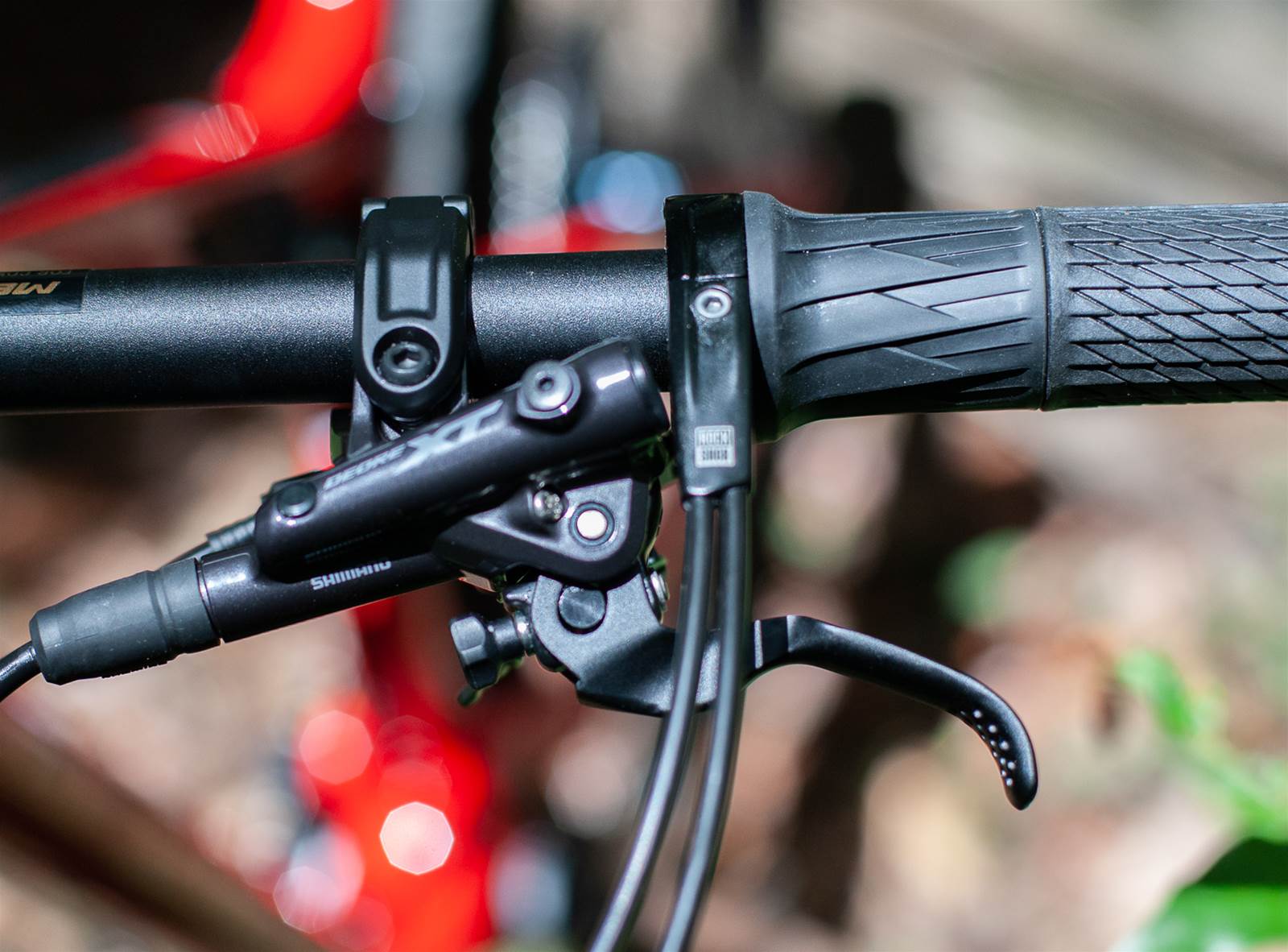 While the Maxxis Rekon Race 2.25" tyres are tubeless ready - the wheels are not. I fitted Mucoff 25mm tubeless tape, which just managed to fit into the rather narrow 22mm rims. With some sealant and spare valves (neither are included) the tyres held air from the first inflation. You'd be mad to not have your dealer get this bike setup tubeless before you roll out the door.
The build overall is really impressive. It is worth noting that the frame is full carbon - the link and everything. Merida made a bunch of updates to the frame, and the geometry. As noted in our first piece on the range, on this medium the reach is 455mm, with a 68.5 degree head angle and steep 76.5 degree seat angle. This keeps the front long, but your weight isn't way back when climbing, helping to keep the front wheel stuck when climbing. The aggressive negative drop stem helps with this as well. Merida have also got cable routing through the headset top cap to neaten things up.
With such short loops and tigh spacing on short stems with drop, I'm not convinced this works as well on the smaller frames - and as always it would be nice for left to rear braked bikes to come built with the brake outer crossing to the drive side. You can fix this up at your dealer, but it does involved cutting the brake line and fitting a new olive and barb.
There are 6 cables or outers to manage on this bike. That's the same as on my own bike and while I love the functionality of dual lock out and a dropper, it does take a case by case look at how to best optimise the cable routing for a given bike and cockpit setup. Merida have a hole on the non-drive side head tube for an outer, and another on the drive side (with a plug if you won't use it) would help with the options for a cleaner look. It's a small thing, but on bikes costing this much, small things matter.
The Fox 32 SC Performance fork and Float DPS Performance shock are just what you'd expect from an XC race bike. They have push to unlock action from the RockShox TwistLoc, with rebound damping and air pressure adjustments available. You can also tune the volume spacers, and this is probably more worthwhile in the fork than the rear shock, given it has been tuned for the Merida. Still, getting the right air pressure will have the greatest impact on suspension performance. So be precise!
The rear shock uses the Fox body where the lock out cable enters at the top while the rebound knob is 180 degrees below - just like on the Orbea Oiz. This keeps the cable out of the way, and leaves a little more room in the main triangle for a true winning feature...
...Two bottle mounts! Yes, the Merida can fit two water bottles inside the main triangle. It does use an extra mount to project the bottle forward - but that's fine, as you can fit two bottles in there. This puts Merida up there with Specialized, Canyon, Cannondale, KTM, Trek, Momsen, Orbea and only a few others who allow this. For pure XCO racing two bottles will never be required. But what about the big training days? The long rides for fun? Marathon races? If you're not paid to only ride on the World Cup XCO, then being able to cart a little more life-preserving fluid when you're out riding without needing a back pack is a very useful feature.
The back end of the frame is one piece on the new Ninety Six, as Merida have adopted a flex stay. That means no bearings to maintain, less weight, greater lateral stiffness, and a move to a flat mount brake caliper that is more compact and out of the way. Merida have kept the plug in tool at the rear axle, which stays in place and works for the Fox 32 SC Kabolt or the rear wheel. Combined with the multitool that fits in a sleeve on the saddle, it's so good to see these really useful additions on a lot of Merida bikes we test.
Merida state that a 2.35" tyre will fit into the back of the Ninety Six RC or Ninety Six. Visually, there's not a whole lot of room there with the 2.25" Maxxis Rekon on a 22mm internal rim. A little more clearance would have been good to see, but being stated to fit 2.35" is pretty common for a lot of 100mm bikes.
Merida have also redone their internal routing, having the brake hose and rear derailleur cable exit on the top side of the down tube, in and area which typically sees a lot less trail grime! They also have a threaded bottom bracket shell, which is a nice touch for ease of servicing.
The group set on the Merida Ninety Six RC XT is... Shimano Deore XT M8100 12-speed, which shouldn't be a big surprise! The 2-pot brakes are matched to 180/160mm centrelock rotors, and the 175mm cranks on the medium have a 32t chain ring driving the 10-51t cassette. There's a small chain guide which is a nice touch, as XCO gets pretty wild and there is no time for a dropped chain.
All in, the Merida has a smart spec. It's got one of the best group sets out there, with quality suspension, modern XC geometry and a full carbon frame that can fit two water bottles. I'd like to see wider rims as stock, as so many oher brands do have 25mm or even 30mm rims on their bikes at this range. The wider rim allows a little more volume in an XC tyre for lower pressure and greater traction. That said, the narrow rim is a bit lighter, so these wheels are 1800g. That's not World Cup XCO race weight, but stock 29er wheels with wide rims may weigh about 2kg. Or more.
The total bike weight set up tubeless is 11.65kg - which is great considering the added multitool and dropper. If you did add some race wheels and a carbon bar, and even drop to 160mm front rotor (XT brakes are super strong...) you may well get this down to about 11kg with pedals, dropper post and no silly parts. That's pretty impressive!
This bike is now off to a dedicated cross-country and marathon racer to be put through its paces - stay tuned for the full review in Issue #188 in late March. 
Australian Mountain Bike