What could be better than riding singletrack in the morning and relaxing on the beach after lunch?
Reef to Reef is a new race, stablemate of the highly-successful Cape to Cape and Port to Port events which together make the new Triple Crown series. They're also joined by huge international events like the Swiss Epic, The Pioneer and Cape Epic thanks to a global expansion of MTB events in recent years.
---
A first year event can be a risky proposition – there's the question of whether untested courses will work out, will facilities and logistics support all participants, and will the format suit the MTB racing cohort who expect more and more for their money with every passing year? Reef to Reef took a particular risk by introducing and promoting pairs racing. Riders could compete in teams of two in a few categories – mens, womens, mixed, and masters – riding the entire race together, and helping one another when they can.
Pairs racing is really popular in Europe and is the dominant format for most big stage races in the world, including Cape Epic, Swiss Epic, Transalp, The Pioneer, and tonnes of others. While rarely seen in Australia, pairs racing adds new physical and emotional layers to an event. Tired? Your team mate can encourage you, draft you, even push you.
Feeling strong? You can sit on the front, or drive the group, or try pushing. Most racers try to team up with riders of similar ability, but it's also important to team up with a rider with a similar outlook. And don't forget to talk over your race strategy before each stage. Nothing sucks more than a shouting match in the middle of a race, or losing sight of your partner before a checkpoint.
Reef to Reef kicked off with a prologue that certainly sparked a lot of conversation. While many, in the lead-up to the event, expected the 20-kilometre loop of Smithfield's trails to take in the easier blue and green loops, organisers opted for shock value instead, throwing in a number of massive features that thrilled some, and dismayed others.
These included an obscenely steep climb up to the dam, XCO World Champs crowd-pleaser Jacobs Ladder, a climb of endless, dusty switchbacks, and a gnarly descent of fist-sized rocks that would claim anyone who went into it too hot. All of it added up to over 800 metres of climbing over just 20 kilometres, 90 per cent of it on singletrack. And none of it ended up as crazily hard as expected.
After resting up from the challenging prologue, riders transferred up the range to Davies Creek to take in some of the Cairns region's most underrated singletrack. Among those in the know Davies Creek has had a quiet reputation for its smooth, fast, old-school singletrack – perfect for an afternoon spin as the sun sets over the Great Barrier Reef, far down below the range.
This is where the real pairs racing started. While riders had little opportunity to work together the day before – beyond simply staying together, on day two the team dynamics really set in, particularly as the day wore on and the course turned out to be much harder – and incorporate much more climbing – than expected (1100m in 50km). The teams that worked together – pushing, towing, encouraging – were the teams that came out on top.
Day three brought the queen's stage to tired legs – a 65-kilometre return trip through farm roads, doubletrack and crazy moto singltrack around Mt Molloy, again, up on the range just under an hour's drive from Port Douglas. A cool morning greeted the riders, but quickly warmed for another promising, sunny, mid-winter outing. Riders started out on undulating farm roads before navigating a maze of ditches and ruts before diving into forested fire roads with swooping corners and the log bridge, which required a dismount.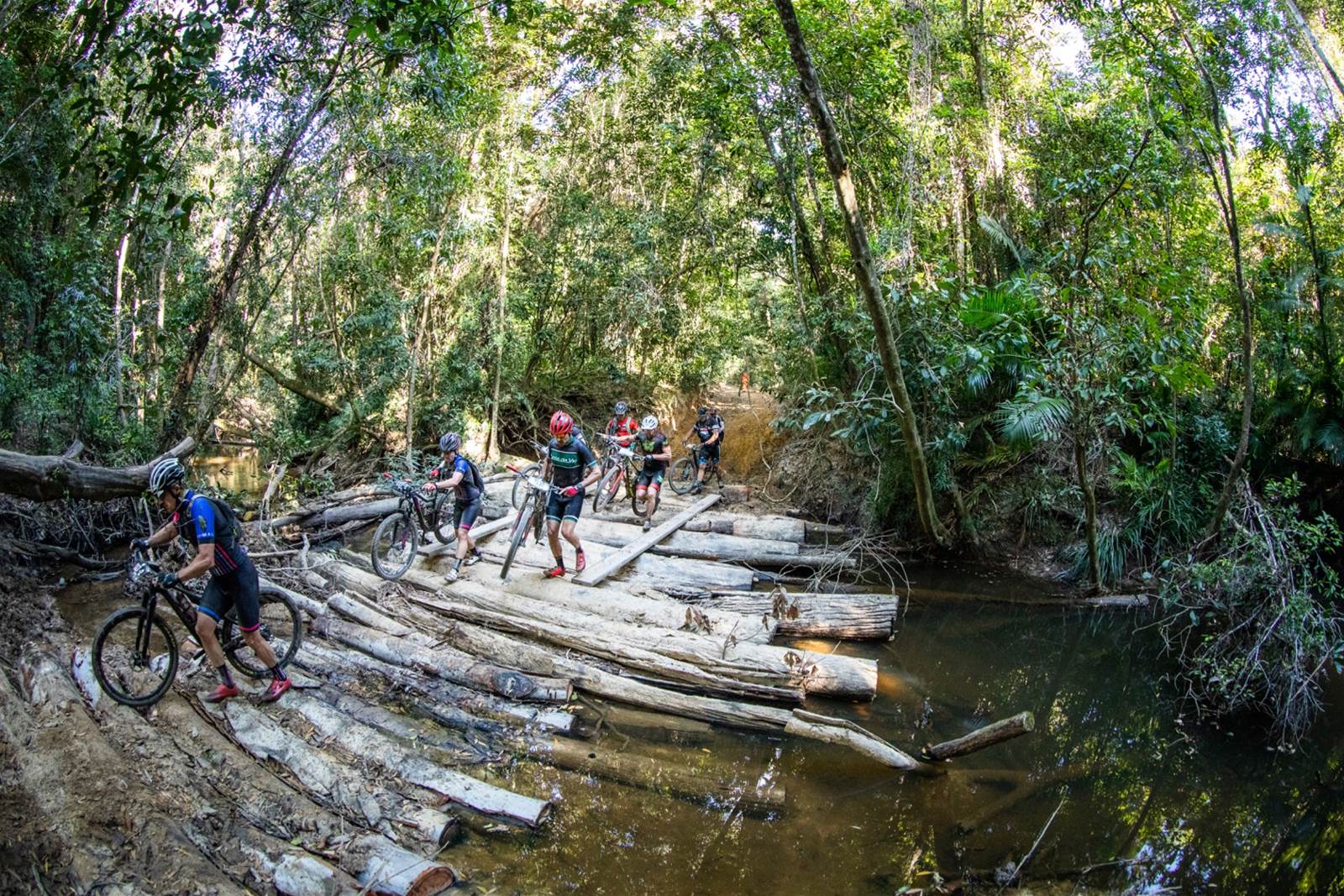 Pretty soon riders looped through moto singletrack that was a mixture of natural climbs, sweeping descents, and criss-crossing mixtures of ruts and puddles, roots and ledges, before finding themselves reversing the same route home, except this time the fast farm road's undulations felt like epic climbs, the tailwind was a headwind, and pleasant country riding felt like a gruelling test to the finish line.
Day four was perhaps the most anticipated stage, taking in most of the trails of the region's other iconic event and Australia's oldest single-day MTB race – the Triple R. Named for the rural, rainforest, and reef vistas it takes in, the Triple-R was this year incorporated into the Reef to Reef's final day, with both events running nearly simultaneously.
Logistics for Reef to Reefers ran smoothly, with buses and truckloads of bikes pulling out of Port Douglas before dawn and driving up the snaking road to Wetherby Station at the top of the range. This day took in some brutal climbs, some fast, loose descents, and of course the jewel in the crown of any trip to Wetherby Station, a ride down the iconic Bump Track.
Once a trail for bullock teams hauling timber down the range to the Port, the dirt road is a magnet for MTBers, with an uninterrupted, steep dive of several hundred metres elevation, and plenty of opportunities to get airbourne. Another icon follows.
After ducking and weaving through suburban backstreets, riders emerged onto Four Mile Beach for the final section of sandy time trial before the finish – another great opportunity for pairs to work together, partners swapping off or sitting in. Reef to Reef passed at high tide this year, with breaking waves spicing up the closing kilometres of the race, alongside mystified dog walkers, beach goers, and sand castles. Once across the finish line, it was straight into the azure ocean for a dip.
---
Reef to Reef took a few risks in its first year, and they paid off. The pairs racing format has huge potential to add a new element to Australian stage racing, and is set to move to sister events Cape to Cape and Port to Port. Race logistics went off smoothly, and nobody complained about having to spend four or five days in Port Douglas's tropical paradise in the middle of August. 
Why not join in the fun on 8-11 August, 2019?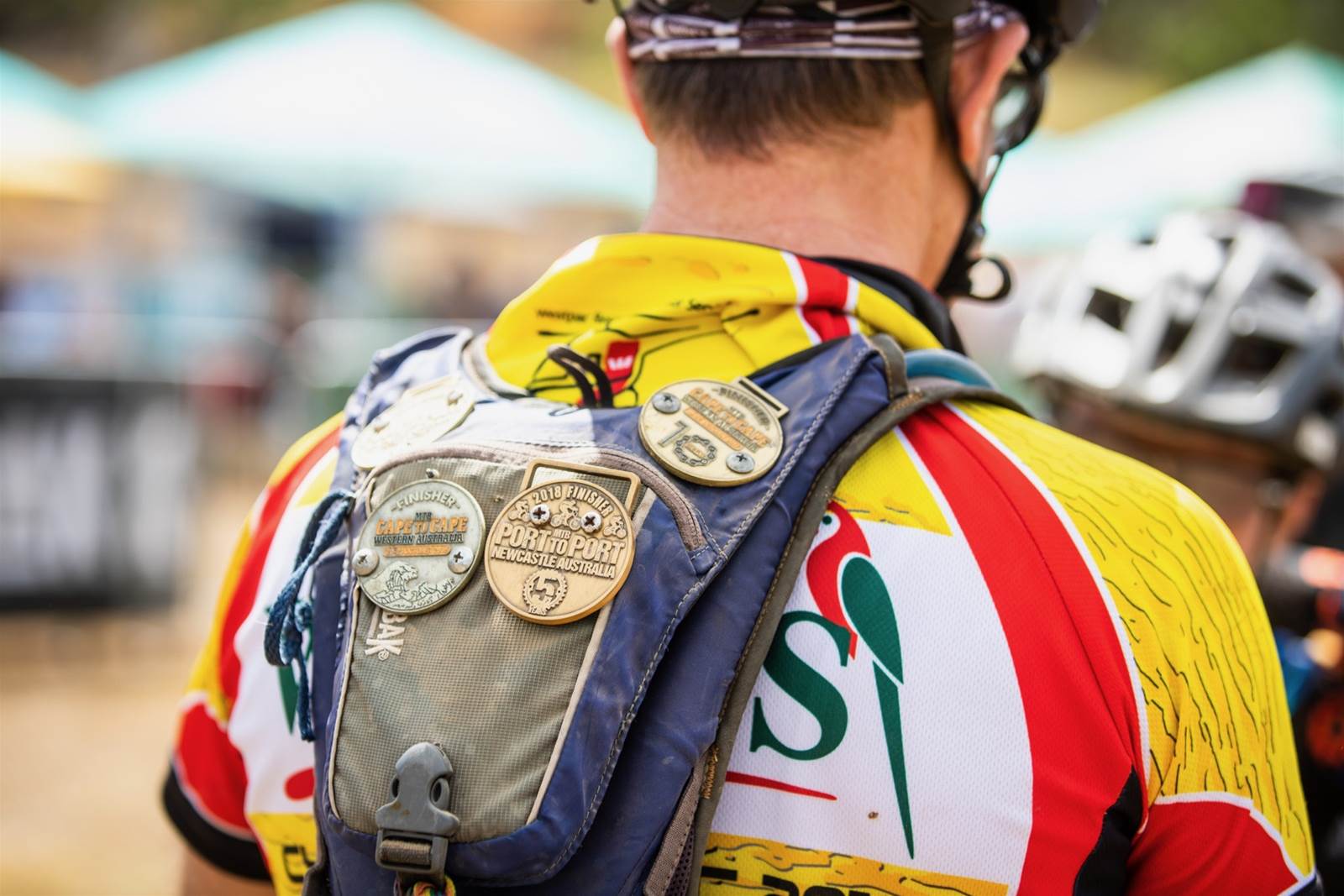 Reef to Reef facts:
4 days
185km
2,500m climbing
2019 dates: 8-11 August
reeftoreefmtb.com
2018 winners
Mens pairs: Brendan Johnston and Jon Odams
Womens pairs: Anna Beck and Briony Mattocks
Mixed pairs: Kyle Ward and Samara Sheppard
Solo men: Nathan Sandford
Solo women: Sarah White
Australian Mountain Bike