Canyon have added a Trail model to the Lux line up - is this downcountry or just modern XC?
Canyon have just launched a new model to their range - the Lux Trail. The new bike is based on the current Lux cross-country design, using the same suspension platform in a longer travel format, and the same and frame layout. But while The Lux Trail uses the same rear triangle, the front triangle has been designed to offer more reach and a slacker head angle suited to the longer travel fork. The new bike has 120mm of front travel and 110mm in the back, in full carbon frames rolling on 29er wheels.
The Lux cross country bike has always come in CF variants with 110mm forks or CF SLX models with 100mm forks. While the carbon in the frames changed, as did the forks, rear travel remained unchanged at 100mm. With a light weight frame design, dual bottle mounts inside the main frame, good value pricing and handling suited to riding fast, the Lux has been a really popular cross-country and marathon mountain bike, and I would have happily made one my own after testing the Canyon Lux CF SLX 9.0 Pro Race back in 2018.
What's new on the Lux Trail?
In a nutshell, the changes revolve around travel and geometry. The Lux Trail has a 120/110mm travel package, in S, M, L and XL sizes with full carbon frames. Using a new main triangle, Canyon have increased reach by 25mm from a SLX model or 30mm from the CF models. This helps add more stability at speed, and works with the shorter 60mm stem that bikes come equipped with.
The head angle has also been dialed back, an area where some have felt the Lux was a little steep when released in 2018. The CF has 69.5 degree head angles, and it was 70 degrees on the racier CF SLX models. The new Lux Trail has a head angle of 67.5 degrees across the size range, matched to a 74.5 degree seat angle and 435mm chain stays. In terms of a seat angle, this is on par with a bike like the Specialized Epic Evo, and just a little slacker than the Norco Revolver 120, another very capable bike in this area.
Away from the frame, the Lux Trail models also have changes to the part spec. You'll find rims with 30mm internal widths, matched to tyres with 2.35" or 2.4" widths.
---
---
The cockpit will have 60mm stems and 760mm wide riser bars for stability, and dropper posts will be fitted on all models. The suspension forks will either be
Fox 34 SC models
, or RockShox SID 35, depending on the model.
What's the same on the Canyon Lux Trail, compared to the Lux?
Lots of the features from the Lux are found on the Lux Trail. Some might say the dual bottle capacity is the most important one. Others might say it's the low weight. The frame weigh has only gained around 30g, due to the extra reach of the main triangle. So that's a claimed 1905g in a medium, which is really light for any full-suspension mountain bike frame.
Canyon still employ the steering block (Impact Protection Unit) to avoid the bars swinging all the way around to smash the top tube, and they also include the Quixle rear axle and the teeny tiny chain guide, which weighs only 3.7g.
The rear triangle remains the same, with a light carbon chain and seat stay that uses a flat mount brake and a flex pivot. The rear suspension uses the same design as before, what Canyon call Triple Phase. It's a common design across most Canyon full-suspension models, and could be summarised as plush, supportive, then it ramps up. This does allow a really low operating pressure, and keeps it plush when needed for trail chatter without blowing through travel when it gets choppy.
 
Other details remain the same as the Lux, including the internal cable routing, and spec options from a Lux Trail CF 6 through to the Lux Trail CF 9 Emily Batty edition. Spoiler - this paint job is 75g heavier than the paint on other models.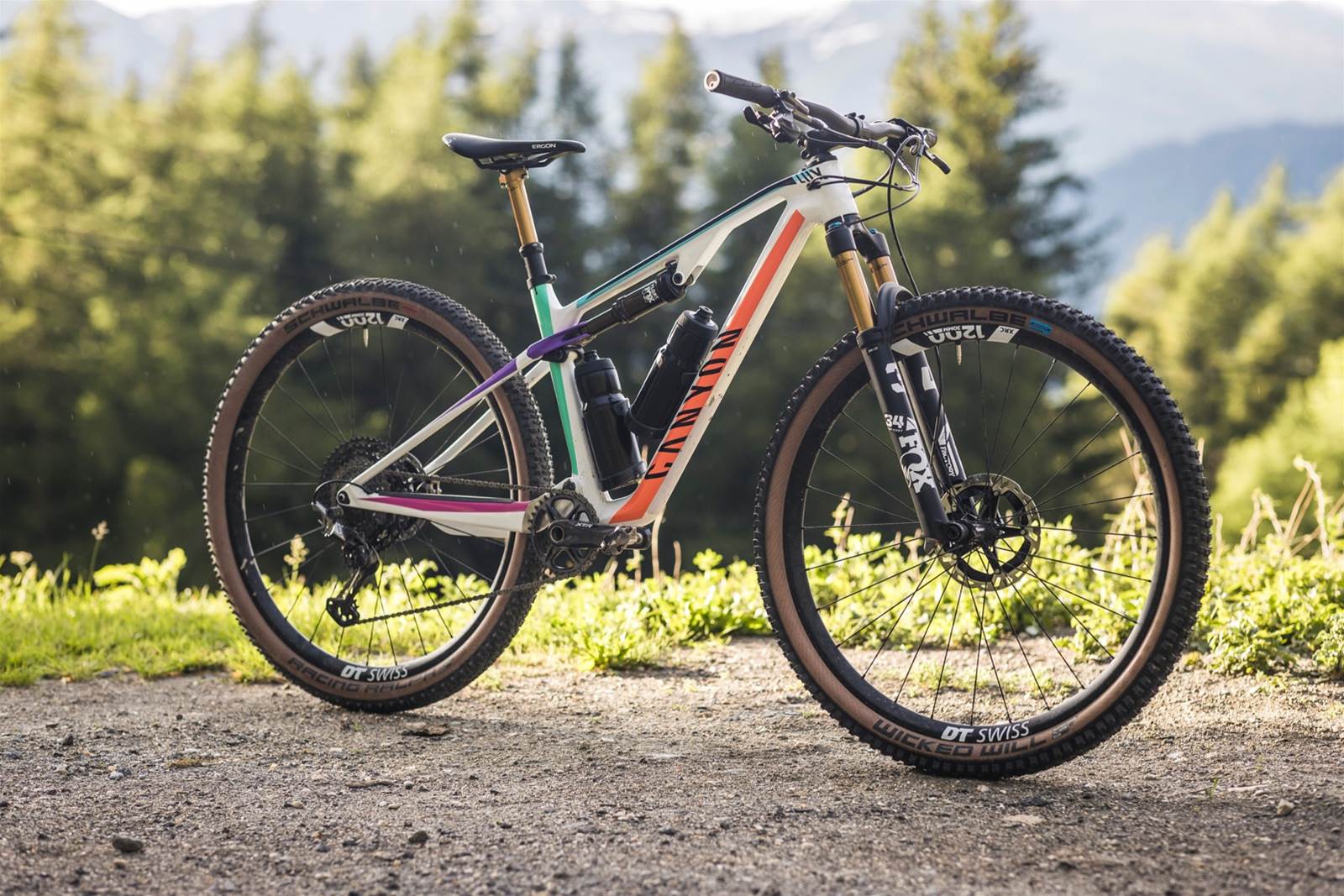 Is the Lux Trail modern XC or downcountry?
That is a question best answered by you, the potential rider and customer. Canyon declare that the Lux Trail is a Category 3 rated bike - the same as the Canyon Neuron which we have also tested previously. The positioning and suspension does make for a bike that wants to be pushed hard - Canyon state that the Lux Trail wants you to hammer the pedals. Whereas the Neuron is more about all day trail riding comfort.
My take is that with dual remote lock out, and wide and light wheel and tyre combinations, the new Lux Trail matches what I would want out of a downcountry bike. But to me, downcountry is defined by what makes a bike as fast as possible riding up, down and across terrain - for you. So you might want more tyre capability, greater braking power, or you might want less weight - downcountry bike spec is very individual.
So in that sense, perhaps the Lux Trail is a modern cross country bike for those who aren't paid to race. It gives nothing up in pedaling efficiency, and allows dual bottle capacity for big days exploring trail networks and backcountry trails. I think with the light and capable suspension and geometry, the Lux Trail would be an ideal partner for just about any mountain bike stage race I can think of, and handy in the singletrack heavy mountain bike marathons that we have in Australia.
What Lux Trail models are available?
At time of launch, Canyon Australia confirmed that all models are available to order! This may not last for ever, and seeing that the bikes suit the needs of a modern cross-country rider they could well be in demand for riders looking for a new bike, with not a whole lot available right now. Bear in mind all the bikes have the same frame.
Canyon Lux Trail CF 6 - $5049
Group set: Shimano SLX M7100 12-speed
Suspension: Fox 34 SC Performance, Performance Elile DPS
Wheels and tyres: DT Swiss M1900, Schwalbe Wicked Will/Racing Ralph
Dropper post: Fox Transfer SL 100mm
Claimed weight: 12.1kg
Canyon Lux Trail CF 7 - $6549
Group set: Shimano Deore XT M8100 12-speed
Suspension: Fox 34 SC Performance, Performance Elite DPS
Wheels and tyres: DT Swiss M1700, Schwalbe Wicked Will/Racing Ralph
Dropper post: Fox Transfer SL 100mm
​Claimed weight: 11.7kg
Canyon Lux Trail CF 8 - $8049
Group set: SRAM GX AXS (10-52)
Suspension: RockShox SID Select 35+, Deluxe Ultimate
Wheels and tyres: DT Swiss XRC1501, Maxxis Rekon/Rekon Race
Dropper post: RockShox AXS 125mm
​Claimed weight: 11.8kg
Canyon Lux Trail CF 9 Emily Batty Edition - $8799
Group set: Shimano XTR M9100 12-speed
Suspension: Fox 34 SC Factory, Float DPS Factory
Wheels and tyres: DT Swiss XRC1200, Schwalbe Wicked Will/Racing Ralph
Dropper post: Fox Transfer SL Factory 100mm
​Claimed weight: 10.9kg
Our take
The Canyon Lux Trail is a good progression from the Lux that was released in 2018. In a way, it might be worth considering this as the new Lux, as opposed to a trail variant, when looking at the bike alongside a few other releases like the 120mm Scott Spark RC. 120mm is being raced at everything upto the World Cup and Olympic level, and with a couple of minor spec changes to suit your own needs, there's no reason why the new Canyon Lux Trail couldn't be a race bike that you can absolutely rip on - whether you have a number plate on or not. Whether it's a downcountry bike is up to you. I'd probably prefer a little more braking oomph on the stock specs to really let one of these go on wilder descents.
Bear in mind Canyon are a direct to consumer brand, and as such the bike ships to your door, with a small amount of work required to get it built. We've looked at the pros and cons of buying a bike online, and if you have questions about buying direct, this is essential reading.
Australian Mountain Bike