Mountain Bike Australia (MTBA) have renewed focus and direction since Shane Coppin was appointed CEO. What's their plan for the young riders of Australia?
After Issue 147 I visited the MTBA offices to speak to Shane Coppin about the National Series and a whole lot more. Part one of that interview is already online.
One thing that I found the most interesting when looking at changes at MTBA since Coppin has moved into the CEO position is the growth of the schools program.
"The schools program is a pretty fluid program right now, like most of the ones we go about developing at the moment. We are setting some goals and parameters and then let the programs develop their own course."
The school system is so immense, that bringing a small sport into schools isn't a fast process. But it's about making small in-roads.
"The schools program is as much about exposing the sport into that environment, so kids can become more aware of mountain biking and the club structure and the organisation and what's available as a whole. It's something to educate teachers too, so we can teach it the right way. Talent identification will come as a byproduct out of it."
After the Easter in the Alice stage race, Jason English was on hand, speaking to many of the kids from the mountain bike club about training and nutrition. He rode with some of them in the morning, and then had a hands on discussion about nutrition, training, and understanding the guidelines for each. As a school teacher himself, English sees how mountain biking can tie in to much of the curriculum, beyond school sport. You can read a full interview with Jason in our current issue.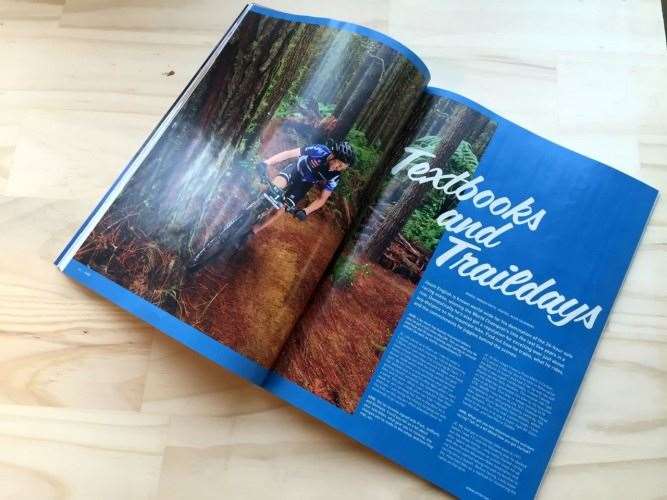 Jason is a good example of the informal structure that is already in place. He's a role model, and actively engages with kids to help get them on bikes. A lot of people around the country are already out encouraging more kids to get on bikes.
Sports Camps Australia now run mountain bike camps in NSW and the ACT. In the last school holidays I visited Old Man's Valley in Hornsby and watched about a dozen keen kids going through skills work on the trail network with Michael Crummy. It was their third day, and even in the drizzle every kid was enjoying themselves, and had improved their skills and self-confidence through the camp.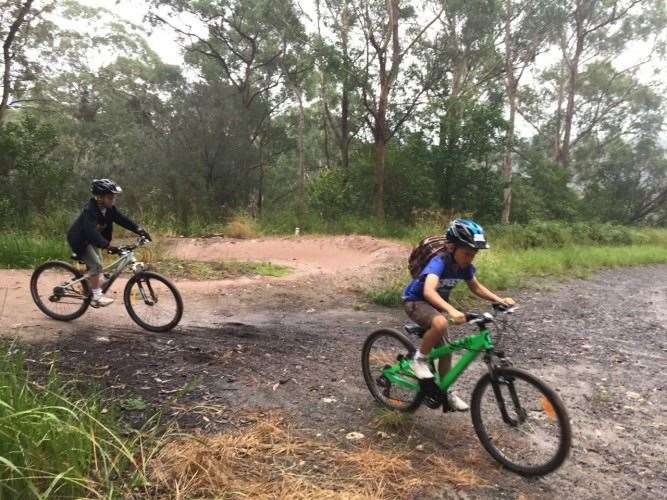 Crummy says he has a copy of the MTBA Schools Program, and is keen to see where it goes.
More details on the MTB sports camps is available online.
While Coppin wants to help our nation's elite succeed, he needs to make sure more people are riding so the sport as a whole grows. Schools are a big part of that.
"It's a big untapped market for the sport to enage into. Whether the kids end up in a club, or riding with mates we don't know. But we want to make sure they're joining the mountain bike picture. We're talking with a number of groups about running some more regional interschool events and activities like that. It all will lead to talent ID at some point. But hopefully growth in the sport overall."
DEVELOPMENT
Part of the drive for the schools program is to feed unto U17 development. This is deemed the age where 'future champions' are found, but it takes a lot of investment making sure the right coaches and mentors are in place.
"It's a challenge, we don't really have the core funding to the level that's needed" stated Coppin. "We work on a very small budget and have the same requirements of all the other sports with Olympic and Commonwealth Game athletes, but it's a really difficult challenge to try and service at every end."
The aim of course is to make sure there is a 'next generation' for a few generations to come. Many of the riders who were in the High Performance Program until 2009 are still racing and achieving great things. But when it stopped, it stopped drawing riders higher and supporting them to international competition.
"What we have identified is that we saw our structure is quite hollow underneath. We needed to widen our base, but not forget the athletes who are at their peak. We can't forget them as there is nothing underneath. We're working to create a pyramid, we are working to recognise and support the athletes directly this time around so they can get a little bit of financial assistance to help them compete overseas, which we need them to do to help qualify for spots. At the same time we're spending quite a bit investing energy into developing quite a broad junior program that will push forward and push up, which should help us lobby for more money as those kids come through the system and start performing at a high level. We're trying to rebuild it, but from the bottom up, while supporting those at the top who for a period there didn't have a huge amount of support..."
And what does that support entail? Each rider is different.
"Most have their own coaching programs and there's not a whole lot that we can add right now, or that they're seeking. They just need some recognition and support to help what they're trying to do," states Coppin.
"The whole U17 program is about mentoring, the idea is to run it as a national program this year so we can have a good understanding of the workings of it. Next year we want to expand that into a state based program, in essence multiplying it very quickly. It's about trying to widen the net a little bit, and having someone that these kids can talk to to help keep their motivation up, or put them in contact with the right coach or specialist. It's more of providing the support as a mentor, to help them stay in the sport as long as they can."
Australian Mountain Bike