Join a group of mates away in the Tasmanian wilderness for one epic adventure on mountain bikes!
What goes up…
After a cold night, we rise before dawn to discuss the merits of each of our coffee making devices and sit to enjoy the sunrise. It is a perfect day to be alive. We pack up and get ourselves ready to tackle the Blue Tier Descent for which Derby is known. The trail starts in an open almost highland tundra type of plateau and moves through ancient rainforest as we descend. It never seems to amaze me how one relatively short ride can pack so much change into it. We break up the descent with parked moments by the various rivers that the trail skirts and touches giving us time to refuel on water and food. All of us are in awe of the incredible rainforest we're descending through.
Around well before the age of the dinosaurs, Tasmania's rainforests are a Gondwana remnant and are similar to rainforests in New Zealand and South America. Blue Derby is built around them. The trails are sweet and have just the right amount of stickiness. Flashing though the impossibly green rainforest past huge ancient Myrtles and Sassafras is totally exhilarating. Towards mid-afternoon we pop out at the bottom of the trail, with only one mechanical in the form of a flat tyre. We head for the pub along a blindingly white gravel road, which is such a contrast after the half-light of the rainforest.

Tired and hungry, the beer garden of the Weldborough Pub might as well be heaven or a mini Shangri La! It's our first decent meal since we set off, and we make short work of the hefty steak sandwich on offer and wash it down with a nice cold bevy. Our final stretch is short and fast as we chose to bomb down a dirt back road back into town.  Reaching speeds reaching up to 70kph we drift the corners and tuck in for the straights. It's a cracking way to finish an awesome bikepacking adventure and we're all on a high by the time we see Derby in the distance.
Back in town two days and many conversations and jokes had along the way, I'm hit again by reflection and my childhood love of biking adventures. As an adult I still think riding still means unbridled freedom and limitless potential. There are may ways to enjoy Derby and its huge trail system, however I think if I asked my younger self what he thought about a trip like this, I think he'd agree that it had all the elements I would have been looking for - a chance to escape, skids down gravel roads, creek crossings with wet socks, trail to explore and just the odd sweet jump!
We finish up toasting our awesome adventure over a local ale and vow to keep on exploring.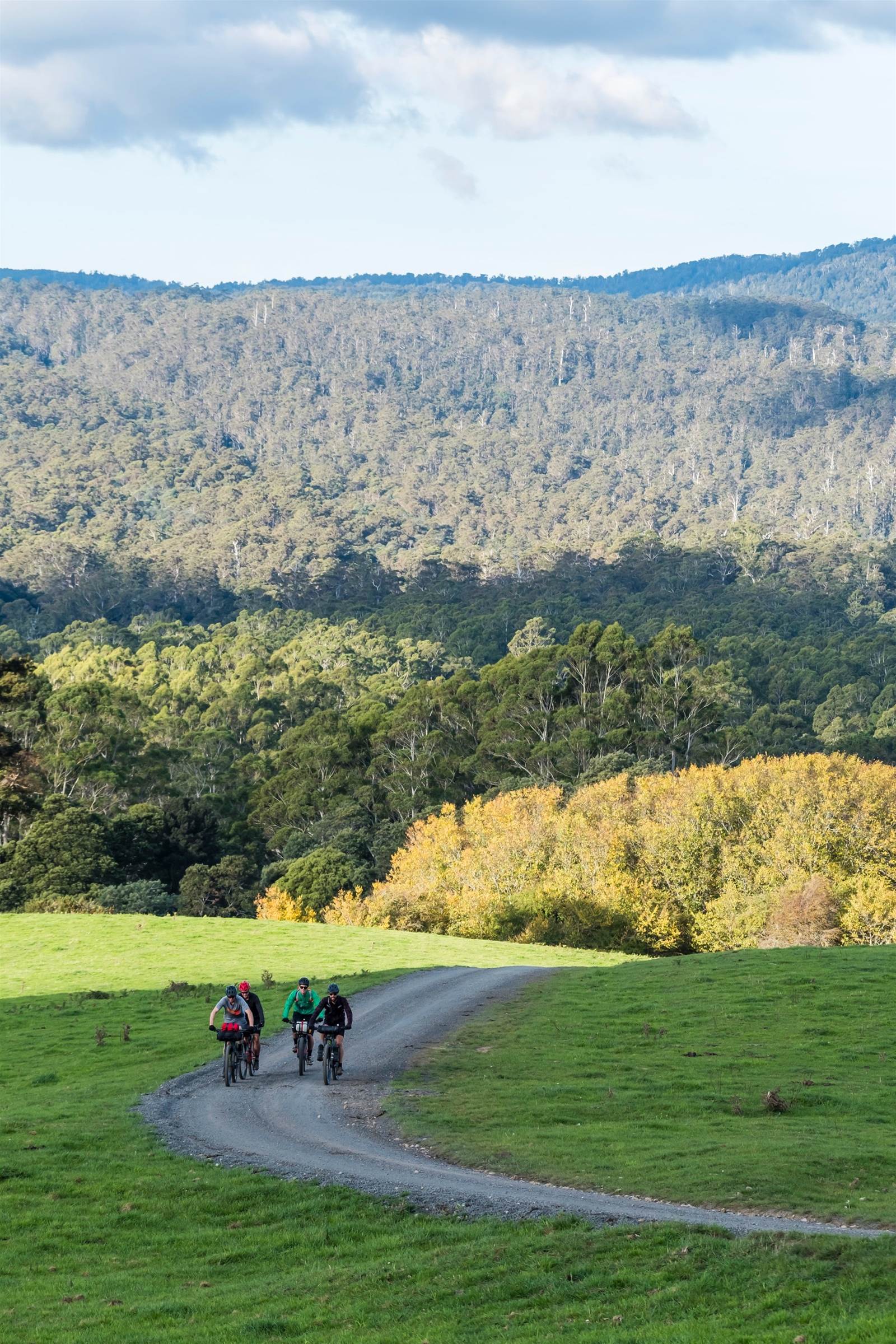 Australian Mountain Bike