Join a group of mates away in the Tasmanian wilderness for one epic adventure on mountain bikes!
Words: Scott Mattern                                                                                   Photos: Chris Crerar
Adventure cycling is flooding the bike-riding world currently, but what exactly does it mean? As a kid, the mere process of riding was an adventure in itself and the bike represented a machine of freedom. Every ride had limitless potential from the moment you left the front door. From the moment I got my first bike all those years ago the world suddenly seemed to grow in possibilities. The chance of an escape on our bikes was ever present in my consciousness whether it was heading next door to build sweet jumps, down to the creek via local gravel roads to do skids and creek crossings or to continue the building of our very own trails. It was always about hanging with mates and relishing the opportunity to get away and be free.
Finding Freedom
Now that I am more experienced and a fair bit older, adventure riding has morphed and transformed and I reckon it will continue to do so, but at its core it is still about escaping from day to day life and getting off the beaten path by exploring, going beyond the marked trails to where you may not see a soul on your ride – or even exploring the formed trail in a new way that changes the way you experience them. It is still about hanging with mates and the opportunity to get away and be free.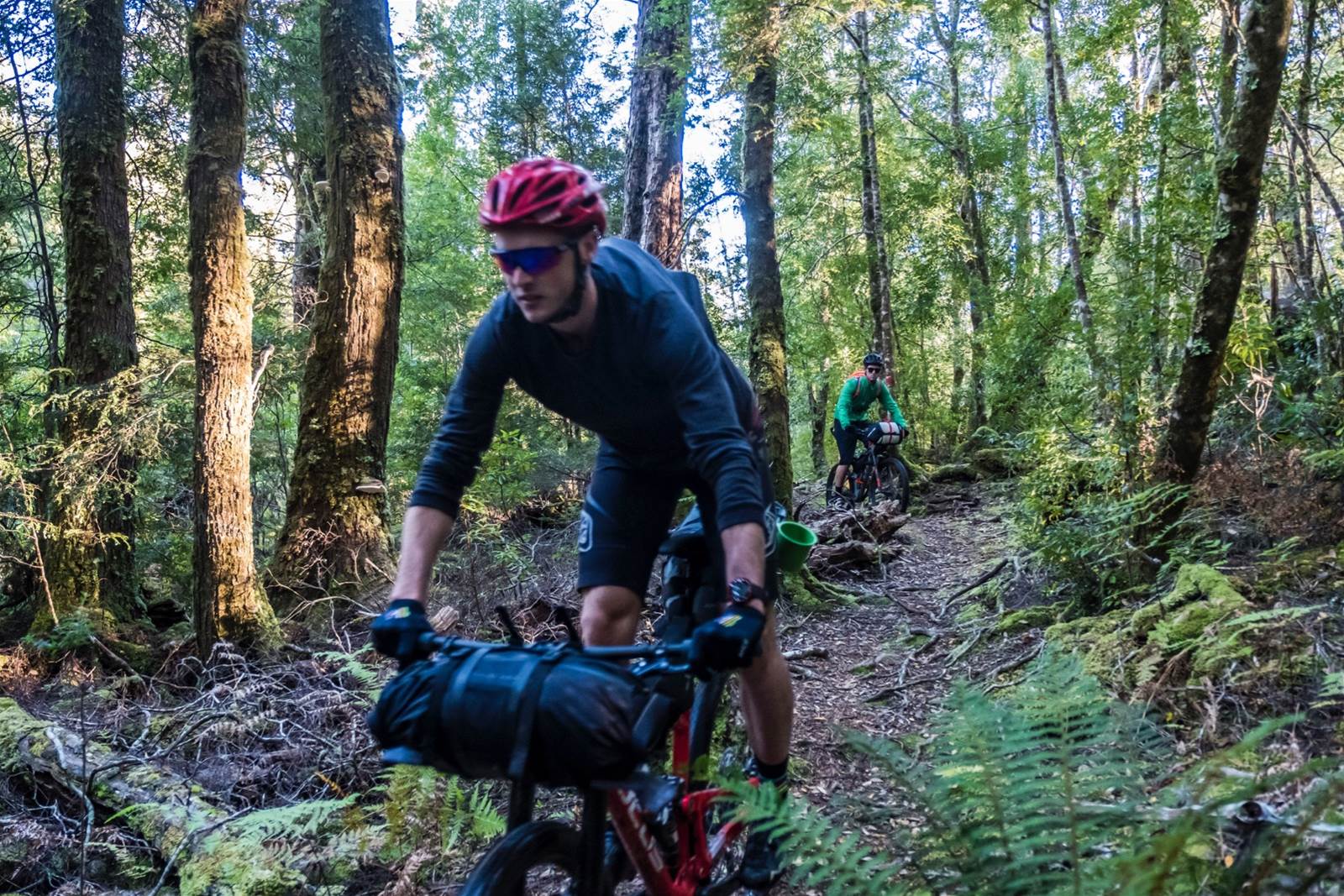 The potential of a bike is almost limitless and how they can be used is constantly evolving and reshaping itself. As a rider who's been around a while, watching the reinvention the sport through disciplines such as enduro, cyclocross, adventure and gravel riding has been incredibly exciting. Regardless of how it has evolved I think it is still freedom that captures our imagination, whether it be nailing jumps, drifting corners or shredding trail.
The region of Derby in northeast Tasmania has burst onto the mountain bike scene over past years for its exciting and extensive purpose-built trails through incredible landscapes. Through its history as a mining and forestry region Derby has a deep connection with its dirt, with fire roads and unmarked trails making it perfect for a little weekend getaway with a backcountry feel. The region provides just enough wilderness time for a bike adventure in a weekend getaway, but it never hurts to interweave in a bit of shredding and maybe a few sweet jumps.
Hitting the Trails at Blue Derby 
 
This trip came together as most do, over a few beers with mates. We all became pumped about the prospect of climbing to the top of the Blue Tier finding our own route using the dirt roads, back roads and unmarked trails in the area, camp on the summit and then bomb back down the next day on the purpose-built trails. What we did not expect when planning this is that we would also an opportunity to get a guided exploration of some really amazing little secret spots and experiences and camp completely secluded under the stars waking up to coffee and a sunrise that we did not have to share with anybody. Backcountry bikepacking on mountain bikes is how this all came together and I am hooked.

After developing the idea, we just needed to pull the crew together and get them organised and committed. What can be a point of excitement over beers can sometimes fade away afterwards. I wasn't going to let this happen. We also needed a guide! Someone with an intimate local connection was crucial to link the trails together and set the back drop for the adventure. For this, Ryan De La Rue was an obvious choice. Ryan has been working as a trail builder with World Trail in the Derby region for 5 years. An accomplished mountain biker in his own right there is not much he does not know about the Derby area. He was totally up for it.
To round out the crew, two of the beer-drinking mates came on board - Isaac Probert and Tom Goddard. Isaac, a whip on road bikes, was a relative new comer to bikepacking. Tom had considerably more experience coming to this ride off the back of a trip by bike through Mexico. We found a clear weekend for all of us and set off on a clear Autumn morning, hoping for the best from the fickle Tasmanian weather gods.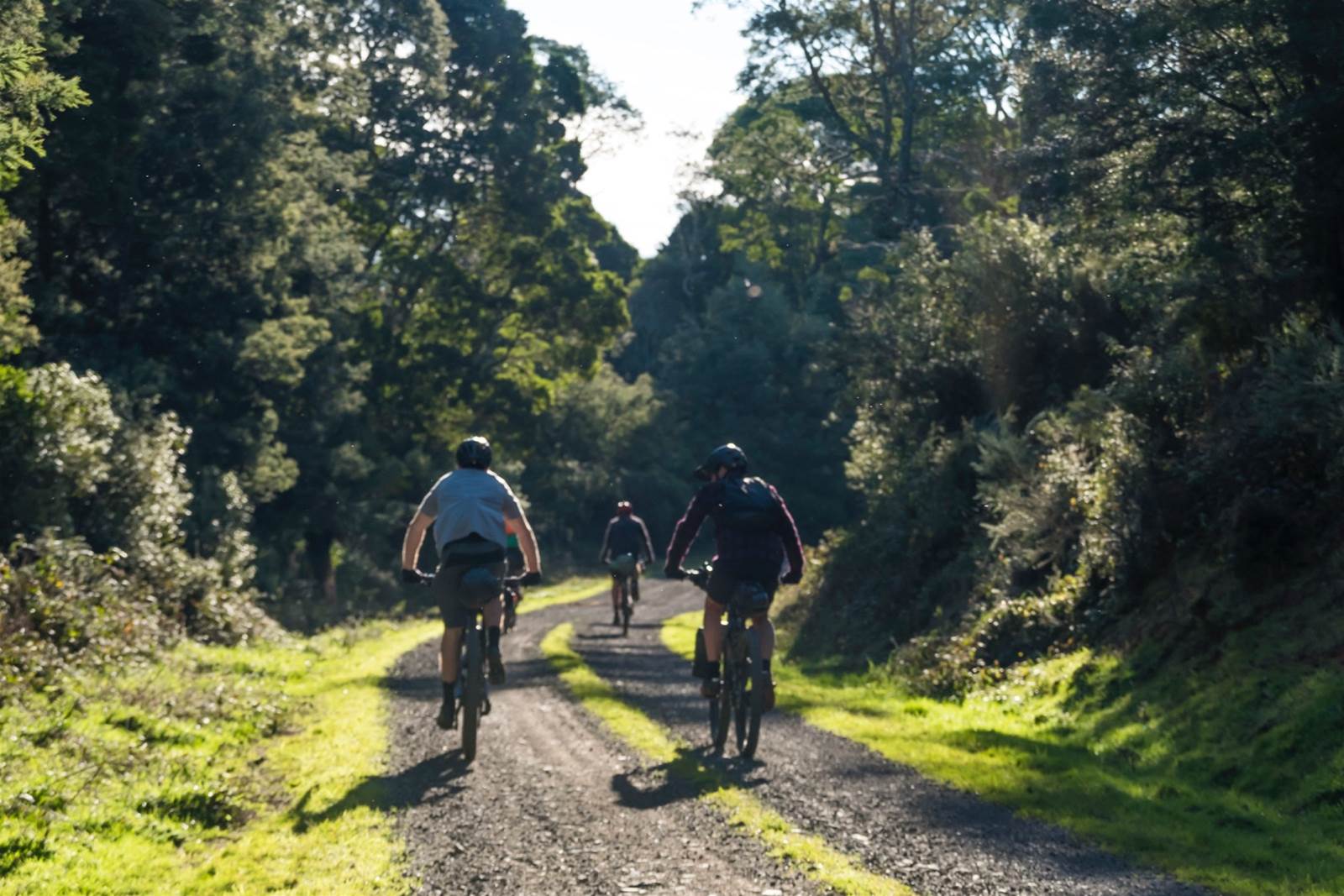 I won't tell you any fibs here – there is only one way of getting to the top of the Tier and way that is up. We start our trip on gravel road leading out of Derby, where it intersects the Ringarooma River. After following the river for a few kilometres, we cross via a large concrete road bridge (little did we know this was the only river crossing where we were going to keep our socks dry). We switch to fire trailskirting the bank on the opposite bank of the Ringarooma River to Moorina. We have our last brief glimpse of civilisation for a day or so and head up Froome road. The gradient was unrelenting seeming to crank even steeper around each corner. I spend my time of pain staring at my handle bars looking for inspiration. All that was there was my go anywhere scarf an important part of my bike packing kit with the words "F&@k U" written on it.
Rigging up your rig
I always love looking at how people solve the problem of packing their rig. There is always an individual take about it. Light and lean for some, others need to cover all outcomes. My rig was a paired down affair with a minimal pack and I was particularly driven by providing clean lines at the end of the pack. One fork mounted stuff sack for clothes the other for my sleeping mat. Tent up front, a lightweight sleeping bag on the back and a down jacket and burner on the back I planned to sleep in both the down jacket and bag if temperatures went too far south.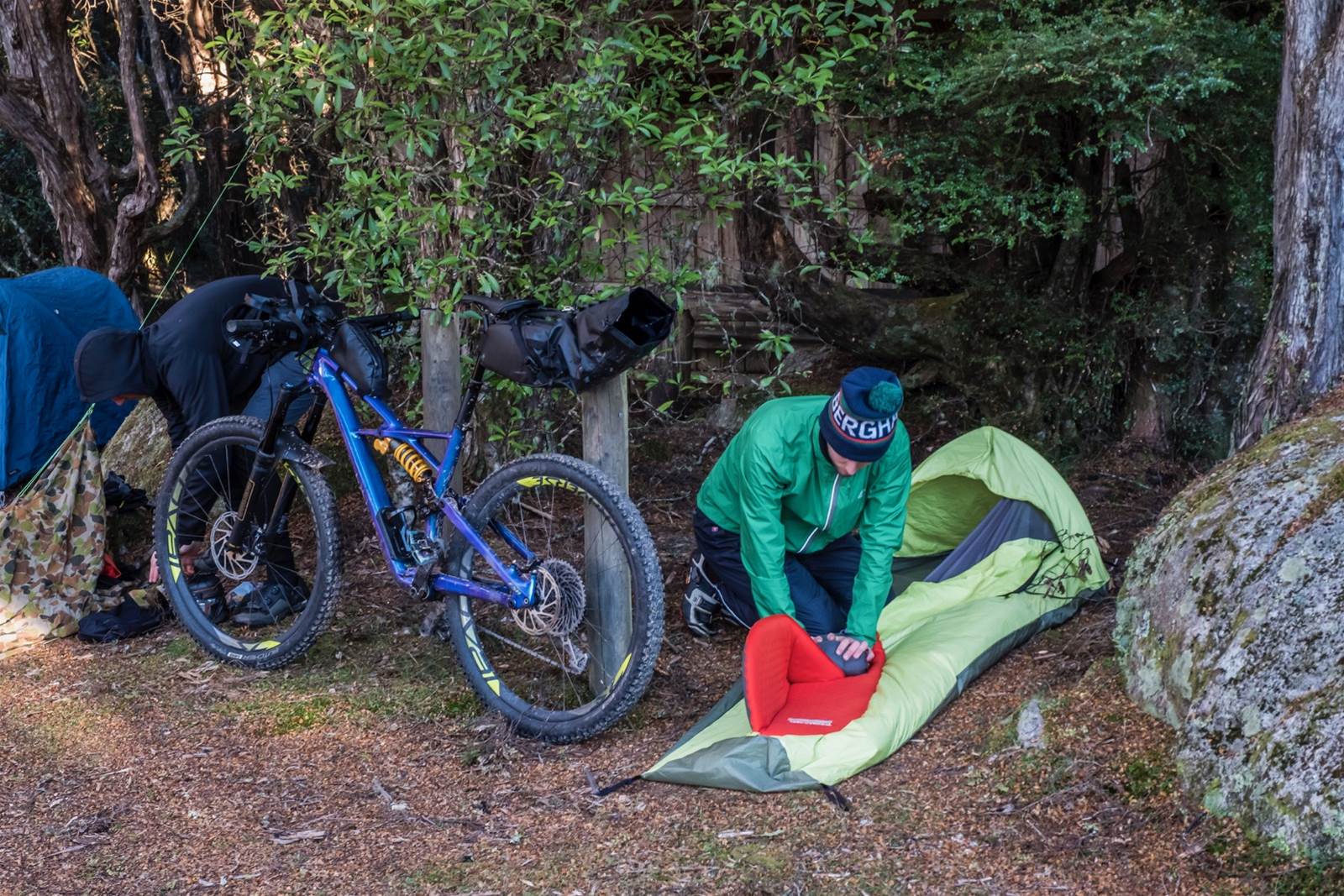 The history of this region is rich. As we ride up the hill we pass the ghosts of forgotten mining towns long since abandoned with nature creeping in and taking over. Ferns grow out of ruins and rusting mining machinery pops up out of the shrubbery here and there. During the tin mining boom in the late 19thand early 20thcenturies, Derby was almost turned upside down – it was huge! Following the mining came forestry and then nothing. But as we know, mountain biking is literally saving the town. Each era of this region has played an important role in making our current bikepacking experience unique. We cross another river with devastating effects on the dryness of our socks. And we are now climbing a hike-a-bike track.
Before Derby was transformed into a mountain biking playground, die-hard mountain bikers used to explore this region via these set of trails known affectionately known as the Blue Tier. We ride, push, heave and drag our way up the hill. As we get higher the Tier appears to forgive us and the steepness of the hill backs off. I really enjoy this climb as it feel much like my early experiences with mountain bike riding trails not specifically built for bikes yet providing the challenge and fun of getting a bike through. These were roads and trails where a brush cutter and a rake were your trail building tools.
We arrive in the twilight of the evening setting tents our tents and fire we head to the top of the tier to catch the dying light. The camp is a five star arrangement with a fully functioning toilet which I did not expect and the best little fire box BBQ I have seen. The evening is taken up on eating marshmellows and drinking bourbon - two crucial parts of my packing musts (I did rely on other people's toilet paper but there you go).
What goes up…
After a cold night, we rise before dawn to discuss the merits of each of our coffee making devices and sit to enjoy the sunrise. It is a perfect day to be alive. We pack up and get ourselves ready to tackle the Blue Tier Descent for which Derby is known. The trail starts in an open almost highland tundra type of plateau and moves through ancient rainforest as we descend. It never seems to amaze me how one relatively short ride can pack so much change into it. We break up the descent with parked moments by the various rivers that the trail skirts and touches giving us time to refuel on water and food. All of us are in awe of the incredible rainforest we're descending through.
Around well before the age of the dinosaurs, Tasmania's rainforests are a Gondwana remnant and are similar to rainforests in New Zealand and South America. Blue Derby is built around them. The trails are sweet and have just the right amount of stickiness. Flashing though the impossibly green rainforest past huge ancient Myrtles and Sassafras is totally exhilarating. Towards mid-afternoon we pop out at the bottom of the trail, with only one mechanical in the form of a flat tyre. We head for the pub along a blindingly white gravel road, which is such a contrast after the half-light of the rainforest.

Tired and hungry, the beer garden of the Weldborough Pub might as well be heaven or a mini Shangri La! It's our first decent meal since we set off, and we make short work of the hefty steak sandwich on offer and wash it down with a nice cold bevy. Our final stretch is short and fast as we chose to bomb down a dirt back road back into town.  Reaching speeds reaching up to 70kph we drift the corners and tuck in for the straights. It's a cracking way to finish an awesome bikepacking adventure and we're all on a high by the time we see Derby in the distance.
Back in town two days and many conversations and jokes had along the way, I'm hit again by reflection and my childhood love of biking adventures. As an adult I still think riding still means unbridled freedom and limitless potential. There are may ways to enjoy Derby and its huge trail system, however I think if I asked my younger self what he thought about a trip like this, I think he'd agree that it had all the elements I would have been looking for - a chance to escape, skids down gravel roads, creek crossings with wet socks, trail to explore and just the odd sweet jump!
We finish up toasting our awesome adventure over a local ale and vow to keep on exploring.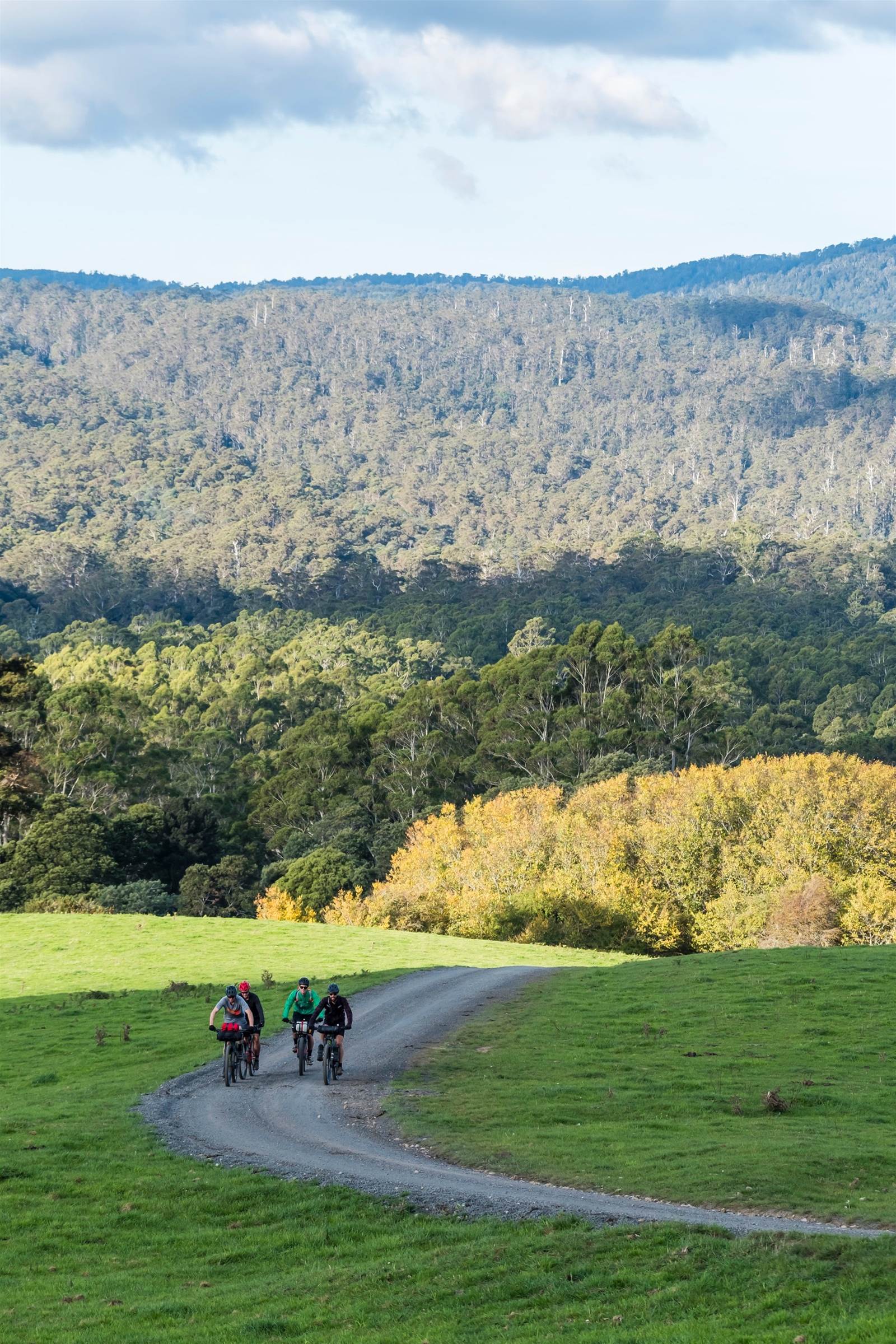 Australian Mountain Bike