Win one of 10 pairs of Pirelli Scorpion MTB tyres!
The Pirelli Scorpion mountain bike tyres are here, for your XC, Trail, Enduro or eMTB needs. And we have 10 pairs to give away!
Pirelli are well-known in motorsport for their performance tyres and support at the top tiers of racing. After releasing road cycling tyres in 2017, Pirelli also released a range of mountain bike tyres in early 2019, under the succesful Scorpion brand.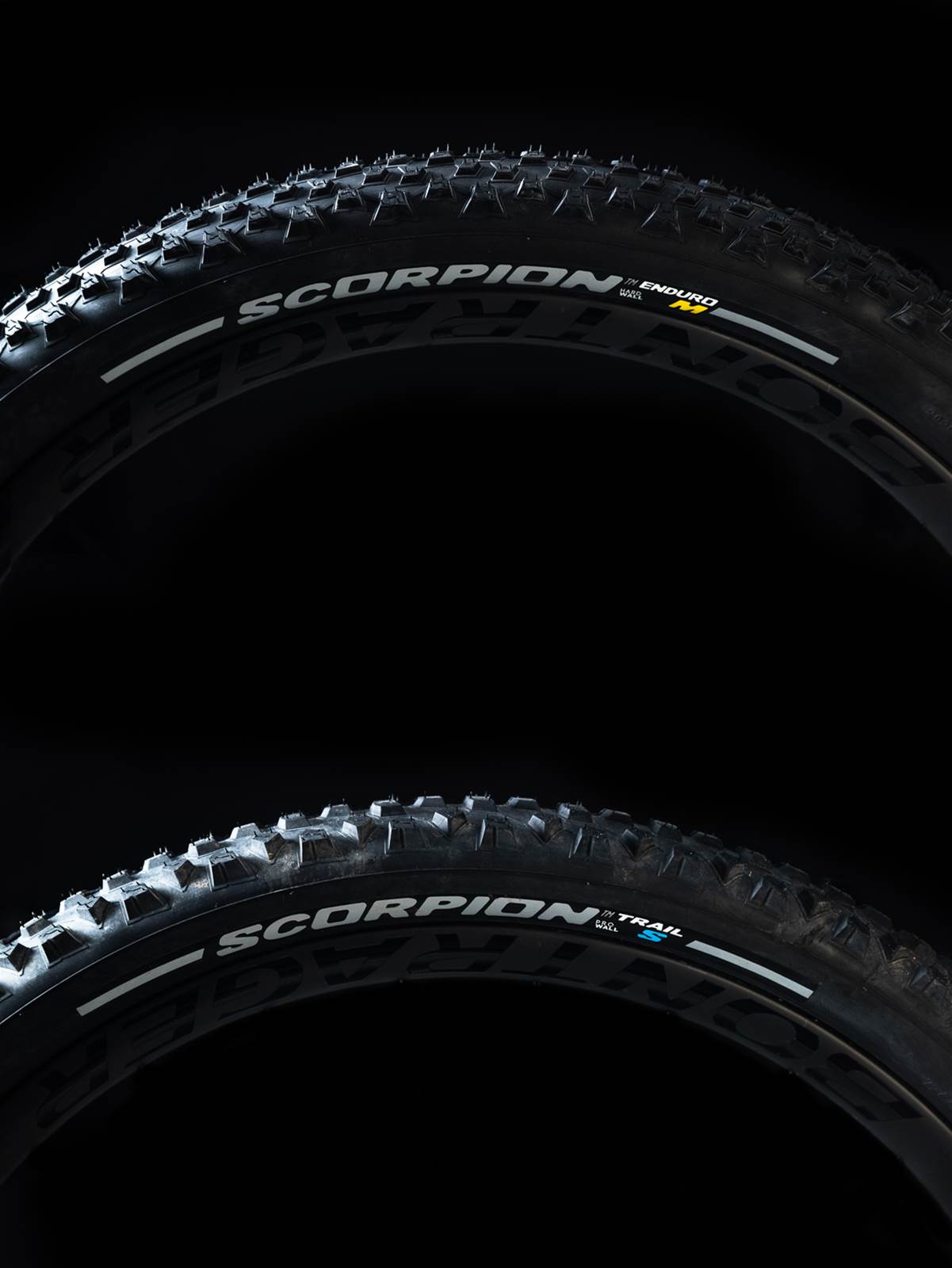 The Pirelli Scorpion mountain bike tyres aren't designed for motocross use, but they are designed for just about every kind of mountain biking. They have a conditions specific tread series, with most of the range having a rear specific tyres and a range of front tryes to suit various conditions. There are specific tyres for soft terrain, ones for mixed terrain, and one for hard terrain. The tread design is completely unique for each use, to make choosing the best tyres for your riding easier.
As for sizes and widths, there's lots to choose from. Be it the racey 2.2" XC RC models developed with the Trek Pirelli Mountain Bike Team, to the 2.2" and 2.4" Lite models for XC and Trail riding, and of course the reinforced 2.4" Trail models and even stronger 2.6" Enduro models, Pirelli have a range for just about anyone. Their latest release is a Scorpion eMTB tyre - so everyone is covered.
You can find all the details about Pirelli Scorpion mountain bike tyres on the Pirelli website.
We have a whole bunch of Pirelli Scorpion mountain bike tyres on test at the moment, and the Australian importer FE Sports wants to give 10 pairs away. All you need to do is answer the two quesitons to be in with a chance to win one of the 10 pairs.
Terms & Conditions
1. The winners will receive one pair of Pirelli Scorpion mountain bike tyres of their choice. 2. The promoter is Nextmedia Pty Ltd of Level 8, 205 Pacific Highway, St Leonards. NSW 2065, and promotion period is from 9am 24.08.20 until 8.59am 9.11.20. 3. Entry is open to residents of Australia and New Zealand. Management and employees of Nextmedia Pty Ltd, and their immediate families, and any advertising, marketing or promotional firms associated with this promotion are not eligible to enter. 4. Entry is by online entry mechanism to Nextmedia Pty Ltd. 5. The draw will be held at the offices of nextmedia Pty Ltd at 9.30am on 9.11.20. Winners will be notified by phone/mail/email. 6. The prizes are not transferable or exchangeable and cannot be taken as cash. 7. The judge's decision is final and no correspondence will be entered into. 8. The promoter reserves the right to publish the winner's names and suburbs for promotional purposes. 9. All entries will become the property of Nextmedia Pty Ltd. 10. The Promoter collects entrants' personal information in order to conduct the promotion. If the information requested is not provided, the entrant may not participate in the promotion. By entering the promotion, unless otherwise advised, each entrant also agrees that the Promoter and the sponsors associated may use this information, or disclose it to other organisations that may use it, in any media for future promotional, marketing and publicity purposes without any further reference, payment or other compensation to the entrant. If you do not wish to receive this information, the entrant must contact and inform Nextmedia Pty Ltd. For example, if the entrant wishes to unsubscribe from an email/s communication sent, they must click on the 'unsubscribe link' and complete the unsubscribe process or write 'unsubscribe' within the subject line of the email/s sent and reply to the sender. 11. If the prize listed is not available, a prize to the same or higher value will be awarded instead. 12. Please allow up to four weeks for delivery of your prize. 13. Authorised under NSW Permit Number: NSW LTPM/17/02585, ACT TP 17/02535.