The oldest mountain bike park in Australia, Smithfield is constantly changing, and hosts a range of national and international events.
Chances are, you will have seen the Smithfield trails in video footage or images before you ride them for the first time. Steeped in a rich history of innovative trail building and world class events, the hand built, technical appeal of Smithfield continues to push the envelope.
The first mountain bike park in Australia was home to World Cups in 1995, 2014 (and again in 2016), and the World Championships in 1996 (and 2017). The Australian Gravity Enduro Championships will tear across the iconic trail network in October this year, using the beautiful Palm Cove as a base.
"Smithfield was built back to front," explains Craig Nissen, Secretary for the Cairns Mountain Bike Club. Most places start with trails and infrastructure for recreational riders and build in a few advanced tracks. Smithfield started technical and loose and has been expanding ever since.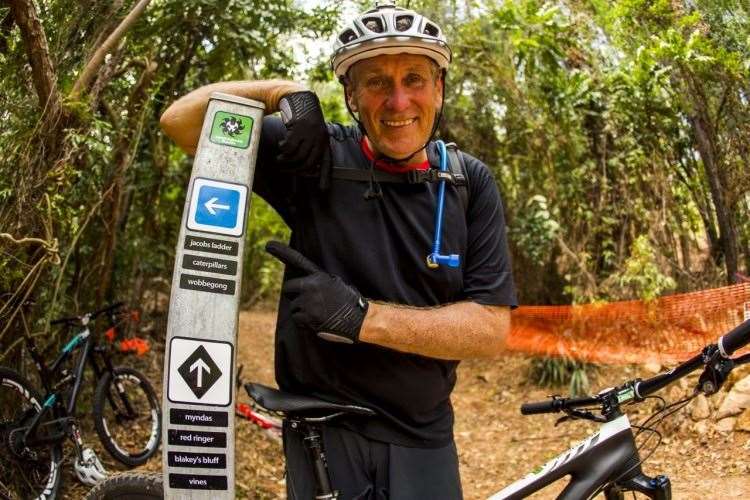 Facilities surrounding the park are also expanding; from the new World Cup car park, to updated maps at the trailheads (plural) and a jump park.
Whatever your riding background, Smithfield will make you a more complete rider. You'll gain a better appreciation of our sport's history, tackle challenging new terrain and enjoy the thrills of other adventure tourism while you're in town.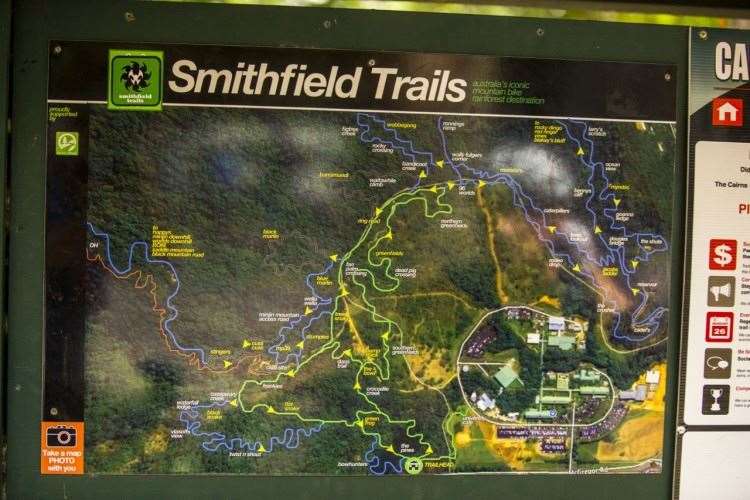 Smithfield is a 15-minute drive from the Cairns airport. Buses run from Cairns to the mountain bike park. They don't have dedicated bike racks, but drivers are reported to be bike friendly. Plenty of accommodation is available at Trinity Beach or Palm Cove. Dedicated bike paths will take you from your resort to the forest if you don't have a hire car.
Mountain bike tourism is on the up in the region. You can expect an increase in things like shuttles to Smithfield and nearby trails to be available later in the year so keep an eye on the websites listed below.
Get ready for roots, rocks and rainforest. All trails are hand dug rather than built by a machine. This gives them a tight, twisty and exhilarating feel. Stay loose on your bike and enjoy mastering steep obstacles, challenging turns and fast, playful trails.
A good selection of tracks better suited to families and newer riders are located in the lower section of the park. The lower parts of the World Cup XC trail are also easier for recreational riders. The XC climbs are quite achievable but some riders might prefer to walk some obstacles or build up to them over a few rides.
While it might be 26 degrees at the beach, it can be 34 degrees in the rainforest. Pack twice as much water as you think you need. Take a photo of the map at the trailhead as the tracks twist around a lot and it's easy to lose your sense of place. Punctures aren't too common on the rooty trails, but pack the usual spares along with some food and a first aid kit. A rain jacket is a must during the wet season.
There are roughly 40km of trails to choose from at Smithfield. While the easier loops are down low, the more sustained technical descents require most riders to push their bikes to the top of the hill, which can take the best part of an hour. Cairns Mountain Bike Tours currently have exclusive access to the downhill shuttle road and run guided all-mountain tours.
Don't touch anything green unless you know what it is. Learn how to spot Stinging Trees and Wait-a-While, and stay well away from them unless you're into excruciating pain. Tropical snakes and spiders add to the thrill of riding in the rainforest.
The temperatures are best from June – October. The Wet Season runs from about January to April. If the heat gets too much take a drive up to the cooler Atherton Tablelands about an hour away.
Check out the expanding trail networks in almost every direction. These include Mareeba, Atherton Tablelands, Davies Creek, Kuranda, exploratory rides down on the Cassowary Coast and thrilling downhill runs that are located just about anywhere that's steep.
Make sure to take advantage of the countless tourism experiences in the region. Spend a day on the reef, see the rainforest from up high via the Skyrail, take the train trip to Kuranda, seek out local swimming holes. Hold onto your lunch at Hartley's Crocodile Adventures, which is on the way to Port Douglas.
Discovery Cycles is located closest to the trails and has a second store in Cairns. Cairns Mountain Bike Tours also have some spares. Both are a short ride from the AJ Hackett or World Cup trailheads, and both have bikes for hire. Several other bike shops are located a 15 minute drive away in Cairns.
Check out the Cairns Mountain Bike Club for info and updates on Smithfield trails and events: cairnsmtb.com. Have a look at Ride Cairns for info, images and trail maps from the greater region: ridecairns.com.
October is the busiest time for local events including Gravitate, the Crocodile Trophy and the National Enduro Championships. While the World Cups and Champs take the limelight a healthy club scene means there is a downhill, cross-country and enduro series, as well as regular social rides and skills clinics.
Need more details? Head to RideCairns.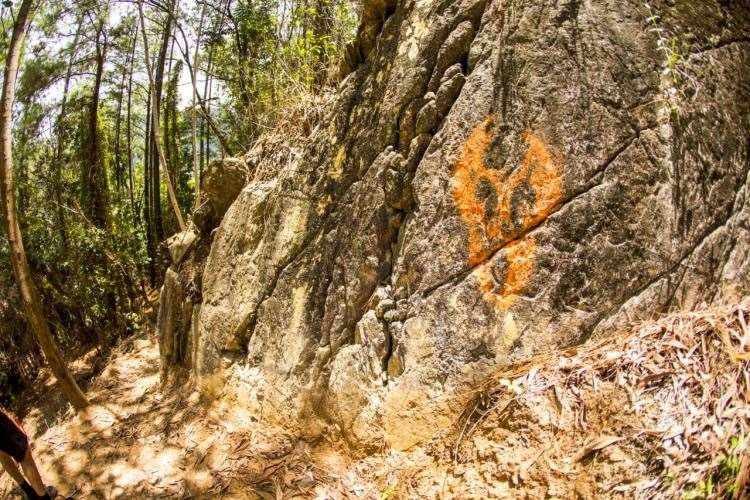 Australian Mountain Bike