The all-new Norco Revolver has been revealed - and it's not just a pure XC bike for Tokyo.
Bike design goes in cycles, especially with carbon mountain bikes. It costs a whole lot of money to develop bikes and create the moulds for carbon frames. So it's not surprising that frames don't change each year - most brands tend to be on a 3-5 year cycle for models unless they really got something wrong.
The Norco Revolver FS was launched in late 2015, and we test rode one at a demo day at Gap Creek, Queensland. Norco are known for their trail and enduro bikes, but it turned out their XC bike was a ripper too! We loved the low weight, long reach and forward position that urged you to push the bike a little harder. You can see our test of a 2016 model right here.
Times change and 100mm XC bikes are now set for just a few purposes: racing cross-country, marathons and stage races. Most people who want a fast and light bike will opt towards something with a little more travel, although that often comes with a fair weight penalty too.
We spotted Norco Factory Racing team members on something new last year, starting around the Mt St Anne World Cup. It looked like the current Revolver 29 FS, but with a bigger shock, larger downtube and some slightly different tube shapes. A secret source confirmed that yes, it was new, and yes it was awesome.
And now the news is out - Norco have an all-new Revolver FS, just with 29" wheels (previously 27.5" was an option). This is perfect timing with the Tokyo Olympics in 2020, and we will likely see more major brands come up with a fresh 'Olympics bike'. Scott did it for Rio with the Spark and it worked quite well for them.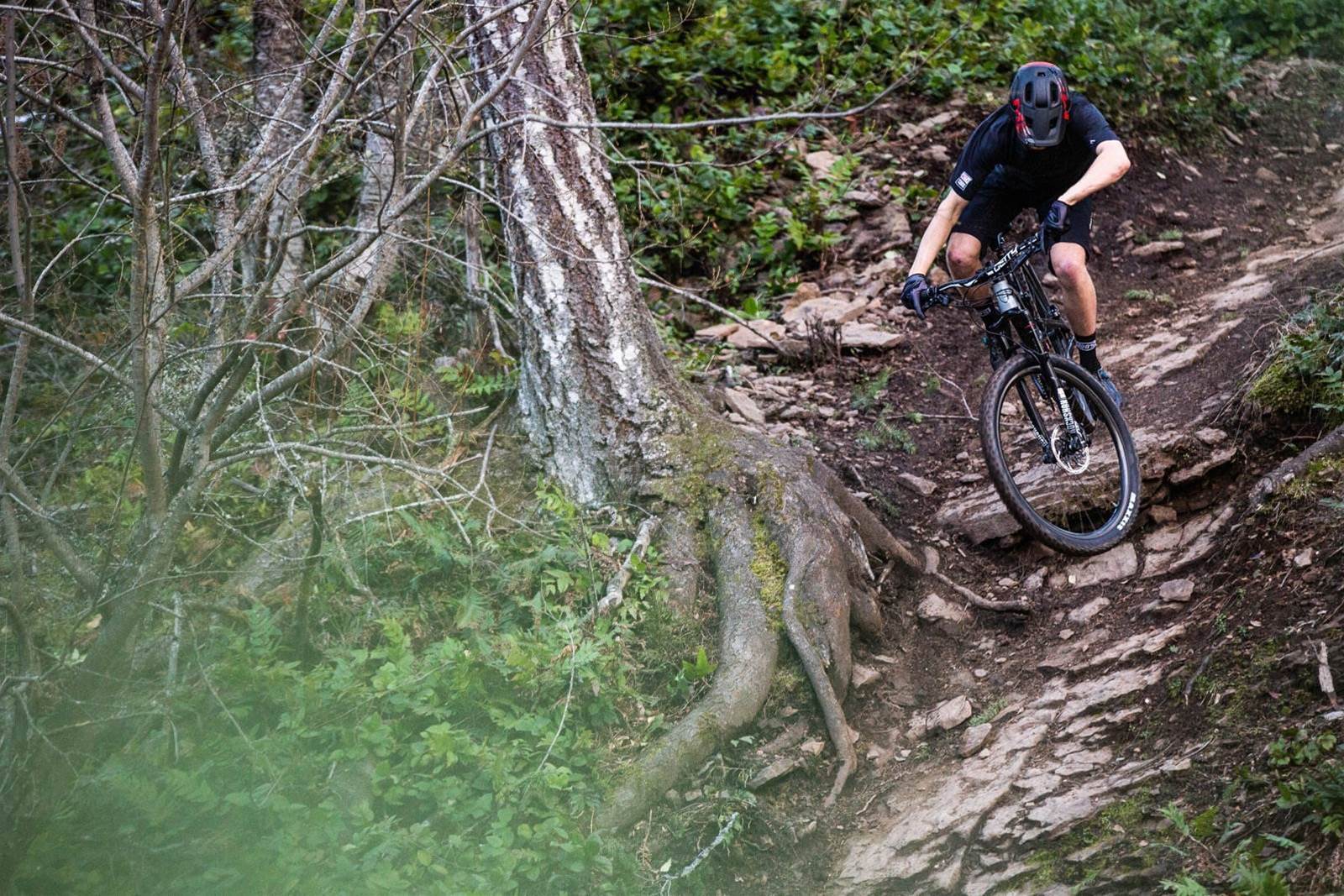 The 120mm version has a bit more party in the front and back.
The big news is that there is a 120mm option too. 120mm on an XC bike is the new black, and Norco's nifty engineers have got the frame geo sorted so that they can use the same frame with a differnent fork and shock to have a super light 120mm trail bike, with trail geo. We think this is an awesome idea.
And what exactly does that all look like? Here's a handy screenshot of the geometry for the two versions.
Chances are you can't read that too clearly, so let's summarise. The frames are longer, about 30mm longer each size, which means a 100mm model in large has a reach of 490mm - or 478mm in the 120mm version.
The seat angle is a steep 76 degrees to keep you over the pedals making power, and ready to explode out of the seat for punchy efforts. Run the 120mm option and it's 74.9 degrees. Both of these are steeper numbers than the previous model
The head angle is 68.5 degrees on the 100mm setup, this would be 67.4 in the 120mm guise. Seeing as the last model was higher than 70 degrees in all sizes, this is a big shift. Up to 3.5 degrees for someone on an XL!
Both bikes are designed around a 51mm offset fork. The BB drop is 40mm or 32mm in 120mm, and this is a little lower than before but the BB is actually 3mm higher as the bike is designed around tyres upto 2.35".
Norco's Gravity Tune concept remains. The idea is that smaller bikes get geo to suit for front centre and rear centre measurements. So the chainstays are 426.7mm on a large, but 420mm on a small.
What else has changed?
At a glance it looks the same, but the tubing dimensions are different, and the internal routing system is better, with a port from the underside of the downtube to help keep hoses silent. The swing arms now have internal routing too. 
The main pivot is broader as it is truly a 1x specific design, and the chainstay is a lot taller and no doubt stiffer. There is also far better clearance on the inside of the seat stay above the cassette for reduced chain slap.
We don't have a figure on weight but we have heard it's about the same, maybe 120g lighter.
Now factor that into a 120mm version and you have a bike that can tackle rougher terrain but doesn't gain a whole lot of weight. The SRAM AXS equipped FS 120mm models are likely to be about 10.5kg to 10.8kg with a dropper (based on an educated guess, not provided weights). That is seriously light for a 120mm bike.
Now from what we understand, the frames are exactly the same. So you could throw a 120mm fork on the 100m version, and change the 190x37.5mm stroke shock to 190x45mm and you'd have a 120mm bike. That's cool. It's not a cheap exercise, but it's cool.
What bikes are available?
In Australia we will have five bikes available - as listed below. That really swings in favour of 120mm. But with bikes like the Specialized Epic EVO being popular - it makes sense. Only a few people really want to ride 100mm, especially when 120mm.
The Revolver FS1 100 does have a SID fork, SRAM Eagle drivetrain and full carbon frame - it's a sweet rig. $6499 isn't cheap but this bike is ready to race. At $9999 the SRAM AXS equipped models are top end bikes and will probably still be quite competitively priced comapred to other AXS equipped bikes.
There are no confirmed delivery dates at time of publication - but we did hear not many are coming to our fair shores. Get ordering if you're keen.
| | |
| --- | --- |
| Revolver FS 2 120 | $5499 |
| Revolver FS 1 100 | $6499 |
| Revolver FS 1 120 | $6799 |
| Revolver FS AXS 120 | $9999 |
| Revolver FS AXS 100 (special order) | $9999 |
The top dog Norco Revolver FS AXS 100 - special order only.
The 120mm version - with the Reverb AXS dropper and a few other changes.
 With both the 120mm and 100mm options, Norco have brought the Revolver right to the front of the XC game. Whether you're chasing XCO stardom with 100mm, or looking for something to help tackle events like Port to Port or The Pioneer - Norco have made sure the new Revolver range suits. For more details drop in to your local Norco dealer.
Australian Mountain Bike