The art of getting bikes, riders, gear and more to trails isn't an exact science.
The art of getting bikes, riders, gear and more to trails isn't an exact science. Not everyone has a local trail they can easily ride to for a late arvo shred. And even if you do, you want to see more and taste the rainbow of trail delights further afield, right? I tested the Yakima Two Timer in our Places That Rock issue last year – it made a great addition to my Subaru Forester, complementing the High Roller racks that live permanently on the roof. My car is low, I can mount the bikes onto the roof in my driveway, and my wife's bike and mine fit comfortably up top. So while I can see aft mounted racks are great, I was happy to stick with my roof mounted racks.
But with room for more passengers, it's good to be able to take more mates – and their bikes – along on rides. With overseas guests visiting, testing a lower priced rack was perfect. Yakima have a range of clip on racks. From the Superjoe Pro, to the KingJoe and the Quickback – along with a spare tyre mounted Sparetime as well.
Fitting the Yakima KingJoe Pro
Having served a number of years in bike stores, I have fitted racks of this style to cars before. Usually a much more basic version, but the theory is the same. You set the two bars at 'the correct' distance apart to brace against the rear hatch of your car, and two straps go to the upper boot seam, one to each side, and two underneath to either the bottom of the hatch, or under the bumper if something solid resides down there.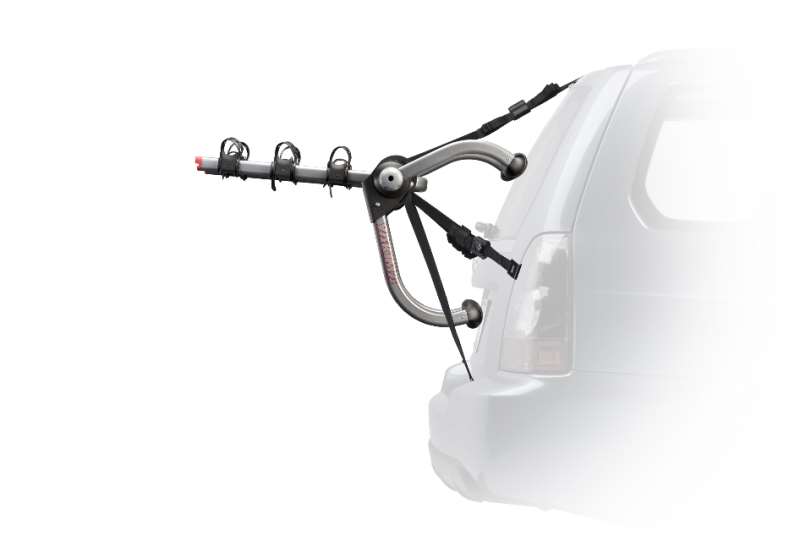 Yakima have made this part a cinch. You can look up compatibility at Yakima.com.au, and then look up your car model in the booklet for the distance to set the cradles apart. Tape measure in hand, I set it up, and made sure the moulded feet were flat against my car, and the six labelled straps were secure with excess webbing stowed in their elasticised harnesses. This was a far nicer experience than on basic models and it makes for a much easier setup process –a fair old tug on the rack showed it was solid too.
Fitting bikes was just as logical. The rack comes in two and three bike options, but the method is the same. The 'StableCradles' for your frame are just that. They are concave so they will accept fairly standard frame shapes really easily. The rubber straps to lock them on are really sturdy and offer a couple of mounting options to get everything tight. Set up to secure the bikes at two points on the top tube, with the rearmost securing around your seat tube too, it was a bomber fitting process.
Like any way that you pack bikes, it's worth thinking about which bike goes on first, and in which orientation they should go so they pack in well. I mounted our guests' hardtails with no problem at all, the only concern being the height of the front wheel off the ground, thanks to a heavily sloping top tube. Angling up the supporting bar of the rack helped this, and I didn't end up scraping the wheel on anything.
On a wet car, with some steep and hilly driving – everything was secure. Bikes didn't shift in the rack, and the rack didn't shift on my car. And taking four bikes and riders to distant trails gave me the warm feeling that carpooling does – until you have to clean everyone's mud out of the carpet.
Mounting other bikes has taken a little more thinking. The less 'open' your frame is, or the less conventional in terms of a 'two triangle' frame design, the harder it will be to fit them onto this style of rack. The arms are narrow to help with this, but some small dual-suspension frames will make your task harder than other frame designs. And that's exactly where racks like the Two Timer come in, who support the bike by the wheelbase. You could also use a false top tube, like Yakima's TubeTop – but that will also lower the height the bike hangs at – which may or may not be an issue with you setup.
In all it is a meticulously built and designed bike rack, and the investment is almost half of more involved racks from Yakima, but the quality is just the same. While it might take a minute or two more to load bikes on compared to a wheelbase supported rack, it suits the less frequent user – or in my case, it's perfect as a spare for when I need to travel with more bikes and more friends.
---
Hits:
Ease of fitting, and a great fit guide online

Despite all the contact points, really protects your car and bikes

Not so bulky you can't store it when not in use
Misses:
It might not work for all frame designs and bike sizes
RRP: $269
From: yakima.com.au
Australian Mountain Bike