Last year, Shimano rolled out the latest chapter in the 28-year history of the Deore XT group set.
Last year, Shimano rolled out the latest chapter in the 28-year history of the Deore XT group set. Packed with a good dose of trickle-down technology from the latest XTR weaponry, the M8000 Deore XT group set arrived midway through the year with an enormous level of anticipation from riders around the globe.
Now armed with wide-range 11-speed cassette options, a new side-swing front derailleur, a multitude of front chainring options, redesigned brakes, and two entirely new wheel sets, M8000 Deore XT finally arrived on the scene to offer some of that sweet XTR performance at the kind of prices that most riders could actually afford.
In a recent issue of AMB, Mike published his longterm review of the latest XT 1x11 drivetrain and brakes. Here however, we're going to take a closer look at the new M8020 Trail wheels.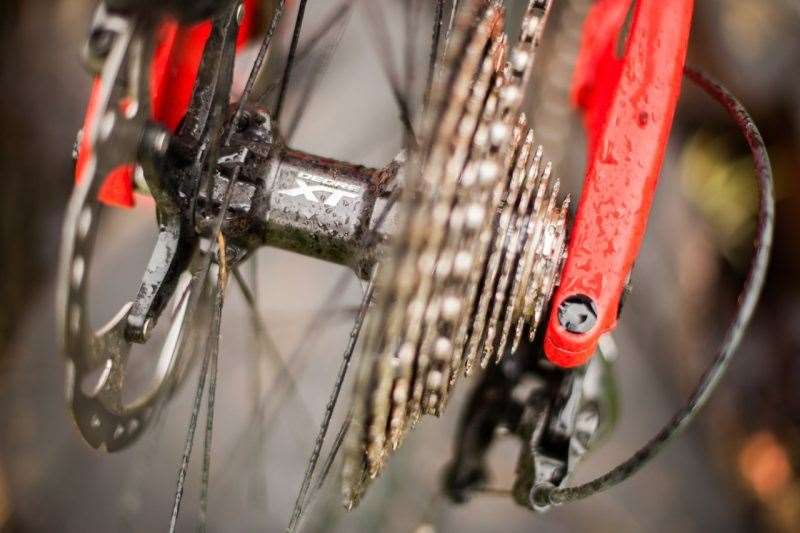 Like the group set before it, M8000 Deore XT continues Shimano's theme of splitting their range into 'Race' and 'Trail' categories, with dedicated components to address the needs of two very different types of users. In the case of the wheels, the M8020 wheel set slots into the 'Trail' category, with wider and stronger rims to suit aggressive riders running fatter rubber. Think 130-150mm travel trail bikes with 2.3" wide tyres, dropper posts and wide handlebars. Basically the bikes that most of us ride.
At $859 for the set, they're nearly half the price of the XTR Trail wheel set that we reviewed last year. Both Rob and Mike spoke very highly of the carbon XTR hoops, so we were eager to find out just how much performance the Deore XT wheels would dish out on the trail, and whether they really are the workhorse of the range.
INITIAL IMPRESSIONS OF THE XT WHEELS
Some reviewers have previously referred to Deore XT as "working man's bling". Personally, I think the XT group set has a far more utilitarian aesthetic. It looks good enough, but flashy it most certainly isn't. Likewise, the rim construction of the XT wheels is far more utilitarian than its trick XTR cousin. Rather than the exotic carbon-alloy hybrid construction of the XTR Trail rims, the XT version elects for an all-alloy design that helps to keep the price at much more attainable level.
Compared to the outgoing XT wheels, the new rims no longer feature a solid tubeless rim bed. They're still labelled as UST Tubeless, but the conventionally drilled rims now rely on a tubeless rim strip to keep things airtight. Shimano claims that the new design has dropped about 40 grams per rim off the new XT wheels, whilst still offering a high level of rigidity and durability.
The overall profile has been pumped up considerably over the former XT Trail whee lset. Rim width has grown 3mm and now measures 24mm internally, which Shimano claims is good for tyres up to 2.4" wide. In comparison, the M8000 Race wheels feature a narrower rim with a 20mm internal rim width.
The rims are asymmetrically drilled, which helps to better balance spoke tensions from left to right. Along with redesigned hub architecture, it also means that the XT Trail wheels feature a single spoke length for both front and rear wheels. Which is freaking awesome. That said, they are proprietary to Shimano, so it's still a good idea to grab some spares at the time of purchase. Each wheel is laced with 28 double-butted steel spokes, and they use a straight-pull design.
The hubs haven't changed drastically over the previous models, though they are said to have improved seals to reduce rolling friction. They feature the classic cup 'n' cone bearing design that is synonymous with Shimano hubs, and allows them to be easily serviced and maintained by competent home mechanics.
The hubs are Centrelock only, though they use a standard freehub body that will suit 8/9/10/11-speed cassettes. A SRAM XD freehub body is not an option.
The freehub body is made from forged steel, and is responsible for a lot of the weight in the XT hubs. For anyone who's had to pry individual cassette sprockets off lightweight alloy freehub bodies though, the weight penalty will surely be worth it.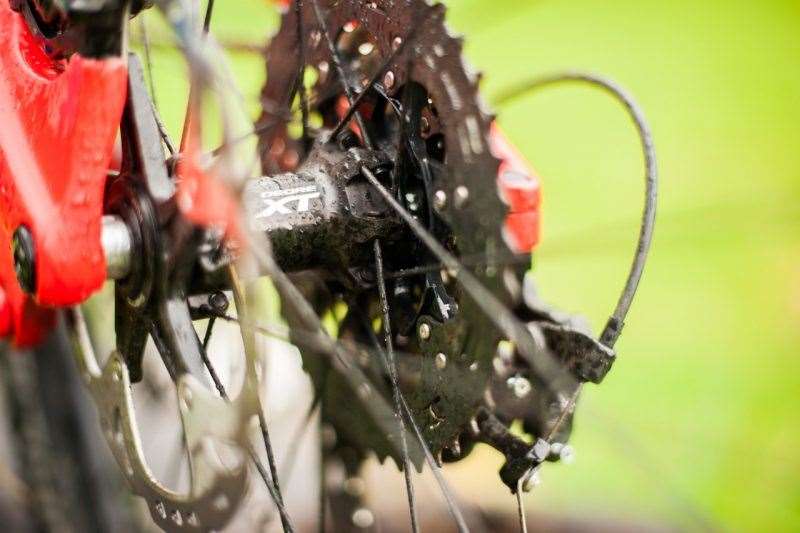 As it currently stands, the XT Trail wheels are only available to suit a QR15 fork and a 142x12mm back-end. Wider Boost versions are on the way.
However, you can get the XT Trail wheels in either 27.5" or 29" diameters. On test here is the 27.5" version, which weighed in at 1884 grams on our scales.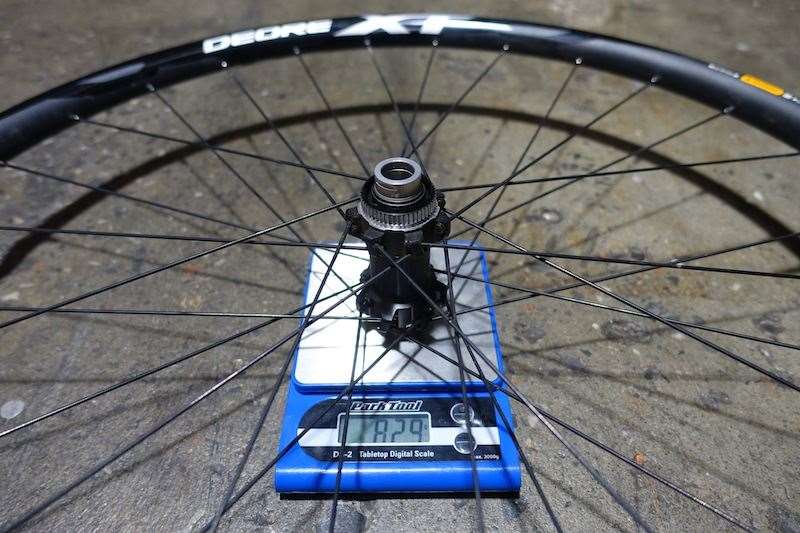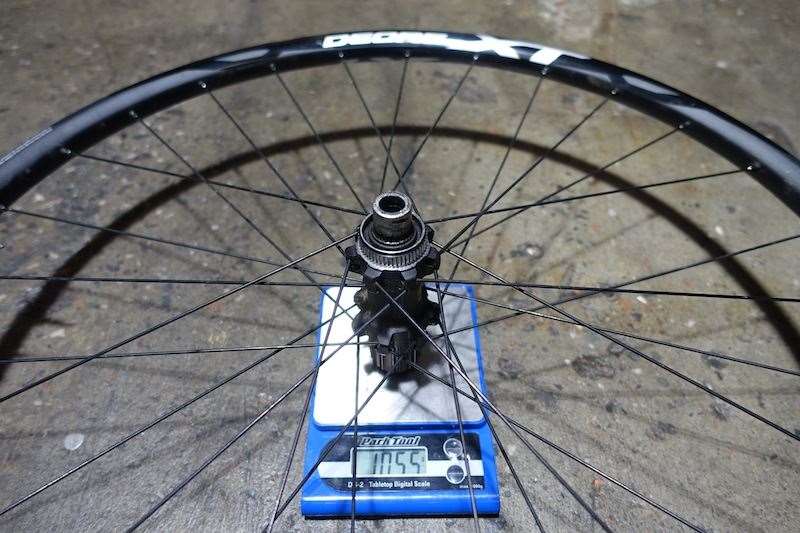 ON THE TRAIL
Compared to the previous XT wheels I've ridden, the M8020's are much more stable and noticeably stiffer too. They have a solid and substantial feeling underfoot, which is perfectly suited to today's modern trail bikes with their big forks and low-slung frame geometry. Shimano have clearly recognised the higher demands being placed on modern trail bikes these days, and they've equipped their new wheels to meet those demands.
Coming in close to the 2kg mark, the XT Trail isn't a light wheel set. That said, they do ride a lot lighter than their number suggests on paper, which I'd say is largely attributable to their impressive all-round rigidity. A floppy wheel set can hamper acceleration and handling response, making your bike feel sluggish overall. Not the XT Trail wheels though. Those straight-pull spokes are strung with high tension values to keep everything feeling taut, and unlike wheels with lower spoke counts, the rim is better supported all the way round.
Another contributing factor to the overall wheel strength is the angular contact bearing design. With a greater ability to cope with side loads compared to a radial cartridge bearing, the Shimano hubs assist with minimising flex around the axles, even when you're diving hard into a berm at speed. Less flex at the axle means less movement at the rim, so the wheels track straighter when the going gets rough and loose.
WIDE ENOUGH?
Some have criticised Shimano for missing the boat with rim width on their new Trail wheels. At 24mm internally, the XT Trail wheel isn't overly wide by modern standards, when many other brands are pushing past the 30mm barrier. There are a number of reasons why other manufacturers have gone wider, though the general consensus out there is that it helps to broaden the mounting base for the tyre beads, which adds stability to the tyre casing. So then why the 24mm width?
During the test period, I setup the XT Trail wheels with a Specialized Butcher up front and a Slaughter out back, both tubeless in the 2.3" size. Prior to testing the XT Trail wheels, I had been using the Bouwmeester Tammar wheels with a 31mm internal rim width, and before that, a set of Reynolds AM Carbon wheels with a 23mm internal rim width.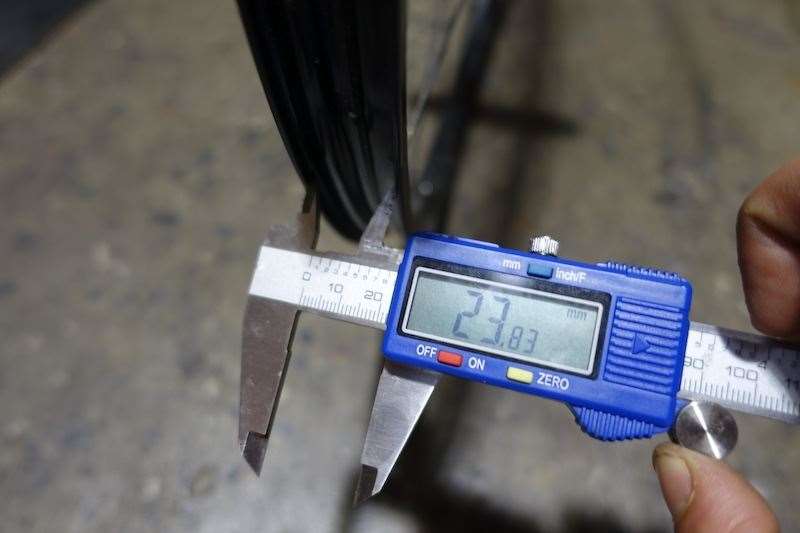 My findings?
A wide rim certainly has the effect of stabilising a tyre, and especially so at lower tyre pressures. It can put more tread onto the trail surface at the one time, and overall I've found I can run pressures around 2-3psi lower.
This is certainly the case when comparing the new XT Trail wheels to their predecessors. They're stiffer, more stable, and you can get away with a little less pressure for a smoother ride. But when compared to the Bouwmeester Tammar wheels setup with the same tyres however, the XT Trail wheels do feel a little wobblier when being pushed into high-load scenarios on the trail.
That said, there are many current mountain bike tyres that don't enjoy sitting on a super wide rim, and funny things can happen to their overall profile. As an example, I setup Maxxis Ikon 2.35" wide tyres on the 31mm wide Bouwmeester Tammar wheels, and they were horrible. The casing bulged out so far on the wider rim that hard cornering regularly left me with zero traction as the casing came into contact with the trail.
This will change in the near future. New tyre profiles intentionally suited to wide rims are on the way, and the problem that I experienced with the Ikon's and other tyres will be less of a problem. As it stands right now though, don't expect to get a super-wide wheel set and for it to be 100% compatible with every tyre out there. The XT Trail wheel set with its 24mm internal rim width however, will be Mickey Mouse with most 2"-2.3" wide tyres on the market.
Could they be wider? Sure, they could be a couple of mm's wider, but I'm not convinced it's necessary. Through my recent wheel testing, it has also become apparent that super-wide rims can sometimes leave a tyre feeling a little too stiff, because the profile ends up being squared off too much. In comparison, the 24mm internal rim width on the XT Trail wheels helps to maintain the round profile of the tyre casing, which gives the rubber a little more 'spring'. I might be splitting hairs here, but over the course of a long day of technical riding, the difference in damping does have a noticeable affect on rider fatigue.
DURABILITY
Prior to me receiving the wheels, Mike had actually ridden them during the Shimano launch down in North East Tasmania, where they'd spent a significant amount of time being dunked in puddles and lathered in mud.
When they showed up at the workshop, it appeared that the freehub mechanism had become quite sticky, which took a few rides to settle in and free up. Since then, I've not had any issues with it, though the freehub does feel a little grindy when you have the wheel out of the bike.
Unfortunately, while the bearings are serviceable, the freehub is not. So when it does cark it, it's a case of unbolting the existing body and replacing it with a whole new body for around $70. On the note of replaceables, you can also get bearing kits for $20 per hub, and full axle kits are about $50 each.
THE VERDICT
Just like their understated appearance, the XT Trail wheel set delivers reliable and unassuming performance on the trail. They're smooth, stiff, responsive, and the freehub isn't obnoxiously loud. Which I quite like.
They're also super tough too. They've taken an absolute hammering throughout the test period, and they're yet to experience a spoke key or a burped tyre. While I didn't bust any spokes, I'd still recommend sourcing some spares for your toolbox though. The last thing you want is to bust a spoke a few days out from a race and find that your LBS doesn't have any in stock. But that's always going to be a trade off with buying a 'system' wheel like the XT Trail wheel set.
Relative to the competition, the XT Trail wheels are priced well. You can certainly access cheap carbon wheels at this price, but none of those options will ride as smoothly as the XT Trail wheels, and I'd bet my left nut that the alloy rims will take a whole lot more abuse too.
Sure they're not flashy, but if you prefer your gear to go about its business with minimal fuss, then the XT Trail wheels are definitely worth a look.
Australian Mountain Bike