Shimano have been in the footwear game for over 25 years, and they have produced shoes that have set the industry standard for durability, comfort and stiffness across road, mountain and touring market places.
Shimano have been in the footwear game for over 25 years, and they have produced shoes that have set the industry standard for durability, comfort and stiffness across road, mountain and touring market places. But for 2016, they gave their gravity range an update, including the AM9, listening to feedback from the quickest family after the van der Ploegs – the Athertons.
With requirements for a grippier, lighter shoe with more protection, Shimano's footwear designers were set to task. And what they created in the new AM range illustrates their hard work.
The AM 9 sits atop the range, above the flat-soled AM7. Both shoes feature a higher side for increased foot protection. The shank in the midsole (where the pedalling stiffness comes from) has been updated with pro rider feedback. They have aimed to make it stiff, while providing downhill stability – more on what that means later.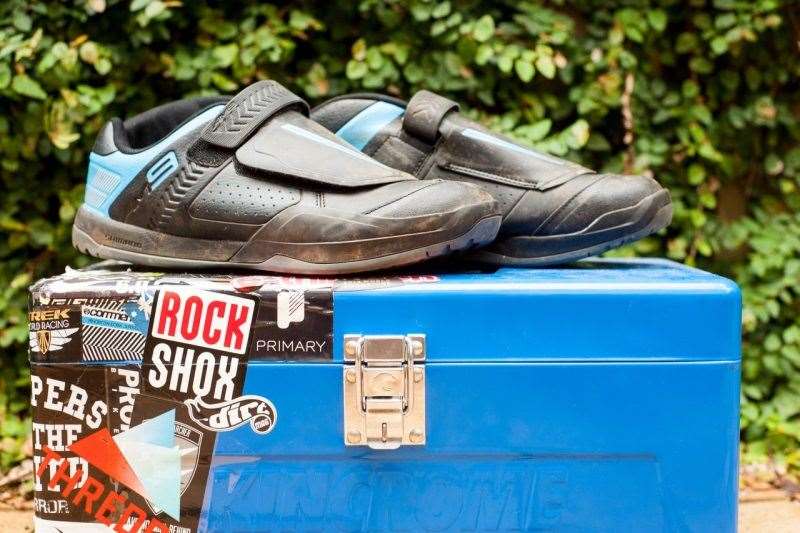 The sole uses a gravity specific rubber and more aggressive patterns, and the pedal channel is long and deep, in an aim to make it easier to get back in the pedal after getting a foot out. The upper has a generous toe box, and the laces offer a precise fit with a Velcro strap to keep it secure, and the laces out of harms way.
Back in… blue
So those are all some handy updates. But did they achieve what they were after? Gee Atherton reckons it is the best downhill shoe he has ever used. I put them to use over summer to see how they worked on a very non-pro foot.
Firstly, they have done a good job getting the weight down. While there are all sorts of numbers around comparing old models to new, it is about a 20% saving – but for me they're only 200g heavier than my Shimano XC90 shoes – and for the extra protection and on ground stability, that's fine.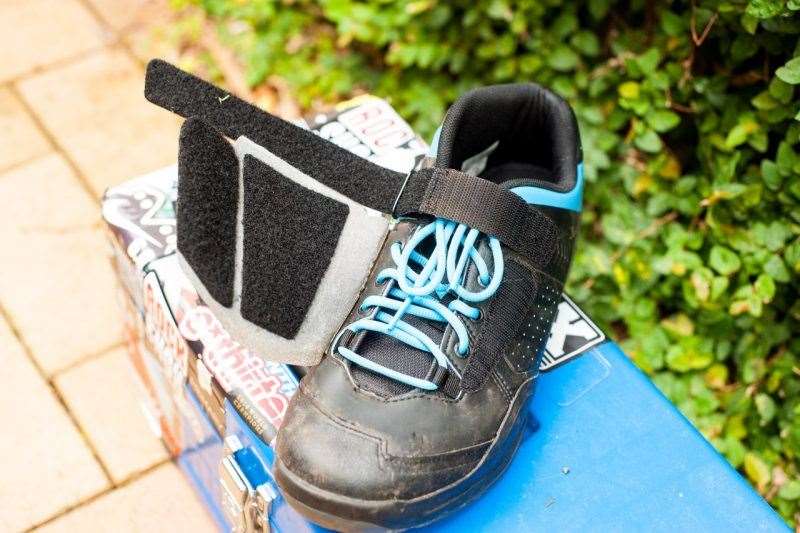 The cleat pocket is deep and long to help engagement, but it also allows the cleats to be set a long way back. I'm used to slamming them back on my own shoes, and had to stop and shift them forward again. With many people choosing to run rearwards for efficiency, it is great to see Shimano accommodating this, even their new cleat plates allow more adjustment, both fore and aft.
They are a supremely comfortable shoe on and off the bike. I only used them with Shimano trail pedals which give some extra support, but it seems like the shank is stiff in the right places, and comfortable where it needs to be. The shoe remains stiff under pedalling effort, therefore preventing sore arches on sustained descents as well. But off the bike the midsole is very comfortable, and the roomy toe box allows more comfort than other shoes I own. And while the laces might seem old fashioned, they are light and allow a very precise fit to suit your foot type.
The revised tread pattern and rubber gripped everywhere I needed it to, with pronounced edges on the toes and the heels – perfect if you need to dig in up or down.
With the shoe on you really notice the higher inside of the shoe, which should shield your ankle from just about any chain ring, swing arm or wayward chain device hit. While there is a toe box in the front, it's not quite as strong (to a pressed thumb) as some others on the market, but thankfully I didn't slam my toe into any rocks during testing.
And that stiffness/stability thing… the best thing here is that the supple upper and 'stiff in the right places' shank means you can really use body weight shifts, without unclipping, to handle the bike a lot more. They are really subtle movements, but ones that might have you releasing with an overly stiff shoe, and at the times where you're instinctively leaning your knee out more instead of clipping out and drifting, you just don't want to unclip.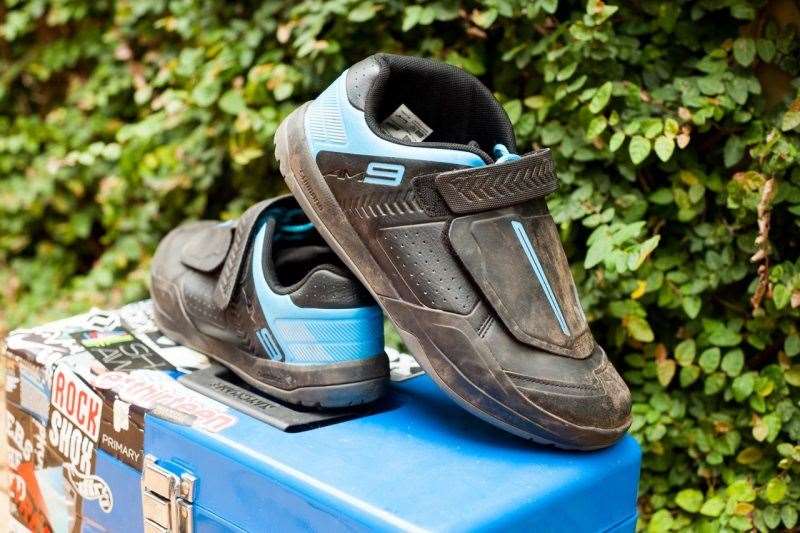 The AM9 is a different shoe to what I would usually reach for, even for trail riding. The laces cover looks far too all-mountain and DH cool for my sensibilities, but I was really impressed with the off the bike comfort, stability when riding and hiking sections, and even how well they dried after wet rides. If you're looking for anything from an aggressive trail shoe to a World Cup level downhill race shoe – go see your Shimano footwear dealer and try these on.
---
Hits:
Comfort and precise fit

Great protection combine with low weight

Adaptable for modern bike fit
Misses:
What if you don't like blue
RRP: $189
From: shimano.com.au
Australian Mountain Bike