Canyon Strive - A tale of two bikes
Canyon Strive - A tale of two bikes
Our Northern Hemisphere cousins have enjoyed the benefits of Canyon's unique 'direct-to-customer' business model. To them Canyon is a household name which forms a very natural part of any prospective purchase wish list and vies for attention as an equal to the likes of other European brands like Rotwild, Cube, Corratec or Nicolai. From relatively boutique beginnings Canyon grew rapidly, hitting the big time with their sponsoring of World Tour road cycling teams, Movistar and Katusha, and Topeak-Ergon and their Canyon Factory Enduro Team on the dirt - who have helped create the Canyon Strive.
Now available in Australia, what can we expect from the German brand which prides itself on detailed production methods, vigorous testing and a very healthy culture of innovation? Late in 2015 I had an entry to the mother of all enduro events looming, the 6 day Perskindol Swiss Epic Flow, so we thought it prudent to take the opportunity to test a bike that seemed to epitomise the ethos of Canyon Bicycles.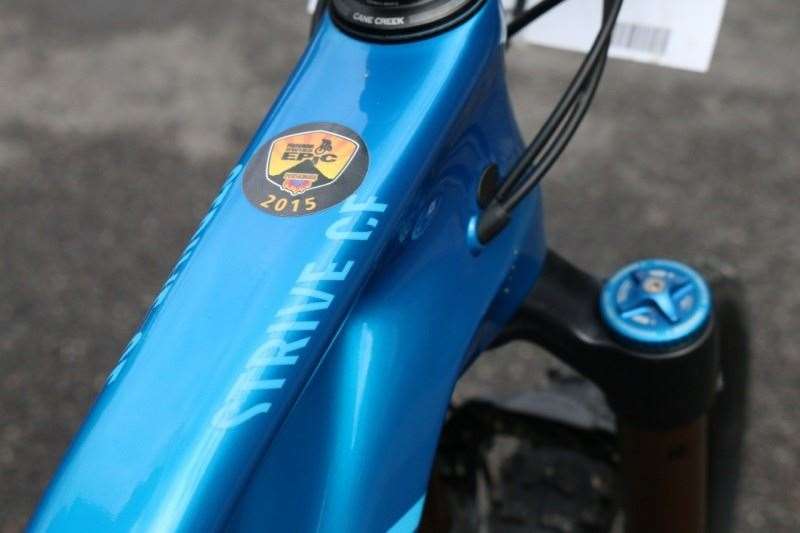 Innovative, unique, well considered and in our case a bike that had already set tongues wagging with the promise of 'two bikes in one', step forward the Canyon Strive CF 9.0 SL with 'Shapeshifter' technology, rolls off the tongue doesn't it?
Initial impressions
We plucked this specced to the gills, top-drawer headliner straight from Canyon's London HQ - as the bikes were nowhere near Australia yet. The carbon frame (aluminium linkage), a complement of XTR M9000 and M9020 components, some seriously pretty Mavic Crossmax XL wheels and a fork and rear shock combo to set the pulse racing. Receiving my test bike two days before I flew off to race the paint off it was possibly not fair on the Strive CF 9.0. But let's face it, tipped as a race-ready rig, why not be bold and do just that, go race the thing! There would be zero dialling-in time before the bike was re-boxed and pretty much set on a flight path straight back home to mainland Europe so my anticipation was as high as my trepidation.
The Shapeshifter is part of the promise for the Canyon Strive, and the small lever sits next to your controls, and activates a small gas chamber behind the linkage. The linkage is alloy to allow for being two parts, for any on-trail servicing required. The gas spring moves a small link that is attached to the top eye of the shock, and the linkage. So it effectively just changes to total eye-to-eye length of the shock when it's in one position or another. The big change is what happens to the bike's geometry and suspension kinematics.
In the XC position, the shock runs at about 17% sag and travel is 130mm, ramping up more than in DH mode, where sag is 25% with the full 160mm of travel. It's important to realise these aren't changes to the shock, just the kinematics due to how it is activated by the suspension design. When you drop into the DH mode, you also drop the BB height by 19mm for more stability, and knock 1.5 degrees off both the head and seat angle, making for a slacker and more stable ride.
The re-engineered Fox Float 36 fork was certainly more travel than I suspected I needed at 160mm and if I'm honest the Cane Creek DB Inline rear shock was such an intimidating looking unit in terms of setup options I was convinced I'd see myself clattering off some alpine exposure to my doom for having unlocked some deadly cocktail of mythical options I didn't actually want. It's a great shock, but look to their forum for setup help.
This really is a beautiful bike to behold, meaningful clean lines, a simplified, non-fussy linkage, internally routed rattle-free cabling, through axles front and rear, race ready Continental Trail King tyres and a deep rich paint finish that was making me very nervous. I would have probably done away with the double chain ring setup and in Australia the top 3 models do just that.
First impressions count, but so do riding and I had to board a plane, suit up and get racing within the next 48 hours.
On the trail
Having any new bike is a treat, having what was claiming to be two bikes in one, well that was a point I was keen to test. Verbier's bike park has numerous routes to the top, cable car being the preferred one, but given I did actually need to do a very serious systems check and become 'au fait' with the myriad of settings I set to work fiddling and adjusting, looking, bouncing and readjusting. Climbing wasn't a problem, yet I was struggling to keep pace with my mates on their much nimbler full suspension XC rigs for obvious reasons. At 13kgs as tested, a lot of the weight was in the aggressive tyres, which don't feel great going up.
Using the Shapeshifter isn't like using a lockout. It's a real shift of bodyweight while holding the lever open. Then, add a flip of the Cane Creek's toggle switch into its 'climb' setting and, wow, ok that worked! Not quite XC stiff but if you are planning on taking all your big bounce weaponry to the top of a mountain without a chairlift this definitely seems to set the bar high. The whole bike had pushed me forward and upwards into a position where getting power to the back wheel felt a lot more natural.
Before setting off down my much loved Verbier blue run there was another systems check, it was like readying for take off, flick the rear shock, 'shunt' the Shapeshifter into slack mode (another raised eyebrow, it really does slacken all the angles), push my RockShox Reverb dropper remote and finally launch this puppy into space. Oh yes please! The Canyon was now completely in its element, a reactive front end, compliant rear rock solid under pedalling and taking initial larger hits like a heavyweight pro, very reassuring!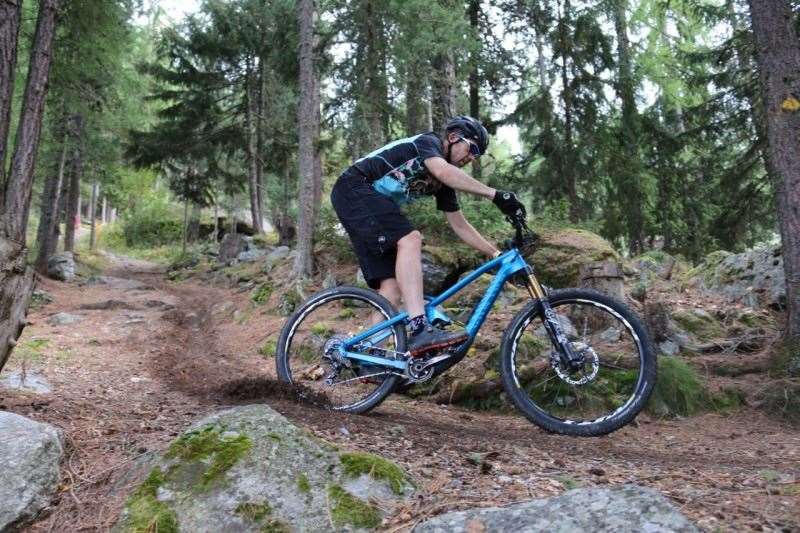 Tweakery
I was hell bent on getting the very best out of the Canyon, and the Mountain Kings needed to be set up to tubeless and possibly a width reduction was in order to get a little more roll out of them, the 2.4" front felt massive, aside from the standard position dialling, the bike was then left as stock before we set off for the Prologue of the Swiss Epic.
With 800m worth of vertical on the cards for the prologue this was not going to be a party no matter how frisky your setup was, but from the outset I was definitely on the ropes. This not being a traditional enduro start, there would be a fair chunk of timed climbing. Still feeling like I'd turned up somewhat heavy on fire power, I could only hope the next few days would mean bigger technical challenges. Pointing the bike down is completely its preferred path, the bike soaks up the pounding and gripped in places I thought it was game over, the bike wanted me to stay in one piece and worked hard to save my bacon on numerous occasions, we finished the day in a very surprising yet very humbling 3rd. This for me spoke volumes for the bike's ability to hold its own uphill. Shapeshifter – I approve.
Trouble
Something happened at the midway point of stage three, for some reason I couldn't engage the Shapeshifter into 'climb' mode and with numerous sharp rises on course I was literally having to unclip and scramble over them to keep pace with my team mate, not ideal, what the devil has happened to my second bike?
Chatting to Ludo May, Canyon's young pro who was having a bit of fun dragging his downhilling pal all over the Alps and riding the Team version of the Strive, he affirmed that cable tension didn't seem to be the problem but possibly we required a little air. Alas try as we might, we simply couldn't get the rocker to click back into the 'climb' position and for the last 2 days I took the executive decision to just suck it up, in different circumstances I feel there would have been a quick easy fix, just not in the delirium of a post stage carbo loading frenzy and regroup. The only blot in the Strive's copy book possibly. The Shapeshifter is exclusive technology, and although servicing is straight-forward – it's not yet common knowledge.
Finally
Claims by some long term testers of the Canyon Strive is that you have effectively a full box and dice enduro race bike and a partially subdued trail 'whippet' all in one bike, now I wouldn't go so far as to describe the Strive 9.0 a 'whippet' by any means, I worked pretty hard to stay on pace with my team mate on a 110mm travel full-suspension bike. It is infinitely capable if you remain realistic of your intentions, you will go uphill quicker on this bike than any other pure enduro equivalent and you will descend as rapidly as you dare without ever feeling you've compromised handling, so all in all, a massive win.
The irony of this bike test is this, even if I had hated this bike, which I very much didn't, we somehow managed to rack up 3 podiums and a respectable 3rd overall against chaps who take this discipline very seriously, even as a profession, all on their home turf, all on a bike I had never ridden and all on some of the most challenging terrain you could ever hope to race on, it sort of speaks for itself doesn't it? I mean maybe it's time we simply race every bike we test? I loved the Strive 9.0, I think I would have loved it more as my own free ride bike and raced a slightly less red blooded enduro setup for this particular race as Canyon had pretty much shaved every kilo they could off the bike without undermining its purpose, and I was still looking to make savings, but then again, who gets a third on a test bike? Remarkable, thank you Canyon, thank you Strive!
Essentials
Brand: Canyon
Model: Strive CF 9.0 SL (tested - this spec isn't available in Australia)
RRP: 2016 Strive CF Team Replica: $7499
Weight: 13kg (Large as tested)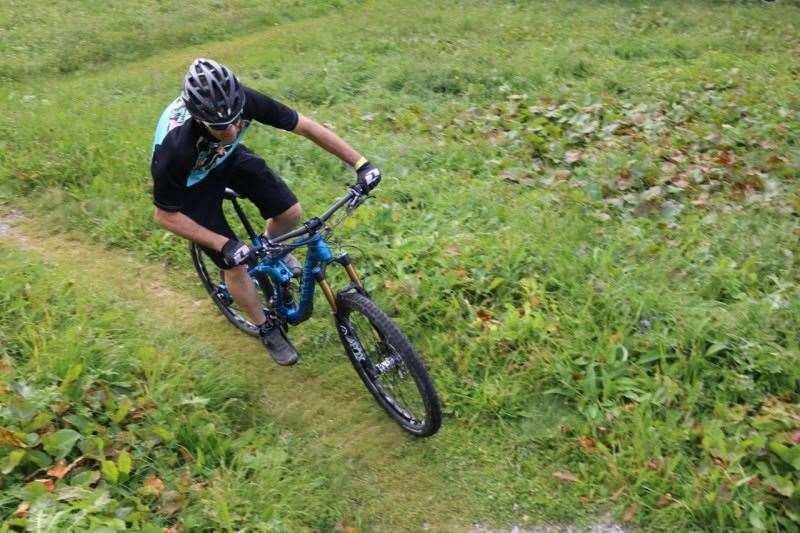 ---
Tester: Stuart Spies
Riding Experience: Marathon specialist, loves a bit of cyclocross, miraculously finished 12th in the Elite marathon at Swiss Epic 2014
Generally rides: Carbon 29er hardtail of dubious Oriental origins
Height: 183cm
Weight: 76.5kg
Bike Test Track: Verbier, Leukerbad, Graechen, Zermatt (Swiss Alps)
Three things you liked:
The adjustable nature of the bike

Immense confidence in the slacker setting

High end parts kit
Three things you would change:
Run it as a 1x setup unless your needs demand otherwise

Match your tyres to your terrain

Understand the setup and servicing of the Shapeshifter unit
Australian Mountain Bike