The latest Specialized Turbo Levo is not only carbon, lighter and stiffer - but it is also smarter and more tuneable before.
The Specialized Levo eMTB has always marched to the beat of its own drum. Specialized didn't rush a pedal-assist bike to the market as the whole of Europe went eMTB mad, Specialized made sure they got it right.
"We wanted to make an e-bike that a real mountain biker could throw a leg over and appreciate— something that looked and rode like a mountain bike. It checked all of these boxes, as it had an amazing motor that nicely complemented a rider's power, not jerked them about. It's also helped build trails, bring people back to a sport they once loved, and brought new people in who hadn't yet experienced it. Although it's littered with industry-leading tech specs and performance, it's bigger than that. And now, the Levo FSR comes in Carbon."
Check out our review of the Specialized Turbo Levo. 
So what's changed with the Turbo Levo?
Well, Specialized had the geometry pretty dialled already. But there were gains. The bikes now run 2.8" Butcher tyres with Grid casing, and 150mm front and 135mm rear, and with head angles at 66.1 degrees, long top tubes and 165mm cranks throughout the size range these bikes will haul under pedal assist and charge when let loose on descents. Remember, you can run 29" wheels in the 6Fattie bikes if you want to.
Interestingly, the women's model is built on 120mm travel front and rear, and is a little steeper at 66.5 degrees for the head angle.
But how about the carbon frame? Well that's dropped 650g off the frame, but also increased the stiffness by 40% - which is heaps! Want a bike that holds it's line better, and is easier to move on the trail? You've got it.
The Trail Remote is also new. Specialized don't use a Shimano or Bosch motor, they have their own. And the new options for adjusting on the left hand side is easy to move between eco, trail, turbo and walk-assist.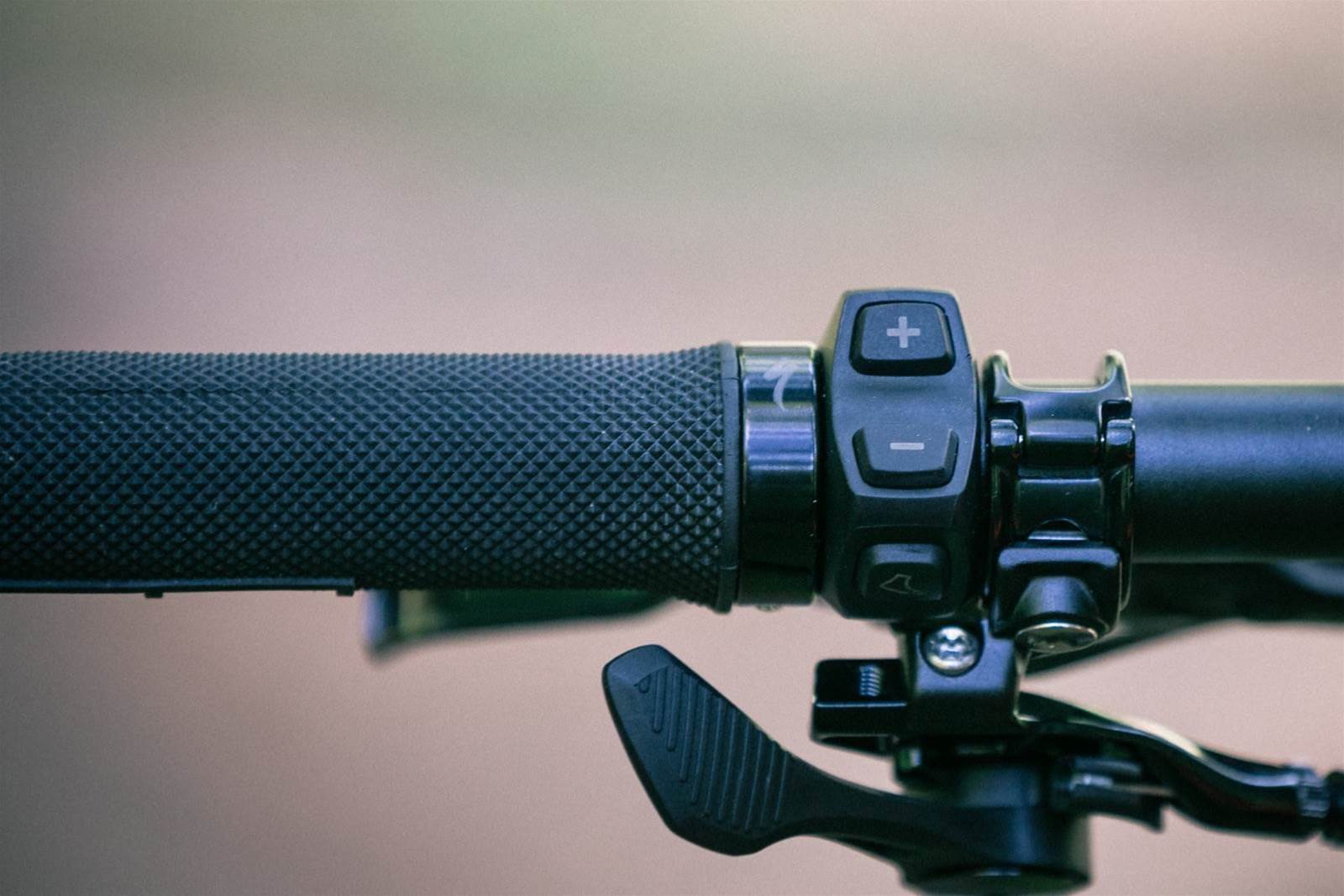 More on the motor
The new Turbo 1.3 motor comes equipped on all 2018 Levo FSR models. You get improved efficiency, better heat management, and more power. The new motor also packs 15% more power through new magnets and an all-new electronic unit. Improved motor efficiency and better heat management come from two sources—hardware improvements and a new software update (which is retrofitable to current Levo bikes). The software does not only support motor and heat management efficiencies though, it balances your own power inputs to guarantee an even smoother assistance. What's that mean? There's no jerky accelerations or drop offs when you hit the speed limit. Riding a Levo is a lot closer to riding a mountain bike - you just have a bit of help.
The new motor tune also gives more assistance without such a high cadence needed. Typically, mountain bikers can spin their legs pretty quickly. But climbing on a mountain bike on rough trails isn't usually a high leg-speed activity, and that's where you really want the assistance. And the new motor tune provides more power without such high RPM from your legs.
Thermal pads in the motor help balance heat distribution internally, while the thermal pad between the motor and frame rid the system of excess heat. 

What is awesome with the Turbo Levo is the Mission Control App. Set your ride distance, and it manages power and therefore battery life. No getting stuck out on the trail. Although you can also set how much assistance you want, and make sure it rides how you want. It's your ride, and the app makes sure it's personal. Want to see what you're putting in? Well each motor also has an in-built power meter so you can see how your output compares to the motor.
What can't you control with your phone these days?
We really like the ability to run a GPS device like a Garmin as your head unit, given the battery is ANT+ and Bluetooth compatible. It really cleans up the bars and should make the experience more seamless.
First ride on the 2018 Specialized Turbo Levo FSR
Photo: Dominic Hook
I was super keen to take the Levo out for a ride. Having only spent time on Bosch equipped EMTBs before, I was interested to see how Specialized's take on pedal-assist went - especially because it was designed by a bike company and not a motor company.
While I don't want to say "just believe the hype" the Levo does have a natural feel. Even in Turbo the sense that the bike is going to pull away from you isn't there. This would be from the tuning, and how it responds differently to lower or higher RPM and pressure on the pedals. Bosch have aimed to mimic this on their most recent tune but I feel that Specialized do it better - and with less faff on the bars.
As for the suspension, it's a truly capable design. The Levo is esentially a pedal-assist Stumpjumper now even though it has less travel.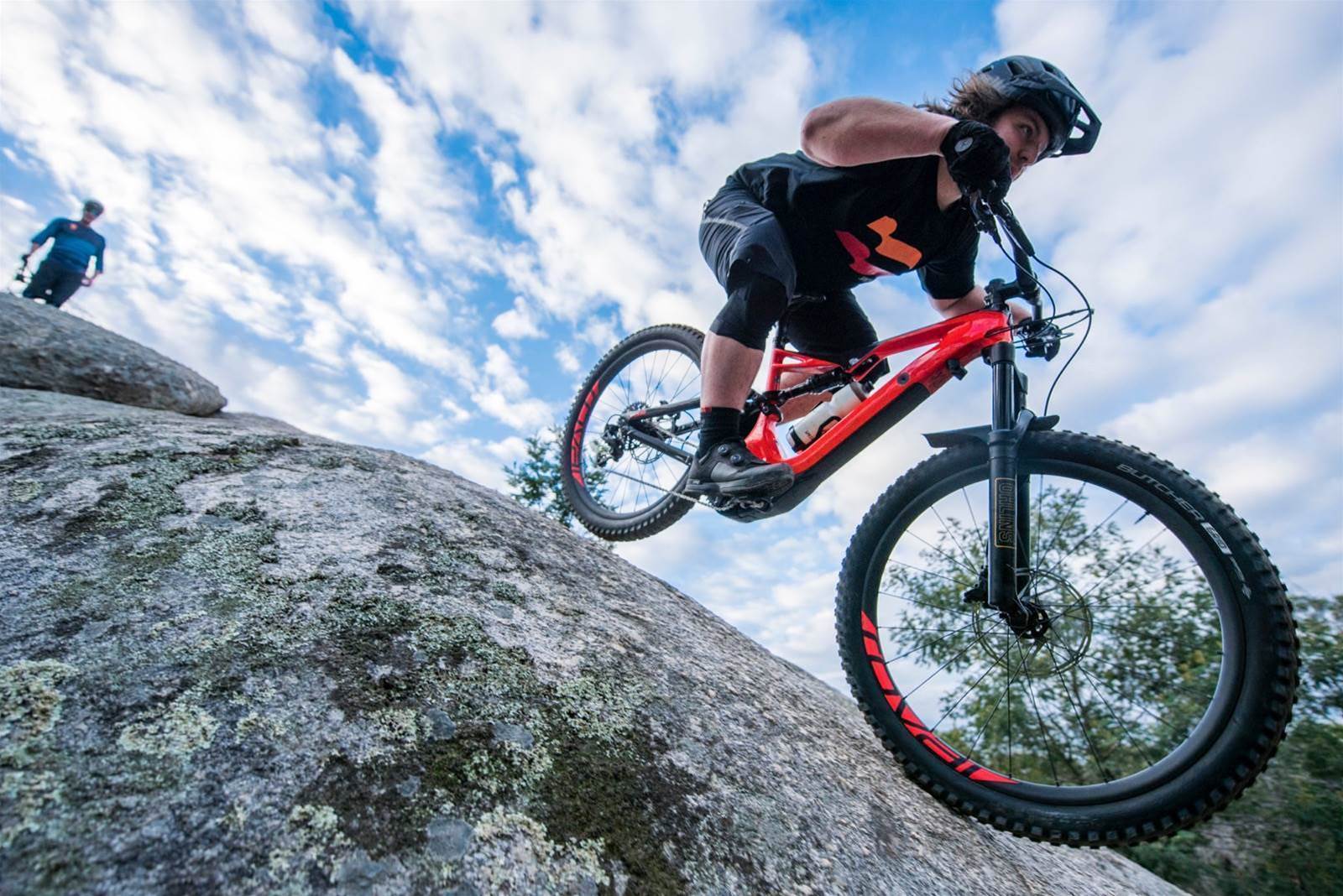 The Levo loves to be pushed hard. Photo: Dominic Hook
Riding the bike was intuitive, and like any ride with other people on pedal-assist bikes it was super social. Laughing, talking, railing corners and riding trails. There was still plenty of huffing as you can control your input - and the bike encourages you to push, as there is grip for days with the Butcher tyres - especially at the You Yangs after a dusting of rain.
Much of the advantage of the Levo over other pedal-assist bikes comes from the app. You can set how long you want the battery to last, how much you want it to help you accelerate, and a nominal maximum power. If you want more of a workout - just set that in the app before you go.
Photo: Dominic Hook
The lack of a head unit really helped with the sense of it being a bike you just got on and rode. Sure, toggle between the 3 settings with your left hand (I prefer less input on descents) but just focus on the bike and the trail. The weight is so low and centred on the bike that it is more stable than a 'non-E' bike. You might not like that, but in fast terrain with repeated hits it is very confidence inspiring.
If you don't like eMTBs that's fine. They aren't my first choice of bike for riding offroad. But I certainly find them fun to ride, and I think some areas suit them more than standard bikes. I also think it's a great entry to the sport for some people. But if you're curious we recommend getting to a demo day to try one. They're a whole lot of fun.
Do it! Photo: Dominic Hook
Turbo Levo Carbon models in Australia
So what models should you be bothering your Specialized dealer about?
The S-Works models boast Ohlins suspension, and 150/135mm travel front and rear is standard across the men's range. the S-Works model runs XX1 and each model drops a group set from there. It's interesing EX1 doesn't get specced, as it's super tough for the extra power an eMTB puts through the drivetrain. Specialized state that they prefer the extra ground clearance from a normal 11-speed SRAM derailleur compared to the 8sp eMTB specific Eagle group. We can support that.
SW LEVO FSR MEN CARBON 6FATTIE         $13,000
LEVO FSR MEN EXPERT CARBON 6FATTIE  $10,500
LEVO FSR MEN COMP CARBON 6FATTIE    $8,500
LEVO FSR MEN 6FATTIE                                $6,000
LEVO FSR WMN ST 6FATTIE                          $6,000
Get in touch with your local dealer about specifics - or check out the full specs online.
Australian Mountain Bike