Mountain bikers and runners alike should mark the 24-25 October on their calendars for the Sunshine Coast MTB Festival.
Riders will be flocking to Queensland's Sunshine Coast on 24 October, as in2adventure host another edition of their popular Sunshine Coast MTB Festival. With a 9.5km lap mapped and marked at Ewen Maddock Dam, riders can enter and compete in 1, 3 or 5 lap events for a chance to test themselves on the trails of the Sunshine Coast. The full event list and timetable is on the event website.
For 2020 there is a standalone participation eMTB event hosted after the main race, and youi can view the course here. There's also a kids' event to keep young riders entertained and active. All the bike races take place on Saturday 24 October, but there are running events on the Sunday as well, if you're pretty quick on your feet.
Ewen Maddock Dam is about an hour north of Brisbane, and the dam is a picturesque backdrop for your day, or weekend, on the trails. There will be event vendors and coffee vans on site to keep your energy levels up, plus plenty of sanitiser stations as just a small part of operating a COVID Safe event.
The course itself is a mix of singletrack and firetrail, so it offers plenty of places (and space) to safely pass competitors, with more than enough singletrack through the rainforest to enjoy your time on the trails. Try to look up so you don't miss the views across the dam as well.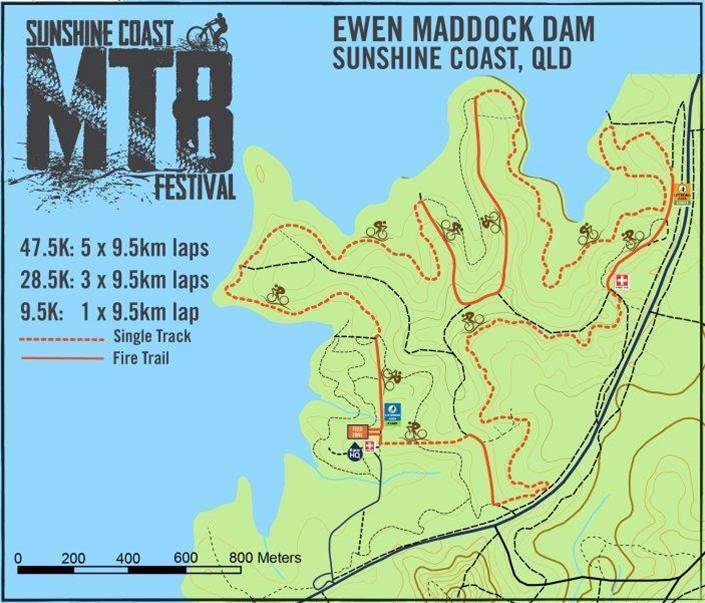 While there are no big climbs, there are some pinch climbs and enough trail features to keep skilled riders on their toes when racing fast. For those who take to the trails on two wheels as well as two feet, remember to sign up for the trail running event on Sunday as well. If you enter the 47.5km 5 lap event on Saturday and the 21km Half Marathon on Sunday, you'll be be crowned a Dirt Master or Dirt Mistress – as long as you finish. While you need to be over 16 for those events, there are shorter options for 12 - 15 year olds, and options that are a little more challenging for those over 14.
All in all it makes for a day, or weekend, that suits an active family, and with event entries starting at just $20, the Sunshine Coast MTB Festival is a great value way to get competitive on the trails. You can get all the details about the whole weekend on the in2adventure website.
Australian Mountain Bike