Shimano have brought their 12-speed technology to a Deore group set, along with a new 11 and 10 speed 1x option for Deore as well!
Less than a year after Shimano released their 12-speed iterations of the popular Deore XT and SLX group sets, Shimano have brought all the 12-speed tech to Deore. Better than that, they have also got an all-new 11 and 10-speed version of Deore as well. This means you're likely to see a whole lot of 1x Shimano group sets on new bikes from a lower price point. of course, 2x options are still available for the 11 and 10-speed Deore options.
A closer look at Deore M6100 12-speed
If you're familiar with the changes Shimano made for Shimano XTR M9100, Deore XT M8100 and SLX 12-speed, then you will be impressed to see that all those tech and ergonomic changes to the higher end group sets now come to Deore.
In doing so, Shimano have really lifted Deore's status in their parts heirarchy. While previously it wasn't a dedicated 1x group set, now Deore M6100 is a dedicated 12-speed group set with a single chain ring, with brake options, integrated dropper post options and direct mount chain rings - all like the top group sets. 
As Shimano Deore M6100 uses a Micro Spline freehub, a Hyperglide Plus chain and 10-51 cassette, and iSpec EV brake/shifter mounts, you end up with complete interchangeability with the higher spec group sets. So if you want to save weight with a higher end cassette, you can. Want to run a cheaper Deore crank set with a higher quality Deore XT chain ring? You can. Still, there are differences in each item that are worth knowing about.
A question of shifting and braking
The Shimano Deore M6100 12-speed shifter looks sharp, and uses the iSpec EV mount to work on the updated brake lever shape which has two points of contact with the bars for stiffer braking. The lever doesn't have tool free reach adjust, but it is a Servowave system.
The shifter has a very similar look to the higher end shifters, and with iSpec EV, it can rotate 5 degrees around the bars to help get the right ergonomics. This is less than XTR or Deore XT, but the same as SLX. You can move them in or outboard by 14mm.
The shifter has the dual release mechanism, which means you can use it thumb-thumb or thumb-forefinger. You can get the shifter with a band clamp if you have different brakes that you would like to run, and there is a gear display option as well - although this limits the adjustment of positions of the shifter.
The rear derailleur has one option, unlike XTR which has a short cage option for a 10-45 cassette. The aesthetics are similar, with the Shadow+ design, adjustable clutch, and larger 13t pulleys. The clutch isn't adjustable externally like XTR, Deore XT and SLX, but if you're tech savvy you can remove the outer cover to tweak the spring tension to fine tune the clutch strength.
The pulleys don't have sealed bearings, but if that proves to be an issue you can always upgrade your jockey wheels at a later date!
The Shimano Deore M6100 brake calipers come in two options. Either twin piston or four-piston. They share characteristics with their higher end cousins, with inboard direct hose routing and of course compatibilty with the same brake pads. Both calipers use the same lever as shown above.
Where the magic happens with Shimano Deore M6100
While the life of a mountain bike journalist isn't difficult, it can be tricky to describe the differences with how some parts work. And while we haven't ridden Shimano Deore M6100 12-speed, we have experienced the technology in the higher tier group sets for over 12 months.
And while there are lots of nice changes, and a 10-51 range is lovely, Hyperglide Plus is what you will really notice. Without going into diagrams showing shift ramps, extended inner plates on chains, and explaining the small shapes that make up Shimano's Dynamic Chain Engagement chain ring teeth, I'll keep it simple: Shimano's 12-speed chains, cassettes and chain rings are the smoothest and fastest shifting pieces out there. The Hyperglide Plus system means that when shifting to a higher gear, the chain is pulled down to a smaller sprocket by the shaping of the cassette and chain, not just by the derailleur pushing the chain from one sprocket to a smaller one. It actually even shifts better under load! So go ahead and shift on a climb, out of a corner, or when taking off on an eMTB. Hyperglide Plus loves that.
The cassette is all steel, and runs on a beam spider so the larger sprockets are stiff under load. This does come with a weight penalty, but at 594g it's not terrible compared to the competition (Deore XT is 470g as a comparison).
The chain has the same shape and design as the higher spec models, but no Siltec slippery coating for longer life and smoother shifts, and no hollow pins like on XTR for stronger connections and a lighter weight.
The crankset is a 2-piece affair like the higher order in the Shimano food chain, and the Deore M6100 12-speed crank set comes in 170mm or 175mm lengths with either a 30t or 32t chain ring option. There are also 3 chain line options for rear spacing of 142 through to 157mm.
The cranks aren't Hollowtech, but the rings do have the same chain retention as all the higher end models. If you want a 28, 34, 36 or 38t, you could always mix and match from the other group sets.
New Shimano Deore M6100 hubs
In the past 6 months, the options for Micro Spline freehubs has exploded, which really was needed for greater options for stock builds and upgrades. Still, Shimano have released non-series MT-410 hubs, although they use a pawl system as opposed to the high engagment system of the higher end hubs.
There are 100/142mm and 110/148mm options, and as a first - they have radial cartridge bearings!
Pricing and our thoughts on Shimano Deore M6100
If you have been waiting for a cheaper 12-speed option from Shimano, well it's here. If you have been waiting for more range to pick and mix with for a new 12-speed build, well that's here too. As for a complete build? Here's the pricing that Shimano Australia shared with us.
Shimano Deore SL-M6100 shifter: $58.50
Shimano Deore FC-M6100 crank set: $166.50
Shimano Deore CX-M6100 cassette: $172.50
Shimano Deore RD-M6100 derailleur: $100.50
Shimano Deore CN-M6100 chain: $40.50
Shimano Deore BR-M6100 brakes: $144/195 for 2 or 4 pot
The benefits of bringing Shimano's 12-speed parts further down the price scale are many and varied. This means that intermediate level bikes will not only have very crisp and secure gear shifting, but also a dedicated 1x group set. For anyone new to mountain biking, that is a huge bonus. It also introduces a quality 4-piston brake to this price point, and a new hub system with radial cartridge bearings. And perhaps best of all, because the Shimano Deore M6100 group set parts are compatible with XTR, Deore XT and SLX, long term upgrades are easy to do.
And the best part? Shimano also did a new 11-speed and 10-speed Deore group set.
Shimano's 11-speed Deore M5100 and 10-speed M4100
It looks like the 12-speed gear, right? Well the general aesthetics of the whole Deore family of group sets have been updated, but the majority of differences might not be so easy to see.
There is a 11 speed and 10 speed option,  Or 22-speed or 20-speed if you want a 2x option. Or more accurately, if the bike is specced as 2x. As that is where you are likely to see more Deore M5100 and M4100
The 1x cassette for 11-speed is 11-51 on a normal HG cassette freehub, so this does bring Deore M5100 into the game as a solid 1x upgrade without needing to change a freehub. If you opt for 2x, the cassette is 11-42. Both are all steel. M4100 has an 11-46 1x option or 11-42 if you run two chain rings.
The rear mech has a clutch, is Shadow Plus and has 13t pulleys on the 1x specific M5100 mech. The RD-M5120 and RD-M4120 are a little different and work with 2x setups or 1x setups with a 46t or 42t maximum cog size respectively. They miss out on the larger pulleys and the M4120 model doesn't hav Shadow Plus.
The shifter setup is pretty similar for M5100 or M4100, with an iSpecEV mount or bar clamp options, Rapidfire Plus shifting with 2-way release, and the option to have a gear display.
If you are using a 2x system then Shimano have brought the same tech from their 2x12 systems to Deore, with the Rapidfire Plus Mono shifter. It's lighter and simpler and all that is required for the two positions.
The brake levers have been updated, matching the current MT410 2-piston and MT420 4-piston brakes. The lever benefits from a stiffer attachment to the bars, for greater braking control.
The brakes already look the business, but the new levers are a sweet update.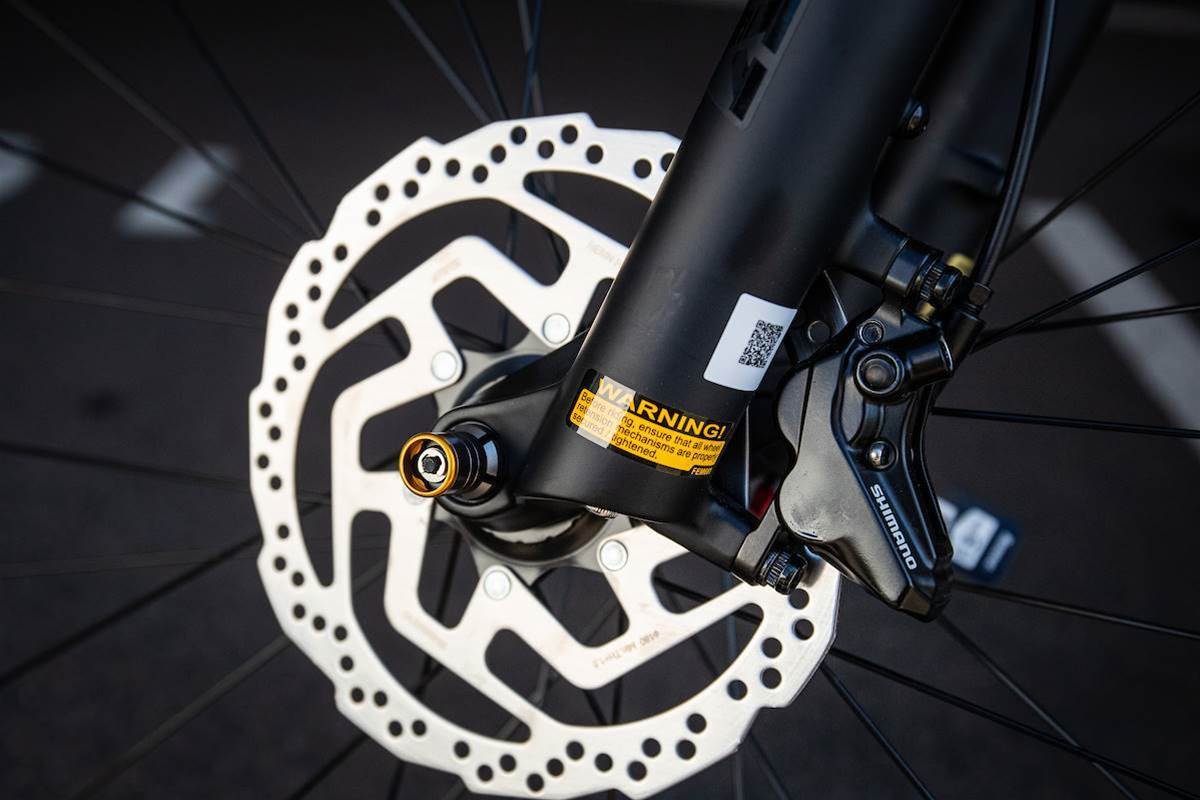 The crank set is pretty siilar, but compared to the 12-speed Deore M6100, they gain a 4 bolt chain ring attachment. With 170 or 175mm lengths available, you have 30 or 32t chain ring options, or 36/36 for a double setup.
Chain line is set at 52mm and should work for anything from a 135mm back end through to Boost.
Chains are the existing HG601 for 11-speed or HG54 for 10-speed.
We did get some photos of the 11-speed Deore M5100 setup on a Merida and it looks sharp. This is a great move to bring an 11-51t range to a lower price point, and with Shimano having this gear and the 12-speed M6100 parts in stock already, it could be an ideal upgrade - or just parts to keep an eye out for on 2021 bikes when they land in your local bike shop.
Here's a look at how the three Deore group sets play out - if you love product numbers you will love this graphic!
But wait, there's more...
New other bits from Shimano
Sure there is less fanfare compared to a completely new Deore group set, but Shimano have released a few other updates. Firstly, a new dropper post lever. The MT500 lever can use iSpecEV or a bar mount, and is a lower priced option than the current Shimano dropper - it doesn't use a bearing but otherwise the action is about the same.
What is also pretty cool is new flat mount brakes for XTR, Deore XT and SLX. A few frame designs use these due to design requirements with flex stays and the like, so this means you don't need an adaptor to put a Shimano brake on. 
Shimano have also released XTR crank sets with a chain line to suit Super Boost (157mm), and a Deore level 2x crank set for 142 and 148mm back ends, with a direct mount spide for 26/36.
And there is still more!
Shimano have a new MT601 12-speed wheel set, with a tubeless alloy rim, 27.5" or 29" options and Boost or non-Boost hub widths.
Also, with Deore making such a leap in performance, Shimano gave Alivio a solid work out with updated options for 3x9 and 2x9 group sets.
And what about eMTB?
The eMTB crowd aren't forgotten, with 630Wh batteries now available in internal and external options for bikes to be designed around.
There are also 12-speed eMTB chain rings for 157mm Super Boost back ends to make sure the chain line is spot on.
If you're curious about more details on any of the new bits'n'bobs, drop into your local Shimano dealer - and remember give them a call ahead of your visit incase you need to make an appointment.
Australian Mountain Bike