We've covered the trails, the riding and the racing in Tasmania pretty extensively.
We've covered the trails, the riding and the racing in Tasmania pretty extensively. But this trip to Tasmania allowed a little time to take the foot off the gas, and spend five days tasting the best of the North-East. From the trails, the cuisine and local produce, to the craft beers and local wines. Toby and Mitch from Shimano had enlisted Will from Two Wheel Tours to get an itinerary together for us – and with three campervans hired we'd be mountain biking snails, taking our worldly goods with us – just not very fast.
I'll do the reading between the lines for you – this was a product launch. But there were no presentations; PDFs or memory sticks to be seen. We all had bikes with either Shimano's M8000 XT, or M9000 XTR in either mechanical or Di2 guise. We had some of the new AM9 shoes to try out, some new PRO bars and stems, plus saddles – and some pretty bomber Shimano Trail wheels of either XT or XTR flavour. I had a full M8000 1x11 setup, including wheels, fitted to a Norco Sight C7.2 – and the thing looked way better than stock.
We were split into the different campervans, and I was left wondering if the selection was made preferentially by Toby or Will. Either way I managed to not get the 'kids' campervan, and was sharing with Toby and Chris Panozzo , who can whip up a mean coffee in just about any situation. This made us the 'A Team' by default.
Moving out of Launceston, our rumbling convoy pulled into Hollybank to cruise some of the lower trails, before a shuttle up to the top of Juggernaut thanks to Buck from Vertigo MTB Tours.
I have ridden a lot of long descents, but I don't think I have ridden something as sustained, and purpose-built, in Australia. It's got more than enough options to keep even the most talented riders entertained, and it's long enough to leave the fittest riders pretty worked at the bottom.
Shuttles aren't mandatory, and it is a two-way trail. I just didn't envy anyone riding up.
With another visit after lunch, the beers were cracked in the carpark and we rolled north to the coast, camping by the sea and getting the BBQ fired up – as much for warmth as for the ability to cook.
Heading inland again we made a line towards Scottsdale, and piled into Buck's Coaster van with our bikes on his trailer and drove across a paddock.
It seemed odd, but once across we set about climbing to Mt Stronach. It's not purpose built, but the trail feels perfect for mountain biking. It's a rewarding climb, with plenty of big slabs to play on up top, and a stunning view back across town.
The descent holds lots of line options up high, but you'd be best to keep your elbows in down low.
Lunch took us back into Scottsdale, to Anabel's. It's a self-catering accommodation option right in town, but they cater for functions too and we were treated to freshly cooked Tasmanian salmon amongst other delicacies.
Thankfully we had an afternoon of riding ahead, and we drove through the epicentre of North East Tasmania's mountain biking, Derby, and onto the Welborough hotel where we left the campers and got back in the shuttle for a run down Atlas.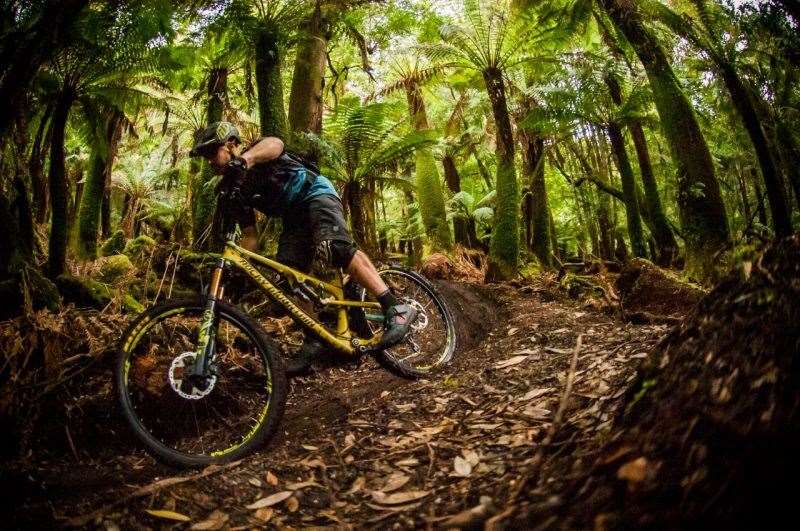 The next two nights at the Welborough Hotel were some of the best times of the trip. There was no phone service, unless you had coins for the pay phone out front.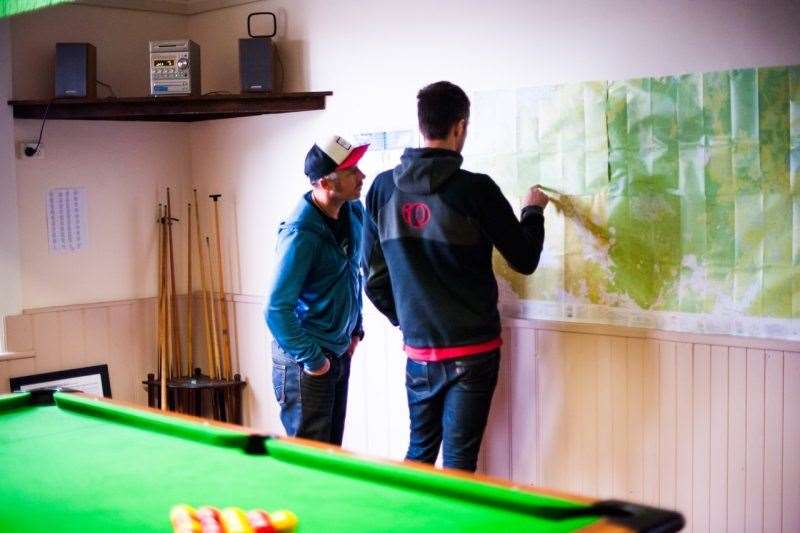 We cooked around a campfire, had some beers, or ordered something from the bar if we wanted to sample more of Tasmania's craft brews.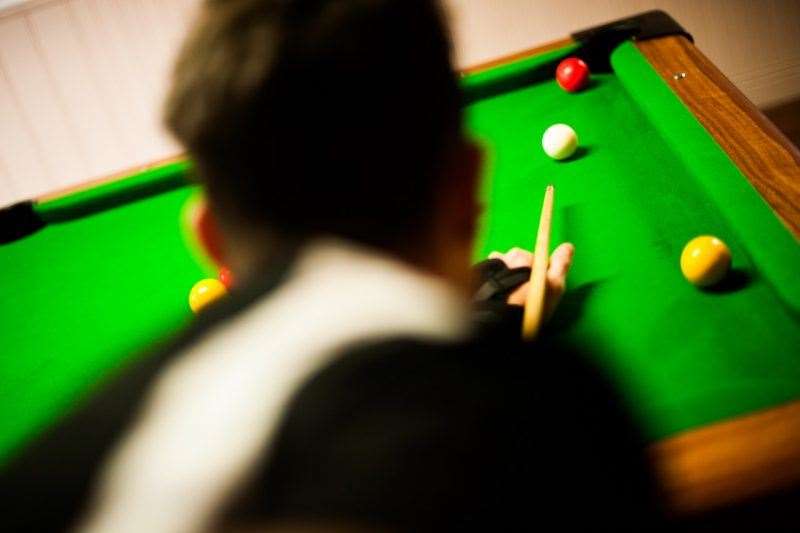 It was pretty wet, so riding time was shorter for the next couple of days – but we would mess around under a rambling shelter besides the pub, feeling dwarfed by the old growth forest and mammoth tree ferns that spread out from the hotel like some sort of ancient being.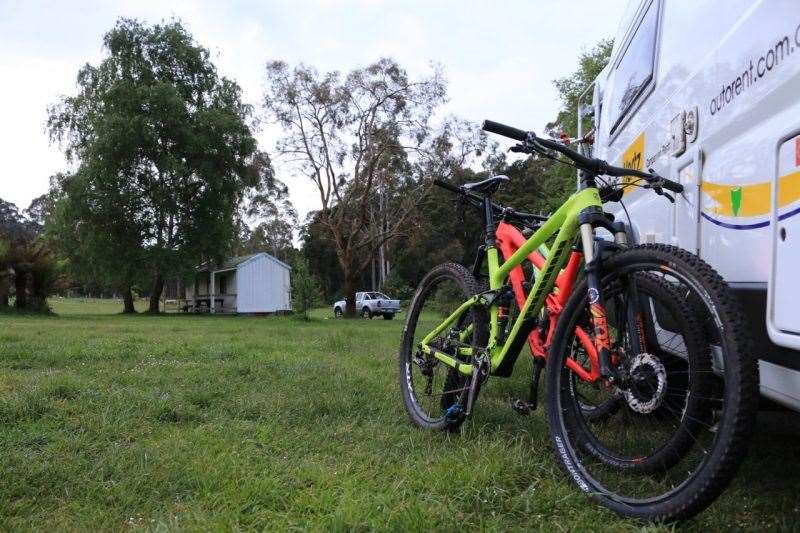 It's a remote area, and the riding experiences in the Blue Derby trail system – and beyond – are true wilderness experiences.
We rode some more, shared more jokes, and stopped back at some favourite trails on the way back to Launceston Airport. We packed bikes in the carpark of the campervan rental business, which is gratefully opposite the airport. It couldn't be much easier – unless someone did it for you.
I made it to the plane and sat down, happy to be on the way home but pretty stoked to have had five days riding trails with friends and eating like a king. I also realised that I'd never touched the group set on my bike. I hadn't test ridden it before leaving, and hadn't thought about it all week. While I didn't think Shimano could make their previous XT group more reliable – they have improved it dramatically and maintained the reliability. We can't even imagine how the Di2 version will surpass it.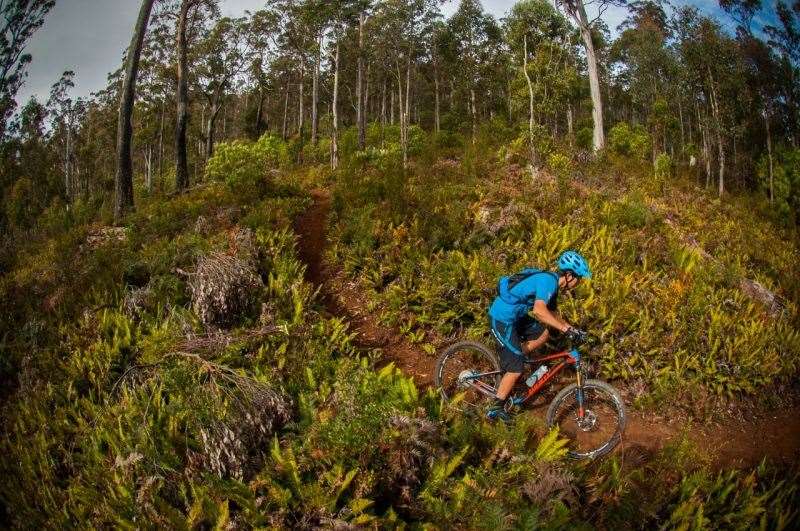 Thanks to Shimano, Two Wheel Tours and Tourism North East Tasmania for making this trip happen. And thanks to Chris for the coffee. All photos by Damian Breach
Australian Mountain Bike