Tasmania, and North-East Tasmania in-particular, has been the next big thing in Australian mountain bike trail destinations for a few years now.
Tasmania, and North-East Tasmania in-particular, has been the next big thing in Australian mountain bike trail destinations for a few years now. But in all seriousness, the amount of new trails being built through the forests of the Apple Isle is astounding – what's even better is how well the local government and local businesses are getting behind it.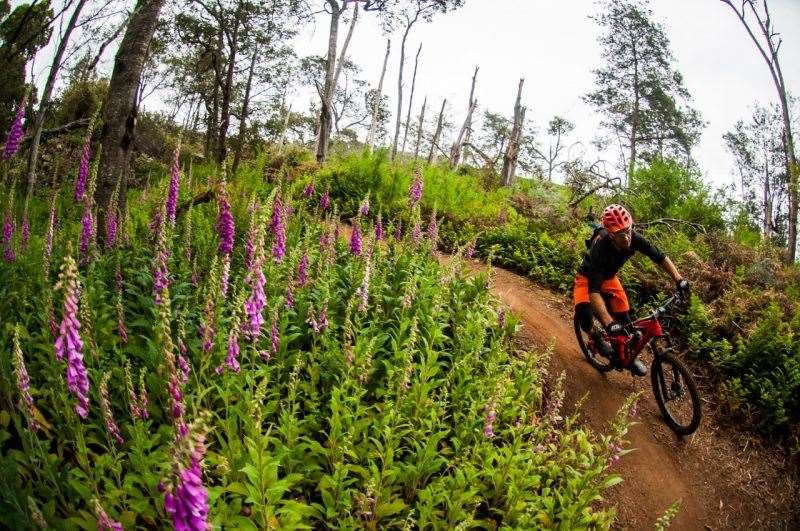 Beyond the mountain bike trails at Hollybank, including the well-regarded Juggernaut, the township of Derby has been the focus of a lot of trail building. Opening about 12 months ago, the initial series of trails continues to grow, and one of the most recent trails to open is the 10.8km long, all-mountain trail – Atlas. It opened in October and has brought a new option for riders who have already visited the Blue Derby trail system.
With naming, and signs, that depicts a trail capable of carrying the world on its shoulders, there's every chance that Atlas might become THE trail that supports new visits to the trails in the Blue Derby region.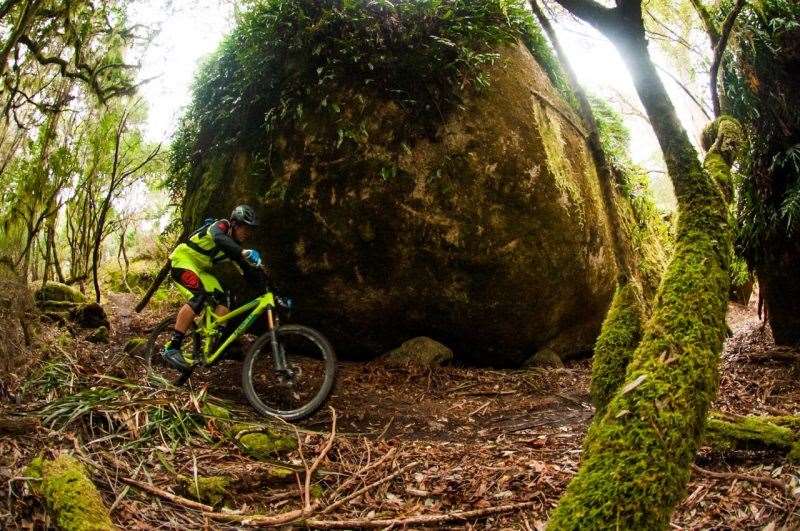 The trail design is as a point-to-point wilderness trail, and as such the trailhead is a bit of a way out of the Blue Derby trail centre. It's best accessed using a shuttle, and Buck Gibson from Vertical MTB Tours is setup for the very purpose. Bucks vans and trailers are in use through a lot of the North East of Tasmania, shuttling Atlas, Juggernaut and the Blue Tier. You could ride up the gravel road from the Weldborough Hotel, and back there from Derby if you wanted. It wouldn't be super-human, at about a 50km loop if you did some of the other trails at Blue Derby. But with a group of friends – get a shuttle and live a little.
The trail itself starts undulating through ferns and big mossy rocks. The trail is well built and starts to quickly lose altitude, with continuous flowing corners through the ancient rainforest, with hips and gaps there to hit if you're game. While it's got a few small rises, it is certainly a descending trail. The middle section can get a bit boggy after prolonged rain but much of it drains really well. The trail is best ridden with mates, as you will no doubt want to stop a few times on the way down to share the experience and talk through the previous sections. It really does take you away from the rest of the Blue Derby trails before bringing you back to them, and it is an excellent trail for taking you right out into the wilderness.
You will end up on Dambusters and have a few more kilometres of descending, before you're back at a junction point with quite a few possibilities.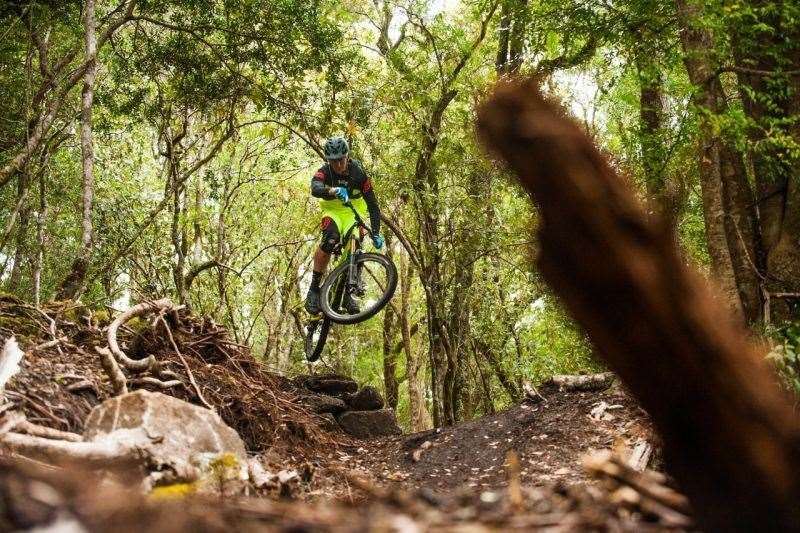 Getting to Derby
While the trailhead for Atlas is up on Mt Paris Dam road, chances are you'll be visiting the town of Derby or the Blue Derby trail region. This is about a 1.5 hour drive from Launceston, which is readily accessible by major and budget airlines from mainland capitals. Launceston airport has some easy hire car options as well. You could also come over on the Spirit of Tasmania if you prefer the slow boat.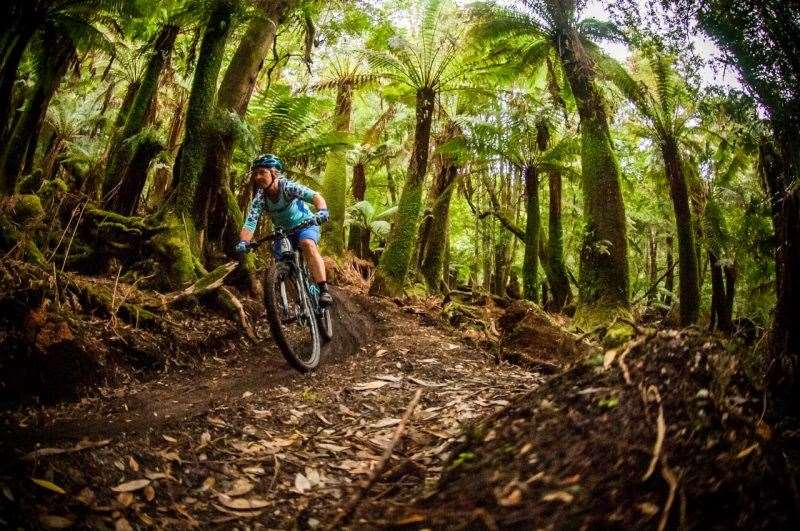 The trail is marked as intermediate, and although longer than many trails in the Blue Derby area, it's within the realms of any competent rider, even on a cross-country bike. That said, a more advanced rider on a trail bike or even all-mountain bike will be able to take advantage of the trail features that allow for some very fast lines and big gaps.
The trail ends on the Dambusters Loop, so it's not a short ride. You might end up riding for an hour, but more likely two or three, depending which trails you use to get back to Derby or elsewhere. Pack some water, a jacket in case the weather changes, and all tools and spares you might need along with food. Although you might bump into other people this is a point-to-point wilderness trail and you won't come across a town until you're finished.
The trail is 10.8km, but even if you headed straight back to Derby via Sawtooth you still have about 9km to ride. The Blue Derby trail system has over 40km of trails there to ride, so make a day of it
The Weldborough Hotel is a great place to stay, but they also stock every craft beer in Tasmania. You could also ride the Blue Tier trail from here, to make a great weekend of mountain biking.
Winter is cold, and probably wet. Summer and the shoulder seasons would be the best times to go. If you can take leave either side of school holidays – that would be an excellent choice.
The Hollybank trails are only about an hour away, and riding up Mt Stronach is a great old trail to ride out of Scottsdale. It's an old school climb to a pretty epic rock slab and cairn. And the descent is a blast.
Launceston has the best options, with ex-National Champ Ben Mather running AvantiPlus Launceston. Cycle Worx in Scottsdale are a little closer.
FACILITIES
Toilets: At Derby and the Weldborough Hotel
Drinking Water: No – and Derby is on a boil notice.
Parking: Minimal at the trailhead off Mt Paris Dam Road – you're best to shuttle from Derby or the Weldborough Hotel.
Trails Signposted: Yes, well marked and signposted.
Mobile Reception: Telstra usually, Optus by pure luck.
Shelter: No – only once back in Derby.
BBQ Facilities: Not at the trailhead. Eat in Derby or the Weldborough Hotel.
Accomodation: Either in Derby, or out at the Weldborough Hotel
RATINGS
Technicality 3/5
Fitness level 3/5
Cross-country 3/5
Trail 4/5
All-mountain 2/5
Downhill 2/5
Jump 2/5
Australian Mountain Bike