The World Cup event at Cairns this April will surely have drawn a few mountain bikers from around the country, and no doubt they'll also pack their bikes.
The World Cup event at Cairns this April will surely have drawn a few mountain bikers from around the country, and no doubt they'll also pack their bikes. Everyone knows about the legendary Smithfield trails where the World Cup is raced and, up in the Tablelands, the Atherton Mountain Bike Park is nearly as well-known and definitely worth the drive. It's worth noting that the region around Cairns boasts a number of lesser-known trails. Nestled just outside Mareeba on the Tablelands, and punching well above its weight, is Davies Creek. A small, peaceful trail network that's well-maintained, tonnes of fun, and well worth a visit if you're lucky enough to be in town.
Davies Creek boasts about 20km of old-school singletrack, and is close enough to Atherton (about an hour's drive) to squeeze in a ride at both in a day trip (be sure to refuel at one of the Tablelands' incredible eateries in between). If you're accompanied by family or friends who aren't riding, the Tablelands has a fantastic foodie culture with lots of farm and cellar doors to visit, as well as gorgeous natural lakes like Eacham and Tinaroo for a swim – enough to free you and your bike up for most of the day.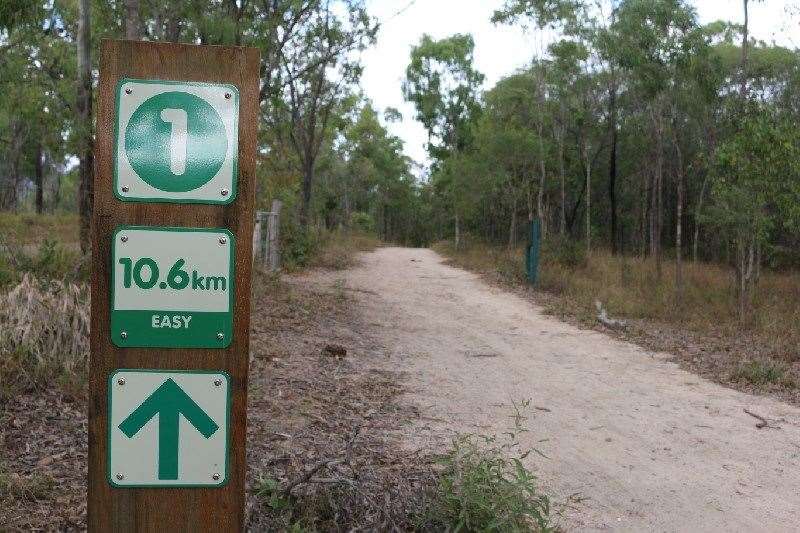 If you're up on the Tablelands for a day of mountain biking, be sure to leave your trip to Davies Creek for last. Your legs will thank you for finishing up on the relatively flat terrain, and the afternoon light filtering through sparse gums onto multi-coloured termite mounds creates a magical atmosphere for a pedal. On any day the place is teeming with birdlife and the afternoon sun turns a beautiful shade of gold as it reflects off the red and orange dirt.
Getting there
You'll need a car to reach Davies Creek. If you're based in Cairns it's about an hour-twenty up the range and down the Kennedy Highway, then a left-hand turn into Davies Creek Road. From Atherton it's about an hour, and you'll take a right-hand turn off the Kennedy Highway. Once on Davies Creek Road it's about a three kilometre drive on dirt to the trails. There's some parking on the left and a good sign and temporary trail map at the entrance (you'll probably need to lift your bike over a low fence). Trails are marked with blue and green arrows and easy to follow. Begin by turning left (east) once you're at the trailhead and ride in a clockwise direction (trails are one-way).
Technical nature
Riding at Davies Creek is a bit of a trip back in time. The trails range from slickly maintained to rough and ready, and while there are very few technical challenges that could be classed as 'gnarly' (even a black-diamond rated section was easily rollable), taking these sweeping corners at speed and riding logs and rocks unseen gave us plenty to smile about. It's a great beginner's track and a fun place to take the kids for a pedal, too. Most of the surface is fine gravel so it gets more technical with speed, and the main loop does incorporate a decent amount of 4x4 trail, but it's rough and undulating and rides like singletrack. There are a couple of creek crossings and mercifully little climbing – most of the trails pitch at a pleasant gradient whether you're going up or down.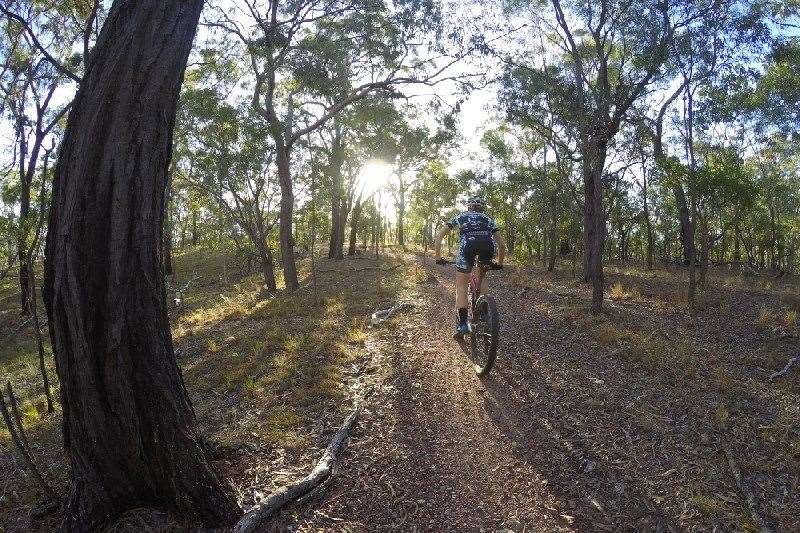 You'll need
Plenty of water, a phone (there's some reception at the top of the hills), first aid kit, and all your usual spares and biking essentials. And a mountain bike.
Distances
There's one big loop at Davies Creek (you'll jump straight on it if you turn left at the trailhead) from which you can add a number of short loops to lengthen your ride – there's enough there for a solid two- to three-hour hit-out and more if you take it easy. Don't get lazy and miss out on 'Balboa' (it's a bit rocky!), and 'McGraith's Maze' right out the back of the main loop.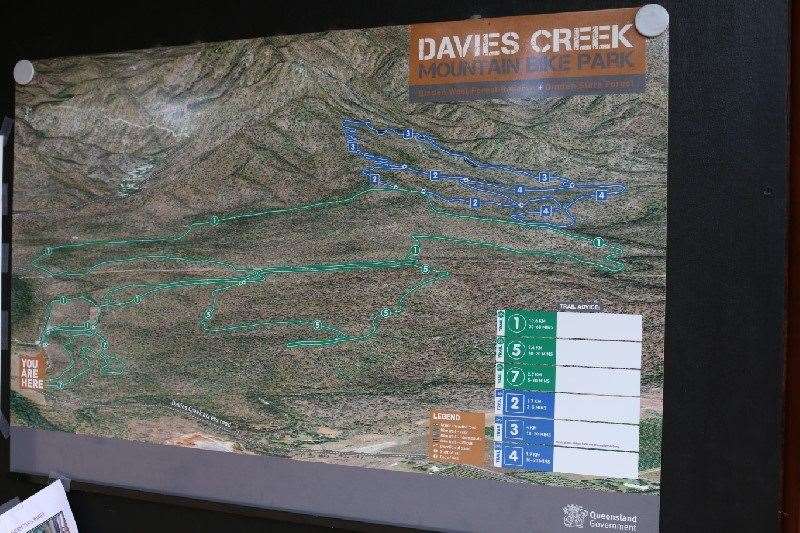 Local knowledge
Visit the Mt Uncle Distillery while you're on the Tablelands for an amazing treat made from their own green banana flour (trust us) and even a sneaky sample of their gin from the cellar door (www.mtuncle.com).
If you've got the gear (or a big comfy car) camping is available at Lower Davies Creek and gives you the opportunity to spend a night in peaceful woodland next to the crystal clear creek. You'll need to be completely self-sufficient (including your own drinking water) and to take out an e-permit (find out more at www.nprsr.qld.gov.au).
Best time of year
Dry season – in between about April and November.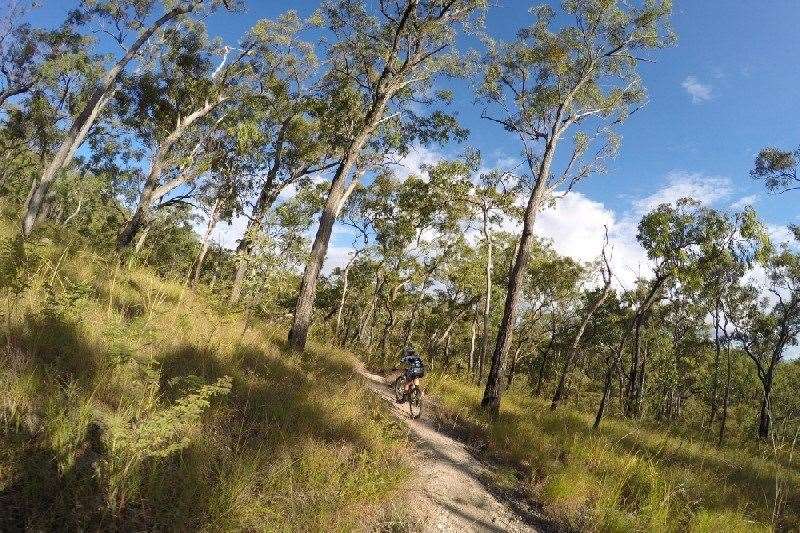 While in the area
There's tonnes and tonnes to do on the Tablelands – from the lakes and farm doors already mentioned, to more cycling at Atherton, to visiting gorgeous towns and villages dotted along the highway (Yungaburra is a tourist favourite). Down the range, the Skyrail Rainforest Cableway is a top attraction, as is Cairns in all its touristy, adventure-loving glory.
Local bike shops
Cairns is your best bet if you need servicing, but both Mareeba and Atherton have general sports stores where you could pick up the basics. Check ridecairns.com for more information.
Local club contacts
The Mareeba Mountain Goats look after the trails at Davies Creek and have some information on the trails on their website at www.mareebamountaingoats.com. The club is active and holds regular social rides. Their website also provides trail status updates in case of rain or bad weather – check if you're in any doubt mareebamountaingoats.com.
The Ride Cairns site is a useful repository of information about mountain biking in the region and is well worth a visit for inspiration: ridecairns.com.
Regular events
The FN Epic is run on Davies Creek trails and over surrounding roads and private property in October each year, and the infamous Croc Trophy typically passes through the area each year as well.
Facilities
Toilets: N
Drinking Water: N
Parking: Y
Trails signposted: Y – The trailhead is just across the road from the carpark.
Mobile reception: Patchy – and signposted!
Shelter: N
BBQ Facilities: N
Accommodation: Y – in nearby Mareeba or camping at Lower Davies Creek. Otherwise try the Big4 in Atherton for bike-friendly stays, or Cairns for innumerable options.
Ratings
Technicality 1/5
Fitness level 2/5
XC 4/5
Trail 3/5
All-mountain 0/5
Downhill 0/5
Jump 1/5
Australian Mountain Bike