GoPro launched the Hero4 to many accolades, with the Silver sporting an inbuilt screen, and the Black allowing you to shoot in full 4k – plus so many other options to customise the settings.
GoPro launched the Hero4 to many accolades, with the Silver sporting an inbuilt screen, and the Black allowing you to shoot in full 4k – plus so many other options to customise the settings. But does everyone need that? Many people just want something more compact. Enter the Hero4 Session.
HOW IT STACKS UP
The design is simple. Never has GoPro paid homage to the words 'point and shoot' in such a way since the original. Cube shaped, there are only two buttons used to operate the Session. There is a large Record button, and a secondary plain black button that is about 5mm wide, used to navigate the menu. Beneath the record button sits a small LCD screen, for you to visibly cycle through functions. It's very easy to use.
The Session takes micro SD cards (make sure you get a big one), which can be accessed by a small side port, covered by a water sealed door. This area also houses a micro USB plug for charging and data transfer. There are no external batteries which is a little inconvenient but for the size of the Session, it is no surprise. A welcome addition though is the microphones at both the front and rear, a handy new development and a way of cutting back on wind noise.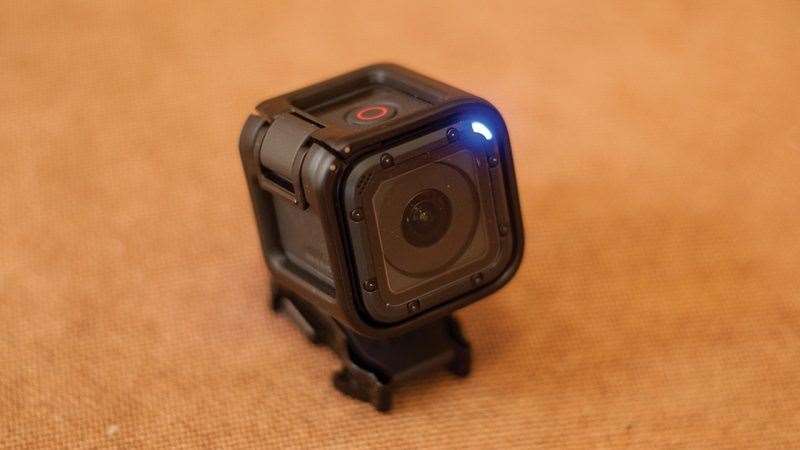 It's the smallest action camera on offer from GoPro at just 35mm all round, clasp housing included. An obvious, and welcome, step away from the larger rectangles of the rest of the range. It has its advantages with the body coming in at just 74 grams. Nearly halving the weight. I can tell you this makes all the difference when mounted on your head or chest. The only possible negative in the make of the session appears to be the screen, nothing is truly scratch resistant and I wonder how long it will last over after a big stack.
The Session is waterproof down to 10m, ample for most mountain bikers, certainly enough for the odd stack in a puddle or post race river session. In the box there is the classic helmet mount along with two new mounts, a ball socket joint and a low profile frame which allows it to go pretty much flush with the clip mount. Undeniably you can now get almost any angle you can think of or desire, somewhere within the three.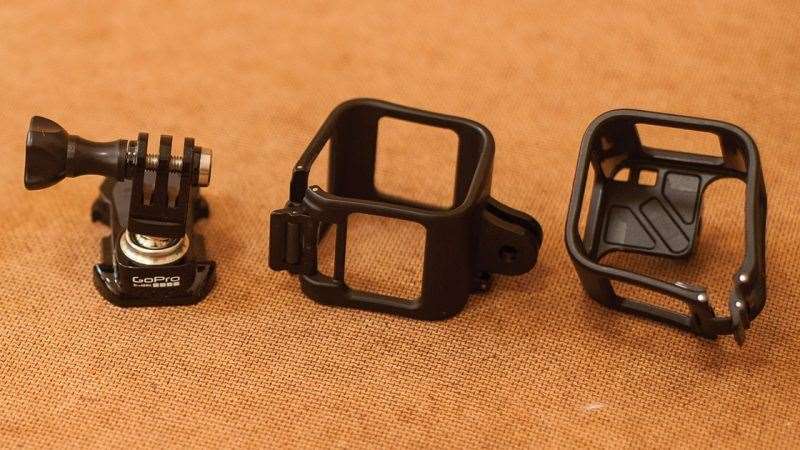 No, it will not do 4k resolution videos, unlike its elder brothers but let's face it the Sessions' pre dominant use is for capturing those trail sessions, track and run reviews and the odd hasty Insta edit. If this sounds like under selling the Session, it's not, the session will capture 1080p up to 60 frames per second and 720p at a 100 frames per second. Only the Black edition can do better in these cases. Slow-mo is a bit of a concern though at just 120 frames per second in WVGA format, which is the only option. So you may need to take an Alex Rankin point of view to your filming from now on. Finally the field of view is missing the narrow option but in the world of adventure sport this is hardly a let down with both medium and ultra wide still available. All of this is on par with high end cameras of recent years.
The Session's photo capabilities are less laudable than the Silver and Black with the camera able to take just 8mp photos compared to 12mp. Whilst this isn't a great inconvenience for photos that are likely to end up just on Facebook or Instagram, the big let down is the burst mode. The Session has a limit of just 10 shots per second compared to the GoPro Hero Silver which can take 30 in a second. It may not seem much but it is a difference in a high octane sport like ours where you might be looking at that millisecond smile or maximising that brown pow captured mid drift. This all said, if in doubt corner a photographer for something better, for day-to-day on the trail the Session provides enough.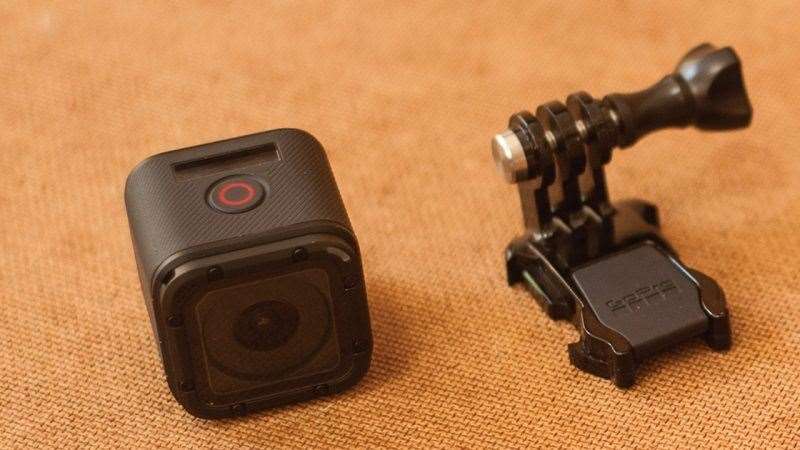 IN USESetup is logical with the simple one button design on the back used to cycle through to which resolution setting you want and then tapping the record button. For most sessions on the bike it's a simple case of hitting record and go.
It can be mounted in any direction with auto image rotate, meaning it's very hard to stuff up, with no need to flip your footage later on. Aligning the right angle, however, can be difficult with no LCD screen but the session has Wi-fi and Bluetooth built in. The GoPro app gives you access to what your camera is currently displaying so that you can alter your angle appropriately but also view, edit and delete what you've already filmed. Without the app, the Session becomes very basic.
OUR TAKEThere are a few features missing from the Session compared to higher models. Thankfully it feels just feels like a trimming of the fat, with only the essentials left on offer. For mountain biking it is spot on, small, efficient and hardy.
ESSENTIALS
Hits
- Size, weight and ease of setup
- Perfect for intended uses
- New range of mounts
Misses
- I'm just waiting to scratch that irreplaceable lens
- Photo taking ability
RRP: $299

From: gopro.com
Australian Mountain Bike