Nerang, just 12 kilometres from the tourist haven of Surfers Paradise, is a paradise of a different kind, with many kilometres of rocky, natural, hand-built trail to explore.
Nerang, just 12 kilometres from the tourist haven of Surfers Paradise, is a paradise of a different kind, with many kilometres of rocky, natural, hand-built trail to explore. These trails are at the heart of riding for Queensland's second largest city, and have been for many years. Starting near Nerang's purpose-built criterium circuit and velodrome, riders can enjoy rocky, technical trails perfectly-suited to XC and trail riding, and which present challenges for riders up to advanced level, with plenty of natural obstacles and hills.
While mountain biking has really taken off in South-East Queensland and the trails at Gap Creek and Daisy Hill closer to Brisbane have had thorough makeovers, Nerang has kept its raw, unadorned appeal. Times change, and so does mountain biking. These days trail-building is big business, and councils, tourism boards, and peak bodies are all in the mix, bringing millions of dollars of funding and supporting a growing industry. This is great for the sport – it's become more accessible, there are more places to do it, and it's more sustainable, too.
Nerang is right in the middle of just such a transformation, with locals working hard to have the existing network approved, rated, and signposted. While there are several sanctioned trails leading off from the velodrome that are recognised by Queensland Parks and Wildlife Service (QPWS), and maintained for riders to use, the vast majority of Nerang's fantastic network is not yet legal.
Talks with QPWS are currently underway, but in the meantime, here's a guide to the most accessible riding in the area. Nerang is a vast National Park of 1700 hectares, so if you're looking to explore its fire roads further afield, take a local with you, or chat to staff at Just Ride Nerang, which is right near the trailhead.
GETTING THERE
The Nerang trails aren't hard to find and are easy to get to by train, from Nerang station, or car, from the Pacific Motorway. The best spot to park is on Hope Street, and from there it's easy to find the Nerang Velodrome. The trailhead is just off to the right of the criterium circuit, and easy to see.
Nerang has something for every rider, beginner to advanced. The trails closest to the Velodrome are more suited to beginner and intermediate riders, and are linked up by fire road. Most of the Nerang trails are in dense scrub that opens out into grassy bushland with plenty of birdlife and the odd wallaby. The surface ranges from hardpack to gravel, with some sand patches and very rocky sections. For obstacles, there are plenty of logs to hop or roll over, along with waterbars and jumps for more advanced riders.
Popular trails at green and blue levels include the Casuarina, Brett's, and Pete's tracks, while the Three Hills track is better suited to a good trail bike with a decent amount of travel, and features some large berms and jumps. Most gnarly bits have B-lines or are rollable, and there's not much you can't tackle on a decent trail bike. Nerang is tougher to ride than South-East Queensland's other trail networks, and a great opportunity for locals to develop their skills and practice on rougher surfaces.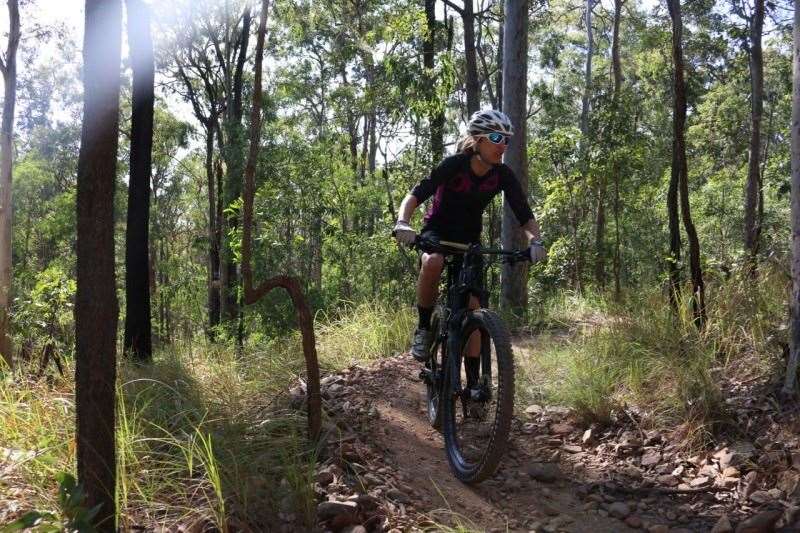 YOU'LL NEED
Plenty of water and food, spares, and a big smile. The locals are friendly and it's a popular area for a weekend ride. Look out for horse-riders, walkers, and runners on the fire roads.
DISTANCES
There are up to 50 kilometres of trail in Nerang National park, much of it linked by fire road, but not all of this is legal. At this stage, the trails approved by QPWS and the local trail alliances provide about 20 kilometres of excellent quality riding.
LOCAL KNOWLEDGE
Getting the trails legalised is a hot topic at Nerang. Sticking to the signposted trails will help the cause.
BEST TIME OF YEAR
Nerang is fabulous year-round: perfect for an afternoon ride in winter or an early morning spin in the summer months, when it's also a good idea to head to the beach to cool off.
WHILE IN THE AREA
A trip to Nerang is wasted if you don't head to one of the Gold Coast's superb beaches for a swim afterwards.
LOCAL BIKE SHOPS
Just Ride Nerang is a fabulous store with helpful staff and just a stone's throw from the trailhead. They are a great to drop in for a browse after your ride. They also have a range of hire bikes if you're travelling through the area, and there's a new café being built right in the same building.
LOCAL CLUB CONTACTS
Gold Coast Mountain Bike Club (GCMTB) are very active in caring for the trails at Nerang and often have social rides in the area.
FACILITIES 
Toilets: Yes - Velodrome
Drinking Water: Yes - Velodrome
Parking: Yes - Velodrome
Trails Signposted: Yes – but only a few.
Shelter: Yes - Velodrome
BBQ Facilities: No
Accomodation: Yes – Gold Coast or Nerang have many options.
RATINGS
Technicality 3/5
Fitness level 3/5
Cross-country 4/5
Trail 3.5/5
All-mountain 2/5
Downhill 1/5
Jump 1/5
Australian Mountain Bike