What if I were to tell you about a dream destination that had over 400 miles of singletrack at your disposal? A place high up in the mountains, where you could explore a new trail every day for weeks on end? A place with trail connectivity like nothing else you've experienced before, where you could take advantage of a free bus service and chairlift infrastructure to link up multiple trail centres into the one epic ride?
What if I were to tell you about a dream destination that had over 400 miles of singletrack at your disposal? A place high up in the mountains, where you could explore a new trail every day for weeks on end? A place with trail connectivity like nothing else you've experienced before, where you could take advantage of a free bus service and chairlift infrastructure to link up multiple trail centres into the one epic ride?
But what if I were to tell you that this place wasn't just all about the riding? What if this beautiful alpine environment was also packed full of family-friendly outdoors activities, and free open-air music festivals during summer? And what if it had an amazing foodie culture too? A place with multiple microbreweries, a whiskey distillery and award-winning restaurants?
Would you tell me I'm dreamin'?
I would too, if it weren't for the fact this mountain bikers dream really does exist. And it's called Park City.

Mining IMBA Gold in Park City
When most Aussies think of mountain biking in North America, the traditional destinations that come to mind are places such as Whistler, Moab, and Sedona. It's true that there are some amazing riding destinations dotted all around the US that many Aussies choose to visit every year. We have some great riding in our own backyard, but it isn't until you make the trip over to North America that you realise just how good mountain biking infrastructure can really be.
This is no more apparent than in Park City; a beautiful alpine town located just 40-minutes East of Salt Lake City, Utah. Park City hasn't traditionally been on the Aussie mountain biker's radar, but it's been steadily growing in popularity over the past few years with both the local and international mountain biking fraternities. Back in 2012, IMBA (International Mountain Bike Association) awarded Park City as the world's first Gold-level Ride Centre. This was (and still is) a huge deal, and it saw Park City setting the benchmark for all other trail centres around the globe. In recognition of this, the town is now a regular host for the annual Bike PressCamp event, while companies such as GT and Scott Sports adopt Park City as a platform for new product launches.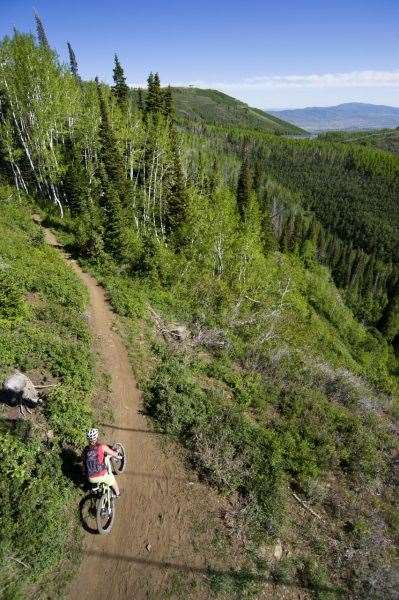 To find out if this hidden gem really is the destination that mountain bikers' dreams are made of, I escaped winter back home and made the trip over to Park City to find out what all the fuss was about.
Sin City
If you're planning an overseas adventure holiday with your riding mates, you must put Utah on your list. Utah is an enormous state with some incredibly diverse environments, and it's got a lot to offer for those who enjoy the outdoors. In fact, the West is home to some of the best riding in North America. Within a 3 to 8-hour drive in any direction from Salt Lake City, you have a multitude of singletrack mecca's available to you: Moab, Hurricane, Tucson, Sun Valley, Flagstaff, Grand Junction, Steamboat Springs, Jackson Hole, Durango, Fruita, Boulder, and Crested Butte just to list some of the more notable ones. But right in the middle of all that is quite possibly the most 'complete' destination of them all; Park City.
For those unfamiliar with the Park City name, the town is most famous for playing host to the Winter Olympics back in 2002. Park City has been known as a premier destination for snow sports since the 1970s, but it was the Olympics that really put it on the map. As the outdoors playground for Salt Lake City, Park City is kind of like what Mt Buller is to Melbourne, or what Thredbo is to Sydney. Except for the fact that it's a helluva lot closer to the city, and there's also a whole lot more riding to be had.
There's plenty to see and do in Park City whether you're into cycling, snow sports, hiking or fishing. The town has an upbeat vibe, and it's packed full of friendly people who are there to soak up the fresh mountain air alongside you. There are hiking trails to explore, lakes to paddle on, adventure playgrounds for kids, and zip-lines galore. You can even ride down the Olympic bobsled track on a customised sled with wheels. I did. It's terrifying.
Converse to what you might expect from Utah, Park City also has a great party atmosphere, with the main street of town lined with gourmet restaurants and saloon bars that constantly hum through warm summer nights. There's also a heap of outdoor festivals available to you during the warmer months, including the brilliant 'Savour the Summit' food festival and numerous free open-air music concerts too.
Of course Utah is known for being a conservative state with strict booze laws and its majority Mormon population, but you wouldn't know it when you step into the Park City bubble. In fact, locals jokingly refer to Park City as "Sin City". This was no more apparent than during my tour of the High West Whiskey Distillery, which you'll find in a beautifully restored historic building right in the middle of town. Known for producing some of the finest whiskey in America, High West itself has become a destination for whiskey lovers and foodies alike. The fact that a craft whiskey distillery doesn't just exist, but thrives in a state that is 60% dry is amusingly ironic. Craft beer is also a growing trade in Park City, with the Squatters, Wasatch, Park City, and Shades of Pale breweries becoming well known for their excellent produce. My personal favourite is the brilliantly named 'Polygamy Porter' from the Wasatch stable.
So with seemingly all the right ingredients to create a world-class riding destination, why haven't we heard more of Park City before?
Mountain Biking to the Rescue
As with many alpine resorts around the world (including Mt Buller & Thredbo), climate change is wreaking havoc on the reliability and consistency of the winter snow season. This has forced tourism operators to look towards alternative ways to bring people into town. Fortunately for Park City (and us), the region also has a deep heritage with mountain biking, having played host to many a NORBA and World Cup round through the 90s. In fact, Deer Valley Resort (of Park City) was one of the first places in America to offer lift-assisted mountain biking. Many of those rugged black diamond trails still exist today, but they're now joined by a huge network of dedicated singletrack that is growing every year. As such, mountain biking has become an integral component of Park City's push to attract tourists to the area for more months of the year.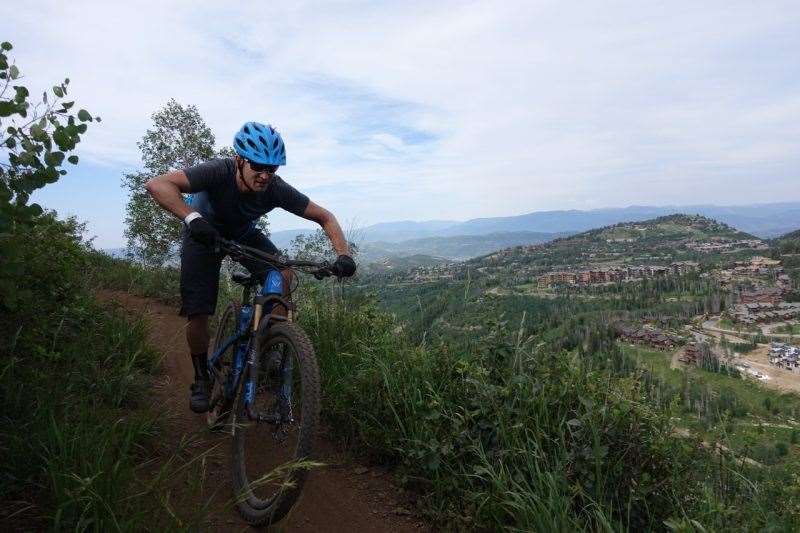 "With winters becoming less and less reliable, cycling is a great way for Park City to sustain its tourism economy in what were traditionally the 'dead' months", explained Steve Graff of Deer Valley Resort in Park City. I met Steve during my trip to Park City, and like many of the people I rode with or shared a beer with, he was not only super friendly, but super passionate about his job too. Steve has been working as a ski patrol and mountain bike trail manager in the Park City region for over 20 years, and he cites the people and the environment as why he still loves living there.
I asked Steve about the transition of mountain biking in Park over the years. "It gained huge popularity in the early 1990s and everyone went out and bought a mountain bike", Steve explained. "Then they realised it was hard so they hung them in the garage. Technology has really opened the sport up again to the mainstream. Better suspension, tyres, brakes, everything is better and trails are more accessible to more levels of rider than ever before."
Like a lot of the best riding locations in the world, many of Park City's trails are built on the old mining tracks that used to dominate the area. Back in the 1800s, Park City was the hotbed for silver mining in the West, and the evidence of its prevalence is still present around town today. The main street of town is lined with charming period-style buildings, and business names such as the Silver Baron Lodge, the Sterling Express and the Silver Star Café pay homage to the town's days of old.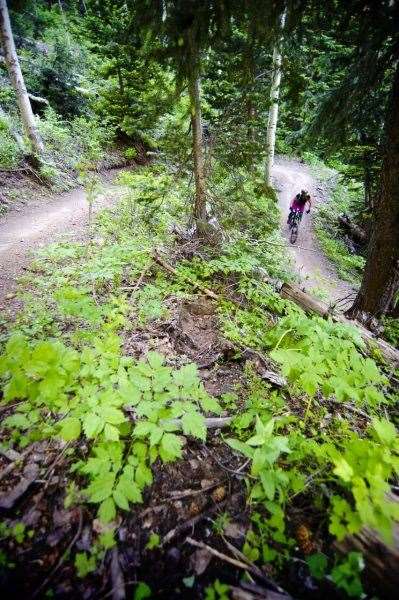 Riding around the singletrack of Park City, you'll come across many relics of the mining days, with old processing plants and rusty furnace doors scattered amongst the mountain trails. Deeper into the derelict mine shafts is a lingering network of tunnels, which were used to dig out silver some 150 years ago. It's estimated that two-thirds of the available silver in the Park City region is still underground, and so if the raw material's price was to ever go up, you can guarantee all of those mineshafts would be recommissioned. Let's hope that's not the case for a while though!
Trail Diversity in Park City
One of the unique aspects of Park City is the fact that it's made up of three different riding zones lined up next to each other. Each zone has its own unique feel and its own unique network of trails, but they all offer the ability to access higher altitudes courtesy of chairlifts that leave right from the centre of town. Combined with the spider web of trails that link all of the resorts together, you can begin to fathom just how good the trail connectivity is over the region's 400-mile network of singletrack.
Closest to Salt Lake City is the Canyons Village of Park City. This area is home to the Utah Olympic Sports Park, where you'll find enormous ski jumps and the hair-raising bobsled track. While there is a broad range of riding available, Canyons Village tends to attract more gravity-focussed riders. There's also the purpose-built Trailside Bike Park that contains slopestyle courses, dirt jumps, pump tracks and full-blown DH trails, all of which is 100% free to use and publicly funded – how cool is that!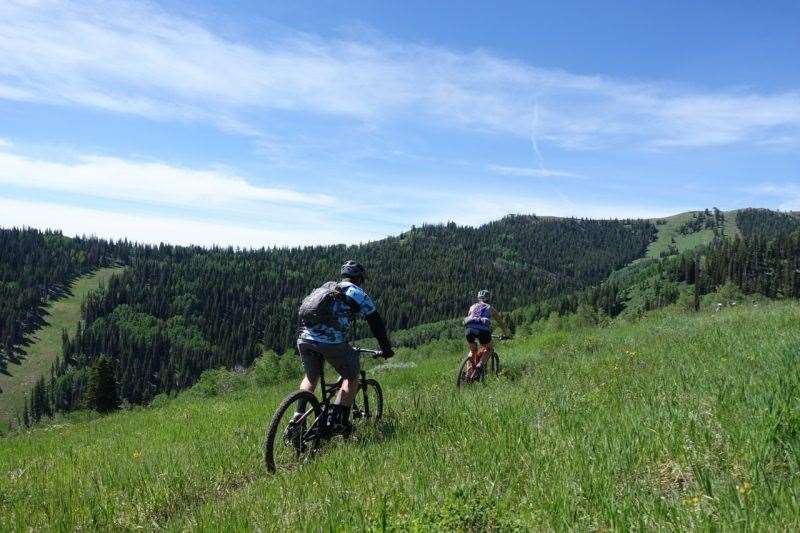 Further up the valley you'll find Park City Resort. This is the main hub of the Park City region, with the lion's share of accommodation and amenities found here. The riding has more of a backcountry XC flavour, and it is without doubt the most accessible trail network for families and new riders. There are still black diamond trails to be had though, with lots of fast and rooty descents that'll spiral you back down into the centre of town.
The third and final riding zone is found at Deer Valley Resort. Sitting at the top of the valley, Deer Valley offers access to some of the highest altitude rides in the Park City region. Many of the trails have evolved from old 90s NORBA downhill courses, with the sprawling network offering up a very raw and natural feel overall. New flow-trails are beginning to develop, including the incredible 'Tidal Wave' trail that offers head-height berms and huge rolling table-tops. But it's the rawness of black-diamond trails like 'Fireswamp' that'll have technical riders really frothing at the gills.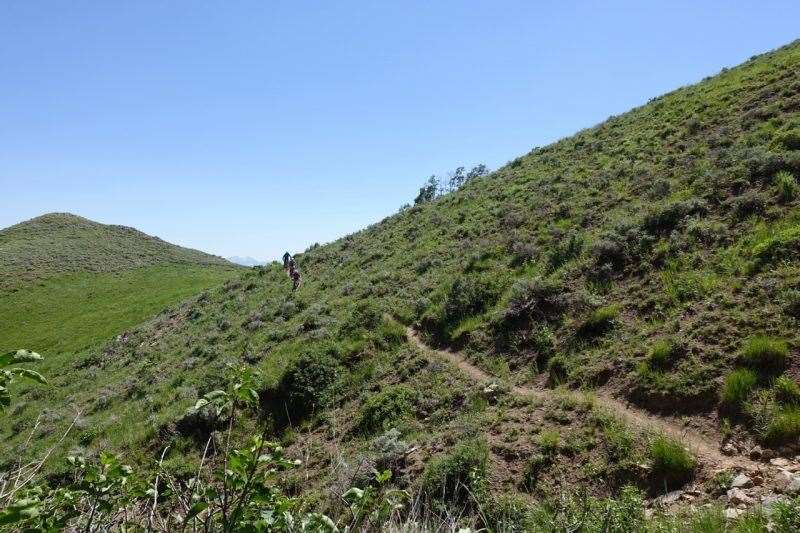 While each trail centre offers its own unique flavour, similarities in the terrain and the flora tie them all together seamlessly. Across the wider Park City region, you'll find lots of fast, flowy singletrack through grassy meadows, scrub oak and sage, while further up the mountain you'll be immersed amongst the aspen groves that reach all the way up to the alpine. The riding surface varies from smooth carpet-like loam in amongst the pine forests, to red volcanic rock on the more exposed ridgelines. For those wanting to ride a little further away from the resorts, there are some incredible backcountry rides. Indeed there is terrific diversity in the riding across the Park City region, with something for nearly everyone. And no matter how busy it gets in town, it doesn't take long for you to end up on a trail, on the side of a mountain, all by yourself.
Must Do: The Mid Mountain Trail
Without doubt one of the best rides you can do in Park City is the Mid Mountain trail. As one of the first IMBA accredited 'Epic' trails in America, Mid Mountain has earned its lofty reputation for a number of reasons. Firstly, it connects all of the trail centres together, traversing the mountain above Park City, starting up at Deer Valley and making its way down to Canyons Village. Secondly, it's an epic kind of ride. Totalling 23 miles (37km) from start to finish, the Mid Mountain trail will earn you nearly 3000 feet of vertical by the time you finish up in Canyons. Thirdly, it's a ride that takes you through many different environments along its length, while offering stunning views of the surrounding region. The fact that you're riding at 8000 feet is pretty special!
One of the unique drawcards for riding the Mid Mountain trail is the ability to take advantage of Park City's free bus network. Implemented for the Winter Olympics (and retained ever since), this free bus service runs return trips from the Canyons Village all the way up to Deer Valley. Cyclists are encouraged to use the buses as a free shuttle service up and down the valley, with bike racks on the front of the bus allowing for hassle-free portage. It's a simple service, but it is absolutely brilliant. In Steve Graff's words, it means that you can "Leave the car behind and make your hotel your trailhead". And during my visit to Park City, that's exactly what I did. Leaving my accommodation at Park City Lodging, I rode the bus all the way up to Deer Valley where I started on the Mid Mountain trail. One epic ride and 4 hours later, I simply jumped on another bus at Canyons Resort to get back up the valley to Park City. Brilliant!
Planning Your Own Trip
Travel: Fly into Salt Lake City International Airport. Park City is just a 40-minute drive.
When: The official riding season kicks off in early June and runs through to late September, though you can typically ride from mid-April through to late October.
Stay: Park Station on Main Street. Surprisingly, rates are actually quite cheap through summer, as it's technically the off-season for what is an alpine resort.
Bikes: White Pine Touring offer guided tours, workshop service, skills clinics, and rental bikes. I rented a beautiful Specialized Camber EVO 29er when I rocked up to Park City, which saved me travelling through US customs with a bike.
Info: Head to MountainBikingParkCity.com for information about the area, and checkout MountainTrails.org for trail maps and riding information.
Australian Mountain Bike