The 2021 AusCycling National Championships have landed in Maydena Bike Park - here's how the next five days look.
After the 2021 AusCycling National Championships in Maydena Bike Park were announced last year, plenty of people were wondering about it. January? Tasmania? Really?
You can forgive the uncertainty. Tasmania is as quick to to close its borders as it is to snow in summer, and January seemed a little too close for comfort - not to mention a peak period for travel. Cue a date change, and all of a sudden March looked like a great idea. There have been a few speed bumps, but the circus is happenning, and riders have arrived or are on their way to Maydena Bike Park, Australia's largest gravity mountain bike park.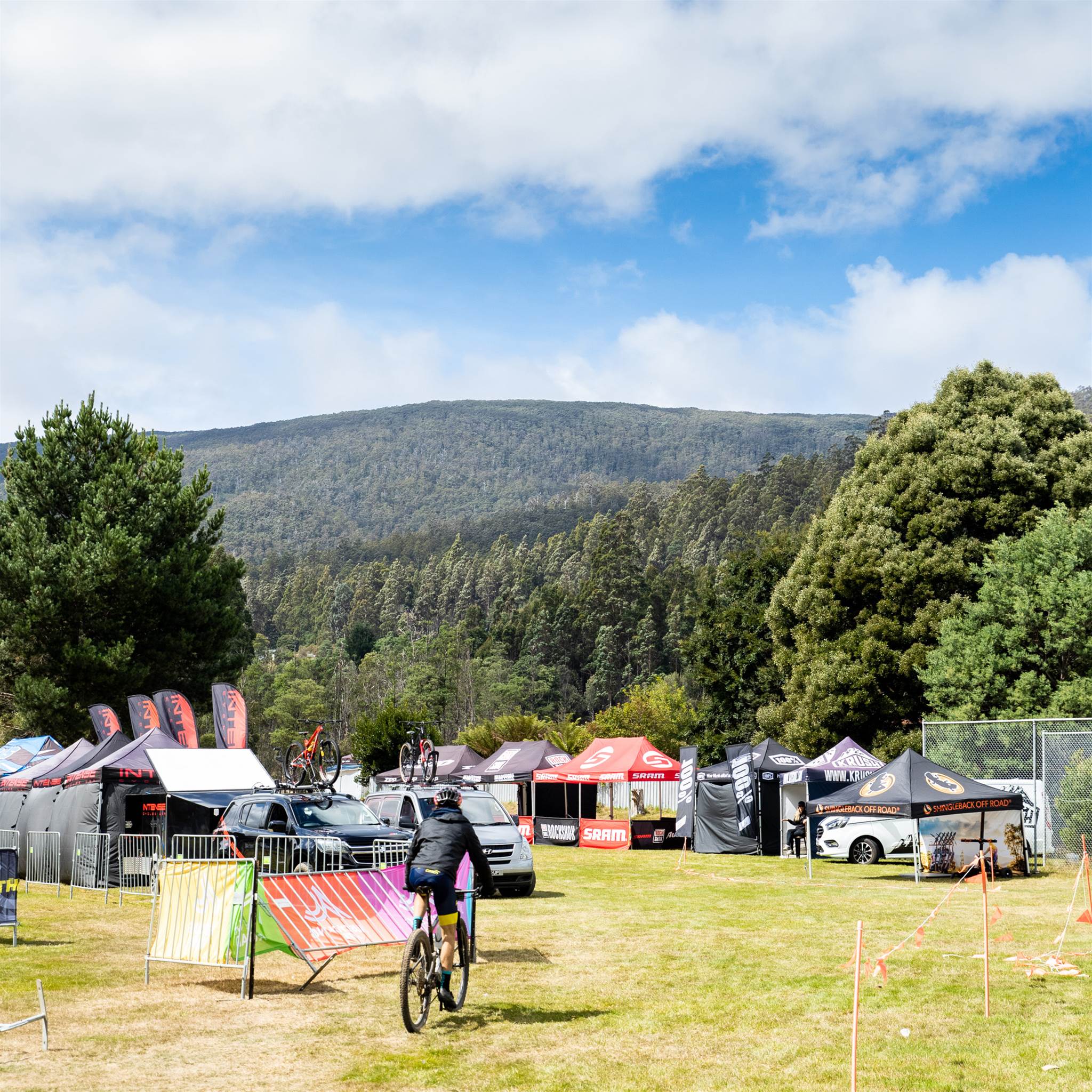 This is also a prime time to see how the merger of MTBA into the other cycling federations to create AusCycling has worked out. Will the powers of everyone combined make a stronger being - like Power Rangers? Or, will the pressure for track and road medals push off road disciplines to the sidelines? This week should be the perfect time to read the tea leaves to see if we're looking at a new and improved MTB version 3.20.1 at a advocacy, competition and development level.
So what's on, anyway?
Wednesday 10th March
Racing kicks off on Wednesday, with adaptive XCO racing and eMTB XCO racing. Both events will use a modified XCO course to suit the disciplines.
Dirt Art trail crews put the finishing touches on the courses last week - and based on what we've seen they look committing!
It's also official practice for XCO, and XCR (Team Relay) which gets raced in the afternoon. This is typically a great race to watch, so if you're on the ground - get track side!

The Downhill track walk also takes place today, with practice afterwards.

Stay tuned for a wrap up from the day's racing - we'll have a gallery online.
Thursday 11th March
Another busy day with XCO practice and XCC (short track) racing for most categories except Elite, U23 and U19 - they race on Sunday.
Downhill practice is on, and we'll see how riders tackle the trail that has been put together in Australia's biggest gravity MTB park. Some social commentary said it looked like a flow track. But if you haven't been to Maydena, then you don't understand how steep it is - and how much the low light of the forest hides.
XCO races also have a seeding time trial to stake their claim for their position on the start line. Pump Track practice and qualifying runs into the afternoon.
We'll have a wrap up from the XCC, and hopefully a couple of bike checks to roll out online as well.
Friday 12th March
On tired legs, all categories will be racing XCO, except for U23, Elite and U19 (who race on Saturday).
Downhillers have another track walk (what, you couldn't take a whole week off to come on Wednesday?) and there is practice for Group A and Group B, as riders build speed.
The Pump Track finals close out the day. We'll have a gallery of that and some wrap ups from XCO.
Saturday 13th March
Game day for Elite, U23 and U19 XCO racers - with women off first. 
Trials is on, and there is even a come and try category! If you don't get your hop on, don't miss the elite men and women at 4pm to see the skills on display.
Downhill practice leads to Downhill seeding - so who's found their speed on the Maydena DH course?
Expect a huge gallery from XCO, one from trials and a look at who might win the Downhill titles.
Sunday 14th March
Sunday is normally all about Downhill, but somehow XCC (Short track) has crept in here too! So if you feel too much cross-country is never enough (and hey, it's full of bar to bar action) then make sure you're at the bike park at 10am as racing kicks off and watt bombs get dropped.
Of course, eyes will be cast upwards, with Downhill Finals starting at 2pm. Don't miss it, as once riders are in the chute the action comes thick and fast.
We'll have a mega gallery from both - and just like that, the event will be over.
Stay tuned, and catch the full, detailed schedule right here.
Photos: Nick Waygood.
Australian Mountain Bike