THE ANGEL MOUNTAIN
THE ANGEL MOUNTAIN
Despite sitting almost in the middle of Switzerland, Engelberg is actually one of the country's easiest ski resorts to access. Placed within the Obwalden canton, Engelberg is less than 45 minutes by train from Luzern, and only a little longer from Zurich Airport train station. This makes it an easy choice for travelling Australian mountain bikers – even more so because there are so many other activities around.
The village of Engelberg isn't overly high at about 1000m, but it is dwarfed by Mt Titlis, which rises impressively to 3238m. Mountains rise sharply almost all around you, but Mt Titlis garners the most attention, with its steep off-piste ski slope rising sharply, serviced by express telecabines. While the resort town still has a long winter ski season, from October until May, the lift and hotel infrastructure is open throughout summer and draws many tourists thanks to the high-mountain restaurants and activities. While Engelberg has been famous for many reasons through history – from it's Benedictine Monastery, to the high alpine pastures around Truebsee, the mineral waters, great cheese, skiing, walking, clean air – more recently, it's becoming well-known for mountain biking.
TURNING THE THIN RED LINE TO INTO SINGLETRACK
The Swiss love to be outdoors, it's part of the national psyche to be in the forests, up in the mountains or enjoying the lakes. The Swiss Alps are serviced by amazing infrastructure to allow unprecedented access to the high and beautiful places around the country. It sounds condescending, but the whole country is like a giant train set, with seemingly impossible cable cars ascending vertiginous peaks, while trains go through tunnels and cross via ducts. But this compact mountain wonderland is a reality.
Switzerland has a very open position on mountain bike access. Every walking track is open to mountain bikes, unless there is a sign on the trail forbidding it. That means, you can look at any trail map, with a spiderweb of red lines stretched over it, and be looking at almost limitless possibilities for mountain biking. Behind the postcard perfect mountains, the clear skies, green fields and blue lakes – Switzerland offers more levels of perfection. Those views are possible in quite a few regions around the European Alps, but the difference is the actual mountain biking. Beautiful mountains aren't always matched by amazing trails – but they always seem to be in Switzerland.
Before arriving in Engelberg, we had a few routes picked out, thanks to route descriptions and maps that are on the Engelberg homepage. But with such a high number of options it was hard to choose what would be the best choice, and what would be in good condition. We got in touch with Prime Bike School, who have some local guides and a huge amount of experience. They run skills sessions as well, but they were happy to talk about the region and make some suggestions.
Prime produce their own map, and it shows some suggested hiking and mountain biking routes, and is by no means exhaustive. If you want to get out and explore, invest in some maps from singletracks.com before you go. They mark the best bike routes and have them well graded. But be aware that black really is black.
There had been some late summer snow, so Dani at Prime made a suggestion to look at the Brunnihutte route, as it is mostly on a south facing slope, and has great views to Mt Titlis – plus the Brunnihutte serves some pretty tasty food.
We met up with our guide Dario and took a telecabine to 1500 metres, and rode up the narrow sealed and gravel double-track for the last few hundred metres of ascent. The climb was mostly gradual with a few steep pinches as we snaked through farms and traversed forested slopes. The clatter of cow bells was ever present, mixed with the tapping of hikers walking poles. Farmers waved, hikers greeted us as we did them. On a sunny day in late summer, everyone was happy to be in the mountains.
As we snaked around the slope, we had an immense view down to Engelberg, and could see straight across to Mt Titlis, where the fresh snow stood out in brilliant white.
We approached the Brunnihutte with paragliders launching off the steep slopes below us, and people unloading from the smaller lift that comes all the way to this point. Hikers, mountain bikers, mountain runners, and families young and old congregated at the hut and around the lake and pasture nearby. It's not difficult to get to the Brunnihutte, and the terrace offers unobstructed views across the valley – and great food! After roesti, strudel and coffee we were fortified for the singletrack traverse behind the hut.
Much of Switzerland is farmed, and the rolling singletrack traverse moves through some cow country. Despite a slightly uphill start, the line of trail slithering over the hills in front of us made it easy to push hard up the small inclines. We continued to pass small farm buildings, or 'alps' where families bring their cows to the high pastures in summer.
Soon enough we move away from fields and into forest, coming into steeper hair pins, and fast trails crossing scree slopes. The forest is dark and we need to pay close attention to rocks, but everything is manageable to ride blind, as long as you get back far enough.
Almost in an instant we pop out of the forest after one long rocky chute, onto a high mountain service road, and stop to let our heart rates drop, each of us interrupting the other with stories of near misses and exhilaration from the last descent.
BEYOND THE HORIZON
Dario leads us down the road through some more farms, and soon enough we're back onto trails in the lower forests, before finishing up in town. The whole ride, Dario had stopped to show us other options, putting real destinations against the lines we had seen on the map.
Many of the trails in Engelberg, and in Switzerland, aren't purpose-built for mountain biking. And while plenty of 'flow' trails are being built in different areas like Verbier, Zermatt, Lenzerheide and Corviglia, so much of the adventure of riding in Switzerland is making your way through the mountains on trails that people have used for decades – or centuries.
"Sometimes, you have to walk," says Dario. "But to access the best trails, and the best descents, I think many Swiss bikers understand that."
The terrain is rugged, and accessing the best rides does involve some hard work. Our ride on the Brunnihutte route was completely rideable, unless you messed up a tight switchback or chose the wrong gear on a pinch climb. Dario was quick to suggest two other brilliant routes in the area.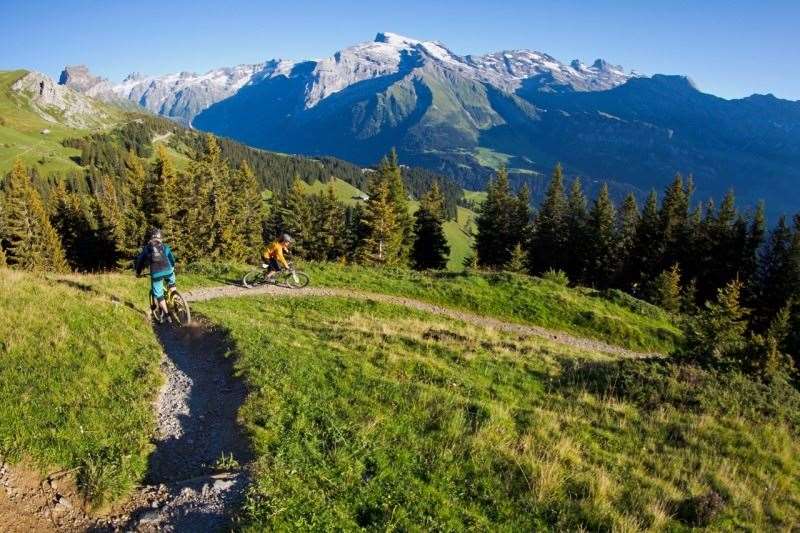 More rides in the region
The Surenenpass
This is a big route, but quite unlike anything we can do at home. At about 80km, the route also has 1860m of climbing. It's not easy. The trail starts from Engelberg and climbs through the valley, taking the Äbnet cablecar can save some climbing, as the next stretches have difficult sections before arriving at the Blackenalp. The pass is a little further on, and at about 2300m is quite high. The descent is far from easy, but it is long, winding down towards the Urnersee, where you can take a paddle wheeler ferry and then a train to get back to Engelberg.
Four Lakes Trail
Like the Surenenpass, the fresh snow meant we weren't quite able to do this route. It also goes close to 2300m, and the trail connects four of the popular lakes below Mt Titlis. The suggested route starts in Engelberg before climbing to Truebsee, the beautiful lake that is held above the town. The difficult climb to the Jochpass is then rewarded with a long descent to the Engstlensee. Passing through more 'alps' the trail skirts the 3rd lake – Tannensee, before reaching Melchsee and the long descent to the town of Stans to catch the train back to Engelberg. Of course, there are lots of trails up high and you might well choose a different route down.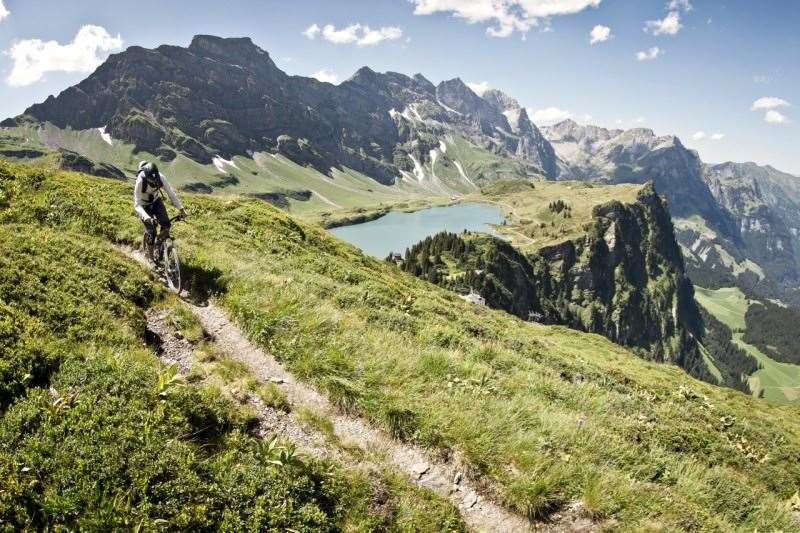 IN AND AROUND ENGELBERG
The beauty of Engelberg isn't just about the mountains that loom above – it's also about its proximity to so many other attractions. Within the resort town, there are options for hiking, paragliding, climbing the via ferrata routes, visiting cultural attractions – and of course just relaxing! Our focus was mountain biking, but with Luzern just 45 minutes away there are lots of other options that are possible as a day trip, making Engelberg a brilliant base for a family holiday. You don't need to sacrifice the mountain biking to keep everyone in the family happy. Engelberg offers a lot for the travelling mountain biker, but not at the expense of other travel experiences.
More details can be found at engelberg.ch
TRANSPORT
The real beauty of travelling in Switzerland compared to other areas is the ease of transport. We travelled only by rail, and had no problems with our bike bags and luggage, or with our bikes on day trips. Some routes might require booking a ticket for your bike, but station staff will be able to guide you on that. We used a Swiss Travel Pass, which meant we were able to use the trains and most Swiss transport as required within our trip. If you're likely to be moving around a lot, this is a really good investment, as single tickets can otherwise add up quite quickly. The Travel Pass will also reduce the cost of mountain trains and lifts.
HUT TO HUT
The Swiss Alpine Club maintain a series of mountain huts through the Alps. These are a world apart from the old stockmen's huts in the Australian High Country. They are essentially mountain hotels with beds and restuarants – and even wifi. The Brunnihutte sits high above Engelberg, and makes for a great lunch stop on a ride. But there are 12 huts (of 152) that are recommended for mountain bike trips, with the Maigelshutte and Cabane du Mont Fort having some of the best mountain biking nearby – not to mention amazing views. Head to their website for more details and route suggestions.
WHERE TO STAY
The Titlis Resort has recently opened, with a whole range of self-catering apartments in one complex linked by communal courtyards. It's a prime example of modern Swiss design, with modern materials and facilities built in a stlye that is sympathetic to the heritage of the region – and the environment. There's a huge carpark buried below the ground, with a secure bike storage room as well. Apartments have laundry facilities and wifi, and there's a spa and wellness centre in the resort.
Best of all, you can arrange to have fresh bread and produce delivered each morning, local mineral water is on tap, and the train station and ski lift are both a very short walk, or ride, away.
WELCOME TO WELLNESS
One of the most striking things you'll notice when staying in a hotel in Switzerland, or most alpine areas, is the wellness centre. What does 'wellness' mean anyway? They offer spa treatments as well, but not of the heavy chlorine, bubbly water variety. A wellness centre will often have a steam room, a sauna, some cool showers (possibly aromatic), a massage area for your 'spa' treatments, and perhaps a pool, thermal pools and more.
Just about every wellness centre is mostly a 'nude zone' which can taking a bit of adaption for most Australians. But using the facilities of your hotel really helps you relax and unwind after a day in the mountains, and seems to guarantee a great night's rest too. Plus, it's the perfect excuse to use the robe and slippers in your hotel room.
YOU MUST TRY OUR CHEESE
You could be forgiven for thinking that every valley in Switzerland has its own cheese. Sometimes it doesn't seem to far off that. Central Switzerland is at the centre of cheese making so Engelberg is no different. Although there is a showchees factory right in the monastery in town, we ventured higher up the mountain. We dropped into the to see Sälmi Töngi at Alpkäserei Gerschnialp, where he has been making cheese in summer since 1975. The cheese is stored in cellars until it's the right age for market. The Sbrinz is a speciality from the region, and only made in select locations in the valley.
We tried some of the cheese on site and loved the creamy but sharp taste. We bought some back in the valley, from the local supermarket, and enjoyed it with our dinners for the rest of the week.
SKY HIGH IN THE MOUNTAINS
While it's more than fair to come to Engelberg to go mountain biking, and aim to ride as much as possible – it would be foolish to not head up to the top of Mount Titlis. Not only is there a restaurant with views across to the Monch, Jungfrau and Eiger, but there's an ice tunnel and the new Skybridge, which spans a huge chasm of snow, ice and rock. It's an immersive experience, and a truly stunning way to gain an idea for the size of the mountains. But no matter what the temperature is in the valley, don't forget to take plenty of warm clothes up, and your suncream.
Australian Mountain Bike