Mondraker's new Raze and Foxy are built for exactly how you ride.
Mondraker have just released the details on the new Foxy and Raze for 2022, and they will be landing in Australia in March and April 2022 respectively.
All about the Mondraker Raze
The Raze just might slot into being one of the most versatile trail bikes out there for Australia. Whether you call it a mini Foxy or not is up to you, but with 150mm of travel at the fork and a spritely 130mm in the rear that is said to pedal really well, this could be the one bike to rule them all.
The full-carbon frame comes in close to 2kg (plus shock) and has a new lower link on the double link Zero Suspension System to create better lateral stiffness. Setup is a breeze with the MIND system and Mondraker app. Like all Mondraker bikes the geometry is progressive, with a 65.5 degree head angle meeting a 76.5 degree seat angle and a 495mm reach in large, this will appeal to riders who want a bike that lets them get up to shred down.
Two Raze models will be in Australia: the Raze RR ($10499) and the Raze R ($8899). All Raze models share the same carbon fibre frame and aesthetics, and all models feature 150mm Fox 36 fork combined with Fox shocks offering 130mm of rear wheel travel.
Mondraker Raze Carbon RR - $10499
Group set: SRAM Eagle GX/X01
Suspension: Fox 36 GRIP2 Factory, Fox Float DPS Factory LV
Brakes: SRAM G2 RS, 180mm rotors
Wheels: DT Swiss XM1700
Tyres: Maxxis Dissector/Agressor
Cockpit: OnOff Krypton, Fox Transfer dropper
Claimed weight: 12.5kg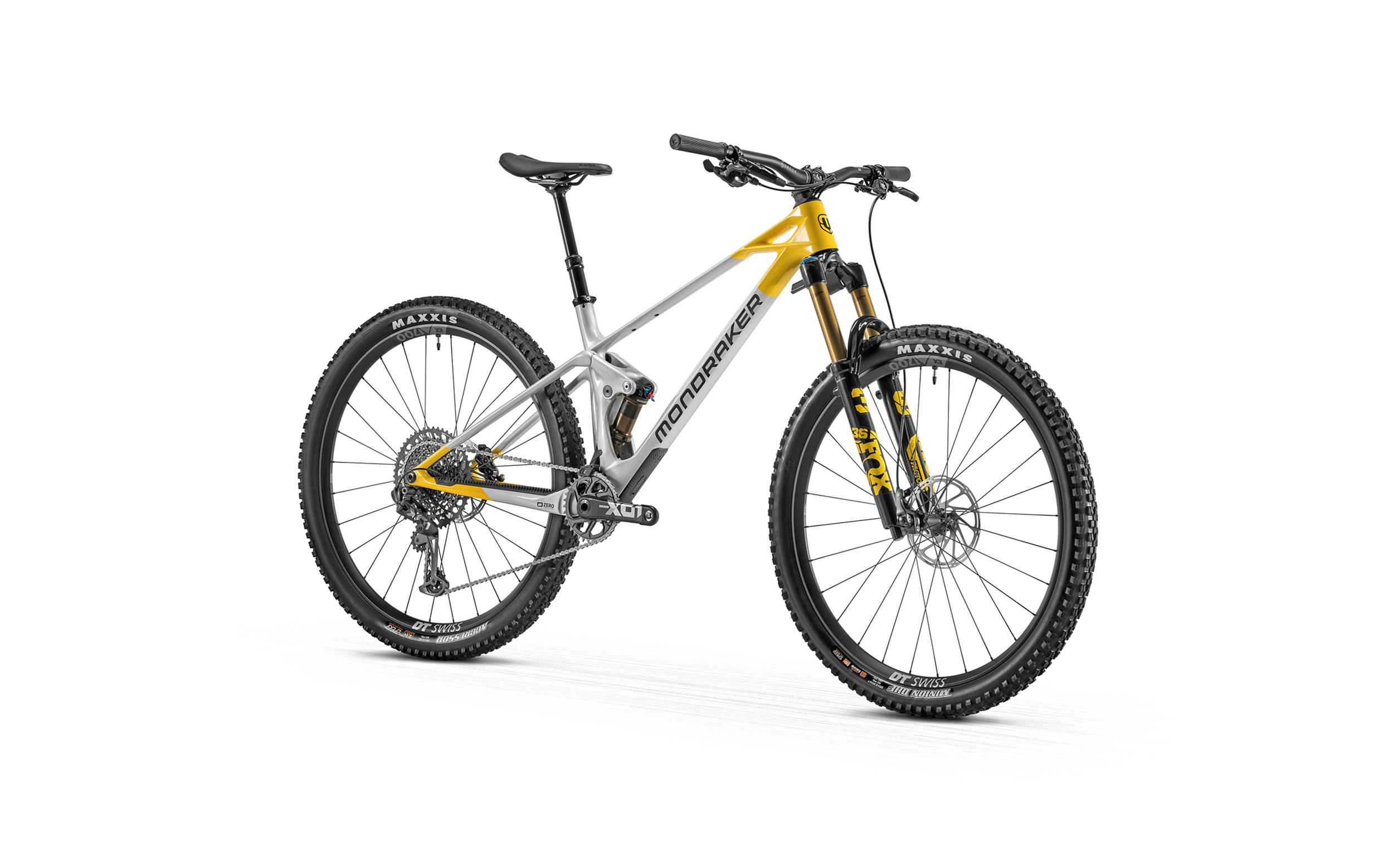 ---
Mondraker Raze Carbon R - $8899
Group set: SRAM Eagle NX/GX
Suspension: Fox 36 GRIP Performance, Fox Float DPS Performance Evol LV
Brakes: SRAM G2, 180mm rotors
Wheels: DT Swiss XM1700
Tyres: Maxxis Dissector/Agressor
Cockpit: OnOff Sulfur bars and stem, OnOff dropper
Claimed weight: 13.2kg
Foxy on the rocks
The new Foxy Carbon range is made up of 3 different models sharing the same frame but with different component specs as follows. Mondraker say the Foxy is more enduro than ever. The frames are laid up by hand, focusing more material where extra strength and stiffness is required. Mondraker have revised the suspension kinematics, and increased the stroke length of the shock. They reckon this creates a plusher ride, but it still climbs efficiently for its size.
Again, the Mondraker MIND telemetary system and the Mondraker app take the guess work out of the suspension setup, meaning you can get more out of your bike from the first ride.
The frames offer geometry adjust at the lower shock mount, with a low or standard position. The impact is about half a degree at the head angle and a little less at the seat angle. And the bottom bracket also drops. The real difference lies in the chain stay length, which moves from 435mm in standard to 445mm in low, meaning you have a tonne more stability for charging steep and fast terrain.
Fox Carbon XR - $11999
Group set: SRAM Eagle XO1
Suspension: Öhlins RFX 36 fork 170mm, and TTX Air shock 150mm
Brakes: SRAM G2 RSC, 200/180mm rotors
Wheels: DT Swiss XC1501
Tyres: Maxxis Minion DHR II/DHF
Cockpit: OnOff Sulfur bars and stem, OnOff dropper
Claimed weight: 12.9kg
---
Fox Carbon RR - $9999
Group set: SRAM Eagle NX/GX
Suspension: Öhlins RFX 36 fork 160mm, and TTX Air shock 150mm
Brakes: SRAM G2 RS, 200/180mm rotors
Wheels: DT Swiss EX1700
Tyres: Maxxis Minion DHR II/DHF
Cockpit: OnOff Sulfur bars and stem, OnOff dropper
Claimed weight: 13.4kg
---
Fox Carbon R - $8499
Group set: SRAM Eagle NX
Suspension: Fox 36 Rhythm 160mm, and Fox Float X LV Performance 150mm
Brakes: SRAM G2 R, 200/180mm rotors
Wheels: DT Swiss E1900
Tyres: Maxxis Minion DHR II/DHF
Cockpit: OnOff Sulfur bars and stem, OnOff dropper
Claimed weight: 14.1kg
---
There's a lot to like with the Mondraker line up, but the proof is in the ride. Contact your local Mondraker dealer for more details
Australian Mountain Bike