The 9th James Williamson Memorial Enduro was won by Dan and Bec McConnell in the elite races.
Photos: Russ Baker
The James Williamson Memorial Enduro is one of the best attended mountain bike events in NSW. Sitting between Sydney and Canberra helps, but the real draw is the fact the event has been run by Meg Patey and a strong crew of volunteers, as a memorial event for James Williamson, Patey's nephew, who passed away in his sleep while racing the Cape Epic in 2010.
Since 2011, the James Williamson Memorial Enduro (known as The Willo) has attracted a strong elite field. People who were best friends with James, competitors, and just about anyone who knew him via his writing for Enduro magazine, or from the race course and his achievements, such as being 24hr Solo World Champion.
The trails at Wingello are known to many, and they offer fast racing and plenty of fun. So the event is a good fit for those racing for the win, and those jumping into a shorter event to ride in the memory of James.
The famous sign on board.
In a dusty and warm start, the elite and full-distance riders took off. A small crash in the start loop stopped some riders from continuing, but had little effect on the fast moving lead group.
In time, it was Brendan Johnston, Reece Tucknott, Dan McConnell and 2018 winner Tristan Ward at the front, with Sebastian Jayne right nearby. Over the KOM climb, Tucknott, Johnston and McConnell were relentless in the pressure that would then distance Ward.
The group of three came to the finish together, until a final attack from McConnell at about 800m to go saw him go clear. Johnston admitted that he thought he could take McConnell in a sprint, but he went early and so hard, that he and Tucknott could not catch him. Johnston would come 2nd, with Tucknott in 3rd.
Johnston comes in 2nd.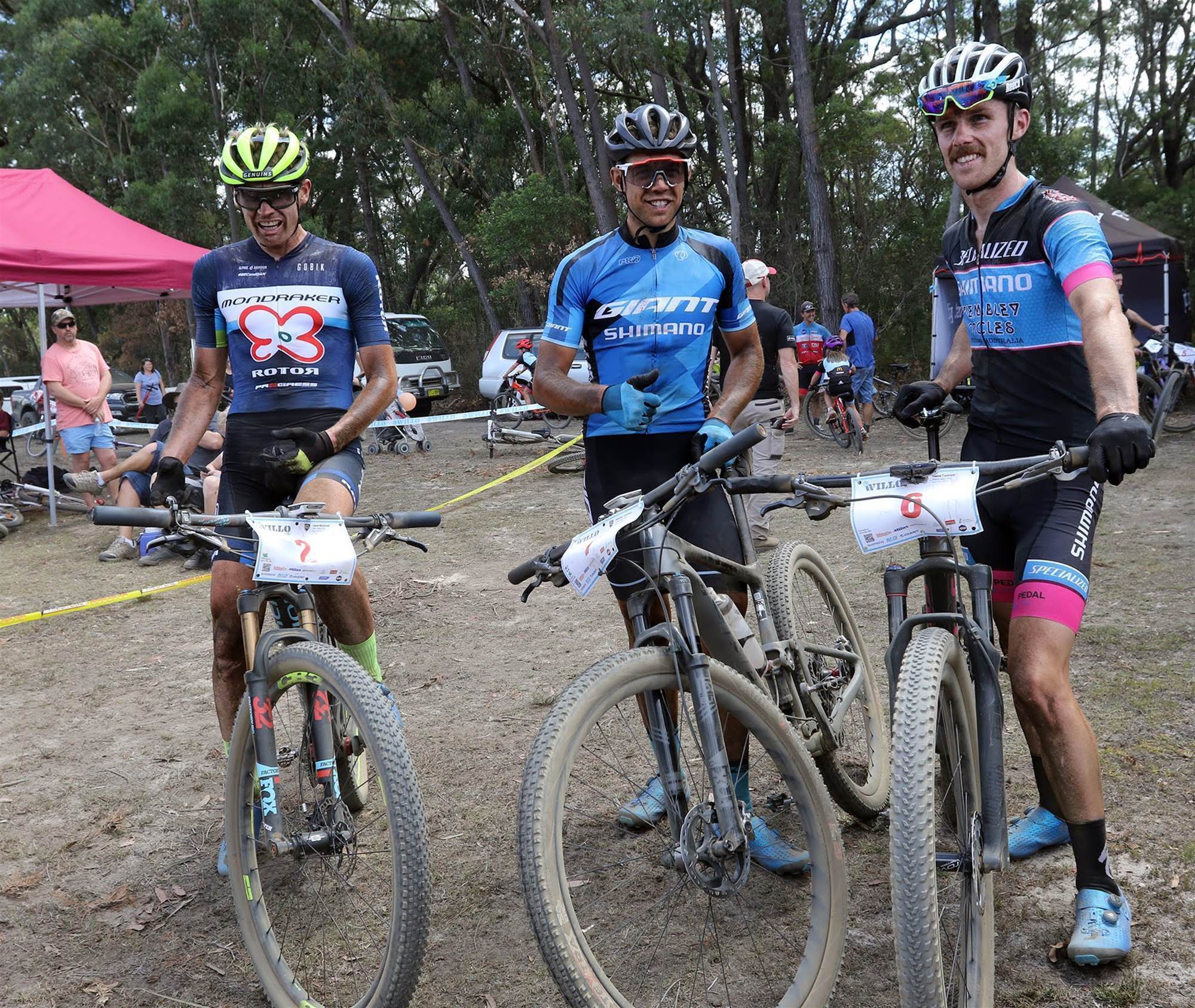 In the women's race, Bec McConnell was well clear of her rivals. Imogen Smith was out with a flat early on, left to chase from behind. But there was a much tighter battle with Em Viotto, Jenny Blair and Kim Willocks. It was Viotto who came 2nd with Willocks in 3rd. 
Bec McConnell, speaking to Stuart Plant post race.
Both McConnells had a busy start to the year, with committments to training camps and races with their European professional team.
"We had two stage races and an XCO race overseas already," said Dan McConnell. "It's definitly good for the confidence to get a win here. The overseas trip was fairly busy and I had a pretty big crash in there as well, so it probably set me back a little bit and I didn't really get the results I would have liked. I had a really good December and January, so it was a bit disappointing I guess. I've just been trying to get a bit of speed in the legs the last couple of weeks." With National Championships and Oceania Championships just a few weeks away, McConnell looks to be in the right place to regain his national XCO title.
Bec and Dan with Meg Patey
However McConnell never felt sure of the win today, given the strength of the riders in the race.
"I was under the pump all day today, so to actually pull it off and get a win is good. It's my first win in a long time and I think everything is heading in the right direction, but I still have a long way to go. To get a win here, and especially against the competition here, I'm really happy."
McConnell continued, as getting this result at The Willo means a lot more than just any race. The Willo mixes hard racing with a community spirit, all at an event that people enjoy being at. 
"It's not just how well the race is run, but everyone just likes coming here. So many elites will only turn up if there is prize money for the win. But this is a race that is probably the only race that you get so many elite riders turning up just for the race that it is. To win it is really cool."
Proceeds from the event go to running the James Williamson Junior Development Camp, involving many friends of James to help junior cyclists.
The elite men's podium
The elite women's podium.
Australian Mountain Bike