Last year Shimano announced what many people expected – that the Shimano XT group set was going to 11 speed.
Last year Shimano announced what many people expected – that the Shimano XT group set was going to 11 speed. M8000 was launched with a few variants, but what most people focused on was the 11-42 cassette, trumping the 11-40 that Shimano had released with the M9000 XTR 11 speed group. It was a 42t option without the need for a new freehub, bringing the total upgrade cost a lot lower. In March, Shimano announced a new 11-46 cassette, expanding the range again. While those cassettes are yet to land, we've had plenty of time on the 1x11 M8000 setup on two different bikes. For those looking to read up more, we've also been testing a pair of the Shimano Deore XT trail wheels, which complement this groupset.
The new mega range
While the M8000 cassette is available in 11-40 for the 2x setups it's the 11-42 that has really won favour. Given the size constraints of a freehub body, Shimano didn't create a 10-42 cassette like SRAM has. The difference between a 10 and 11 is substantial, but Shimano's 11-42 means riders can upgrade to 1x11, or 2x11, without the need for a wheel or freehub upgrade – which is a big cost saving.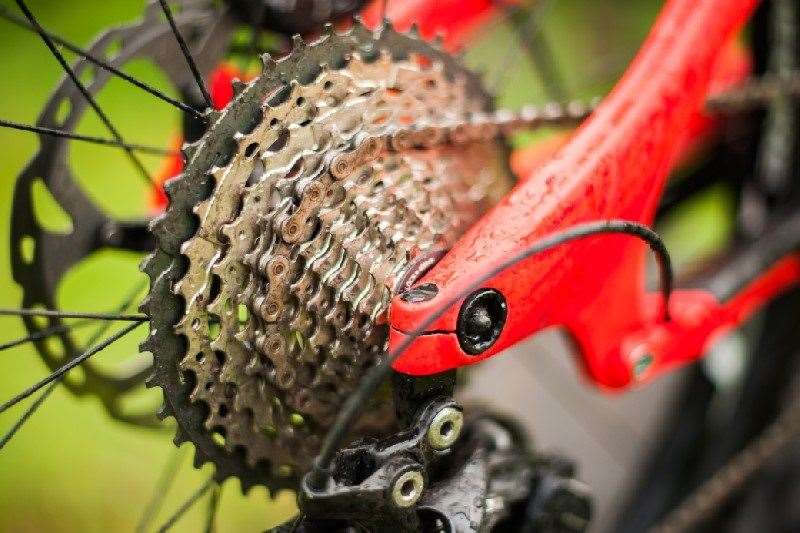 The new 11-46 cassette brings a similar range to the SRAM 10-42, but will require a fair bit of work on the B-tension screw on your derailleur. We're yet to see them or ride on them, so it will be interesting to see how the shifting feels at the thumb, or whether it's an upgrade best left for a Di2 group. The 11-46 cassette is said to work on both the XT and XTR 11 speed setups.
I found the shifting to be smooth, but the cassette is about 100g heavier than an M9000 11-40, and about 55g heavier than a SRAM GX 10-42, as a comparison. The cassette doesn't have an alloy larger sprocket like a higher end SRAM offering, and I've found the durability to be really good, having gone through two chains on one cassette. I did also find it shifted fine when mated to my own bike's M9000 setup, although Shimano's engineers disapprove. Shimano have always wanted to maintain shift quality, not just get a range – and it's clear with the XT cassette.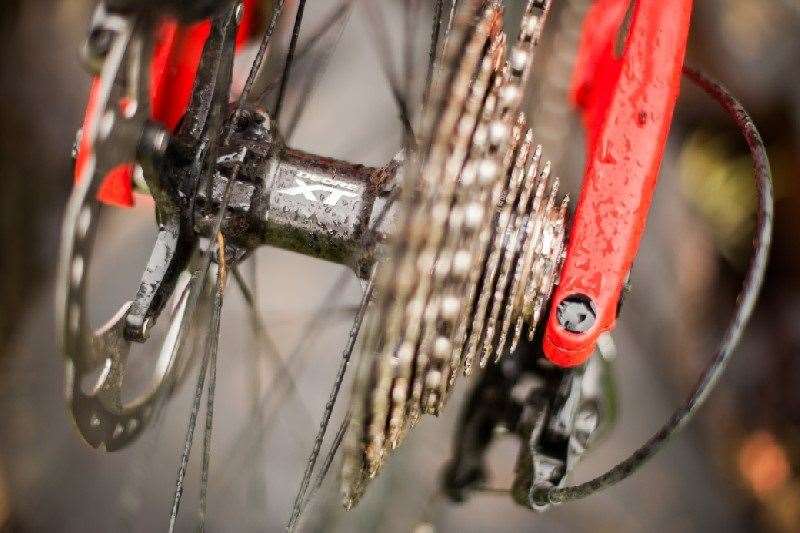 Crisp as you like
The rear derailleur gained a few features but after months of use, the best is the ease of adjustment on the clutch and the durability. Compared to the 10-speed version this is a world apart, in terms of ease of shifting. It is also crucial in getting your drivetrain working correctly. There's a port underneath the knuckle of the mech that you pop open and increase or decrease the spring tension on the clutch with an Allen key. Along with getting the B-Tension right, this is one of the best ways to make sure your bike shifts as it should, especially when we moved the group from a trail bike to an XC bike. For the 4 months of use the derailleur stayed slop free, and although it's had a few rubs and knocks it's in one piece. The Shimano rear derailleurs do sit in and out of the way remarkably well, aiding product life. Catching a rear mech on the trail isn't impossible, but the Shimano derailleurs really do keep themselves out of harms way.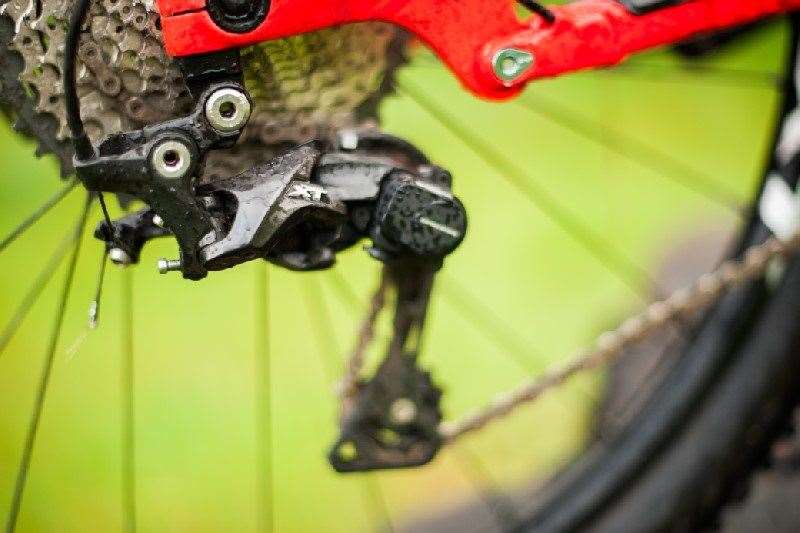 The shifter has a great feel at the lever, but on both bikes I rode with the setup the biggest thing I noticed was shift effort. While it's far greater than a similar setup on the previous XT group, it's just not as light as M9000. Obviously, the premium group needs to stand apart, but you might consider upgrading to the super slick XTR cables and outer for a very good value performance upgrade.
As it was, I ended up backing the clutch off to reduce shift effort. And then after dropping the chain twice, I tightened it up a little more. Two turns via the port was an easy solution, and lesson learnt.
Straight and Tall
While the cranks themselves show just how stiff and strong Shimano can make a crank set, the real winner here for most riders is the security of Shimano's chain rings. Shimano's 96mm BCD pattern and non-removable spiders means there's no option for direct mount chain rings. But the upside of that is it's easier to swap rings if needed. I had great life and wear from the stock 32t chain ring, and I couldn't ask for anything more from the cranks. No, they aren't the lightest. But XT cranks have long set the benchmark for strength and reliability, and being alloy you can scuff them up on rocks all you want without needing to worry about their structural integrity.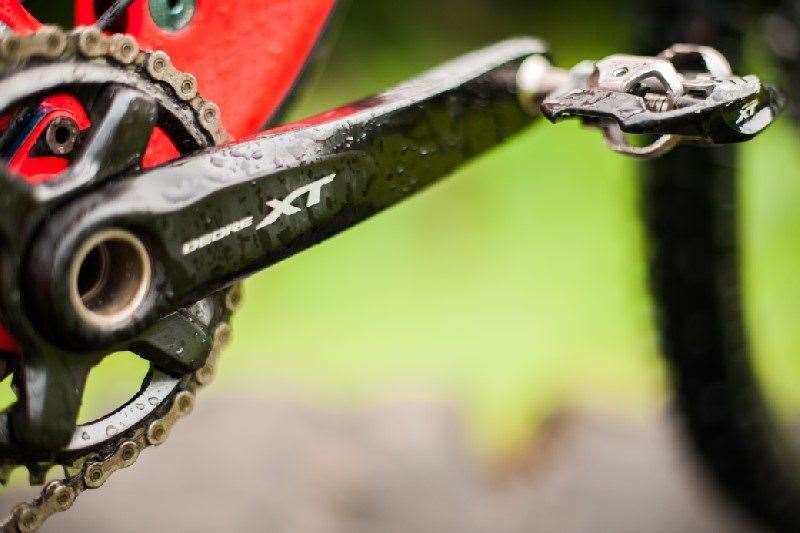 Using the group on an XC bike, I did find the 11-42 a bit limiting within a stage race. I probably should have taken a 30t and even a 34t chain ring with me for the appropriate days. But with M8000, you have to remember that it's not 1x11 exclusive – with some chain rings, a shifter and derailleur, you can run it 2x11. That's not a trail side upgrade, but if you were heading somewhere exceptionally hilly, it's a good option to have as a way to gain some lower and higher gearing in one move.
Save for the aforementioned chain drops, the ring was secure, even on rough, long descents on an XC bike, and shuttling trails like Juggernaut on a trail bike – the chain stayed put. There are plenty of aftermarket options in oval shapes and lighter materials – but Shimano have long been market leaders in chain rings.
Stop right there
Shimano first introduced hydraulic disc brakes at the XT level over 16 years ago. Gone are the braded steel hoses but, dare I say it, XT brakes are another industry benchmark. The M8000 units have seen a few updates. We used the new iSpec setup with the narrower bar clamp and it felt really good, leaving the shifters at a better position than in the previous iSpec design. But the changes to the brake's stroke won me over, with an ability to ever so slightly feather the brakes that was missing on previous models. The raw power is still there, although in bigger hills, bikes or riders using the IceTech pads or rotors would be smart. Our test group had standard rotors and pads, and on a few descents dropping over 800m, the stock setup got a little bit warm and noisy, but there wasn't too much fade.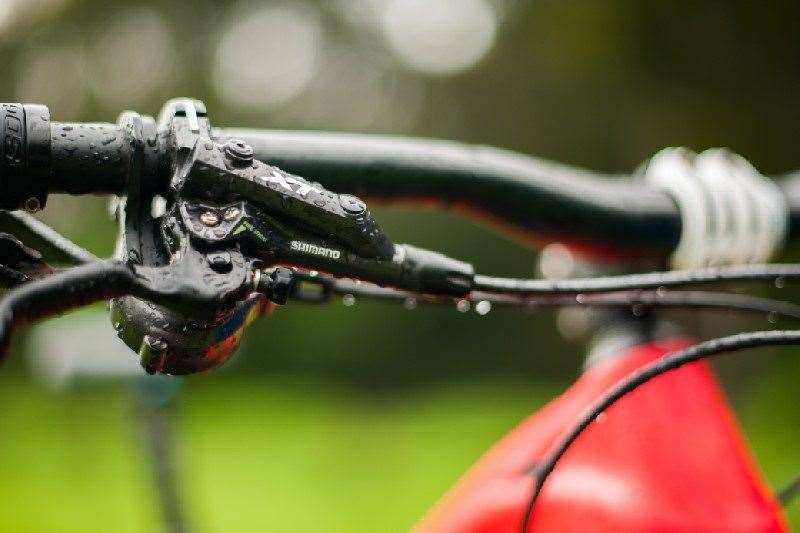 Verdict
The word has come up a lot, and I do think the XT 1x11 group is a benchmark for combining performance and durability. The test group came through a week-long trail riding trip, and a week-long stage race and plenty of riding in-between on two different bikes, with barely a splutter. It does miss the total range of a SRAM 1x11 group, but the 2x11 option is there with M8000, and the tighter ratios would certainly be perfect for long days out in the saddle, especially if you were riding in bigger mountains than those around Australia's major capital cities. Best of all – the M8000 group on either iteration should be an easy upgrade to your current bike without further extensive investment.
Hits:
Reliability and durability

Great range and ability to upgrade to 2x for further range
Misses:
Not the slickest shift action

Doesn't match the range of the competition
RRP: See your Shimano dealer
Australian Mountain Bike