Photos: Ollie King
Photos: Ollie King
Tasmania has exploded on the mountain biking scene in the last couple years with the opening of world-class trails at Hollybank and Derby in the North East. You could easily come over and spend a few days riding these new trails, then return home with a smile on your face from a great Tassie adventure. But there are a couple of hidden gems in Launceston that would be a mistake to miss. Add an extra day (or more) to your itinerary, and you'll be able to check out two parks that the locals have been riding since before Tasmania became a must-see mountain biking destination.
Kate Reed and Trevallyn are a 15 minute drive from each other, and boast flowy trails that some of Tasmania's top-level riders cut their teeth on. The majority of these trails are hand-carved, making the most of the naturally rocky terrain, and have something fun for riders of all levels. A couple hours at a decent pace will get you a good tour of the best trails in each park, though most are more fun the second time around. And when you've had your fill of riding, there are also a heap of great attractions and places to eat around Launceston that are worth a peek.
Launceston's CBD is an hour's drive along Highway 1 from the Spirit of Tasmania ferry, and about 15 minutes up Highway 1 from Launceston airport. If you head up from Hobart, you're looking at about a two-hour drive along Highway 1. There's basically one highway in Tasmania – it's hard to get lost.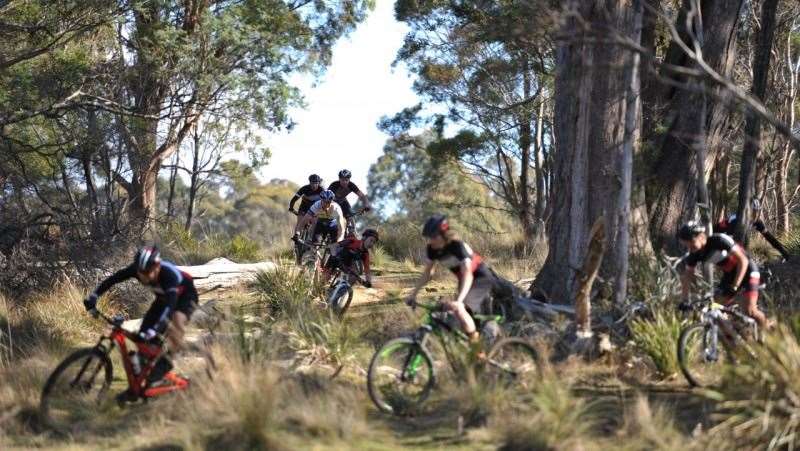 WHEN TO GO
The parks are open and fun to ride year round, though they are closed on occasion due to inclement weather, which is mostly during wintertime. Trevallyn holds up better to a bit of moisture than Kate Reed.
The Tasmania Parks and Wildlife Service Facebook page would be the best place to get information on track closures, or call them on 03 6331 6739.
WHILE IN THE AREA
There's a lot to see and do in Launceston, so here's a selection of some of the more popular places to check out:
Coffee: Sweetbrew and Amelia Espresso are two of the best.
Beer: St Johns boasts a massive eclectic beer selection, including some of Tasmania's finest offerings, and a bar staff who are passionate about their fare.
Food: Stillwater is one of the best restaurants in Tasmania, and is situated in a historic mill on the banks of the Tamar River. It's not cheap, but is totally worth it. Bookings are recommended. If you're into food vans, look for Taco de Pancho or Burger Junkie. Both post their locations on Facebook.
Wineries: Launceston is the start of the Tamar Valley wine route, which is home to dozens of wineries. Josef Chromy is one of the most popular, and their Pinot Noir shouldn't be missed.
Sightseeing: Cataract Gorge is a must-see, and borders the Trevallyn Reserve. You can't ride bikes around most of the tracks, but it's definitely worth checking out. There is a chair lift over the gorge and a public pool that's popular during summertime. The Tamar River also has a number of bike paths that make for a very scenic and easy recovery ride.
REGULAR EVENTS
The Launceston Mountain Bike Club holds weekly XC twilight races during the summer months as well as 2, 4, and 6 Hour events throughout the year. They also host a number of social rides.
ACCOMMODATION
Launceston is a popular tourist destination. There are hundreds of places to stay, and something for every budget. It may be difficult to find a place that's bike-friendly (i.e. bike wash and secure storage), so you may want to bring a small tarp and keep the bike in your room.
Best sites for information: 
trailforks.com/region/launceston
Kate Reed Reserve
Kate Reed has a lot of trails packed into a small park, with something for all skill levels. The dense woodland sets the stage for tight-knit, technical trails that alternate between mixtures of sand and loam. The naturally rocky terrain gives an extra bit of challenge to the fast-flowing trails, rewarding a hard pedal. You won't be able to see around most of the corners, which makes the first ride that much more exciting. The winding trails are punctuated with hand built, hippie berms that are well-maintained and can be ridden at speed.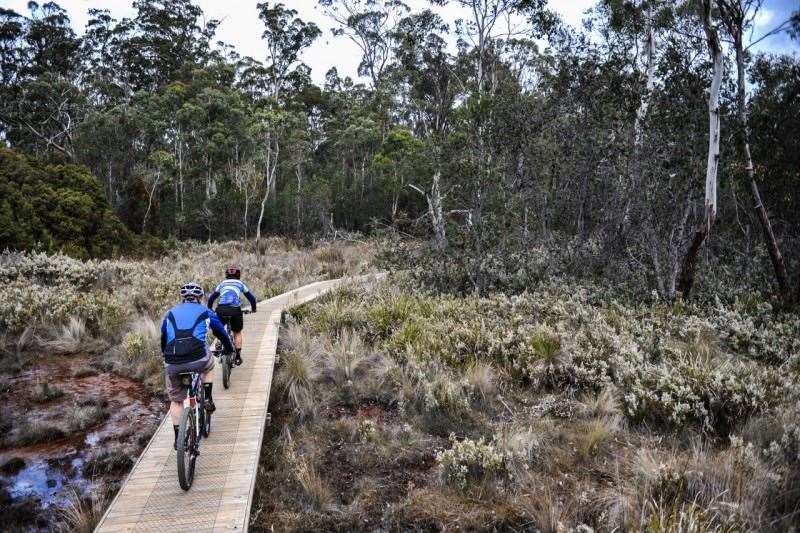 Kate Reed is about 10 minutes south of the Launceston CBD, with a few different entry points. The easiest entrance to find is just off of Launceston's Southern Outlet. From Launceston CBD, head out of town along the Southern Outlet and take the turn off to Kings Meadows. There's a parking area under the highway underpass, and the Reserve's entrance is on the western side of the highway. The added benefit of this entrance is that it's at the bottom end of the park, so you can finish your ride with a nice downhill.
The main park entrance is from the Silverdome. From Launceston CBD, head south on Wellington Street, turn right onto Westbury Road, then left onto Oakden Road. Park in the dirt lot before the gate (don't go through the gate as you might get locked in), then ride across the overpass and around the Silverdome. The trail entrance is at the far end of the back parking lot.
BEST RIDE
Berm Track starts with some old school trail with natural rock features that winds through a tight forest and ends with a half dozen flowy berms.
Rock Drop delivers what its name suggests. The trail has been scraped across the exposed dolerite, making for a technical ride that spits you out near the end of Berm Track so that you can rail some berms. Guaranteed smiles. Pro tip – it's fun to ride both ways.
LOCAL KNOWLEDGE
Kate Reed is also popular among dog walkers, but the limited sightlines mean that you sometimes don't have much notice of what's ahead. Keep an eye out for the furry four legs along the trails. If you're there during summertime, watch out for snakes! 
Trevallyn
Trevallyn has a great mix of beginner to intermediate trails that can be easily pieced together into a 20km ride. The purpose-built singletrack is fast and flowy, and will reward good technique. There are a couple of tight pinches and a few challenging A-lines that will not disappoint. The open woodland gives you better sightlines, which means that you can pin it on your first time out with little concern for what might be around the next corner. There are little berms that only go up to your knees, but can be just as much fun to rail as the two metre tall monstrosities.
Getting to Trevallyn is a bit of a maze. Take Patterson Street out of Launceston CBD (it changes names into Bridge Road, Trevallyn Road, then Gorge Road), turn right onto Bald Hill Road Road, left on Veulalee Avenue, left on Reatta Road. The trailhead is at the intersection of Reatta Road and Duck Reach Road. Toilets, BBQs, picnic shelters and another entrance can be found at the end of Duck Reach Road.
An alternate starting point is to continue along Gorge Road (instead of turning right onto Bald Hill Road), and look for a small parking lot on the right about 750m past Bald Hill Road. This route starts at the bottom of the trails, which means more downhill at the end of the ride.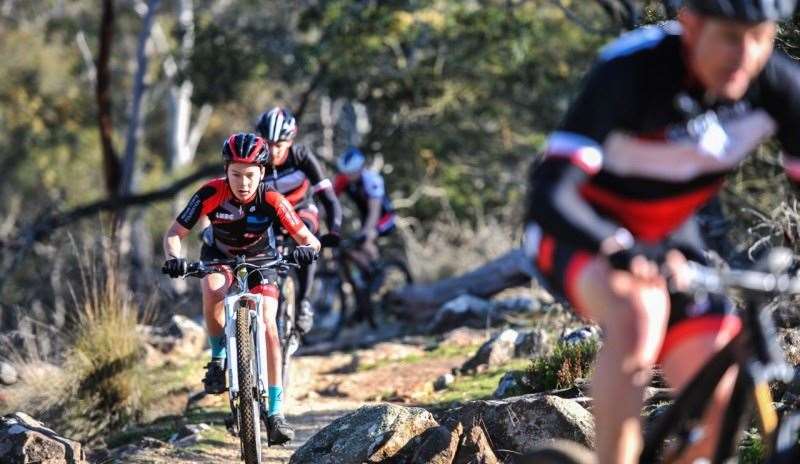 BEST RIDE
Sidewinder marks the start of a 6.5 km loop of fast, flowy trails with a couple of A lines thrown in for those who enjoy a challenge. The grippy surface gives you the option of cruising or absolutely pegging it – it's heaps of fun either way.
Corkscrew starts off with a short bermy trail that you can rail around, and ends with a switchback climb. This is the gateway to a number of awesome trails on the eastern side of the park, and is also a great way to return to the trailhead.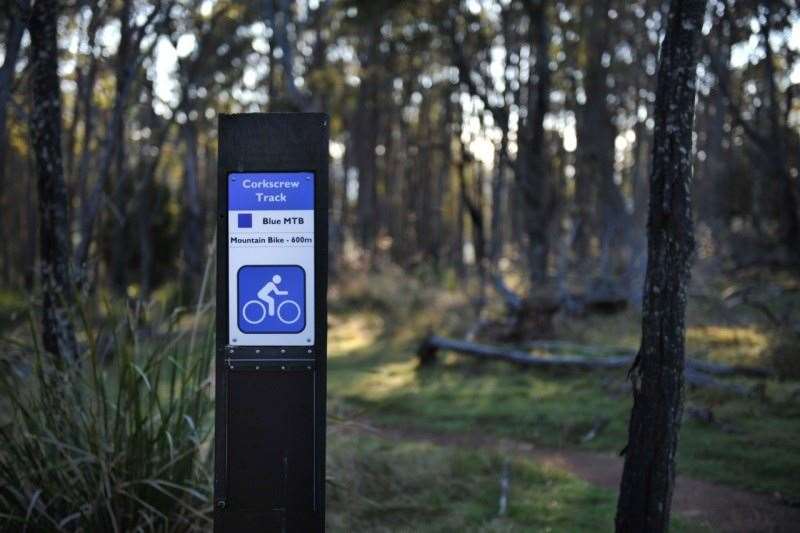 LOCAL KNOWLEDGE
If you've only got time to hit up one of these parks, make it Trevallyn. The trails are fun to ride both directions. The reserve also has a few multi-use horse trails. As bikes can easily spook horses, it's best to make sure they know that you're nearby and to wait for the rider to wave you past.
Australian Mountain Bike