Rocky Trail are racing, and everyone loved the Superflow at Jolly Nose, NSW!
On the weekend of 8+9 August, The Fox Superflow sealed by Stans took place at Jolly Nose MTB Park, supported by the Port Macquarie Hastings Council, creating a big boost to the local economy and rider's levels of stoke.
This is the third time the race has visited Jolly Nose MTB Park and it attracted some of Australia's top gravity athletes. With Covid-19 Safety Measures and Social Distancing Rules in place the event offers two days of enduro racing – three race tracks with neutral uphills and timed downhill sections.
Rocky Trail Entertainment have run races across NSW and the ACT since 2008, and getting events up and running again has taken a big shift in planing and preparation. By all accounts local and visiting riders embraced the day's racing and enjoyed the challenging competition.
Downhill and enduro racing powerhouse Jack Moir takes out the Overall Win and the Title in the Elite Men's in 8:38.0min ahead of Jake Newell (8:49.9) and Luke Meier Smith (8:55.6). Ryan Gilchrist places in fourth and Dave Ludenia slots into fifth today. Awesome performance by the local enduro-gun, Sam Poulton – sixth outright!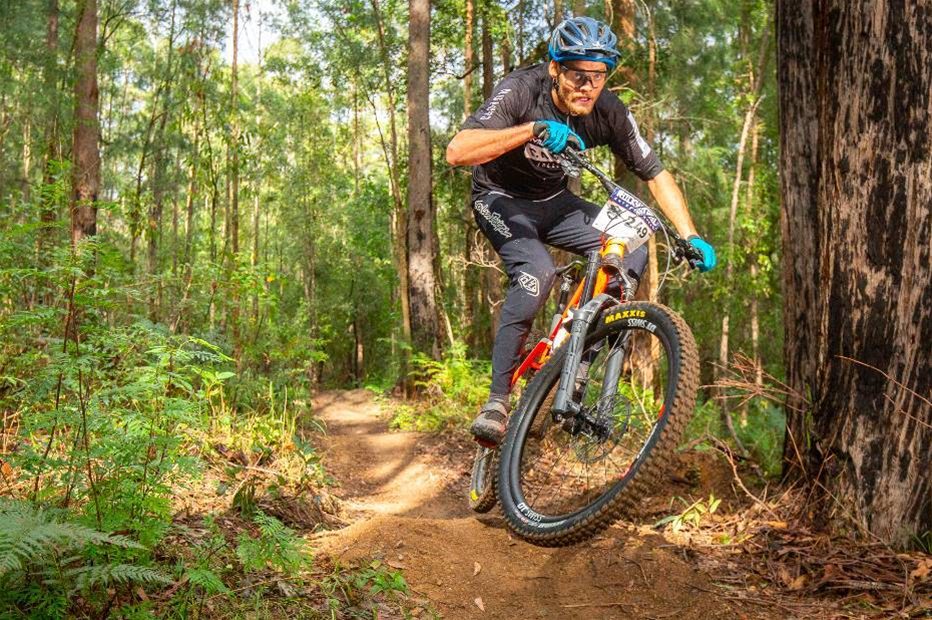 "I enjoyed the tracks at Jolly Nose," said Moir." There was a good mix, and a few rocky technical sections. Race was good fun. Just did a big day and tried to do as many runs as possible. The top sections were super grippy, and the couple rain showers through out the day kept me on my toes on the bottom clay parts."
In the women's, with 10:26.0min Zoe Cuthbert keeps the title ahead of Georgia van Marburg (10:43.4) in the Elites and U19's racer Zoe Cooper (11:29.6) in third. Local Master Racer Belinda Green slots into fourth overall today on her home trails with former BMX National Champ Mel Gibson in fifth outright.
"Super fun trails and a great vibe as usual with Rockytrail events," said Cuthbert after the race. "It was awesome to ride somewhere new with so many friendly locals and racers showing me around!"
Full results are online. You can find out more about the Rocky Trail Superflow races on the organiser's website.
Photos: Outer Image Collective
Australian Mountain Bike